Focus programming offers a series of talks, panels, collaborative sessions and exclusive networking opportunities around selected themes that are shaping the future of business. Learn more about what lies ahead through the lens of our focus programming.
Page menu:
AI FORUM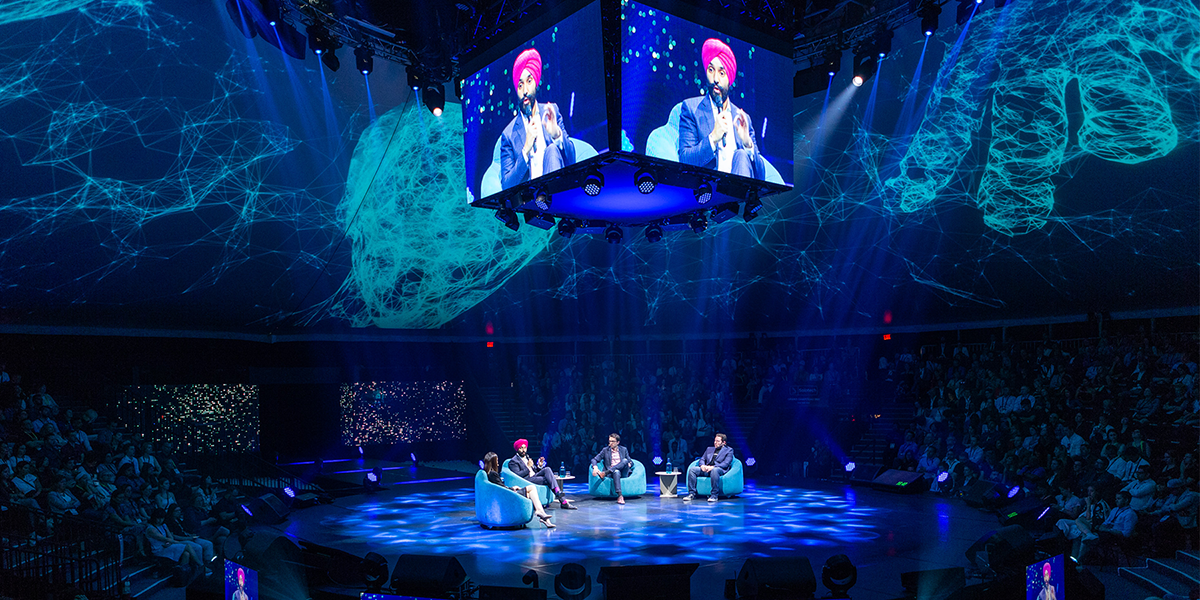 If the future is AI, then the future is now. From identifying trends to automation to medical and even agricultural advances, artificial intelligence is already impacting the way we do business. Adoption of AI is not only occurring rapidly, it's a necessity in today's economy, and raises many questions about what it means to be living and working in an AI-first world.
Enter C2 Montréal's AI Forum, an opportunity to explore the kinds of challenges tomorrow's organizations and workforce will face, and a means to discover new ways of accelerating your business. Taking place within the context of C2 Montréal (May 22-24, 2019), this third edition of the AI Forum provides a powerful environment in which to engage this world-changing innovation.
Walking the AI walk
When C2's AI Forum was first introduced in 2017, our participants and experts grappled with  AI's philosophical implications, and last year we moved beyond the theoretical to the practical, exploring real-world business applications questions related to AI's implementation.
This year, the third edition of the AI Forum will move the conversation one step further. As AI continues to develop at a breakneck pace, leaders are understanding that it's time to move beyond merely adopting this new technology and to begin fully embracing it. It's no longer a question of if AI can be of use to your business but how.
In today's world, AI adoption and integration is less a question of strategy and more one of survival. Which raises some interesting questions:
What kind of talent requirements will be necessary for the AI era?
How will AI improve your workflows and internal processes?
What are the best ways in which AI and human decision-making needs can coexist?
How is the world of AI different around the globe? What will the implications be for governance and policy at the international level?
What are the ethical and societal implications that keep AI experts up at night?
How can AI be a force for good and help solve some of the world's toughest issues?
At the AI Forum, experts and other leaders in their respective fields will be addressing these and other burning questions.
What can AI Forum participants expect?
Talks by prominent AI thought leaders
Both public and private collaborative work sessions designed to delve deeper into specific issues with the help of world-leading AI experts
Exclusive networking panels and opportunities with some of the best and brightest minds from the AI community
Highly targeted round tables, experiential brainstorming sessions, innovative connection mechanisms and constructive collaborations
Who needs to be there?
The AI Forum creates new opportunities for organizations that wish to be at the forefront of artificial intelligence and machine learning technologies. Organizations of all types will benefit from in-depth conversations with experts around the potential of AI and gain insight into how to achieve specific solutions.

Keep an eye on this space: AI Forum programming and other essential info can be found here in the lead-up to the event.
Some of the learnings from last year's AI Forum:
Our partners

Digital Creativity Summit



Bringing new solutions
Each year, the Digital Creativity Summit, held within the context of C2 Montréal, invites leaders from all over the world to explore the challenges and new opportunities inherent in this rapidly expanding industry.
For this third edition of the Summit, C2 Montréal will once again showcase digital creativity while helping advance the city's image as a centre of innovation in this sector. C2 will act as both a gathering space and platform for inspiration by fully integrating the Digital Creativity Summit into the heart of its programming in order to meet the following objectives:
To prioritize intersectoral collaboration and create strategic synergies
To contribute to the evolution and influence of Montreal's creative output
To nurture collaboration both locally and internationally
What's in it for you?
It's a who's who of digital creativity in Montreal
Video games, immersive experiences, virtual and augmented reality, interactive documentaries, participatory installations — discover what's being done in Montreal in the digital arts and entertainment sectors.
Fill up on high-quality content
In order to ensure that participants are offered a selection of top-quality content, C2 has called on a committee of decision-makers and industry experts, ones who will share their vision of the future of business through the lens of digital creativity.
Take advantage of the C2 universe
The interplay between the digital creativity ecosystem and the business world is at the very heart of C2 Montréal's mission. Come and help shape the future of business through exciting lectures, collaborative workshops, masterclasses led by internationally renowned experts and a host of key meetings with industry leaders.
What should you expect?
Through multi-format programming, the 2019 Digital Creativity Summit will explore how collaboration between the digital creativity and business sectors can unearth new solutions. Here are some of the burning questions that will be addressed throughout the event:
How can you engage your audience more authentically and improve the consumer experience through digital creativity?
What are the applications of "serious play" in talent management?
What are the latest innovations in immersive experiences?
How can you equip your teams to produce powerful cross-platform stories?
Stay tuned for more programming information in the weeks to come.
About the digital creativity cluster
The Digital Creativity Summit is part of the Digital Creativity Hub (launched in April 2018 by the Société des célébrations du 375e anniversaire de Montréal), which brings together C2 Montréal and creative hubs Zú and HUB Montréal through a development program aimed at supporting innovative projects in digital creativity.
These three main actors each play a specific role in the Digital Creativity Hub's annual programming. C2 Montréal will act as an inspirational springboard where decision-makers from around the world gather to discuss industry ideas, findings and issues as part of the Digital Creativity Summit, which takes place during the three days of C2 Montréal (May 22-24, 2019).
Following that, Zú will launch a call for projects based on the industry issues that were identified during the Summit. The selected projects will be incubated for 3-4 months as part of Zú's development program through an intensive series of courses and coaching sessions.
Finally, HUB Montréal will showcase the projects as part of its Creative Industries Marketplace.
The Digital Creativity Hub is also supported by the Bureau du cinéma et de la télévision du Québec, the Guilde des développeurs de jeux vidéo indépendants du Québec, the Alliance numérique and the City of Montréal, all of whom will help maximize the project's impact.
Our partners