Focus programming offers a series of talks, panels, collaborative sessions and exclusive networking opportunities around selected themes that are shaping the future of business. Learn more about what lies ahead through the lens of our focus programming.
Page menu:
AI FORUM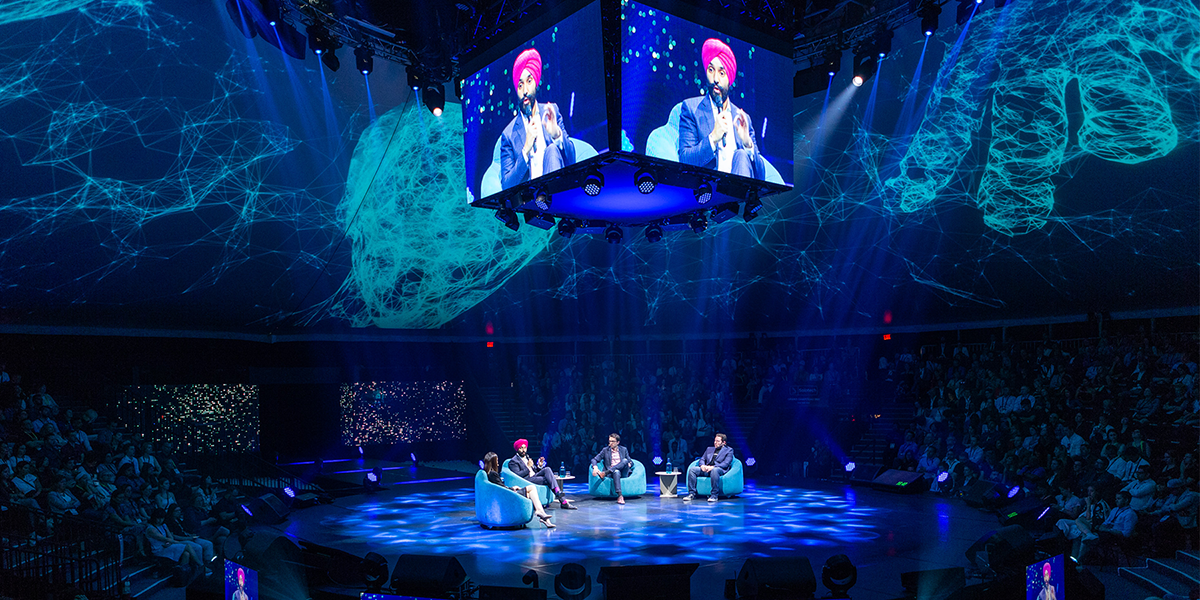 If the future is AI, then the future is now. From identifying trends to automation to medical and even agricultural advances, artificial intelligence is already impacting the way we do business. Adoption of AI is not only occurring rapidly, it's a necessity in today's economy, and raises many questions about what it means to be living and working in an AI-first world.
Enter C2 Montréal's AI Forum, an opportunity to explore the kinds of challenges tomorrow's organizations and workforce will face, and a means to discover new ways of accelerating your business. Taking place within the context of C2 Montréal (May 22-24, 2019), this third edition of the AI Forum provides a powerful environment in which to engage this world-changing innovation.
Walking the AI walk
When C2's AI Forum was first launched in 2017 with founding partner Element AI, our participants and experts grappled with  AI's philosophical implications, and last year we moved beyond the theoretical to the practical, exploring real-world business applications questions related to AI's implementation.
This year, the third edition of the AI Forum will move the conversation one step further. As AI continues to develop at a breakneck pace, leaders are understanding that it's time to move beyond merely adopting this new technology and to begin fully embracing it. It's no longer a question of if AI can be of use to your business but how.
In today's world, AI adoption and integration is less a question of strategy and more one of survival. Which raises some interesting questions:
What kind of talent requirements will be necessary for the AI era?
How will AI improve your workflows and internal processes?
What are the best ways in which AI and human decision-making needs can coexist?
How is the world of AI different around the globe? What will the implications be for governance and policy at the international level?
What are the ethical and societal implications that keep AI experts up at night?
How can AI be a force for good and help solve some of the world's toughest issues?
At the AI Forum, experts and other leaders in their respective fields will be addressing these and other burning questions.
What can AI Forum participants expect?
Talks by prominent AI thought leaders
Both public and private collaborative work sessions designed to delve deeper into specific issues with the help of world-leading AI experts
Exclusive networking panels and opportunities with some of the best and brightest minds from the AI community
Highly targeted round tables, experiential brainstorming sessions, innovative connection mechanisms and constructive collaborations
Who needs to be there?
The AI Forum creates new opportunities for organizations that wish to be at the forefront of artificial intelligence and machine learning technologies. Organizations of all types will benefit from in-depth conversations with experts around the potential of AI and gain insight into how to achieve specific solutions.

Keep an eye on this space: AI Forum programming and other essential info can be found here in the lead-up to the event.
Some of the learnings from last year's AI Forum:
Programming
MAY 22
AM
Workshop – Beyond the boring: Augmenting the human experience with AI
In what ways will AI positively impact the way we live and how we work?
Expand your awareness of how AI technologies can be applied to non-traditional industries in unexpected ways.
Understand how adopting AI can enhance your business performance in creative ways, and provide a competitive edge.
Equip yourself with an action plan for integrating AI into surprising new scenarios.
With Stradigi AI
Lab – Barometer – AI + Creativity
What are the impacts and possibilities of AI on human creativity?
With Stradigi AI
Lab – Barometer – When sci-fi becomes reality
Imagine what's possible when physical avatars allow us to be anywhere, at any time.
With XPRIZE
MAY 23
AM
Workshop – From idea to a Delightful Experience in 100 days
How can large enterprises create innovative digital experiences at start-up speed and agility that scale enterprise-wide?
Learn how to envision digital experiences in a matter of hours, build solutions in days, and scale worldwide in weeks.
Build a framework for incorporating user research and feedback in real time.
Gain deeper understanding of how to leverage AI capabilities in your digital products.
With IBM
Conference – Peak performance
Discover the technological developments revolutionizing the world of sports. Learn from a neurotechnology pioneer about the breakthroughs made possible by the development of brain-machine interfaces. Join a conversation with a social robot studying philosophy.
Conversation with Mounir Zok (N3XT Sports), Jacomo Corbo (QuantumBlack), and Humza Teherany (moderator)
Talk by Justin Sanchez (DARPA)
Talk by BINA48 (Humanoid robot)
Lab – Barometer – Impacts of AI
What will be the implications of AI on the future of work and society?
With the collaboration of the gouvernement du Québec and the International Observatory on the Societal Impacts of AI and digital technology
PM
Conference – R(AI)sing the bar
Get key insights from leaders in artificial intelligence who are calling for increased transparency in research and development. Learn how pioneers in the industry are empowering human creativity with AI. Explore the new dynamics of decision-making with the implementation of AI solutions.
Panel with Foteini Agrafioti (Borealis AI), Elissa Strome (CIFAR) and John Stackhouse (moderator)
Talk by David Cox (IBM)
Talk by Angelique Mohring (GainX)
Other speakers to come.
Lab – Barometer – AI + Creativity
What are the impacts and possibilities of AI on human creativity?
With Stradigi AI
Agora talks
Hear from the creative innovator, will.i.am., presented by Stradigi AI
Fireside chat with will.i.am (I.AM+) and Ruth Reader (interviewer)
MAY 24
AM
Conference – The human-tech relationship: rebuilding trust
Get two experts' takes on responsible AI research. Hear from an artist creating dialogue around digital discrimination and a professor analyzing technology's influence on our collective values.
Conversation with Carolina Bessega (Stradigi AI) and Dr. Brent Hecht (Northwestern University)
Conversation with Jameson Wetmore (Arizona State University), Stephanie Dinkins (Artist), and Ruth Reader (moderator)
PM
Workshop – When physical meets digital – interacting with robots in a human way
If machines can understand us, how may they better help us?
Learn how AI and cameras are capturing human motion and reactions, and where the technology is headed.
Explore the implications of technology that knows what you're feeling and the possibilities it opens up.
Reflect on the positive business and societal outcomes of all machines eventually becoming intelligent.
With wrnch
Lab – Barometer – AI + Creativity
What are the impacts and possibilities of AI on human creativity?
With Stradigi AI
Conference – Knowledge economy 101
Meet leaders in the fields of science and innovation who are confronting the challenge of transferring research to business, and a tech exec forecasting the skills for a future workforce.
Panel with Prof. David Keith (Harvard University), Dr. Pauline Gagnon (Indiana University), Isabelle Depatie (Element AI) and Jui Ramaprasad (moderator)
Other speakers to come.
Our partners

Digital Creativity Summit



Bringing new solutions
Each year, the Digital Creativity Summit, held within the context of C2 Montréal, invites leaders from all over the world to explore the challenges and new opportunities inherent in this rapidly expanding industry.
For this third edition of the Summit, C2 Montréal will once again showcase digital creativity while helping advance the city's image as a centre of innovation in this sector. C2 will act as both a gathering space and platform for inspiration by fully integrating the Digital Creativity Summit into the heart of its programming in order to meet the following objectives:
To prioritize intersectoral collaboration and create strategic synergies
To contribute to the evolution and influence of Montreal's creative output
To nurture collaboration both locally and internationally
What's in it for you?
It's a who's who of digital creativity in Montreal
Video games, immersive experiences, virtual and augmented reality, interactive documentaries, participatory installations — discover what's being done in Montreal in the digital arts and entertainment sectors.
Fill up on high-quality content
In order to ensure that participants are offered a selection of top-quality content, C2 has called on a committee of decision-makers and industry experts, ones who will share their vision of the future of business through the lens of digital creativity.
Take advantage of the C2 universe
The interplay between the digital creativity ecosystem and the business world is at the very heart of C2 Montréal's mission. Come and help shape the future of business through exciting lectures, collaborative workshops, masterclasses led by internationally renowned experts and a host of key meetings with industry leaders.
What should you expect?
Through multi-format programming, the 2019 Digital Creativity Summit will explore how collaboration between the digital creativity and business sectors can unearth new solutions. Here are some of the burning questions that will be addressed throughout the event:
How can you engage your audience more authentically and improve the consumer experience through digital creativity?
What are the applications of "serious play" in talent management?
What are the latest innovations in immersive experiences?
How can you equip your teams to produce powerful cross-platform stories?
Programming
MAY 22
AM
Designing digital with meaning

Marc Blanchard, Global Head of Experience Design, Havas Worldwide
Consumers no longer want to be sold stuff. Instead, they're looking to brands for valuable experiences. Join UX-guru Marc Blanchard and learn how to inject meaning into your brand's digital experiences. Through collaborative design methods and by tapping into the power of AI (think rocket fuel for building personalized experiences), see how you can start engaging with your customers on a much deeper level.
Workshop – Decrypting blockchain: Leveraging the ledger in digital creative industries
In what ways will blockchain-based business models impact the creative sector?
Expand your understanding of blockchain technology and where it's headed.
Envision the disruptive possibilities of blockchain and its applications within creative industries.
Apprehend the positive implications of "smart contracts" on copyrights and revenue streams for creatives.
PM
Agora talks
Hear from marketing powerhouse Bozoma Saint John and trailblazing creative Guy Laliberté.
MAY 23
AM
Conference – Beyond traditional entertainment
Learn from an immersive storyteller about the next wave of audience experiences. Hear from industry leaders on their visions for the diversification of entertainment.
Fireside chat with Jessica Brillhart (Vrai Pictures) and Charles Melcher** (interviewer) – Presented by The New Storytellers, a collaboration between Phi and FoST
Panel with Diane Quinn (Cirque du Soleil) and Afo Verde (Sony Music Latin-Iberia)
Other speakers to come.
Conference – Not the same old story
Explore how alternative narrative strategies can be used in space exploration, for multiplatform storyworld creation and as an approach to debunk stereotypes.
Talk by Paul Propster (NASA Jet Propulsion Laboratory) – presented by La Presse
Talk by Alexandre Amancio (Reflector)
Flash talk by Laura Bourbeau (7 Under 17) This activity will be held in French. Cette activité se déroulera en français.
Fireside chat with Lisa Jackson (Filmmaker) and Rob McLaughlin (interviewer)
MAY 24
AM
Workshop – Changing the narrative to change the climate
How can the power of storytelling amplify behaviour change and action on global warming?
Devise your own story, tools and techniques for crafting a narrative to connect with your audience.
Gain a deeper understanding of the underlying motives and influences that impact entrepreneur's decision-making processes.
Learn about emerging strategies and solutions that small and medium size businesses can take to reduce greenhouse gas emissions.
Presented by the National Film Board and McGill University
PM
Conference – Impactful leadership
Meet the decision-makers laying the foundation for a creative economy where diversity and collaboration thrive.
Fireside chat with Dax Dasilva (Lightspeed) – presented by Ville de Montréal and Shira Lazar (interviewer)
Conversation with Daniel Lamarre and Mitch Garber
Other Speakers to come.
Agora Talks

Hear from Spike Lee, the revolutionary filmmaker.
Stay tuned for more programming information in the weeks to come.
About the digital creativity cluster
The Digital Creativity Summit is part of the Digital Creativity Hub (launched in April 2018 by the Société des célébrations du 375e anniversaire de Montréal), which brings together C2 Montréal and creative hubs Zú and HUB Montréal through a development program aimed at supporting innovative projects in digital creativity.
These three main actors each play a specific role in the Digital Creativity Hub's annual programming. C2 Montréal will act as an inspirational springboard where decision-makers from around the world gather to discuss industry ideas, findings and issues as part of the Digital Creativity Summit, which takes place during the three days of C2 Montréal (May 22-24, 2019).
Following that, Zú will launch a call for projects based on the industry issues that were identified during the Summit. The selected projects will be incubated for 3-4 months as part of Zú's development program through an intensive series of courses and coaching sessions.
Finally, HUB Montréal will showcase the projects as part of its Creative Industries Marketplace.
The Digital Creativity Hub is also supported by the Bureau du cinéma et de la télévision du Québec, the Guilde des développeurs de jeux vidéo indépendants du Québec, the Alliance numérique and the City of Montréal, all of whom will help maximize the project's impact.
Our partners

Join the official Facebook Groups and be part of the conversation!