Prepare to get schooled, and inspired, by six truly extraordinary young people who are not only changing the world as we know it right now, they're providing a window into what the future holds.
The "6 Under 16" – exceptional, creative-minded young folks who are each doing incredible things – will be sharing their own unique perspectives at C2 Montréal 2018. Innovative, motivated and hardworking, they are the leaders of tomorrow and, as you will discover, they have something to say and they know how to say it.
Introducing the "6 Under 16"
1


Evan Sharma

Age: 14 years old
Hometown: Kingston, Ontario, Canada
About: He's a fauvist, neo-expressionist artist with his own line of kicks
Website: evansharma.com

Evan Sharma is a fauvist artist who first received national acclaim when, at 12 years old, his work was shown at Toronto's Artist Project. His paintings have drawn comparisons to those of Basquiat, Condo and Picasso, and have been acquired by collectors from New York, L.A. and Dubai. Evan recently launched the RBLB (Right Brain/Left Brain) brand of sneakers to help drive home the idea that to maximize your potential, you have to use both your artistic and logical brain. Evan has also raised over $25,000 for various charities, inclining the United Way and athletes who will be attending the 2020 Olympics.
2


Zaynah Bhanji

Age: 14 years old
Hometown: Mississauga, Ontario, Canada
About: She's developing AI technologies using natural language processing
Website: zaynahbhanji.com/

Zaynah Bhanji is a 14-year-old high school student from Toronto, Ontario. She's very passionate about artificial intelligence and, more specifically, machine learning, focusing on natural language processing (NLP) and computer vision. Zaynah is part of a program called The Knowledge Society (TKS), North America's leading innovation program for youth aged 13-17, and which exposes students to technologies that are growing at an exponential rate, such as AI, virtual reality, genomics, blockchain, and brain machine interfaces. Her mentors and advisors represent some of the leading companies in the AI space.
3


Alex Knoll

Age: 13 years old
Hometown: Post Falls, Idaho, United States
About: He's developing an app to help people with disabilities navigate life
Website: abilityapp.org

Alex Knoll is a 13-year-old app inventor and international speaker. Alex has addressed thousands of people worldwide about human rights, equality and accessibility, as well as inclusion for people with disabilities, kindness to others and the importance of STREAM education. Alex is best known for inventing Ability App, which helps people with disabilities navigate public spaces and find safe, reliable services and employment. Alex has received numerous awards for Ability App including from I Cubed Inventor's Challenge, Discovery 3M Young Scientist's Challenge for the State of Idaho, as well as the AT&T and Imagination Foundation's Worldwide Inventor's Challenge. Alex has appeared multiple times on The Ellen DeGeneres Show, and he and his app have been featured in TIME for Kids, The Irish Times, the Miami Herald and many more.
4


Sujari Britt

Age: 16 years old
Hometown: New York City, United States
About: She's been playing classical cello (exceptionally well) since she was four years old
Website: sujaribritt.com

Sujari Britt showed her prodigious talent and uncanny devotion to, and understanding of, music from a very early age. She began formal study of the cello at age four – following her study on the violin and piano. The recipient of several prestigious academic scholarships and awards, Sujari has now performed with numerous professional orchestras and been a featured guest performer everywhere from Carnegie Hall to Madison Square Gardens to the United Nations. In 2009, she performed at the White House for President Obama, where she was brought to the attention of many notables in the classical music industry. Sujari is currently completing her Bachelors of Music in Classical Cello Performance at Manhattan School of Music.
5


Sabarish Gnanamoothy

Age: 14 years old
Hometown: Toronto, Ontario, Canada
About: He's the world's youngest Microsoft HoloLens, augmented reality developer
Website: sabarishg.com

Sabarish Gnanamoorthy is a 14-year-old virtual reality and augmented reality developer. He's the youngest AR developer in the world to be sponsored by Microsoft to develop for the Microsoft HoloLens. He's also supported and sponsored by the Thiel Foundation for his venture WaypointAR, an augmented reality navigation platform for airports, campuses, large conferences and malls. Sabarish has been awarded a scholarship from Udacity for their VR Developer Nanodegree program, and his mentors and advisors represent some of the leading companies in the AR/VR space. A student at the University of Toronto Schools, Sabarish is a member of The Knowledge Society (TKS), where he first became exposed to AR and VR.
6


Félicia Harvey

Age: 15 years old
Hometown: Chicoutimi, Québec, Canada
About: She's the first person to link a specific gene to high levels of bad cholesterol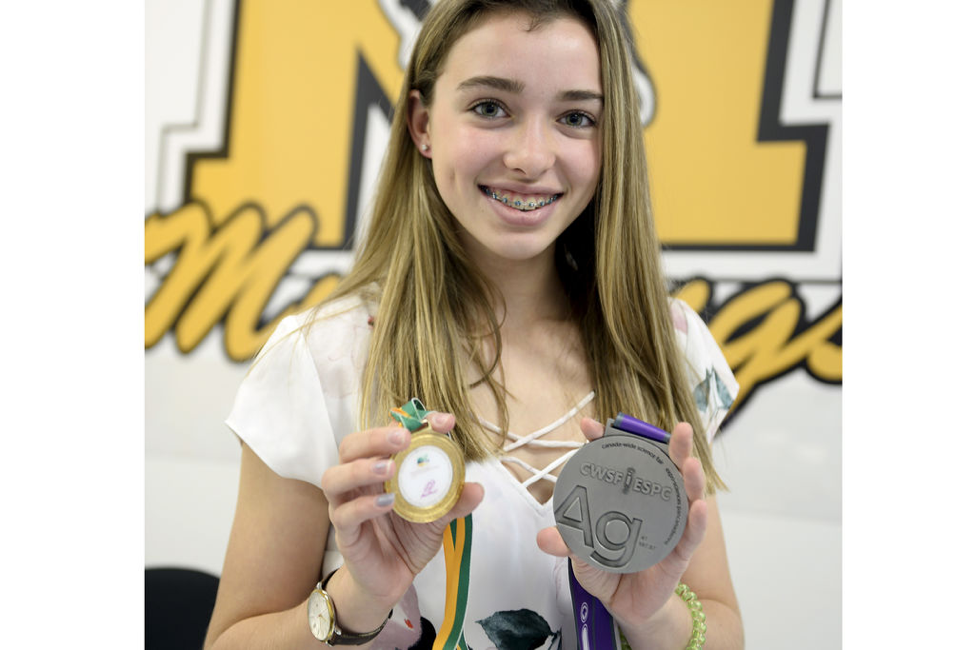 Félicia Harvey is the first person to link a specific gene to the occurrence of familial hypercholesterolemia (a genetic disorder that renders the body unable to remove bad cholesterol from the blood). She made this discovery while participating in a research project that was entered in Québec's annual Expo-sciences competition, which she won. Her project went on to win at the national finals, after which she represented Canada at the 16th edition of the Expo Science International Science, held in Fortaleza, Brazil in 2017. She has since been honoured by the Centre Hospitalier de l'Université de Montréal (in the company of 2006 Nobel Prize for Medicine recipient Dr. Andrew Fire) and in the Québec National Assembly.
The "6 Under 16" will be sprinkled throughout the regular speaker programming in the 360 Big Top at C2 Montréal, May 23-25.
To see them live on stage, buy you pass now!
To see more of the ever-expanding C2 speaker roster, please go here.