When it comes to artistic programming, anyone who knows C2 Montréal knows this: expect the unexpected. And this year will not disappoint.
For three days, May 22-24, live performances (some announced, some not) will punctuate the event from start to finish, throughout the day and into the night across the C2 Village. A multitude of artists — musical, circus, visual, performance and more — will not only stoke the fires of stimulation, but also serve as entertaining and thought-provoking metaphors for some of the other big Cs at C2: connection, collision and collaboration. And speaking of collaboration…
Kicking (and closing) things off in grand Cirque style
It's with great pleasure that we announce that C2 Montréal founding partner Cirque du Soleil will be book-ending the artistic programming at this eighth edition, both opening and closing the three days of C2 in the wondrous way that Cirque du Soleil fans worldwide have come to expect and appreciate.
To wit, C2's opening celebration will feature an unplugged performance of the theme song from one of Cirque du Soleil's most iconic productions, Alegría. The performance will take place courtesy of the show's own musicians, part of the modern reimagining of the groundbreaking show that is currently playing under the Big Top in the Old Port of Montreal until July 21. It all goes down in the expansive Agora space in C2 Montréal's new home at Grandé Studios, and marks the first time that all C2 participants can experience the moving kick-off moment together in the same place.
Cirque du Soleil also has a creative hand in the closing of C2, when global entertainment phenomenon Blue Man Group (owned and operated by Cirque du Soleil) wraps the final conference  in what will be unforgettable fashion. Word to the wise: if you're at C2, you're not going to want to miss this.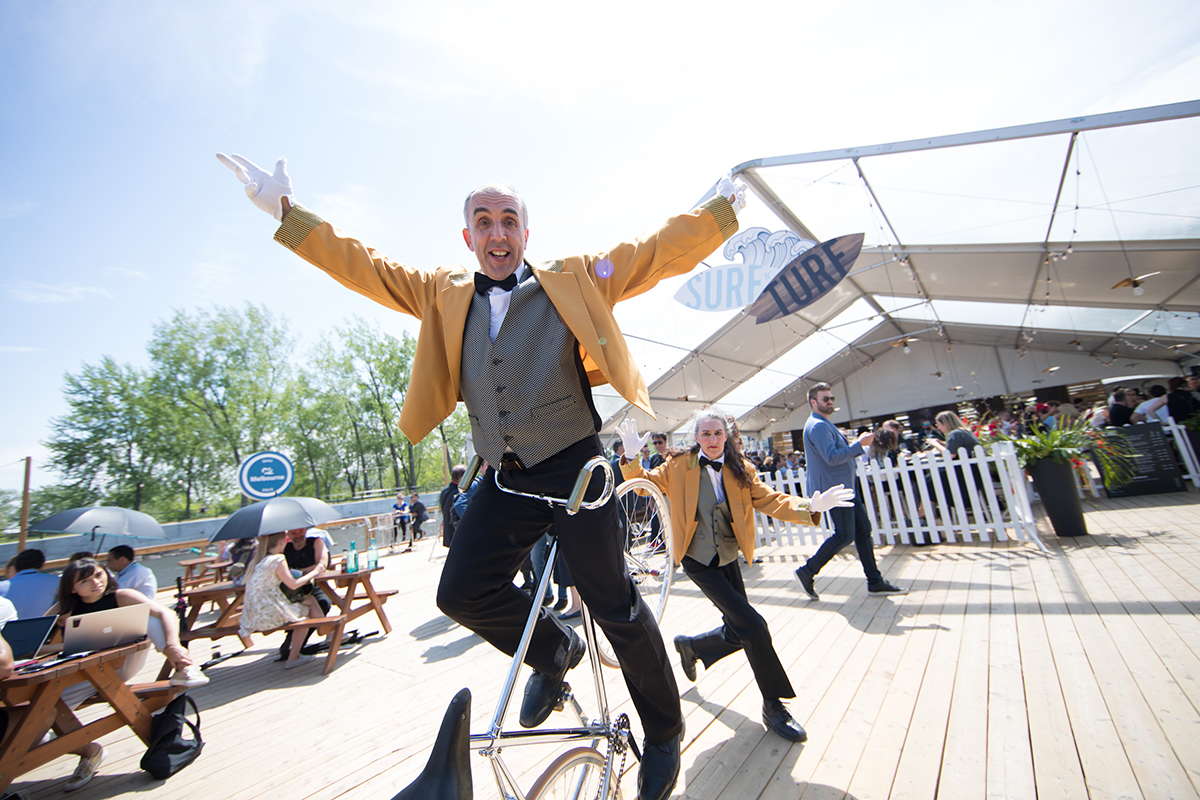 Artists in tha house
Every year, first-rate musicians, dancers and other performers take up residency in the C2 Village for three days, creating ambiance and setting the tone for conferences and other activities. In between talks in the Forum, improvisational electro trio N/B/K — a project consisting of sound explorers Nicolas Sérrus, Jerome Guilleaume and Ivann Uruena — will be laying down rich rhythmic textures and melodies while dance troupe Tentacle Tribe bring a fresh take to transitions between speakers with their contemporary/urban choreographies.
In the Cabaret space, the five-piece Croche Blanche will be channelling 1920s New Orleans jazz with hints of calypso and blues and a touch of rockabilly, while producer/DJ Téhu will hold down the Agora during the day with deep, hip-hop-based grooves overlaid with his signature jazzy tones.
On Wednesday night (May 22), dance/electronic duo Agata Jasper (a collaboration between producers/DJs Kodok and Nico Sé) will get the party started with deep and soulful house mixes starting at 6:45 pm and keep it rolling until 11 pm. On Thursday night (May 23), producer and DJ Kris Guilty will take over music duties with multi-genre-spanning tracks designed to make peeps dance.
Getting into the spirit of things onsite
The new Grandé Studios C2 site is located on the grounds of the former Grand Trunk Railway yards and shops, at one point home to the largest train repair shop in Canada. Participants will want to keep an eye out for the acrobatic troupe The Spirits — dancers/aerial performers representing the spirits of the former yard workers — who will be giving a poetic nod to this rich history.
There will also be music in the air everywhere: live music will greet participants arriving in the welcome area each morning, and everyone will want to keep their ears peeled for roaming musicians who will be setting the tone throughout the C2 Village. Participants can join in as well by showing off their musical talents on several public pianos scattered throughout the site.
And back again to ensure attendees have a top-notch entertaining time are the inimitable 3 Clefs d'Or ("gold keys"), who will be turning the 5-star concierge service that C2 offers into an over-the-top, comedic 7-star experience wherever their "services" are required. Be on the lookout, because you never know where they'll turn up.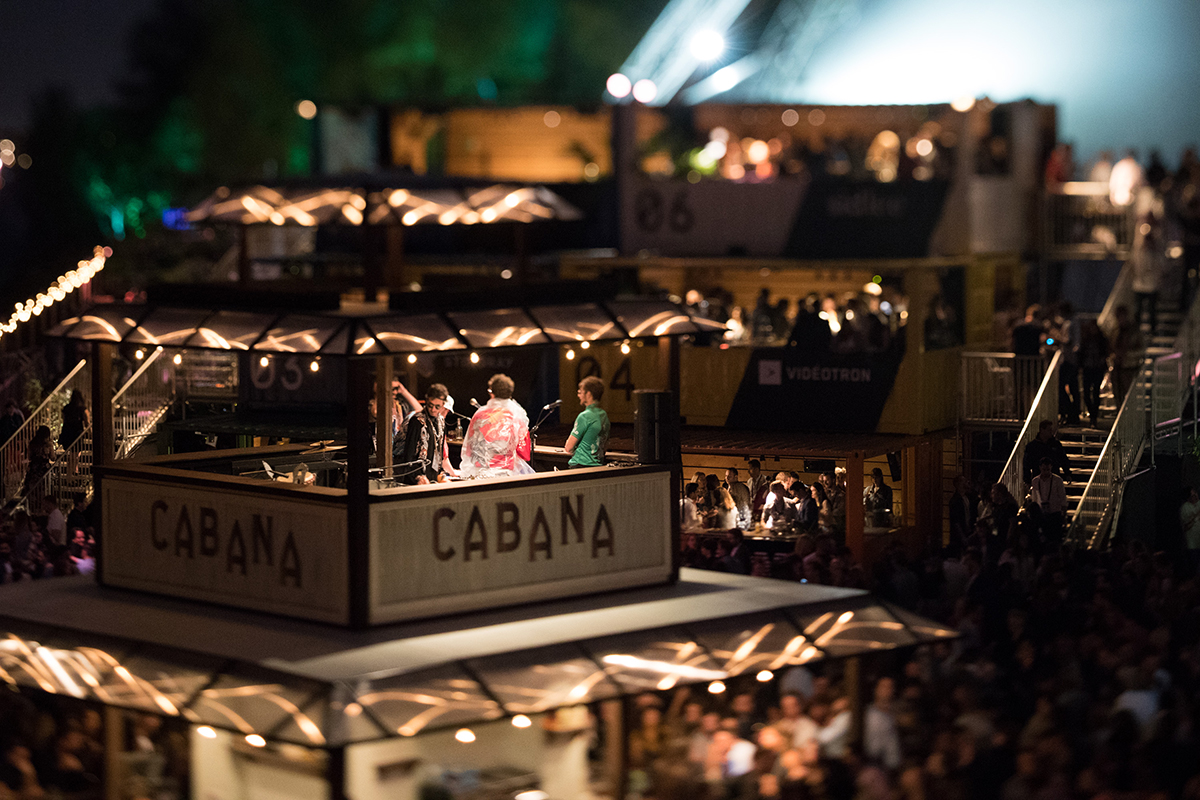 Work hard, play harder at Illumination Night
Celebration is deep in C2's — and Montreal's — DNA, and provides opportunities for everyone to connect on another level. Again this year, the annual closing-night blowout celebration, Illumination Night, presented by Stradigi AI, will feature an amazing lineup of local legends to get your blood pumping and your feet moving.
The Illumination Night party kicks off, rain or shine, on Friday night (May 24) starting at 8 pm. It will feature performances by DJ Kelly and the Cuban, Afro-Caribbean and Brazilian-inspired mixes of Nana Zen, genre-bending good vibes from The Fitness & Pony, pop-house producer Pascale Project, the unique hip-hop stylings of Jacobus, soulful electro duo Beat Market, multi-genre-exploring DJ Dre Ngozi and adventurous house/techno artist FORREST. The evening will be lit up courtesy of visuals from Bewoy and Dalkhafine.
Access to Illumination Night is included with the C2 Total Experience three-day passes and day passes belonging to participants, but there are also a few tickets up for sale. Act fast and buy your tickets before they're all gone, as there are only a limited number available (and they always sell out).
Questions or comments? Drop us a line at editorial@c2.biz