A groundbreaking aerospace engineer, a TikTok creative strategist, a former CIA agent, an Indigenous wellness advocate and an animation studio legend are among the many world-class speakers and experts who lit up Day 2 of C2 Montréal (October 19-21) with their wisdom and insights. The following are just a sampling of the many Day 2 highlights…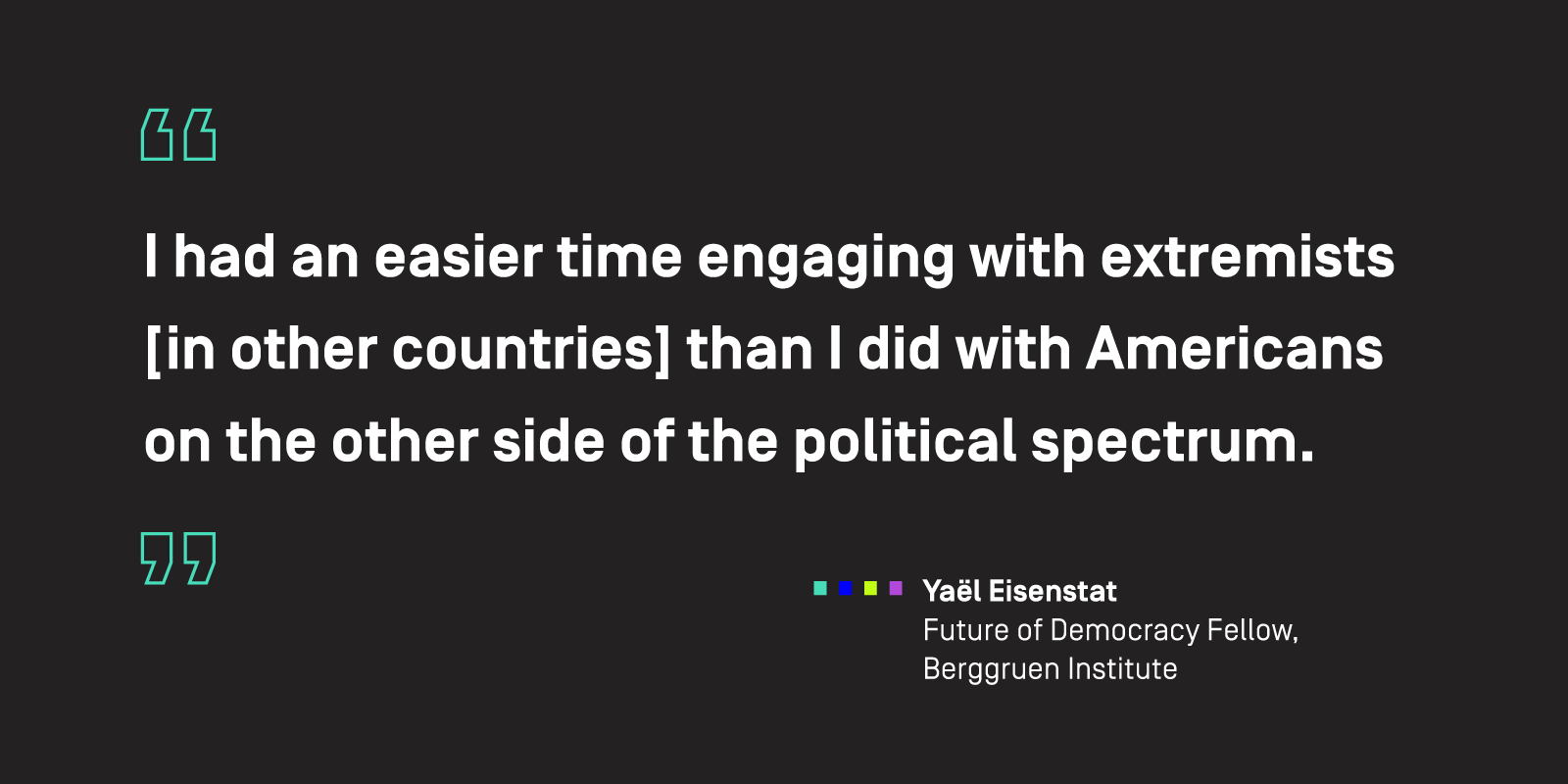 Kick-ass quotes of the day
"We need to make sure remote work doesn't become gendered and entrench the boys club at work, creating an environment where women's contributions aren't valued enough," said Rita Trichur, Senior Business Writer and Columnist at the Report on Business, at the panel "The great reevaluation: Is flexibility the antidote to mass resignation?"
"It can be really triggering or traumatizing when people are constantly expecting you to speak out and use your voice," said Indigenous wellness advocate Kendra Jessie, speaking at the conference "Influence for impact: Activists and social media." "I've been speaking out about residential schools… it's your turn now."
"For me, I feel better than anything else when the other people I'm working with feel like they own the problem. They're not looking to me for the answer, they're talking is if they own the problem, and when that happens, that's when the magic happens," said Pixar Co-Founder Ed Catmull at his fireside chat when asked how you encourage people and their teams to take risks and stay creatively agile.
"We play [an important role] in the circular economy. It's not only reducing waste, there are also climate impacts if we can keep those textiles out of landfills," said Alice Hartley, Director, Product Sustainability & Circularity at the Gap Inc., at the conference "Creating a blueprint for a circular fashion industry," noting that brands need to take a leadership role when it comes to implementing circular design.
"The most important thing for a company is the strength of your brand… If you lose your brand, you lose everything," said Daniel Lamarre, President and CEO of Cirque du Soleil Entertainment Group, on how iconic brands can survive a crisis, at the conference "Culture and COVID-19: What's next for the business of entertainment?"
"[In 2015], I had an easier time engaging with extremists [in other countries] than I did with Americans on the other side of the political spectrum," said Yaël Eisenstat, a Future of Democracy Fellow at the Berggruen Institute, during her fireside chat "How to fix the internet: Media discourse and democracy." The former CIA officer and national security advisor to Vice President Biden was explaining part of her motivation to work to counter the rapid radicalization of American citizens on social media platforms.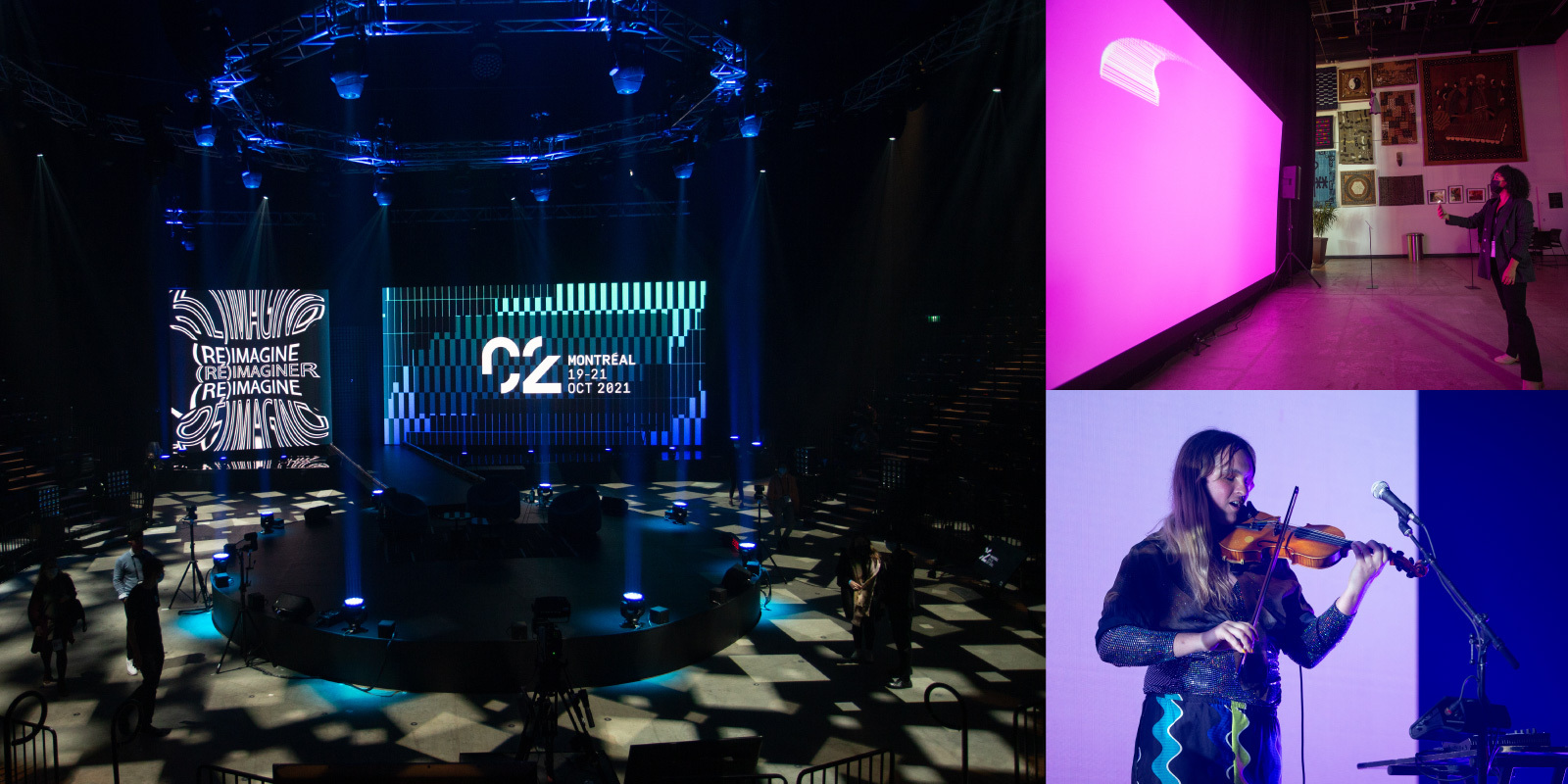 Art and artists took centre stage
Innovative, creative and avant-garde, Eve Parker Finley is one the fresh faces of indie music in Montreal. A singer and multi-instrumentalist who uses her voice like an instrument, the laureate of the PHI North Residency Program regaled participants in the Forum in the afternoon with melodic and multilayered compositions using pre-recorded sounds/instruments during a seamless and transporting performance.
Points in Common, presented by Iregular, is a collection of interactive experiences created to observe how large groups engage with digital public art, and at C2MTL it's been sparking playful interactions between participants. The immersive artwork is activated by the flashlight in your smartphone, and it translates your movements into sounds and bright shapes that zoom across the wall and connect or collide in explosions of bright colours.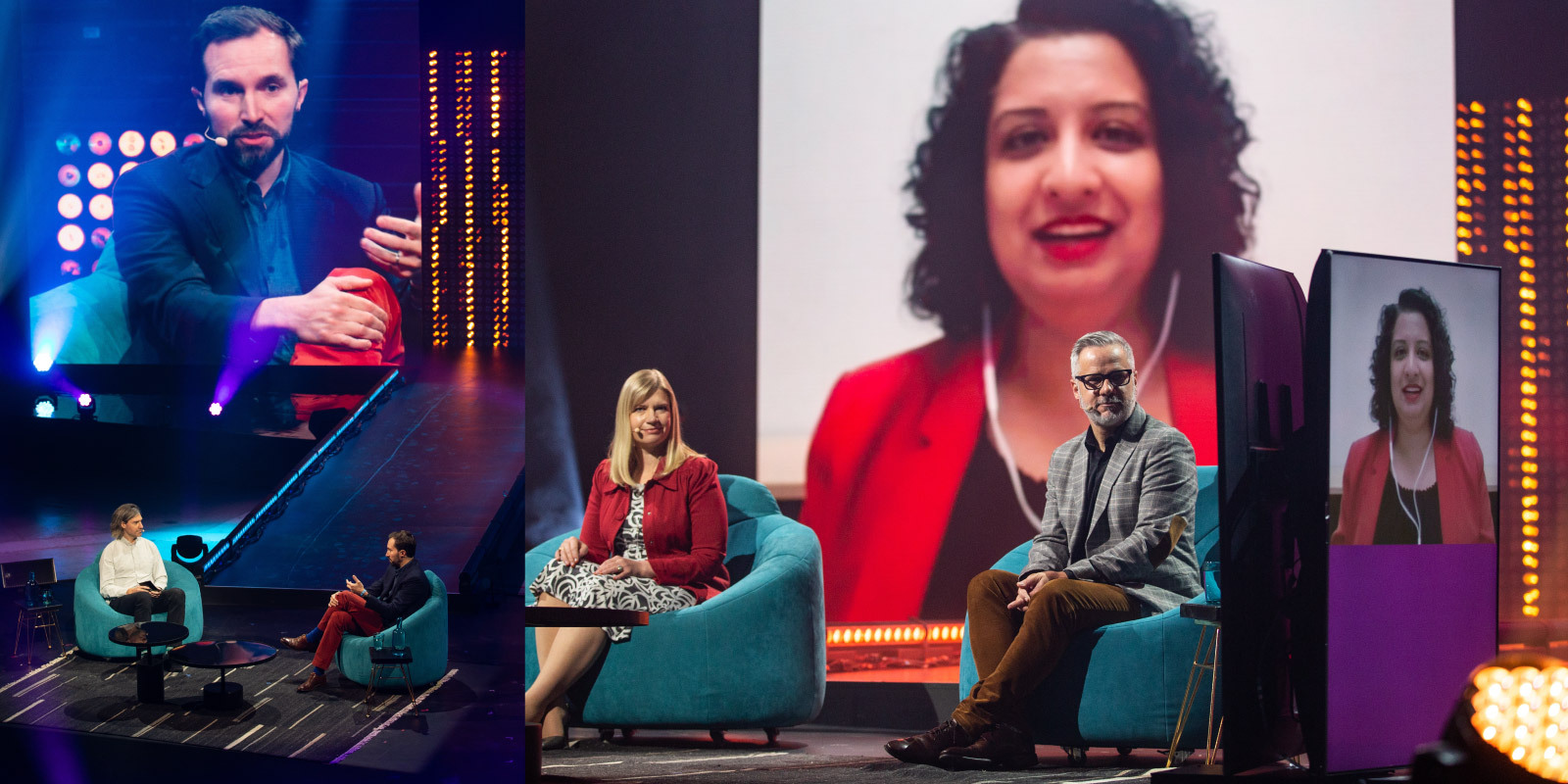 Some of the many Day 2 conference highlights
Day 2 launched with the panel "The great reevaluation: Is flexibility the antidote to mass resignation?" They observed that 41% of people across 30 countries are considering making a job change in the next six months, and that more than 4 million people in the US have left the workforce voluntarily since April. Christian Bourque, Executive Vice President and Partner at Leger, had some advice for leaders: "If you want to be flexible, you don't impose flexibility — it needs to come up from the talent." He also had some advice for job seekers: "If the onboarding process is nonexistent, move on."
At the workshop "How to TikTok," TikTok Creative Strategist Connie Chan stated that "Culture moves at the speed of TikTok" and that "One song on TikTok can change someone's life." A moment that starts on TikTok can spark a movement, and Chan gave the example of the song Dreams by Fleetwood Mac, which reappeared on the charts — more than 30 years after it was initially a hit — after going viral in a TikTok video. She also cited a feta pasta trend that started on TikTok, which ended up causing a feta cheese shortage at grocery stores. In response, grocery stores created displays with all the ingredients needed to make the viral pasta. "New trends are born daily on TikTok," said Chan.
At her captivating conference, "The final frontier: A conversation about space, science and human expansion," Aerospace Engineer Dr. Farah Alibay laid out her vision for the future, explaining why it's critical that we invest in fundamental science. "Because we don't know what we'll find. But as humans, as a society, it's extremely important to keep pushing ourselves forward — we can't stay static. Of course, we have to take care of our planet, but we also have to push our boundaries outside of what we know because we don't know what we'll discover. We might make groundbreaking changes in understanding who we are as humans, how we fit in this society, galaxy and universe, and those things will often come back to us." Alibay, who worked on the Perseverance rover and Ingenuity helicopter missions to Mars, said that that "the beauty of investing in science is that we don't know what we'll find, but often we find out extraordinary things that end up helping us here on Earth."
Roxy Young, CMO at Reddit, Inc., knows all about community building and brand recognition. At the workshop "Business, brand and community: Inside Reddit's approach to meaningful strategy," Young talked about the importance of marketing people knowing their brand identity inside and out, and being flexible and bold. She also mentioned the importance of diversity in the ranks: "Make sure you have a diverse team so you have multiple perspectives on your brand. That way you can make sure it's relevant to your entire community."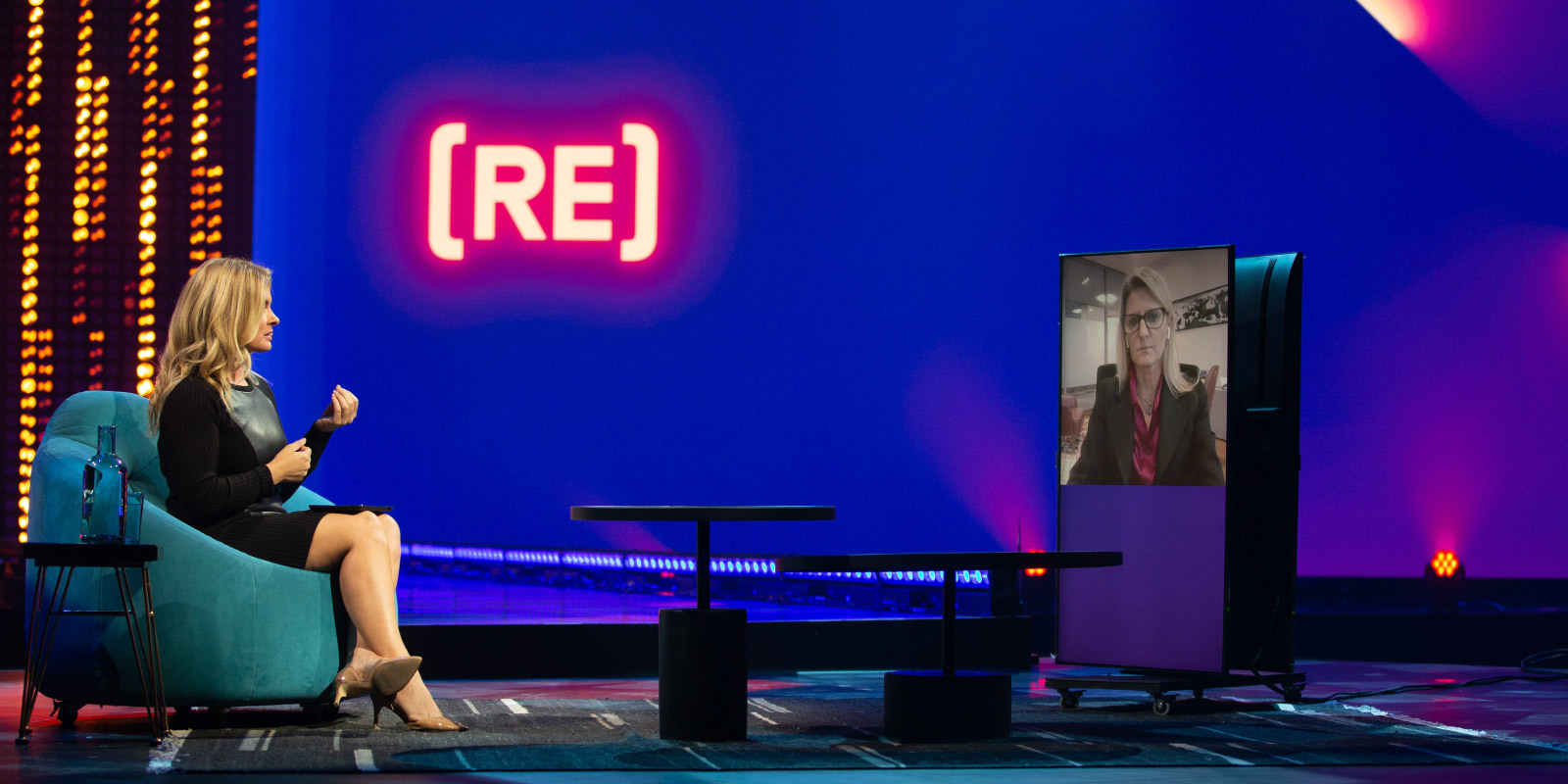 "A constant [in my career] has been this deep connection with my purpose and people," said Marie-France Tschudin, President of Novartis Pharmaceuticals, about how she keeps her purpose centred around people. And at the fireside chat "Accelerating the healthcare transformation through collaboration: A customer-centric approach" she shared an anecdote: Early in her career, she was a sales rep. She was sitting in a doctor's office one time and was introduced to a client who was very grateful for her medicine. Some time later she received a package from the doctor with a note: "The patient has sadly passed away, but she wanted to give you the book that she was able to finish because of the treatment you helped put her on."
Pixar Co-Founder Ed Catmull, during his fireside chat with Julia Cyboran, VP — Marketing and Audience for C2 International, spoke about the two different meanings of failure and how they impact risk taking: One meaning of failure "is that you screwed up and there are bad consequences… In politics, business failures are used as bludgeons to damage each other, so there's a real, palpable aura of danger around failure." The other meaning of failure is that we learn from failures. "So we have two different meanings, but it's almost impossible for people to hold these two concepts simultaneously, they get in the way of each other… and you only have the luxury of calling something an educational experience after it happened. But until that happens, you still have the danger of the failure. So people have this kind of subconscious calculation about their risk tolerance which makes [taking a risk] not easy to do."
How is open innovation a solution for our times? "Consumer expectations have changed drastically with the arrival of new offers and experiences on the market," said Jessika-Kina Ouimet, Open Innovation Manager at Bonjour Startup Montréal, at the workshop "How to leverage open innovation to add value to your organization." The main takeaway: Open innovation draws on collective intelligence and the benefits are numerous, both for companies and for the startups they collaborate with.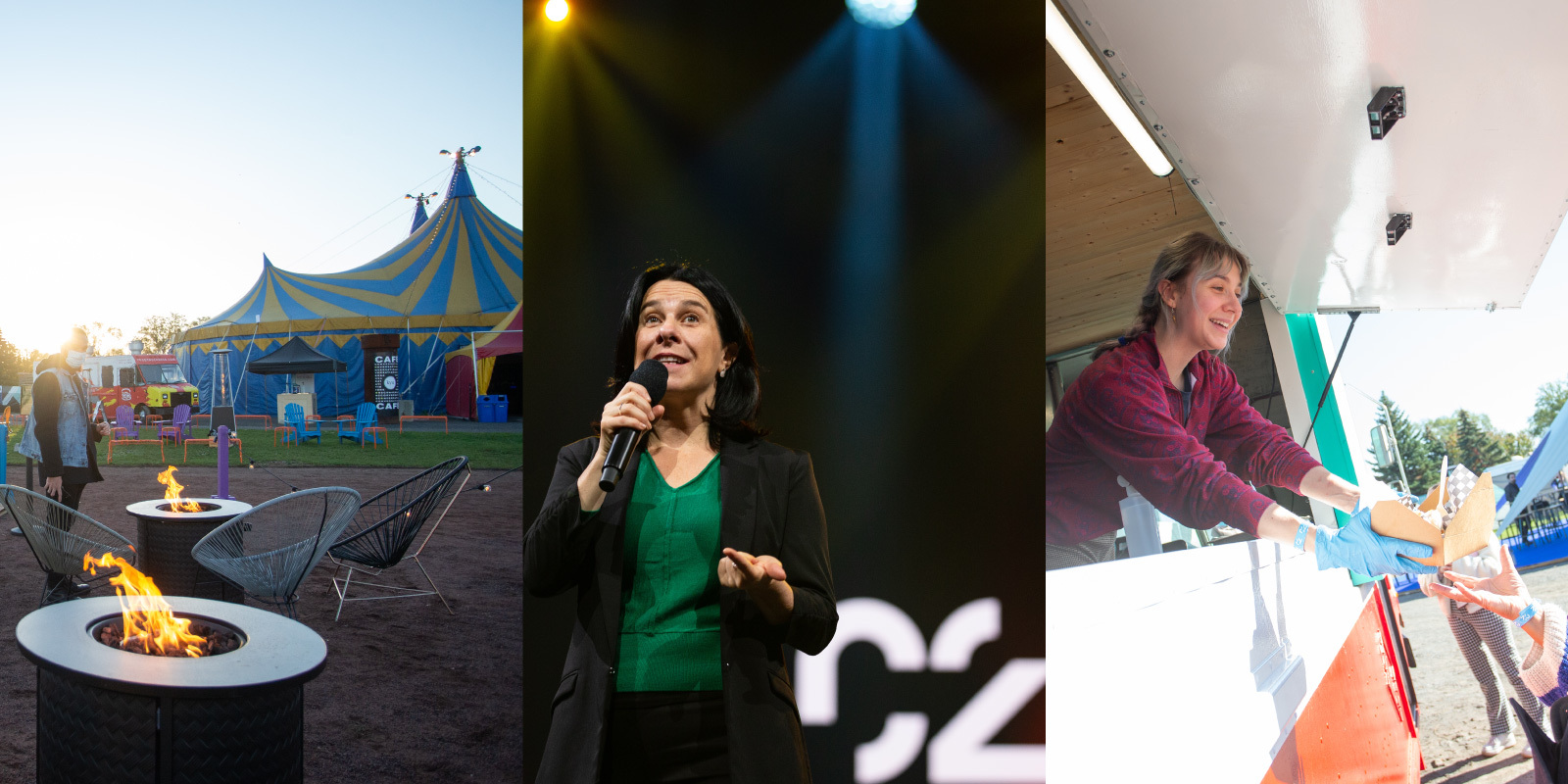 Day 2 in fab photos
Be sure to have a gander at all the great goings-on that took place on the exciting second day by checking out the C2MTL 2021 photo album.
There's still a whole day of inspiration to be had!
With one day left in this year's edition, it's not too late to get in on the C2 Montréal action with an online experience pass.
Missed something? Take advantage of video on demand
If there was a conference you weren't able to catch (or wanted to view again), no worries, we've got you covered. All conferences will be made available using video on demand, so make sure to check back regularly using the On demand tab in the C2Agora event platform
Questions or comments? Drop us a line at editorial@c2.biz