C2 Online — Montréal 2020 is right around the figurative corner. Let the following be your guide to a new round of thought-leading speakers, workshops tackling real-world business challenges, fascinating interactive masterclasses, the popular connecting and knowledge-sharing Braindate platform, engaging collaborative sessions and a new slate of entertaining and informative virtual activities.
But first…
C2 Online in a nutshell
C2 Online – Montréal 2020, October 19-30, is a new way to convene and connect. It's a completely digital event separate from the annual C2 Montréal conference each spring, albeit with all the signature, creative C2 content you've come to expect. Participants will be able to experience all 10 days of the event via an innovative platform, benefitting from enhanced digital content, deeper learning, heightened networking and greater community engagement.
Now, without further ado…
Announcing a new (and large) wave of speakers
A technical genius, an experience-design leader, a renowned data defender, a beauty industry change-maker, an investment expert and more comprise this latest wave of esteemed speakers who will share their unique insights and expertise at C2 Online — Montréal 2020. It's our great pleasure to announce the following new additions to the growing speaker lineup:
This inspiring new group of speakers joins already announced #BlackLivesMatter co-creator, social activist and best-selling author Patrisse Cullors (October 19), author Malcolm Gladwell (October 20, masterclass presented by RBC), actress and activist Jane Fonda (October 22, conference presented by RBC), esports professional Stephanie "missharvey" Harvey (October 23, conference presented by ZÙ and HUB Montréal), actress, writer, host and advocate Jameela Jamil (October 27), and entrepreneur and digital marketing pioneer Gary "GaryVee" Vaynerchuk (October 29, conference presented by Lenovo).
Check out the exciting C2 Online speaker roster so far, and stay tuned: more speakers will be announced soon!
Problem-solving digital workshops
Offered in collaboration with field-leading experts, a range of digital workshops invite participants to roll up their sleeves and work with others (from the comfort of their own home) in prototyping sessions that address real-world business challenges, experiment with creative processes and put ideas into practice.
On C2's new digital platform, participants will gather to learn from industry experts, collaborate in breakout sessions with fellow participants, and re-convene around the ideas and solutions generated.
Masterclasses that pique curiosity
Masterclasses are interactive virtual sessions designed to help participants learn more about the vision and approach of a speaker, allowing them to gain insights from their creative process and best practices and apply them to the challenges they face in their own industry. They feature targeted content and collaborative work (using breakout rooms) that dive into a chosen topic more deeply.
At C2 Online, best-selling author and rockstar storyteller Malcolm Gladwell will present a masterclass entitled "A crash course in curiosity," where he'll explore a significant through-line in his creative and entrepreneurial process: the art of the interview. And IBM's Dr. John Cohn, scientific genius and "Distinguished Agitator" of the MIT-IBM Watson AI Lab, will present "Inventors like you: Developing your own maker," where participants will be shown how to adopt a maker's mindset and a newfound appreciation for one's own sense of curiosity. Neither are to be missed.
Culinary Challenges tackling food issues
Bound to be hugely popular, Culinary Challenges are a new initiative in collaboration with La Tablée des Chefs. The Challenges see participants testing their kitchen chops creating delicious dishes made with local food while delving into the critical issues of food accessibility and food waste and — most importantly — what they can do about it.
Each Challenge takes place in three steps: 1) the gathering of ingredients (with a twist), 2) the actual cooking of the food (on your own time, and with a little help from well-known Montreal chef and restaurateur John Winter Russell), and 3) collaborative conversation sessions discussing the experience and the issues raised.
Presented by The Charles Bronfman Prize, the October 21 session will feature a live conversation between Jean-François Archambault, Director and Founder of La Tablée des Chefs, and David Hertz, winner of the 2019 Charles Bronfman Prize for his commitment to Food Security. Instagram will present the October 27 session, where John Winter Russell will be speaking with chef Fisun Ercan from Bika Farm. At both sessions, and with the help of participants, solutions to better manage food consumption and reduce waste, especially relevant in this time of crisis, will be discussed. Space for the Culinary Challenges is limited — it's first come, first served — so don't wait to sign up once registration opens!
Engaging cultural Sunset Sessions
Cultural industries have been hit hard by the ongoing crisis, and in keeping with C2's intent to play an active role in Montreal's economic recovery, Sunset Sessions will celebrate the city's vibrant music scene while delving into the challenges and workarounds artists face today. Sunset Sessions will consist of live performances from acclaimed Montreal musicians as well as in-depth conversations with them moderated by prominent music industry figures.
The first Sunset Session, presented by RBC, will feature indie hip-hop/pop group Random Recipe, and will take place at Espace C2 atop the Hotel Fairmont the Queen Elizabeth, October 20. The second, presented by the City of Montreal, will take place in the studios of world-renowned immersive experience experts Moment Factory, and will showcase the talents of singer and multidisciplinary artist KALLITECHNIS, on October 26. Both Sunset Sessions will be broadcast on our platform.
Connecting and learning with Braindate
Participants can find their business soulmate or possibly even a new best friend (trust us, it happens a lot) by going on a virtual braindate at C2 Online. Powered by e180, the always-popular Braindate platform helps participants interested in sharing knowledge connect with one another, either one-on-one or in groups.
Braindating allows people to share their own knowledge about a particular topic, or choose a topic posted by someone else that's of interest to them, and arrange to e-meet that person and engage in a meaningful conversation. It's an easy and effective way to tap into the experiences and expertise of like-minded peers, and obtain direct access to the collective genius of fellow participants.
Coup de Cœur sessions
At each Coup de Cœur session, presented by Instagram, a featured guest from the C2 ecosystem is invited to present one of their favourite C2 Montréal conferences from years past. The conference will be broadcast on the C2 Online platform (during which participants can comment and ask questions) and then followed by a conversation discussing how the subject matter has evolved since the original conference took place. Each Coup de Cœur session is 60 minutes in length. Be sure to check out:
Georges St-Pierre (C2 Montréal 2017), discussed by Justin Kingsley and Anick Beaulieu
Nicola Farinetti (C2 Montréal 2017), discussed by Charles-Antoine Crête and Ericka Alneus (in French)
C2 Online will be here before you know it!
Don't miss out on your chance to take part in all the exciting programming at C2 Online — Montréal 2020, October 19-30.
C2 Online Partners – Montreal 2020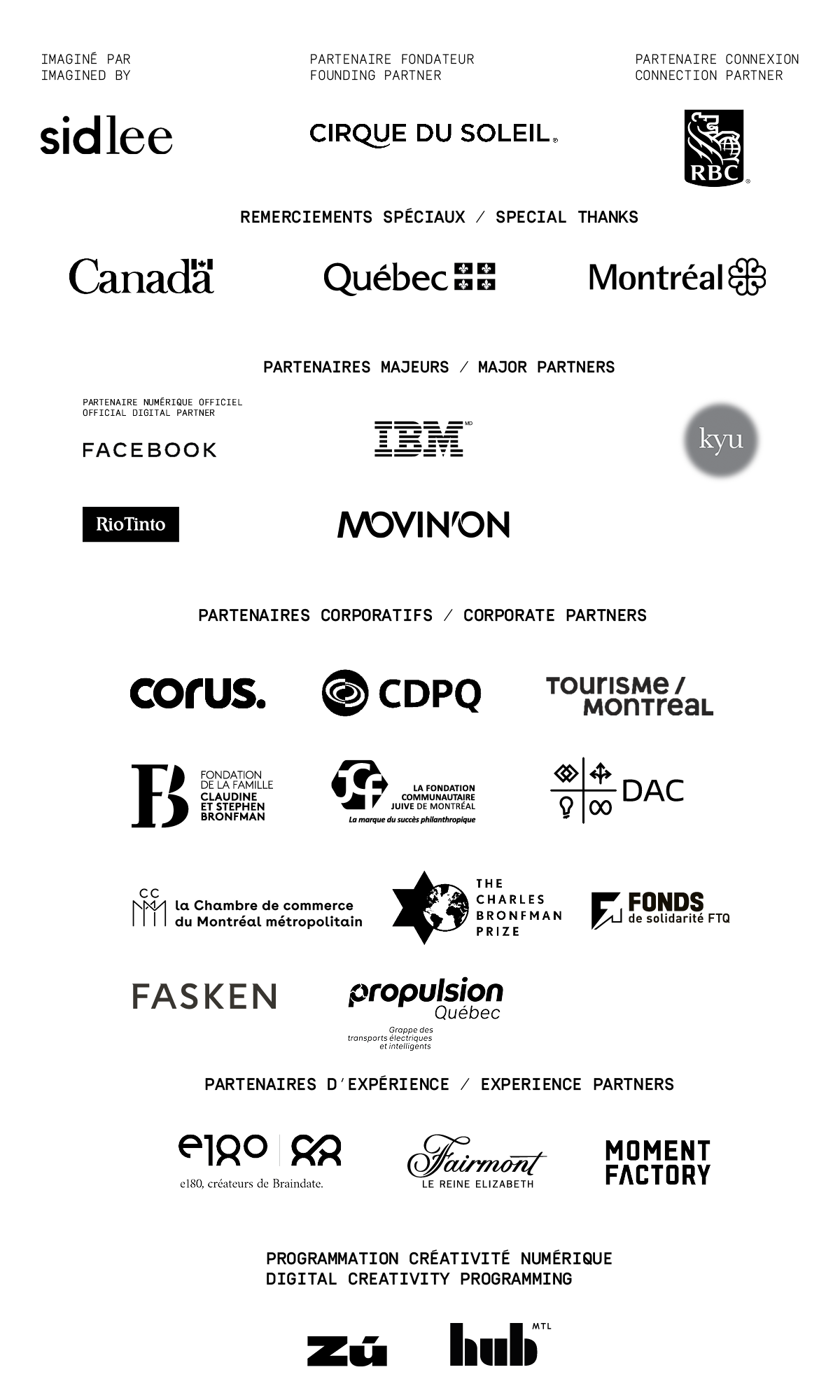 Questions or comments? Drop us a line at editorial@c2.biz