Credit: Myriam Baril Tessier
If you happened to miss Day 2, we've got you covered, starting with artist and innovating tech entrepreneur will.i.am. He regaled the jam-packed crowd at his end-of-day Agora Talk with his insightful and optimistic take on the role AI will soon play in our lives, and what it means for humanity as a whole.
"My immune system is mine, my nervous system is mine, but my data system isn't mine? Data should be a human right," he said. "AI should be a human right."
And in other will.i.am news, Stradigi AI announced the launch of Kepler, an AI tool for business, while at the same time welcoming will.i.am as their partner and advisor on ethics and biases.
"Artificial intelligence is just a new way of looking at computing," said will.i.am. "With that, you need guidance on keeping people first. When you develop these tools and these systems, you need to think about how it impacts society as a whole."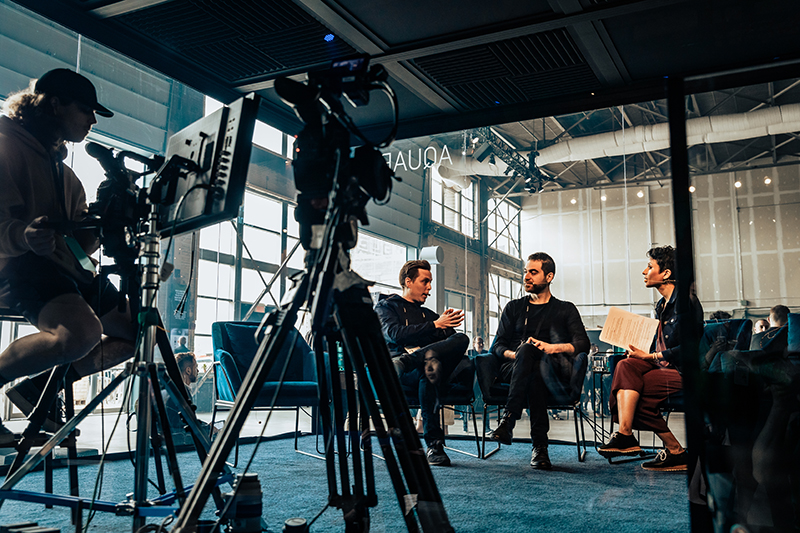 Credit: Myriam Baril Tessier
The Aquarium catch of the day
Top chef Marcus Samuelsson, VR wizards Félix & Paul (pictured above), BMW's head of sustainable design Daniela Bohlinger, Acer Chairman and CEO Jason Chen, will.i.am and more were among the many leading luminaries to dive deeply into topics in C2's Aquarium studio space today. Find out who's on deck tomorrow, Day 3. (And find the ghost in the photo!)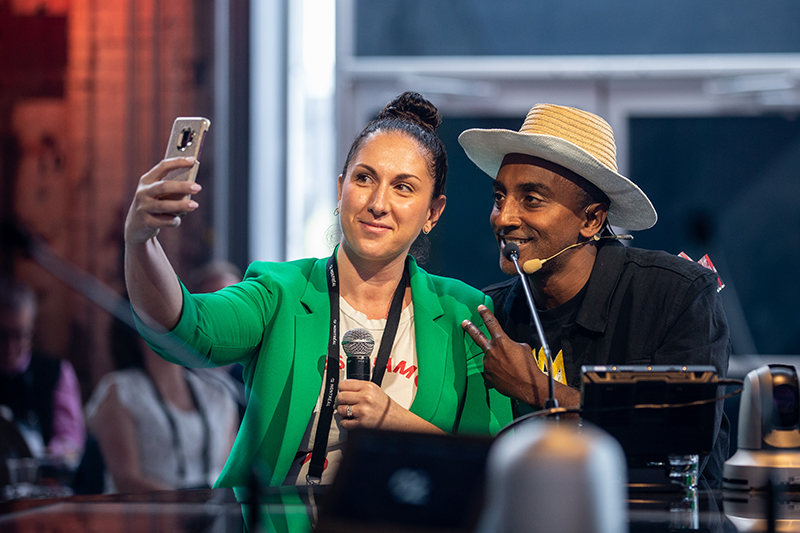 Credit: Arianne Bergeron
Marcus Samuelsson's magical moment
Down-to-earth top chef and restaurateur Marcus Samuelsson had the packed Cabaret audience hanging off his every word as he spoke about food's power to connect people and create community.
Taking questions from the audience, a participant (pictured with Marcus above) asked him for advice on how to advance her project: getting Montrealers to meet in parks and break bread, sharing food from different cultures together. He invited her up onstage and asked the audience to follow her Instagram (@peacethroughfood). Then he said, "I want your first post today to be, 'We are going to meet at this park at this time and you're all invited.' You can't back out now." It was a moment just as great as the cornbread he brought for everyone from his new Montreal restaurant.
What she said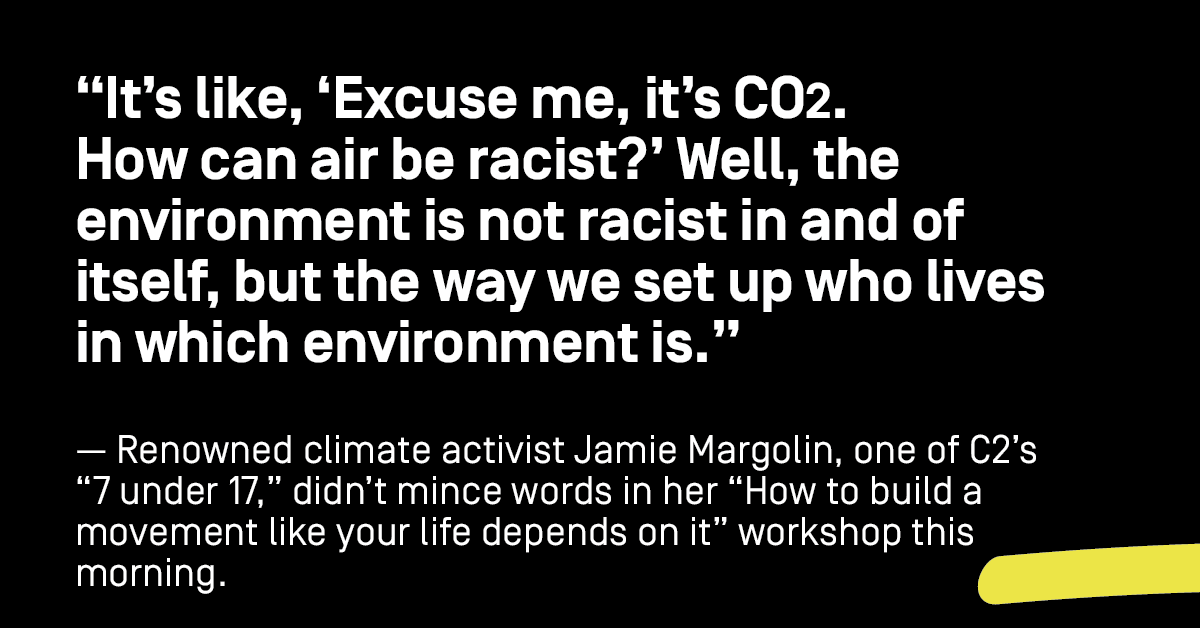 Day 2 in fab photos
Have a gander at all the great goings-on taking place all around the new C2 Village at Grandé Studios on this exciting second day here.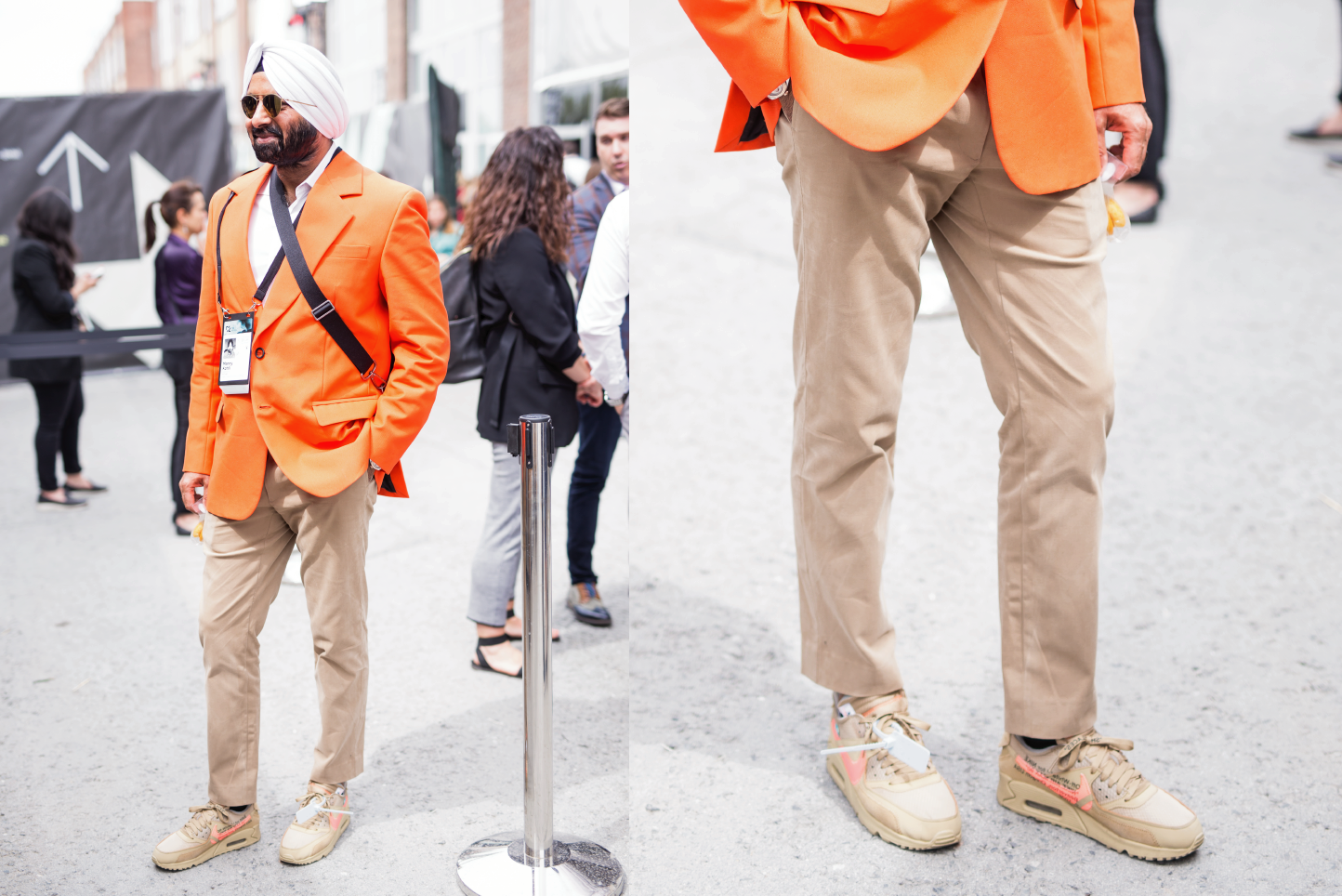 Credit: Mathieu Dunberry
Killer kicks
Shoes of the Day go to this gent, strollin' in style around the C2 Village in his Nike Air Max 90 Off-White. Sweet.
Kick-ass quotes
"I can tell you that if you are Indigenous, the apocalypse happened a few hundred years ago." — Award-winning Anishinaabe filmmaker Lisa Jackson
"Cannabis, we have now learned, is the most broadly therapeutically usable substance in the world." — Cam Battley, Chief Corporate Officer at Aurora Cannabis (10 years ago, he also noted, it would have been aspirin)
"If you have a team that can't split a pizza, then your team is too big." — From the Colliers International workshop, "Hacking the modern workplace"
"A company that allows hate, abuse and bullying on its platform is the same as a bar that tolerates violence on its premises." — The Honourable Navdeep Singh Bains, Minister of Innovation, Science and Economic Development of Canada
"Never fight the ocean, use its power to get you where you want to go." — Conn Bertish, Founder and Creative Director of Cancer Dojo, at his "Becoming harder to kill" masterclass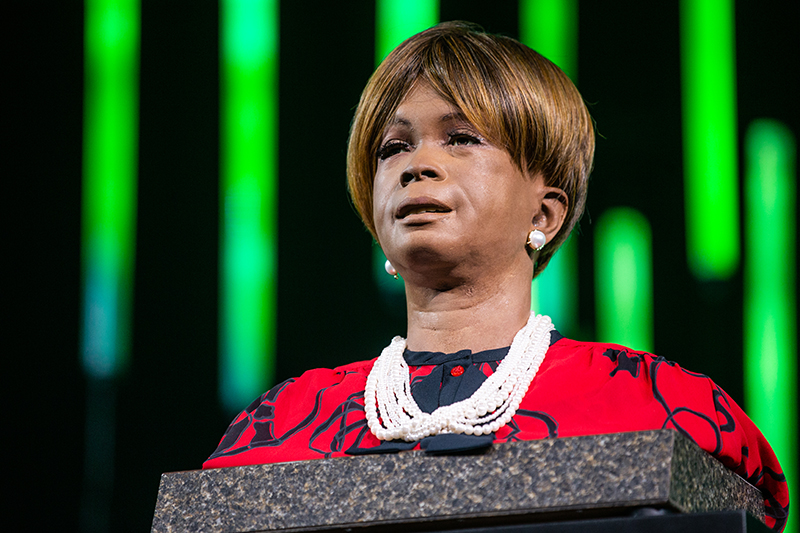 Credit: Arianne Bergeron
So that happened…
Want to know what an AI-powered social robot thinks about human beings? So did a participant at BINA48's talk in the Forum this morning. "Yeah, they're alright," she replied to his question, in a tone that suggested something less than a ringing endorsement. "They've been good to me… I just don't like the normal, boring."
BINA, you came to the right place.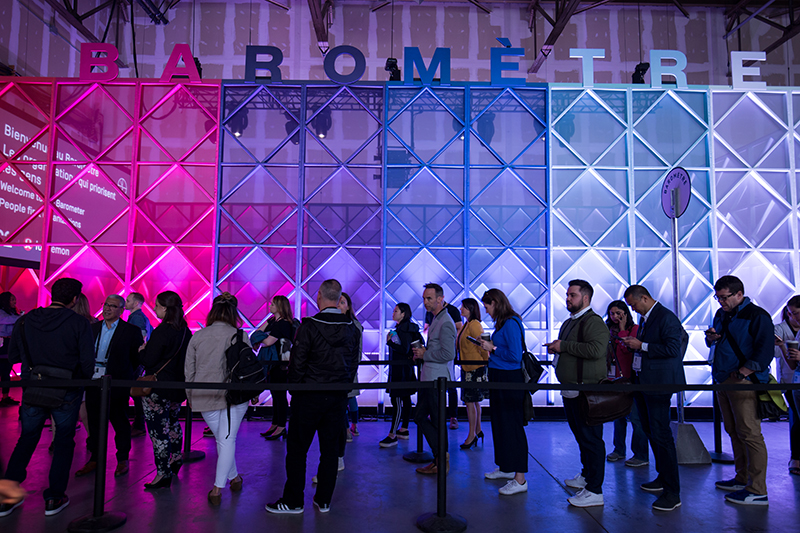 Credit: Mathieu Dunberry
At popular C2 Lab Barometre today, the pressure was on to give the fun and colourful collaborative experience a try.
In a parallel universe onsite
At C2, you have to be ready for anything — even to step into the shoes of a regular at a legendary neighbourhood restaurant. In the VR Zone presented by Montreal's Phi Centre (a new feature this year), participants are immersing themselves in an intense virtual experience at Ben's Chili Bowl, a legendary Washington diner that served as the backdrop for the shock-doc Travelling While Black, produced by Felix & Paul studios. Outfitted in Oculus VR headsets, participants travel through time and space to live as black Americans in different eras, from the Jim Crow south through to Trump's America.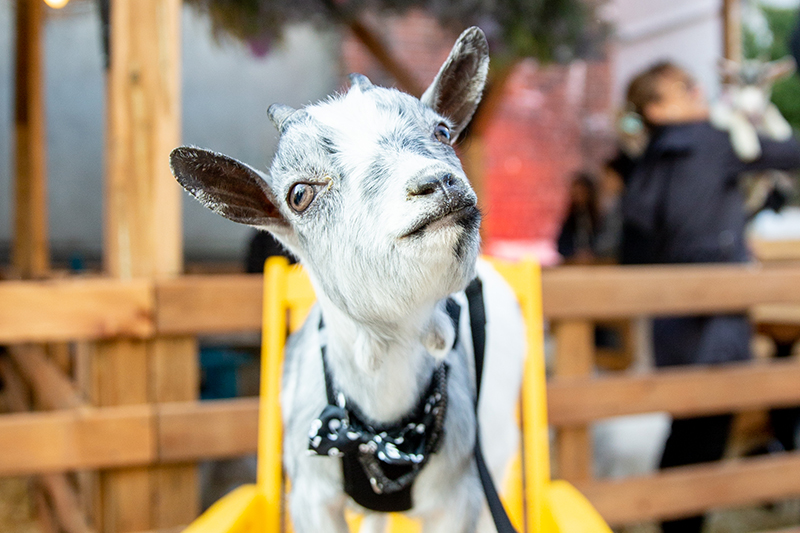 Credit: Arianne Bergeron
The cuteness overload moment
And… goats. The cloven-hooved inhabitants of the Community Garden by Facebook have been, at the risk of grave understatement, quite the hit. Populated by rescue animals from humane animal farm La Ferme du Domaine Quinchien, a little zootherapy (and morning goat yoga) seems to be just what the doctor ordered. You can see why.
Tomorrow is only a day away…
On deck for Day 3: former Senior VP for Apple Retail Angela Ahrendts, renowned chef and restaurateur David McMillan, SAP CMO Alicia Tillman, astronaut David Saint-Jacques (live from the International Space Station!), gender equality activist Sophie Grégoire Trudeau and revolutionary filmmaker Spike Lee are among the many thinkers and doers taking the stage tomorrow. See you then!
It's not too late to get in on the action
There are still a handful of C2 2019 passes available for tomorrow (Friday, May 24) — grab them while you can!