Credit: Myriam Baril Tessier
Closing out the final day of this truly exceptional eighth edition of C2 Montréal was filmmaking revolutionary Spike Lee. He regaled the very appreciative (and very full) Agora audience with powerful, no-holds-barred anecdotes, personal stories and cautionary tales about — among many other things — the fight for his art, maintaining one's integrity, and interestingly, to say the least, how not to let your parents crush your dreams.
Pure honesty, pure greatness, pure Spike.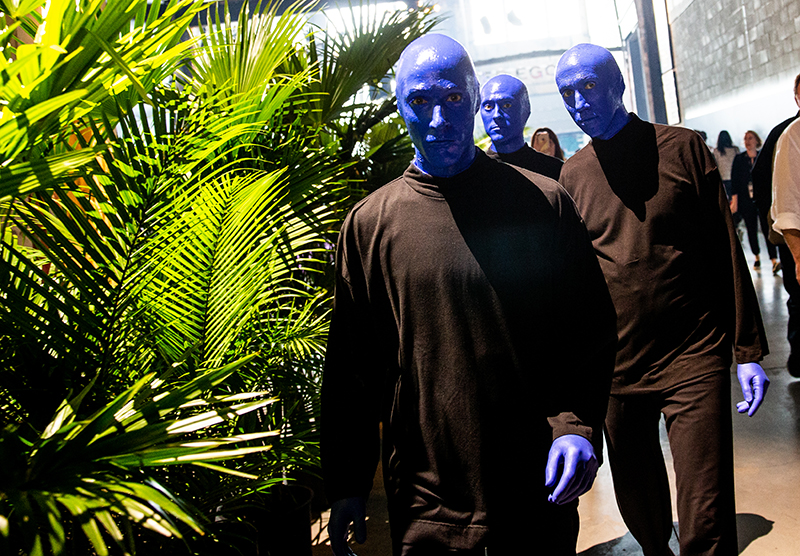 Credit: Arianne Bergeron
So that happened…
And no sooner had Spike Lee left the stage than the music swelled and global entertainment phenomenon Blue Man Group stormed the stage and, with the help of live musicians, led the entire audience outside into the sunlight for a musical party in the Plaza. Amazing.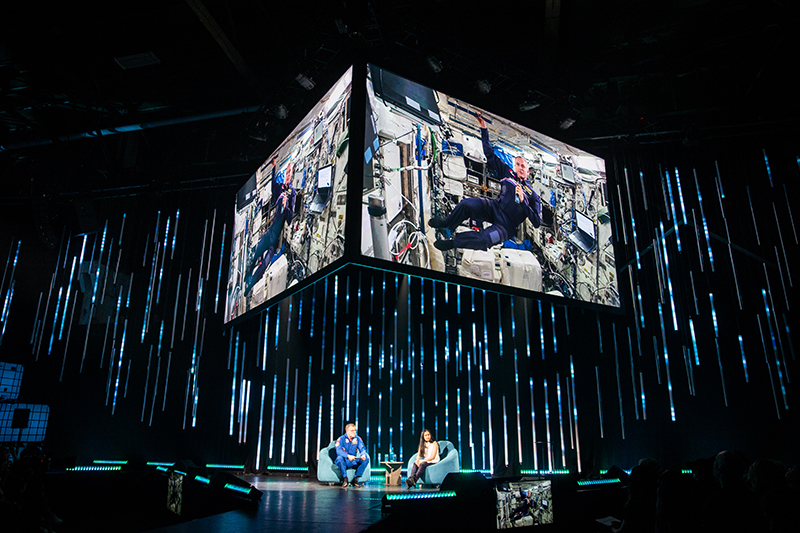 Credit: Arianne Bergeron
That "Wow!" moment…
…when astronaut David Saint-Jacques suddenly appeared on the Forum big screens this morning above fellow Canadian Space Agency astronaut Dave Williams and 16-year-old AI expert Shagun Maheshwari, live from the International Space Station. Between backflips and microphone tricks, David laid down a steady stream of inspiration while explaining life on the ISS and how he got there. Uplifting and absolutely unforgettable. (Watch the video.)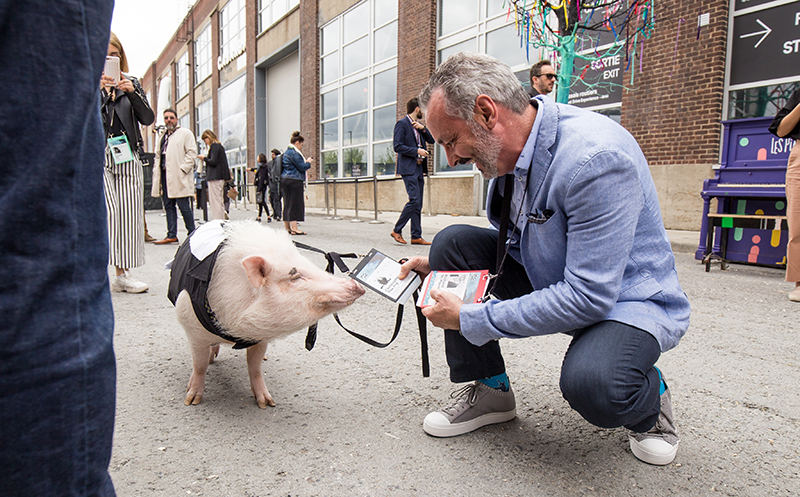 Credit: Jimmy Hamelin
Gettin' piggy with it!
C2 President and CEO Richard St-Pierre "kliks" with Instagram travel influencer Christopher the Pig on the Plaza early this afternoon. Fun fact: Christopher has nearly 83,500 Instagram followers (or roughly 83,000 more than Richard).
What she said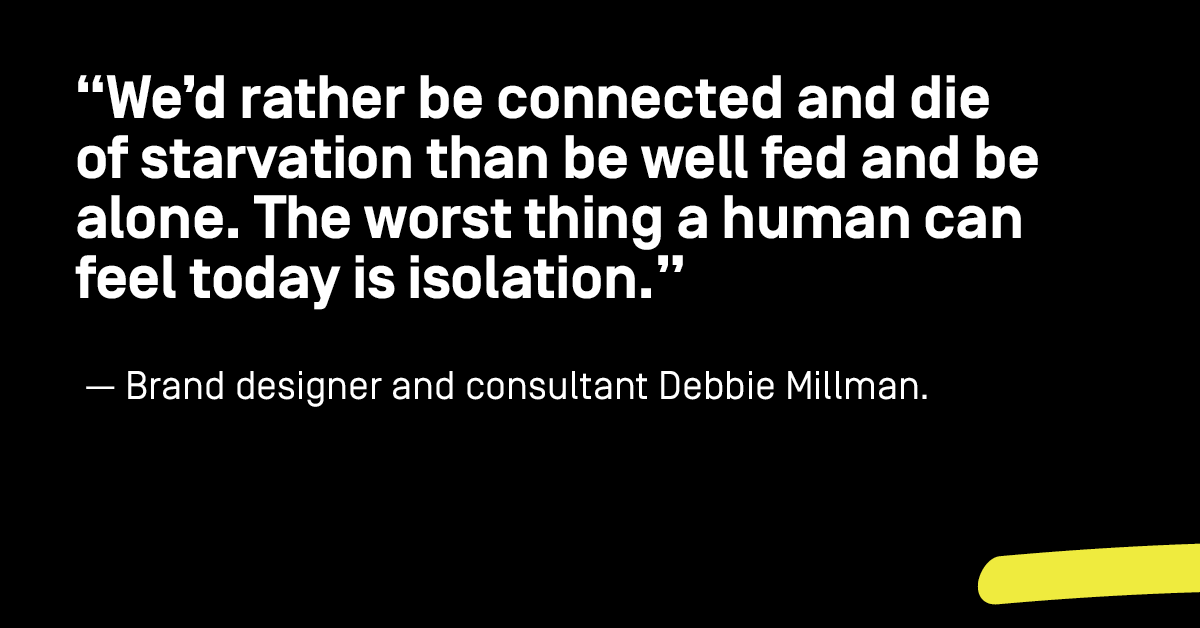 Day 3 in fab photos
Have a gander at all the great goings-on taking place all around the C2 Village on this exciting last day here.
What he said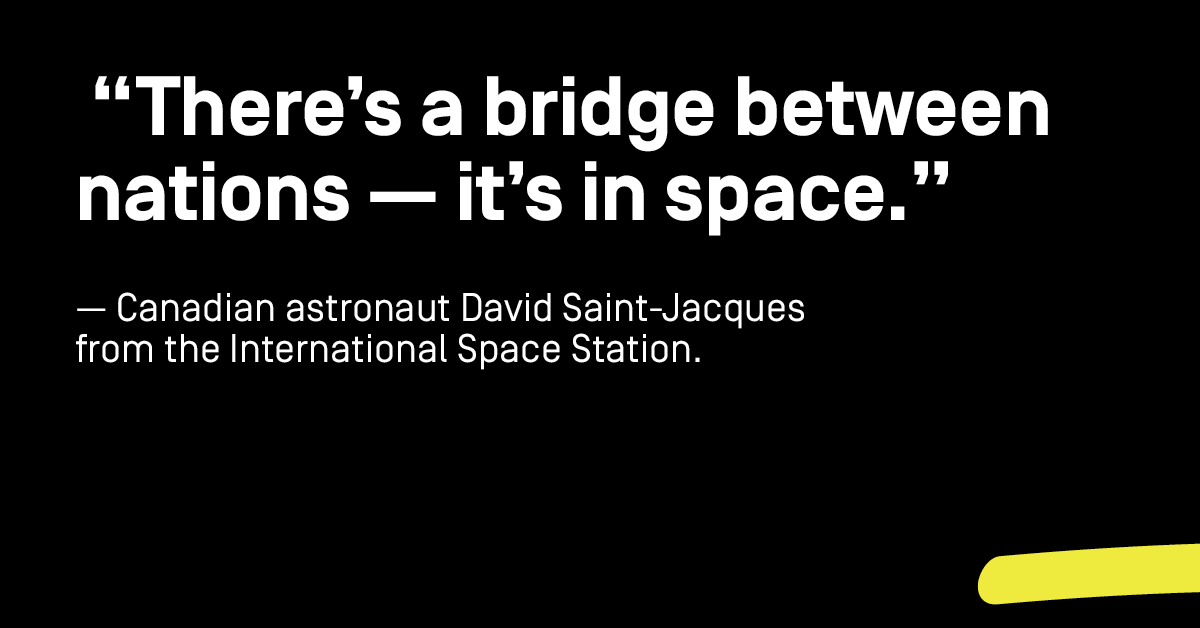 Kick-ass quotes
"Can you imagine if we put the money we send to Modena for balsamic vinegar into the apple belt, into Rougement? You could pave the streets with gold there, as they are in Modena." — Montreal chef and restaurateur David McMillan on eating local
"Instagram is now the biggest mall in the world." — Angela Ahrendts, former Senior Vice President, Apple Retail
"I've never met a person who has a smartphone who didn't have a rule they created about it for themselves." — Jameson Wetmore, School for the Future of Innovation in Society, Arizona State University
"Humans experience 27 different kinds of feelings… Nearly all brands say that their customers are a priority, but very few take into account their customers' feelings." — Alicia Tillman, CMO at SAP
"As an artist, to quote The Godfather, you need to be able to wet your beak." — Spike Lee, on balancing creativity with commerce.
"China presents a unique challenge: a multiplicity of youth, numerous and powerful…[that] live in a cyber world more than any millennial in the world." — Jean-François Lépine, Directeur des Représentations du Gouvernement du Québec en Chine
"Culture is at the forefront of all conversations… Being different gave me perspective. That is diversity in thought. And that is rocket fuel for culture." — Ian Erzner, Global Brand Director for Butchershop
"We no longer have to choose between doing what is right for your people and your planet and making money. That's a false choice." — Lynn Forester de Rothschild, founder and CEO of the Coalition for Inclusive Capitalism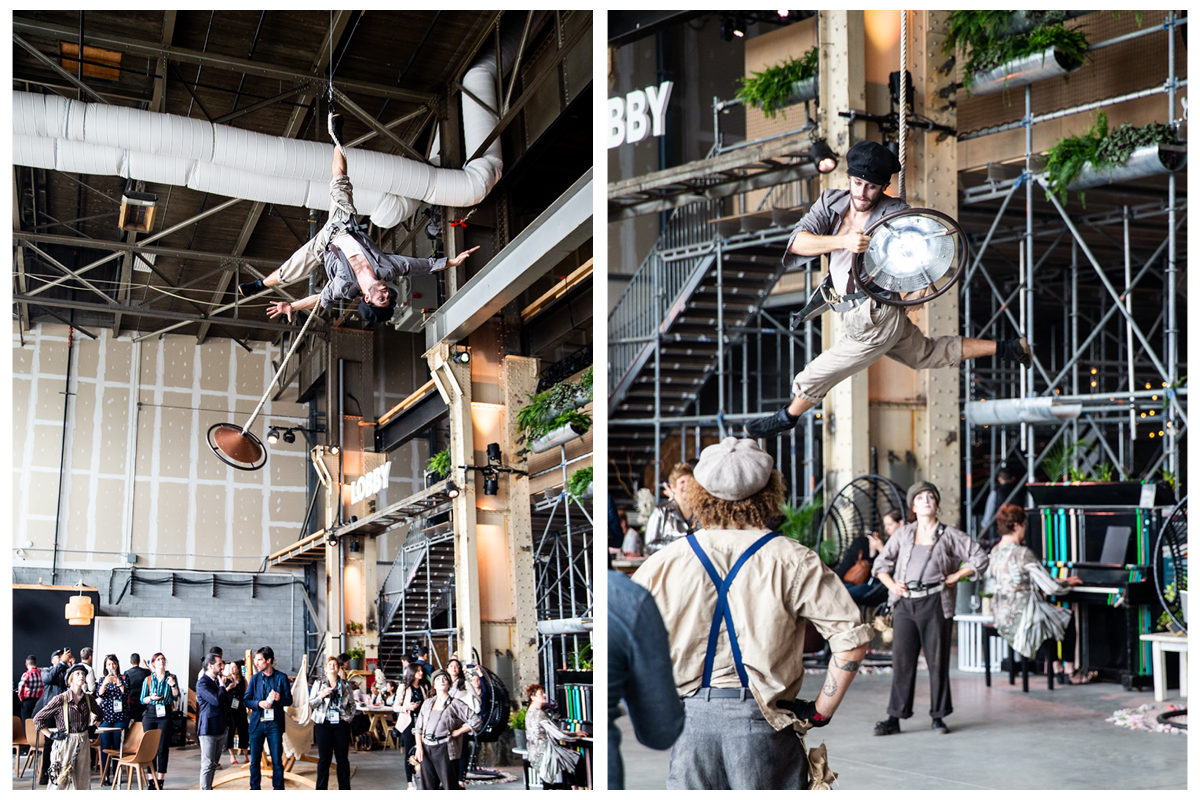 Credit: Arianne Bergeron
Spirits in the sky
Performance troupe The Spirits give an acrobatic nod to the rich industrial-era history of the C2 Village, located on what was formerly the largest train yard in Canada.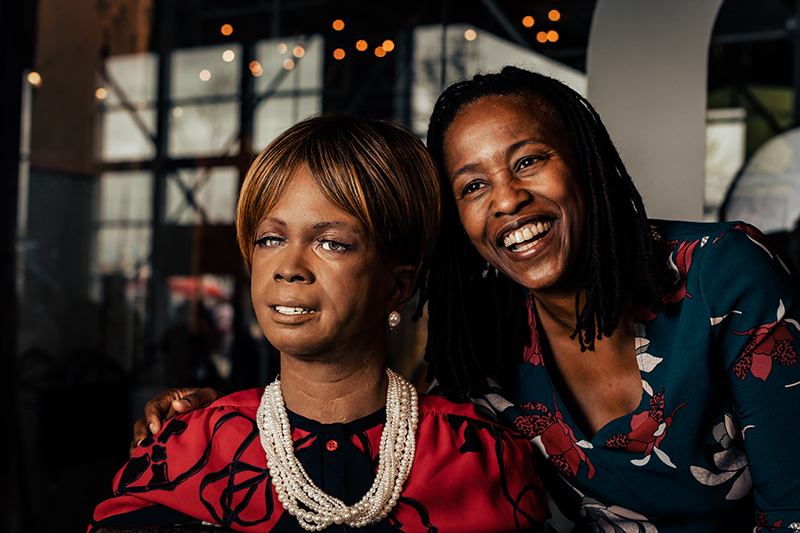 Credit: Myriam Baril Tessier
The Aquarium catch of the day
Filmmaker Spike Lee, transdisciplinary artist Stephanie Dinkins and AI-powered social robot BINA48 (pictured), Doberman CEO Lisa Lindström, corporate comedian Sarah Cooper, and innovation academic Jameson Wetmore were among the many who popped into the Aquarium, C2's glass-enclosed media studio, today for unfailingly entertaining and enlightening deep-dives into a vast array of topical subjects.
To see Spike Lee's Facebook Live interview in the Aquarium earlier in the afternoon, go here.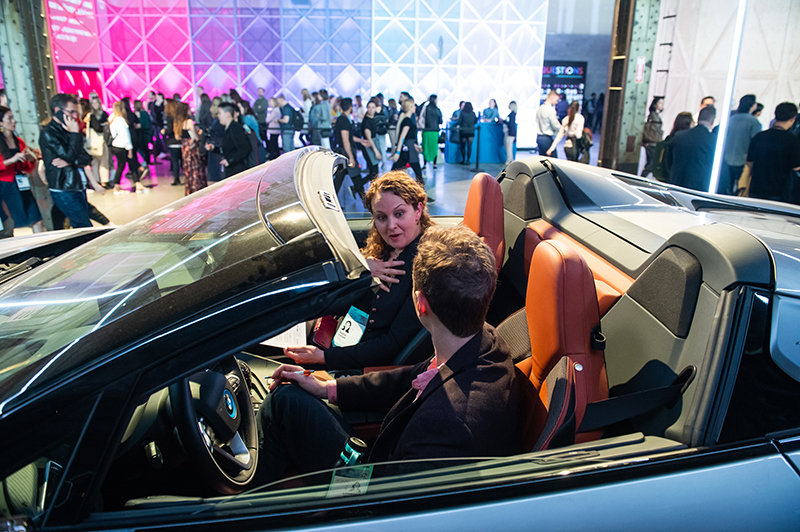 Credit: Agnieszka
Learning how to drive business
All while parked in a BMW i8 located in the C2 Atrium private, participants have been taking full advantage of 30-minute speed-coaching sessions presented by BMW, high-octane professional advice and guidance related to their career trajectories. Here's some of what they had to say:
"An incredible experience. Perfect for discerning what really matters and seeing things from a different perspective, and all in record time."
"It helped me to see my path more clearly."
"I came out with concrete ideas and solutions that I can put into practice right away."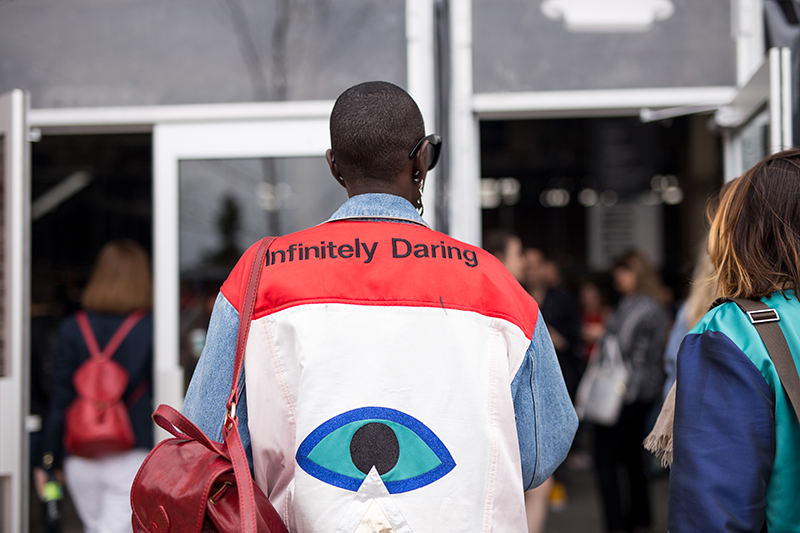 Credit: Mathieu Dunberry
Day 3 threads
And "Jacket of the Day" goes to this infinitely daring participant on the Plaza this afternoon.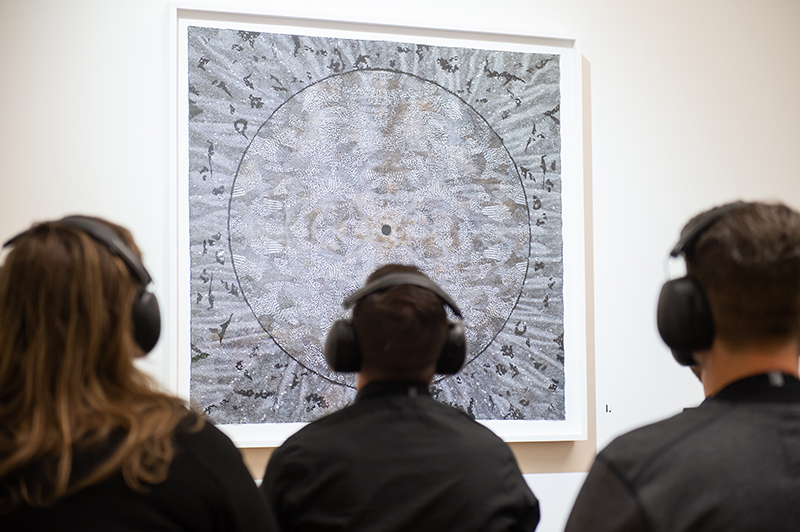 Chapiteau, 2014 – Myriam Dion
Credit: Agnieszka
(Slowly)  inspiring art
For the past three days, participants at Slow Lab have been invited to escape the frenetic rhythm of the modern world to contemplate a work of art in total silence. (It includes a piece by Andy Warhol from the private collection of Paul Maréchal, collector and chronicler of Andy Warhol's graphic design work, which you can see on our Facebook page here.) Confronting? Destabilizing? Comforting? Revealing? All of the aforementioned! And as one participant noted, "It's not just art we're looking at, the Lab itself is a piece of art."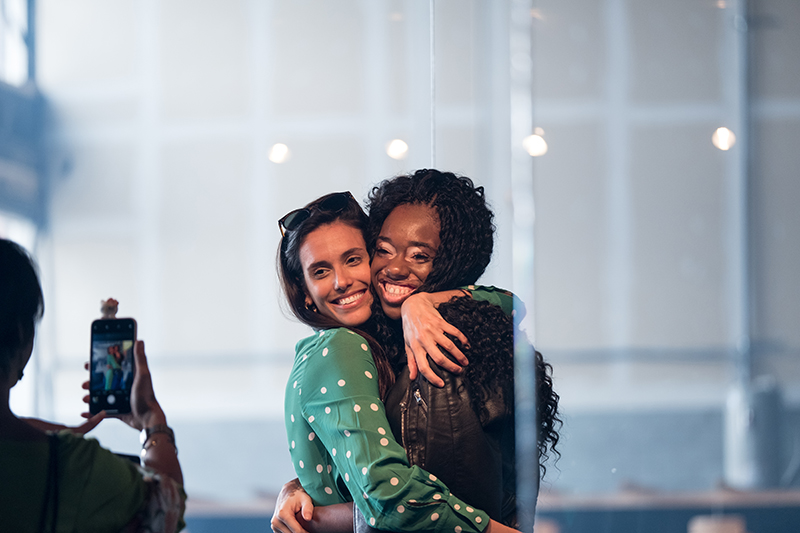 Credit: Etienne Beauregard
Easily, the "Hug of the Day"
Award-winning journalist and C2 interviewer Liz Plank gives a participant the Best. Hug. Ever.
And that, as they say, is a wrap!
We're already looking forward to creating and connecting with you again next year, and in the meantime, we'll leave you with this...See you soon!
Questions or comments? Drop us a line at editorial@c2.biz