The world has changed, and chances are your business has as well. Challenging times demand creative solutions, which is why we are launching a new undertaking: C2 Online – Montréal 2020, a new way to convene and connect.
C2 Online – Montréal 2020, taking place October 19-30, is a completely digital event separate from the annual C2 Montréal conference each spring, albeit with the world-class speakers, solution-driven workshops, exclusive experiences and signature creative C2 content you've come to expect. Only different.
The theme of C2 Online is RESILIENCE, which we believe speaks powerfully to the moment of crisis that many individuals, businesses and organizations around the world now find themselves in.
Unfolding over the span of nearly two weeks, C2 Online is the result of C2's ongoing reinvention. It's a journey that has brought us to a new and exciting place in our continuing evolution, and participants will be able to benefit from enhanced digital content, deeper learning, heightened networking and greater community engagement as a result.
Your invitation to inspiration
C2 speakers are always an engaging mix of business innovators, social game-changers and world-class experts representing many diverse fields as well as the next generation of bold change-making voices. Those sharing their knowledge and wisdom at C2 Online are no exception.
We're proud to announce that the expansive speaker roster will include the following:
The rest of the exciting speaker lineup will be revealed in the weeks to come.
Custom build your C2 experience
C2 Online participants will have the opportunity to deepen learning and optimize their time by following their choice of five curated, interest-based and highly relevant-to-the-times programming tracks. They will function as a guide to the conferences, workshops and more that are most valuable to each individual attendee and organization. The programming tracks are:
Accelerating innovation
Exploring the new normal
Reimagining the experience economy
(Re)connecting with your community
Correcting power imbalances
Explore an innovative online platform
Pass holders for C2 Online will be able to participate in all 10 days of the event via an innovative platform that's new to C2, and will have access to the following:
hours of inspiring, live-streamed content from top-tier speakers
exclusive workshops tackling real-world business challenges and hosted by field-leading experts
interaction with thousands of virtual attendees
the option to watch conferences anytime and anywhere using video on demand (VOD)
the ever-popular Braindate platform, where thousands upon thousands of C2 event participants have connected with one another based on shared interests en route to finding their business soulmate
Keep an eye on our Facebook, Twitter, LinkedIn and Instagram accounts in the coming days and weeks for future speaker announcements and other programming details — you won't want to miss them!
Early Birds get the deals!
Get the Early Bird rate for C2 Online – Montréal 2020 passes right now, or for a limited time, the C2 Online – Montréal 2020 + C2 Montréal 2021 bundle.
Important message for C2 Montréal 2020 pass holders
If you are a pass holder for this year's postponed edition of C2 Montréal, originally scheduled for May 27-29, you are entitled to receive the following:
Your existing C2 Montréal 2020 pass will be automatically transferred to the 2021 edition of C2 Montréal next spring.
Each 2020 pass that is transferred to 2021 will earn two passes to C2 Online – Montréal 2020 in October entirely free of charge (value of $418).
Pass holders can look forward to receiving detailed information by email regarding registration and next steps for the C2 Online event.
C2 Online Partners – Montréal 2020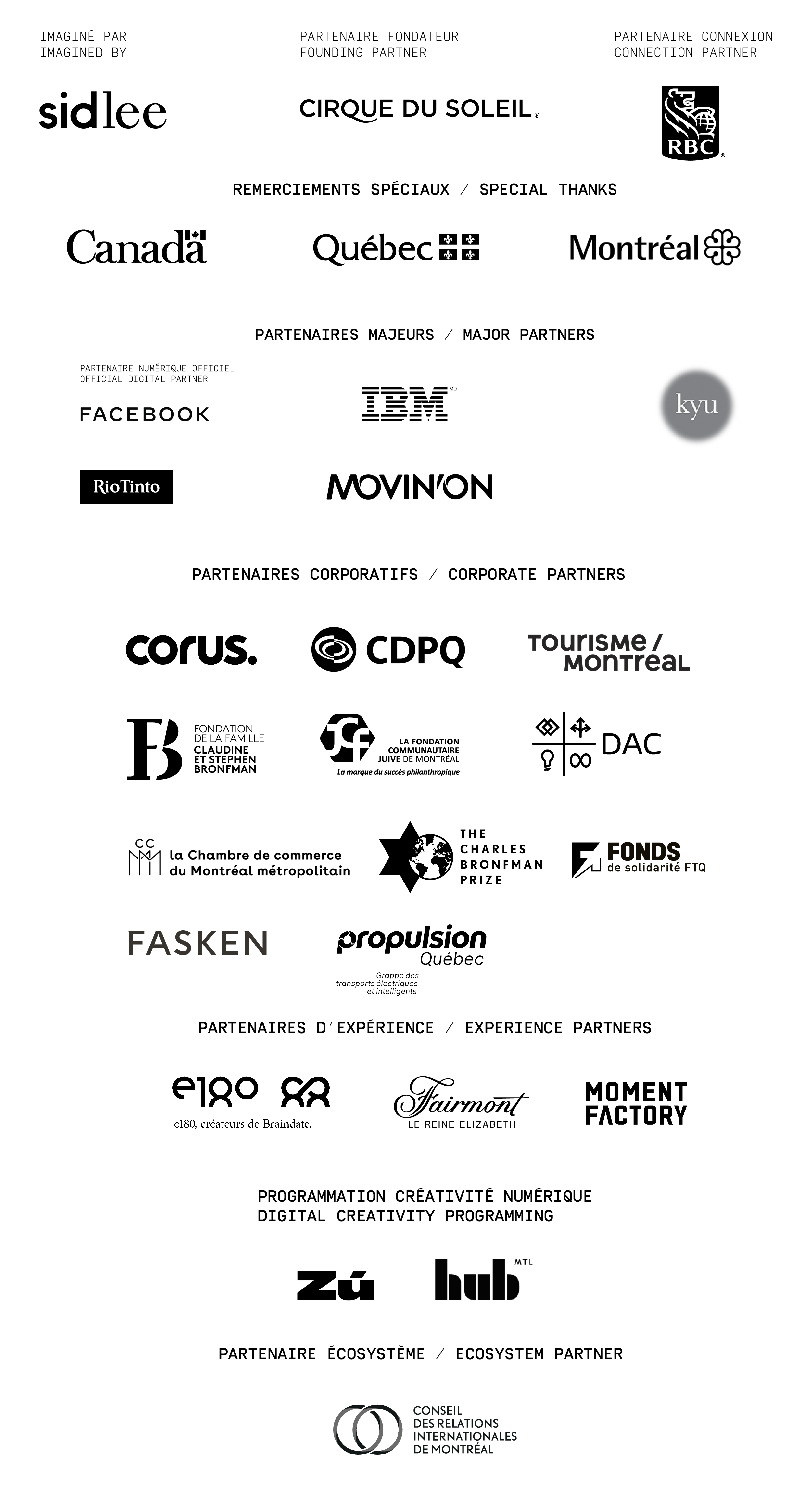 Questions or comments? Drop us a line at editorial@c2.biz