Musicians, artists, chefs, designers, performers and a couple of "troublemakers" bring the C2 village to life
Anyone who's been to C2 knows it's so much more than talks and panels, workshops and masterclasses (which is already a lot). What you see onstage is an integral part of the experience, but it's just that: a part. Another huge part is C2's lively and vibrant, one-of-a-kind setting: the C2 village at Arsenal.
Every year we go back to the drawing board in our minds, reimagine a new village, and then build it from the ground up (i.e., this year you won't even recognize Arsenal, nor the Lachine Canal for that matter). The idea is to create the perfect playground for 6,000 of you to come and kick your ideas around. To achieve that, we invite dozens upon dozens of local and international designers, artists, musicians, culinary wizards and other collaborators to contribute to the creation of the C2 village, and in so doing show the world what we are made of. Consider the following your key to the village.
VISION, by David Spriggs, presented by L'Arsenal at C2 Montréal 2015
Digital art discovery… and a butterfly
Culture, as a driver of creativity, has played a primary role in the C2 ecosystem since the outset. This year, we're proud to announce a new partnership with Montréal's Chromatic Pro, a collective that cultivates conversations between artists, entrepreneurs and professionals. Chromatic Pro's first Art Installation Market will showcase 12 innovative digital works that share a common trait: the perception of reality through manipulation, excitement and curiosity.
You can have moonlight at your fingertips with Daniel Iregui's MOON; layer bright digital compositions directly over yourself using Mateo Mounier's Digital Skin; document a moment of your life for later appreciation in Jonathan Chomko's intriguing Slow Glass mirror; plus much, much more to discover from artists Float 4, Greg Barth, Guillaume Arsenault, Guillaume Lachapelle, Jordan Söderberg Mills, Kenny Wong,Myriam Bleau, Sabrina Ratté and Tyson Parks.
If you look up, you're likely to see interdisciplinary artist Serge Belo's Secret Wish. Using a unique and complex technique, Belo's creations evolve according to one's perspective. Secret Wish, created specifically for C2 this year, is a trompe-l'oeil butterfly suspended in the Hangar and composed of hundreds of wool balls. A Native American legend has it that if you make a wish to a butterfly, and then give it back its freedom, your wish will come true. The artist will be present to welcome the wishes of participants and attach them to the work.
And given that C2's Arsenal site is actually a renowned contemporary art space when it's not hosting us, Arsenal will also be curating a number of works throughout the village. David Spriggs, for example, will be showing Gold, the latest in a series of "Stratachromes" using layered creations to examine contemporary symbolic meanings of colour. Initially reminiscent of the pediment of the New York Stock Exchange, Gold, in the spirit of pittura infamante (defaming portrait) turns the glory of capitalism on its apex, revealing its current precarious state.
The main stage houseband at C2 Montréal 2016: Alain Collin + Philip Sheppard + Fab
The 360 Big Top: an entertainment ecosystem unto itself
Not only does the 360 Big Top serve as the new main stage, but the fully immersive, state-of-the-art performance platform comes with all the trimmings, including its own house band, The Gulf Stream. The electronic music duo – whose sound is characterized by melodic synth, subtle samples and deep bass – will be joined by the soul singing DoMi. There is also a house troupe of five dancers, who will take the stage between speakers, under the direction of choreographer Virginie Brunelle. Video projections in the 360° environment come courtesy of 12 projectors using 3D motion design created and realized by Sarah Ouellet and Antonin Gaud. And since fun and trouble go hand in hand, agent provocateur Andy Nulman is back onstage again this year in between speaking blocks, this time as part of the Troublemaker Duo with partner-in-crime Mariam Khan.
…and over in the Cabaret
Not to be (too) outdone, the Cabaret space will prominently feature the interactive work Ecotone by artist Maotik. It's an immersive and poetic installation composed of hundreds of light bulbs illuminated with the help of lasers and reflective materials, and pulsating to complex, electroacoustic rhythms inspired by urban life, courtesy of sound designer Metametric. Adding to the fascination, all who enter will be greeted by an MC the likes of which have never been seen.
One of the Clefs D'Or in action at C2 Montréal 2016
The Gardeninjas doing their thing at C2 Montréal 2016
A village in motion
The entertainment action isn't limited to the stages. And if you don't find it, chances are very good that it's going to find you, as is the case with the Fake Concierges, a trio of clowning actors out to amuse with their acrobatics and antics, or the Clefs D'Or, a benevolent duo for whom your well-being is job one. Get ready to answer some questions if the Travelling Vox-Pop turns up: ever curious, and with a small mobile recording studio strapped to his bike, he travels all over the site in search of people to interview. And the interactive Wandering Soundman may ask you to alter the ambiance of whatever room he happens to find you in using the crazy sound console he's carrying.
Chic boutiques
For any wanting to bring a unique souvenir from Montréal back home with them can pop by Le Rhinocéros by Phi, a diverse and eccentric boutique carrying curated items from local and international designers, original Phi-curated fashion and art pieces, as well as a few C2 branded items. If you don't find that signature something there, try the CODE SOUVENIR MONTRÉAL catalogue's pop-up market, courtesy of the City of Montréal's Office of Design, and featuring fun, one-of-a-kind items created by select local designers.
The "Machine" lab at C2 Montréal 2016
Mad labs
People walking through an indoor snowstorm under pink umbrellas, being suspended from structures, swimming through ball pools, and emerging from clouds. If you've been to C2 you've seen them, and likely even partaken in them: the labs, unique brainstorming experiences where experimentation has never been so fun. By taking participants out of their comfort zones physically, the hope is that they'll also get out of their comfort zones mentally. This year, once again, not only are all the labs new labs, but they'll occupy even more space in Arsenal, have more experiences to choose from and offer more ways to take participants' thinking to new heights. Possibly literally.
Music to your ears
Many of life's most memorable moments are marked by music, the sounds of a time and a place, and C2 is no exception. Representative of Montréal's renowned world-class music scene, C2's soundtrack features stylistically wide-ranging roster of artistic programming, presented by Hydro-Québec, that over three days and nights will move both body and soul.
Wednesday, May 24: It all begins with an orchestral bang when much-loved Maestro Kent Nagano and members of the Orchestre symphonique de Montréal kick C2 off in style in the 360 Big Top with an entrancing immersive performance (video projections by Gentilhomme). Out on the Plaza, DJ YoMiu will be laying down deep grooves a disco, funk, deep house and techno set, while Bern- and MTL-based DJ Nik Olson will be spinning hip-hop and jazz-infused house and deep house.
Thursday, May 25: The music momentum carries over into Thursday morning when "retrofuturist" beatboxer Butterscotch – the world's first female beatbox champion, and memorable America's Got Talent contestant – gets the Big Top bumpin' to start the day. That night on the Plaza, Gayance will aim to recreate the carnival ambiance of the Caribbean with a DJ set that ranges from Brazilian percussion to cosmic soul, and turntablist Gabriel L.B. Malenfant of Radio Radio fame will be mixing sexy psychedelic beats.
Friday, May 26: Day three means it's the always epic closing Illumination Night celebration. Dynamic electro-funk duo Chromeo (DJ set) will fire up the Forum main stage, as will Grammy-nominated New York house duo SOFI TUKKER (DJ set), before urban-beats DJ Nino Brown keeps the party poppin' until the wee hours. Outside, the Plaza will be partying courtesy of groove monster Walla P, energetic and transcendent electro DJ Thomas Von Party, and afro-futurist DJ collective Moonshine (DJs Odile Myrtil, Gabe Price and Bonbon Kojak) spinning afro-house, trap, disco, future soul and deep house. Over in the Agora, chill live music rules with the Trio Hugo Mayrand (modern jazz meets traditional Brazilian rhythms), the Simon Denizart Trio (European jazz and world music), Men I Trust (indie-dance/trip-hop) and Jazzamboka (Congolese percussion with sax and vocals).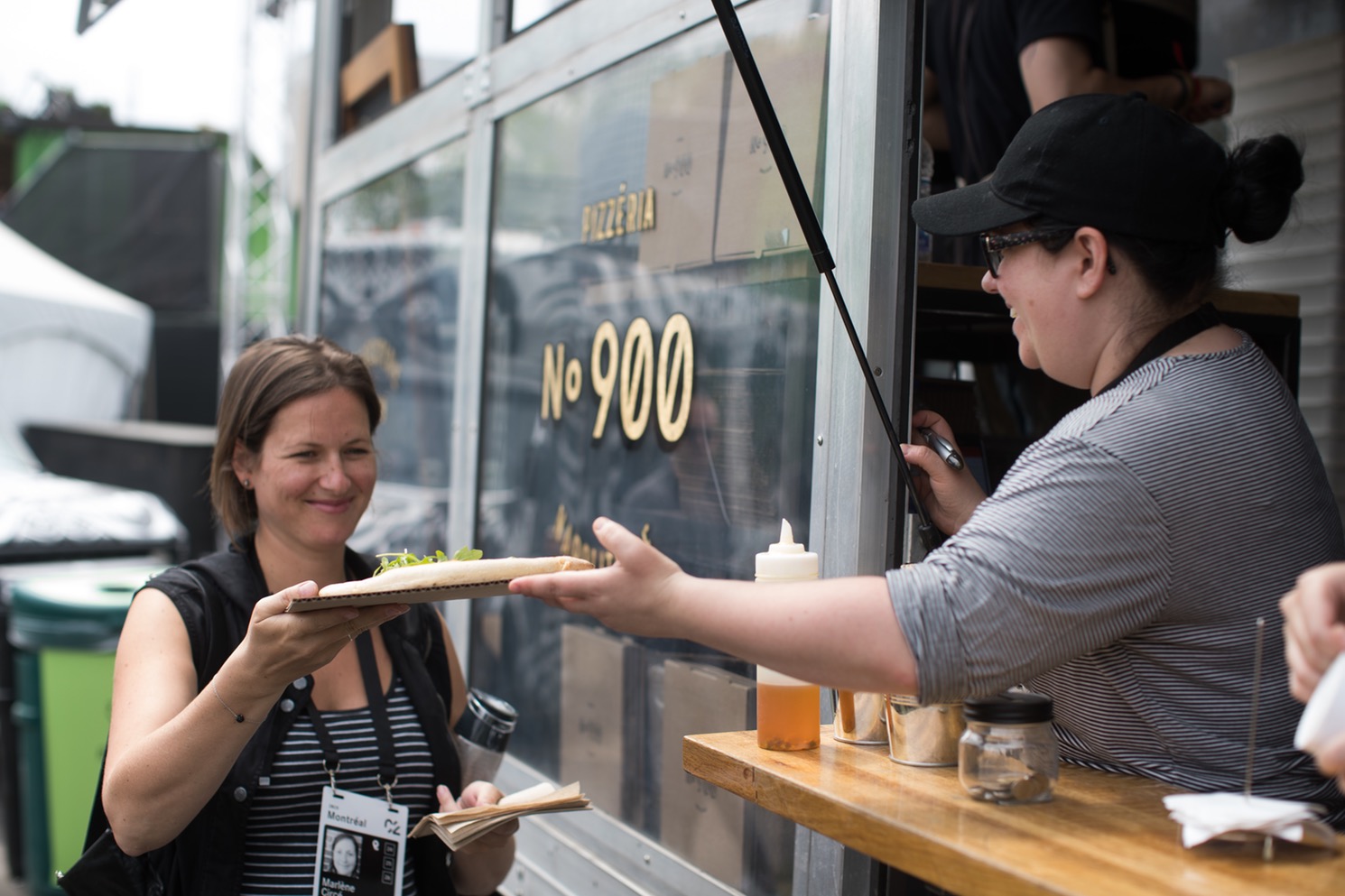 Can't beat eats
Whether it's hunger for knowledge or the tummy-rumbling type, C2's got your appetites covered for all three days and nights. Feeling peckish for an Argentine red shrimp poke bowl? Or a AAA beef tataki salad? Head to La Verdure, by Fraîcheur & Co., in the Plaza. Also in the Plaza, Le Snackbar by Chez Tousignant will be serving up hotdogs, hamburgers, fries and, of course, poutine. Pass by Le Deli for cold cuts and cheese platters, and if oysters, ceviche and tartare, are more to your taste, Le Raw by Ikanos will have you in awe. And there really is something for everyone at La Marinade on the Quai, where Lucille's will be slinging everything from surf'n'turf to chicken, crispy fish wraps, ribs, tapas, calamari, salads, vegan bowls and muy bien homemade guacamole. For the thirsty among us, coffee, beer, wine (including a wine bar by Beringer), cocktails, gin drinks courtesy of Romeo's Gin, and an assortment of non-alcoholic beverages are all on offer.
Also rolling onsite again this year are a caravan of Montréal's famous food trucks: Unibroue Bière & Bouffe (crispy braised pork poutine anyone?), Pas d'Cochon dans Mon Salon (pulled pork sandwiches and more), Mi Corazon (tacos and avocado panko), Lucille's (lobster rolls and ribs), Chocolat Favori (chocolate-dipped ice cream) and the Tablée des Chefs food bus (gourmet sandwiches).

Other (awesome) stuff
And here are some quick hits regarding several of the other très cool goings on in the C2 village:
There will be big fish in the Aquarium, the glass-enclosed radio booth right in the middle of the Square (a multimedia site that continuously broadcasts data on several screens). C2 will be livestreaming interviews with speakers from the two main event stages, as well as their special guests, from 7:30 am until 11 pm. Tables and chairs are provided for those who want to hang out and watch.
All hands on deck! The 360 Big Top isn't the only big addition to the C2 village this year, there's also a giant, floating Dock. Featuring a bevy of food and bev consessions, loads of sitting stations and even a dock with boats you can take out for float, the massive patio on the actual Lachine Canal is destined for relaxation greatness.
If you liked the Garden lab last year, you're going to love "Video Walk" guided tour this year. It's a 25-minute audio-visual, augmented reality-ish, behind the scenes/magical happenings tour that promises to be equal parts poetic and playful.
Bring your kids to C2! A daycare service will be available for future participants aged 1 to 10, including themed activities and meals. The service is offered by PopUp Camp and will be open May 24-26 on the same schedule as C2 (from 7:30 am until late – and until midnight on Friday). The cost is $20/hour per child, paid on premises. Fill out this form to secure your spot.
And then, of course, there's all the stuff we can't wait to tell you about, but can't just yet (it's a surprise). You'll just have to come and see for yourself!