In April 2016, the C2 team embraced a major challenge: to have C2 Montréal become one of the most environmentally responsible large-scale events in the world within five years. Less than a year later, we're well on our way.
First, we made C2 Montréal "the largest business conference to earn Level 2 certification," according to Caroline Voyer, the executive director of the Sustainable Events Council. One of the reasons why we got to level 2 (out of 5) on this first year of the initiative was that we are already used to implementing practices on a large scale. "The impressive part is the team's level of dedication," says Génifère Legrand, VP Content & Creation, who plays a big part in steering the C2 boat to greener seas. "The decision to serve food in ceramic plates and introduce composting in an event that hosts 4,000 people each day was not implemented over night. It required serious logistical efforts on the part of the entire organization."
But our proudest accomplishment is to have made our 2016 edition a carbon-neutral event. Considering our 6,000 participants and speakers convening to Montreal from more than 35 countries, compensating for 100% of greenhouse gas emissions represented a substantial investment.
And we won a prize for it!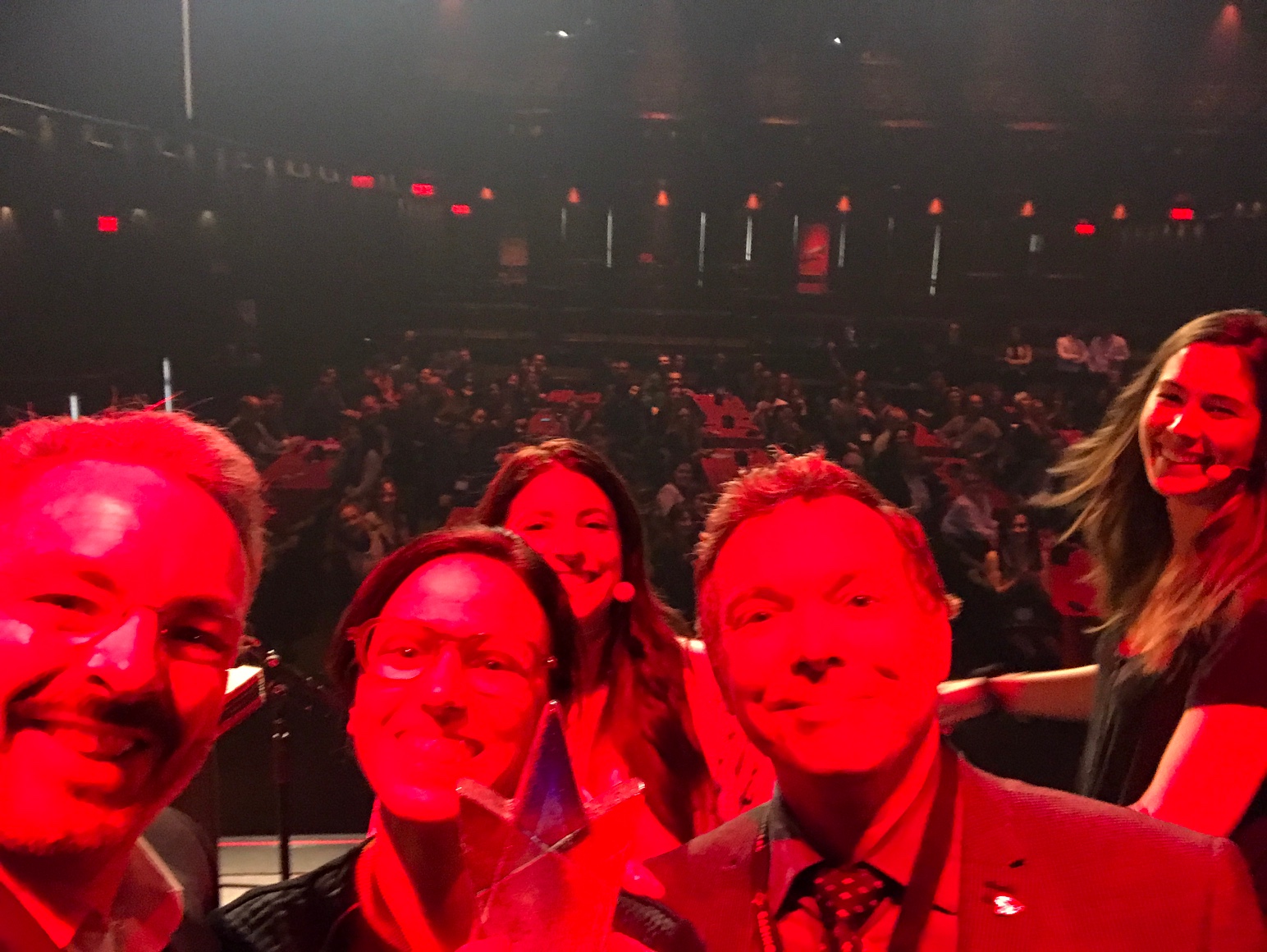 But the adventure is just beginning. This year we're aiming to earn a BNQ Level 3 certification, so we're working even harder to find sustainable alternatives and rethink the way we organize our events. To ensure we never lose sight of these goals, we hired two in-house resources, and Équiterre is assisting us in developing an environmental responsibility policy that will cover our activities throughout the year, and from year to year.
Here are some concrete actions that will enable us, with your help, to achieve these ambitious yet critical goals, along with a few recommendations from Andrea Iliescu, our main gal at Équiterre.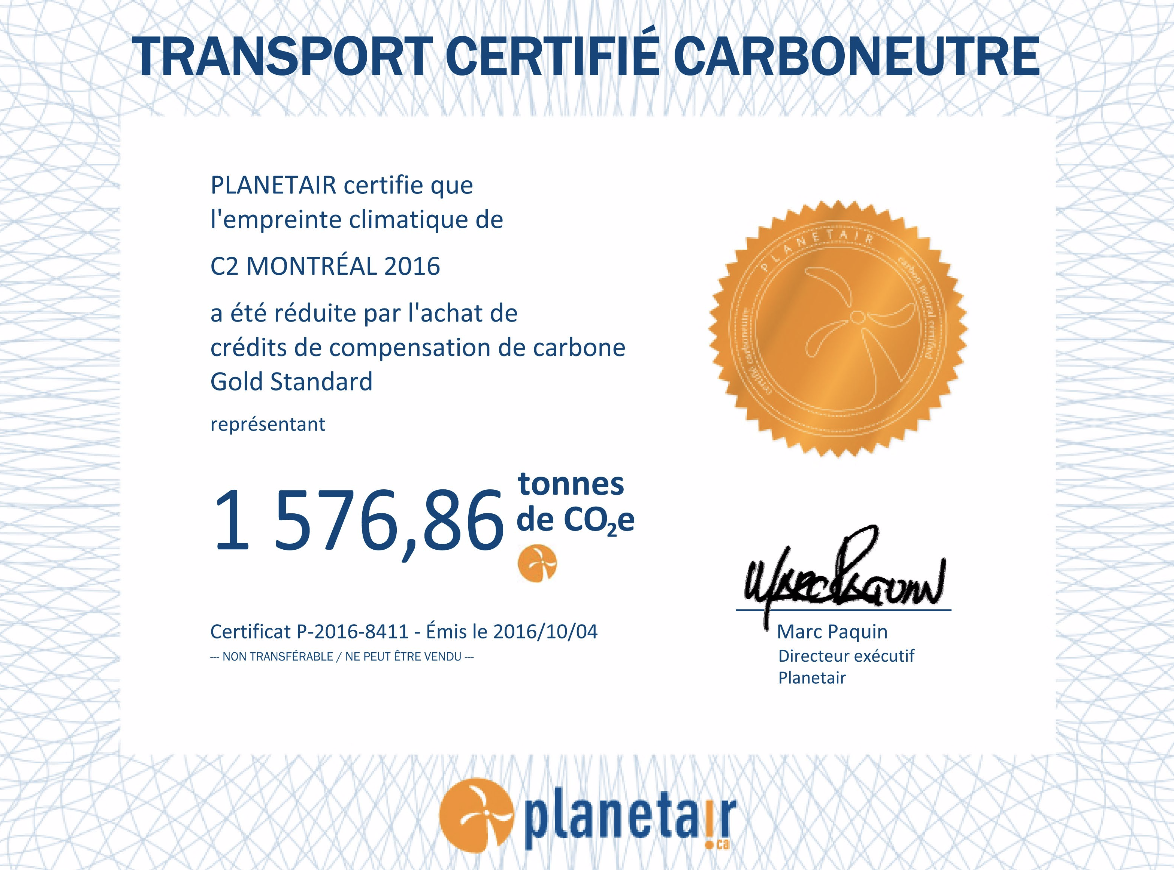 100% compensation for greenhouse gas emissions
Last year, we compesated our (and your) emissions by purchasing "gold" credits, which helped finance the activities of a Chinese company that turns waste into energy.These are the main reasons why we won that Vivat prize (see above).
Again this year, C2 Montréal will be completely carbon neutral: all CO2 emissions related to land and air travel by participants, stakeholders, partners and goods will be calculated and offset by the purchase of carbon credits through the Planetair organization. In 2016, we chose to invest in "gold" carbon credits, which were used to finance a project by the Chinese company Yingxin, which transforms waste into energy.
How to do your part as a C2 participant: When you buy your ticket, check "Offset your greenhouse gas emissions" to cover your share for just a few extra dollars.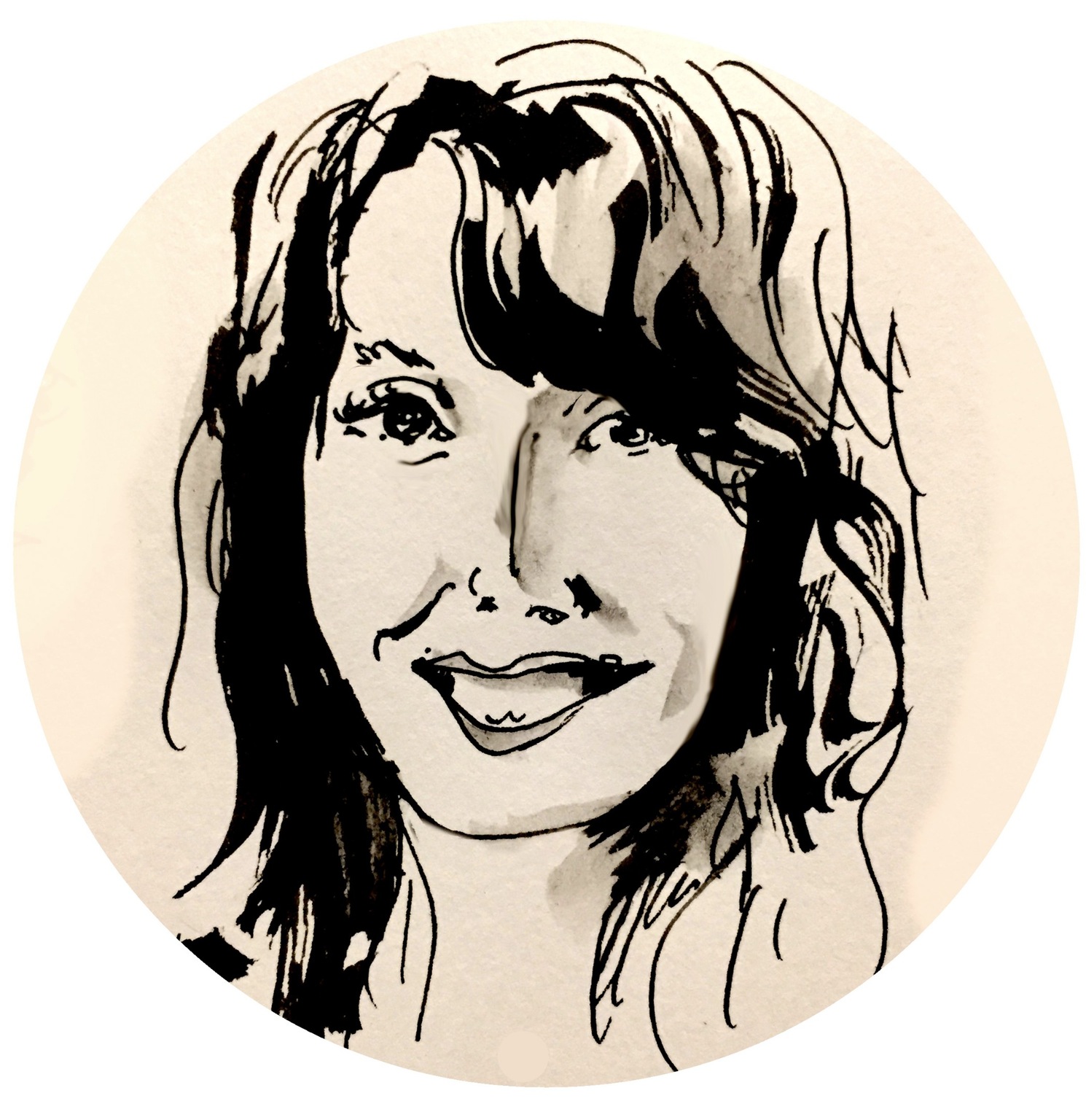 Tip from Équiterre's Andreea Iliescu: 
"Encourage your company to offset carbon emissions for its business-related travel and do the same when travelling on your own. Even better, encourage videoconferencing whenever possible."
Low environmental-impact menu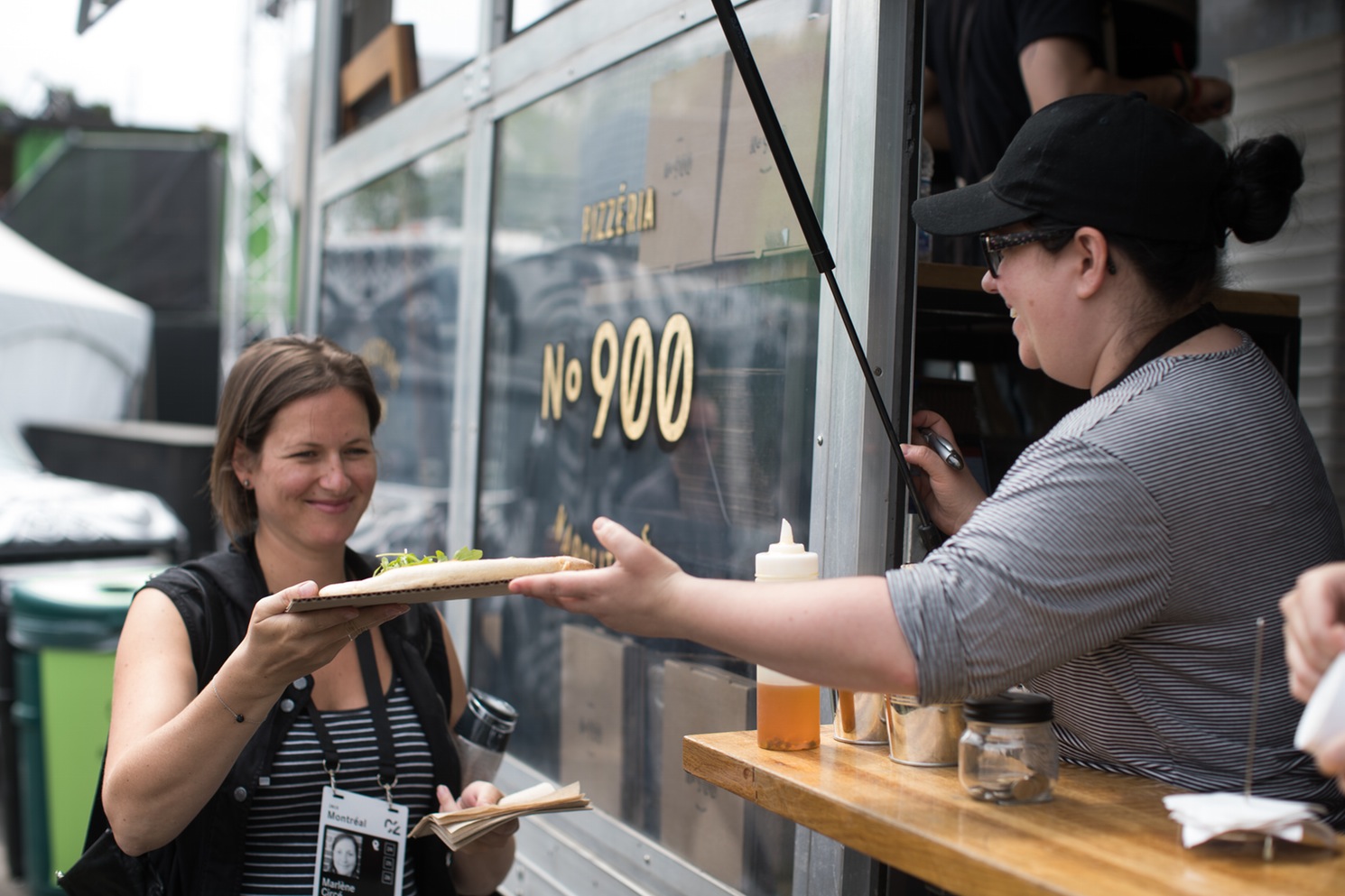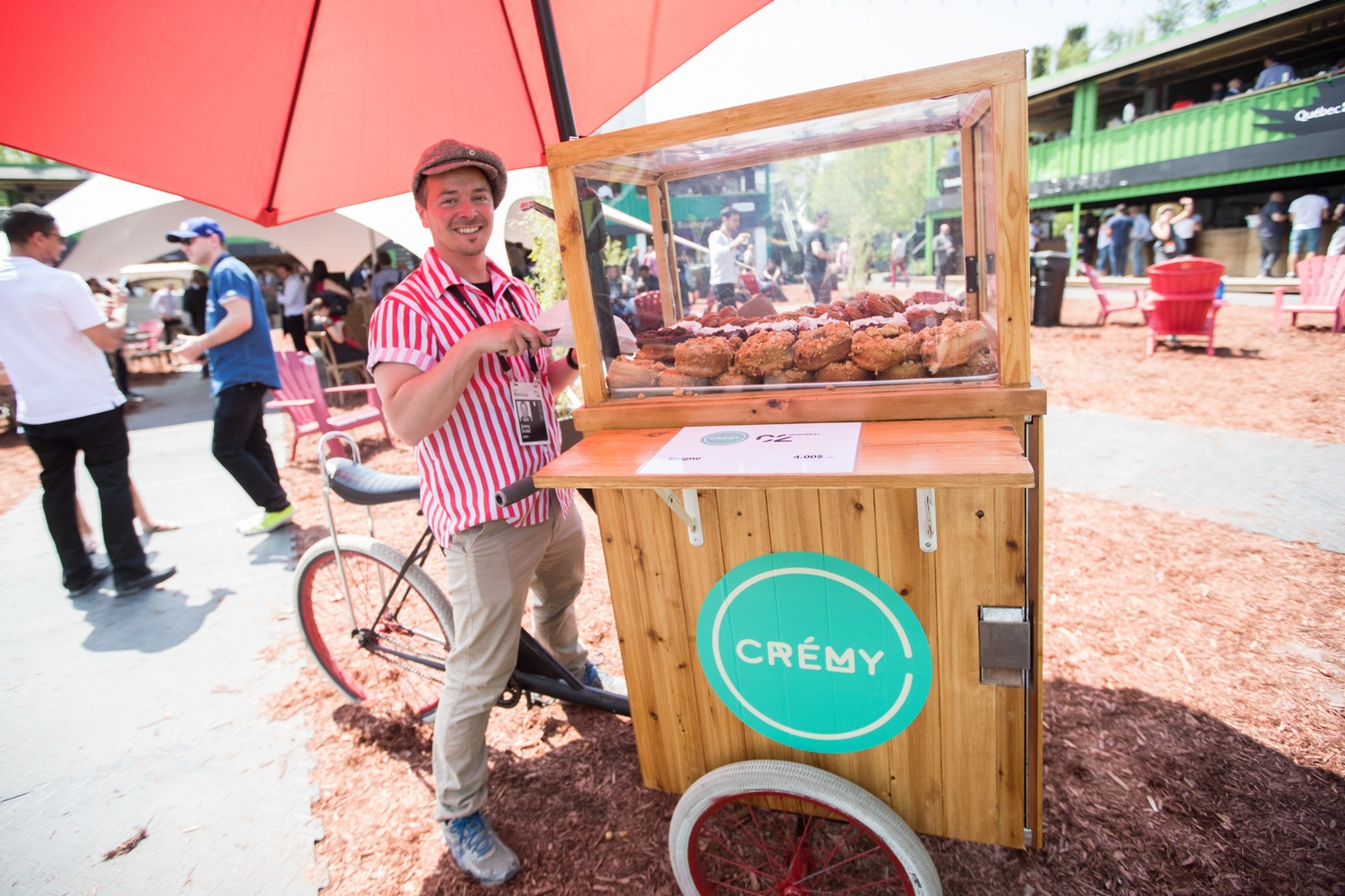 At C2, you don't need to travel far to find delicious, healthy food prepared from local produce. All our food suppliers commit to prioritizing local ingredients and to offer vegetarian and organic options.
Tip from Équiterre's Andreea Iliescu:
"Encourage organizers of company events to choose local suppliers and opt for organic to avoid any trace of pesticides. Do the same in your daily life to encourage
local farmers
. You can even incorporate a
meat-free day
in your weekly menu to reduce your carbon footprint."
Upcycling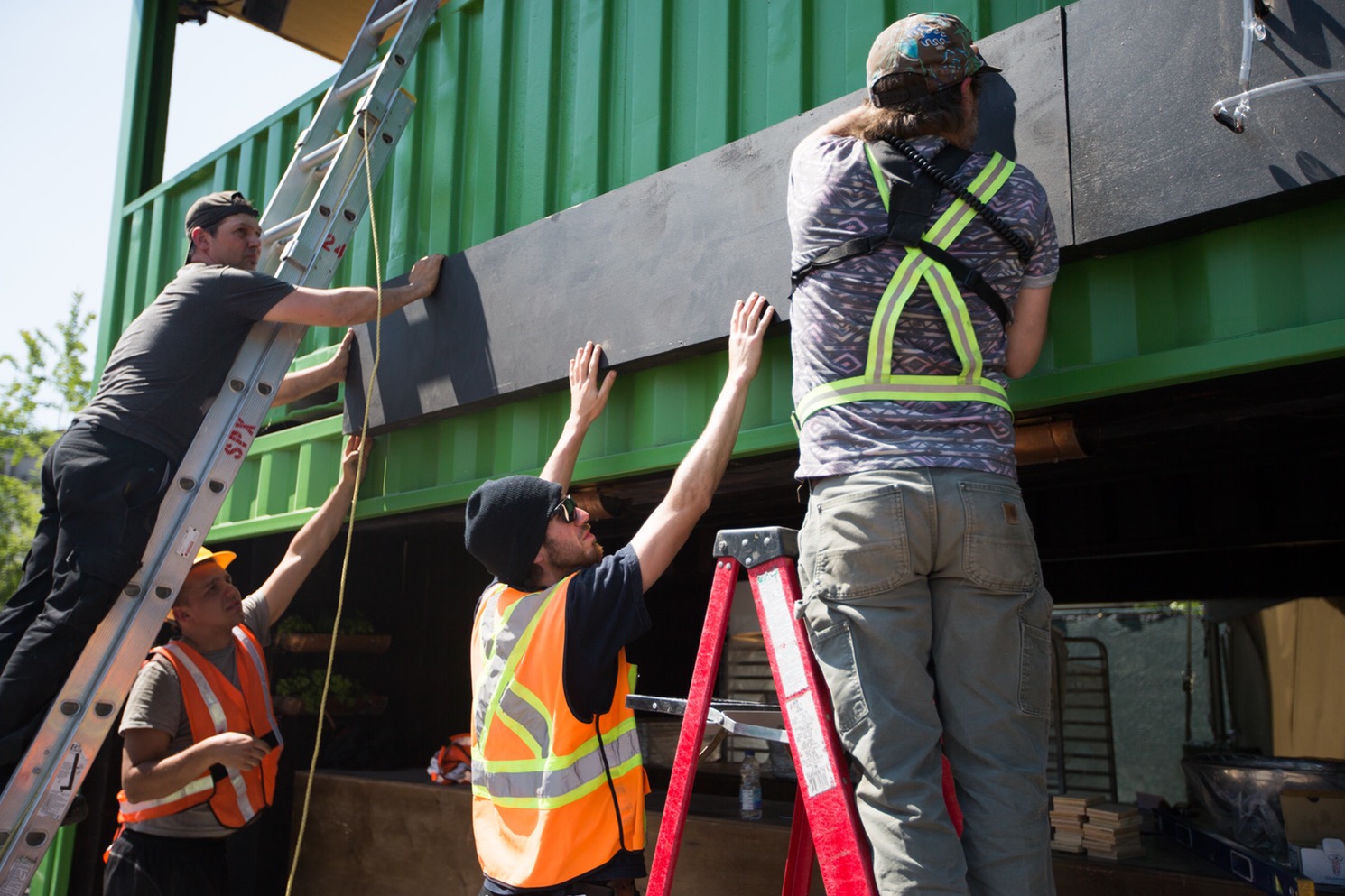 Shipping containers, accessories, plywood boards, tables and more are recycled and reused as much as possible to avoid cluttering landfills.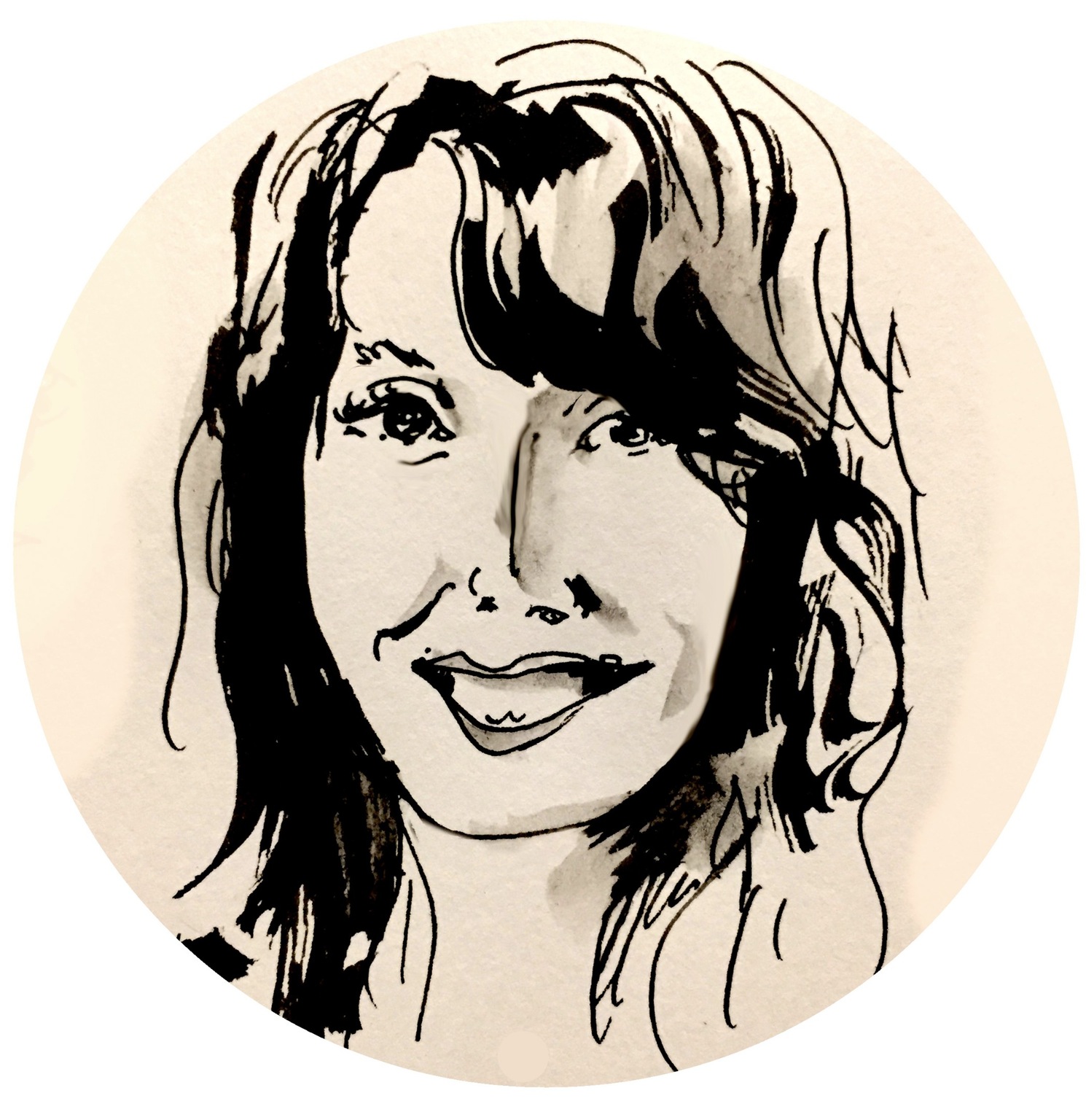 Tip from Équiterre's Andreea Iliescu:
"Encourage your company to prioritize the re-use and recycling of materials and to promote a
circular economy
. Rethink your purchases and explore simple living:
consume less and better
."
Compost and ceramics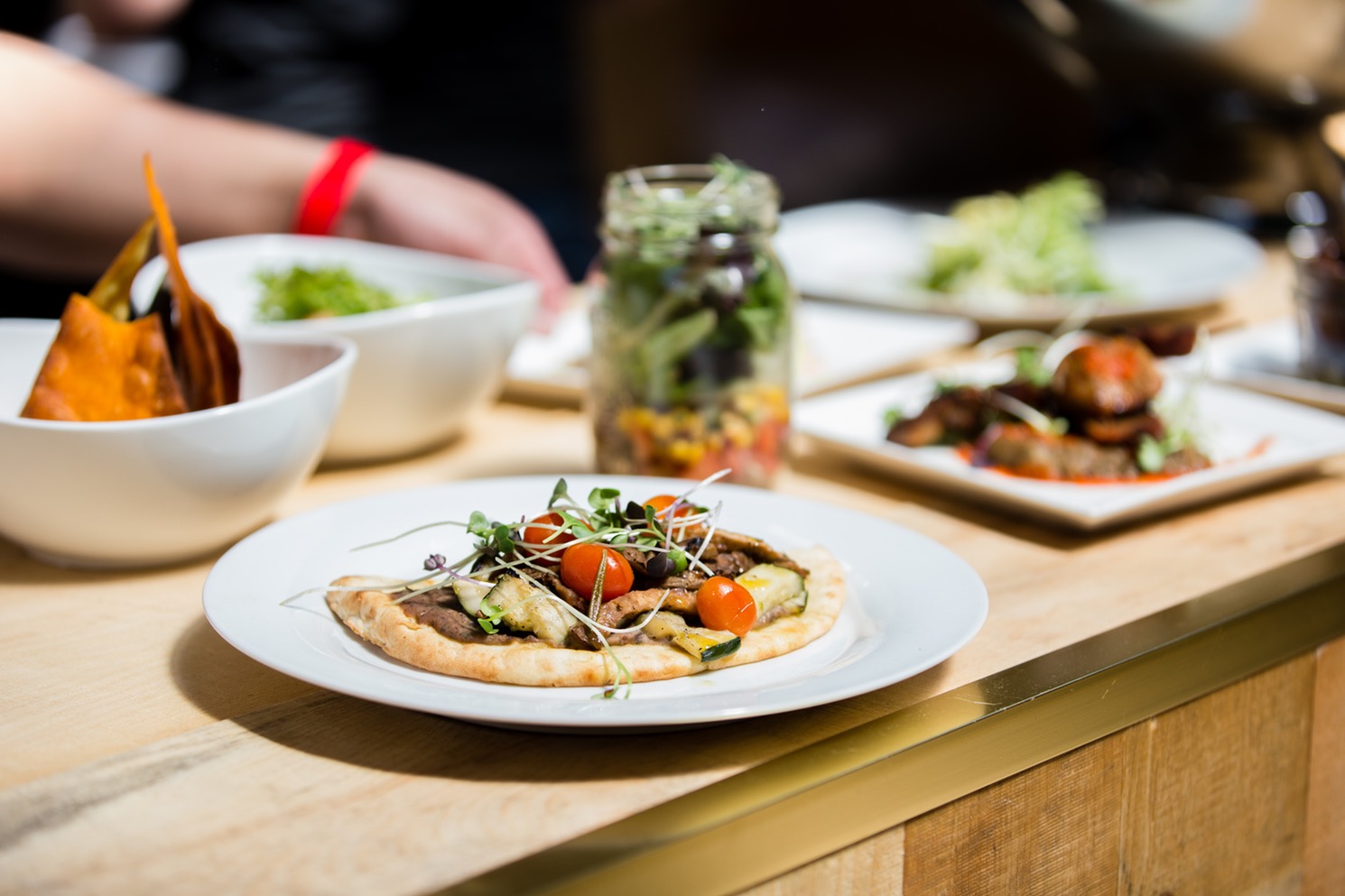 Did you notice the pretty sorting stations on the C2 site last year?
Once again this year, all dishes used on the site will be either compostable, ceramic or glass, and with the help of Consortium Écho-logique, waste food will be sorted for composting.
How to do your part as part of C2: Take the time to sort your waste into the appropriate bins!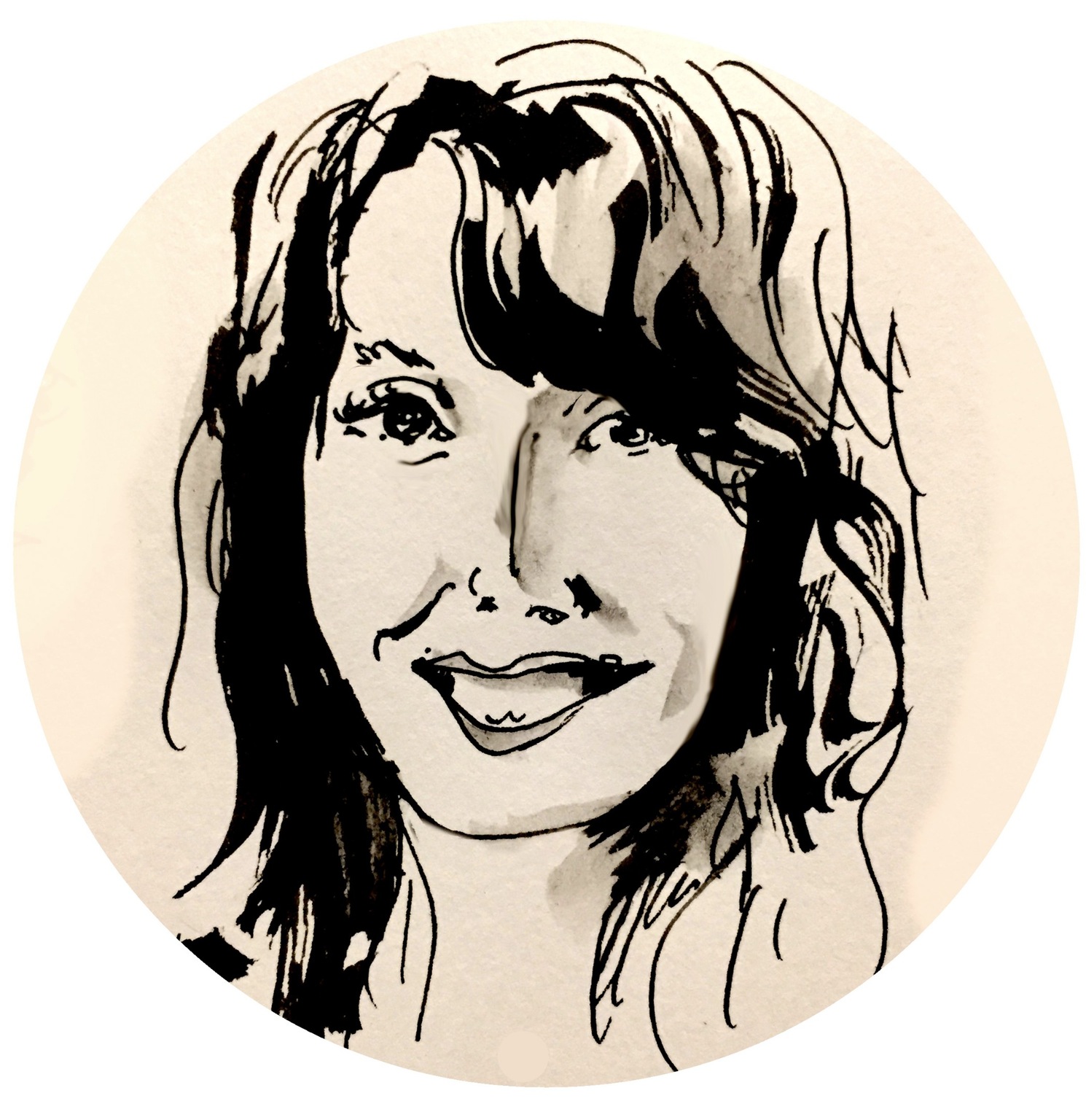 Tip from Équiterre's Andreea Iliescu:
"Lobby to have a composting system in your office. Push for the use of reusable dishes during company events (rental firms are easy to find). Try composting at home as well: in your yard or, if you live in an apartment, using
earthworm composting
— or convince your city council to introduce organic waste pickup in your neighbourhood."
Zero waste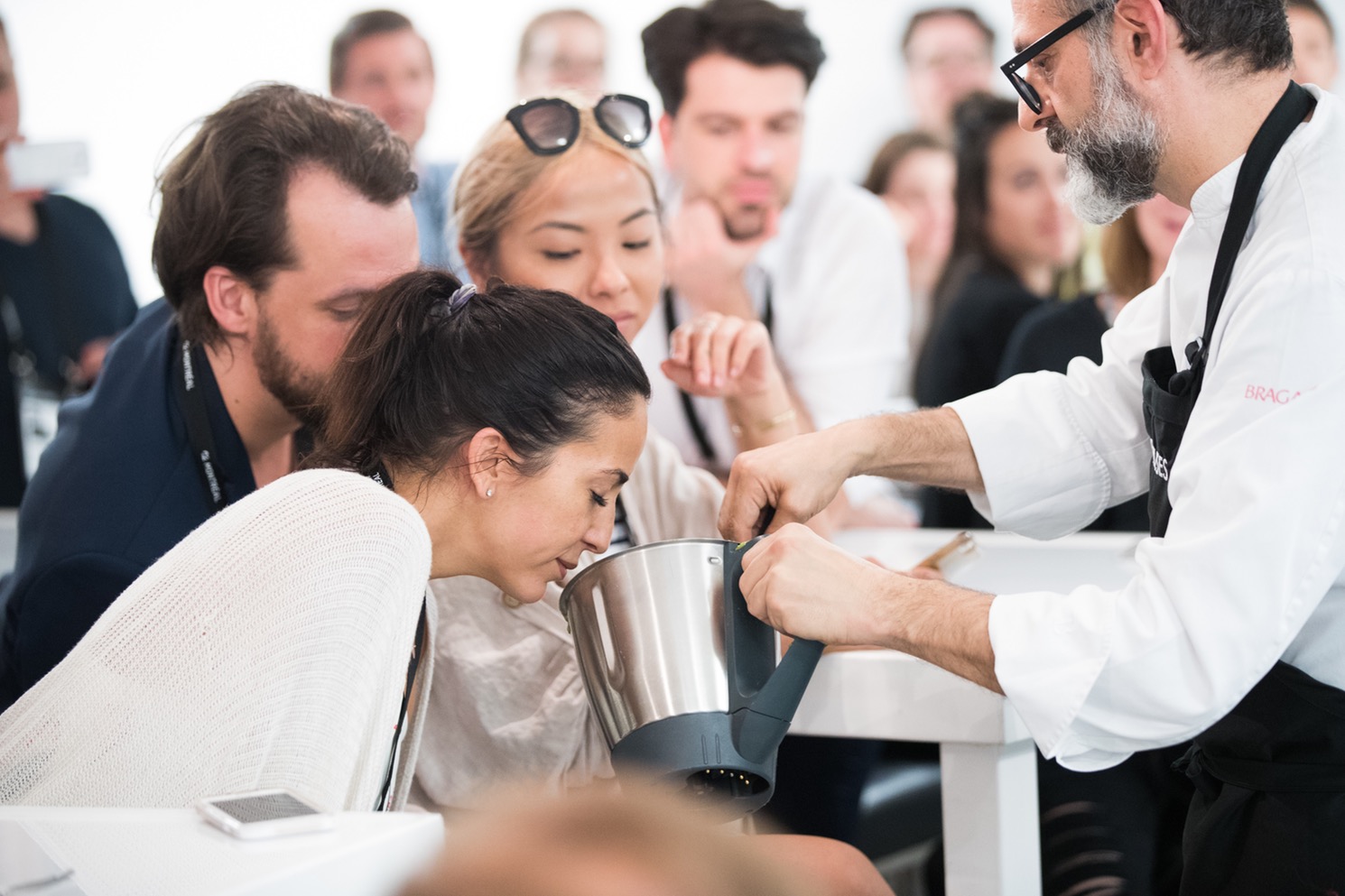 Once more, inspired by
Massimo Bottura
, a speaker at C2 2016, we will donate any surplus food to
La Tablée des Chefs
, a Montréal organization that provides food support to people in need and teaches young people to cook.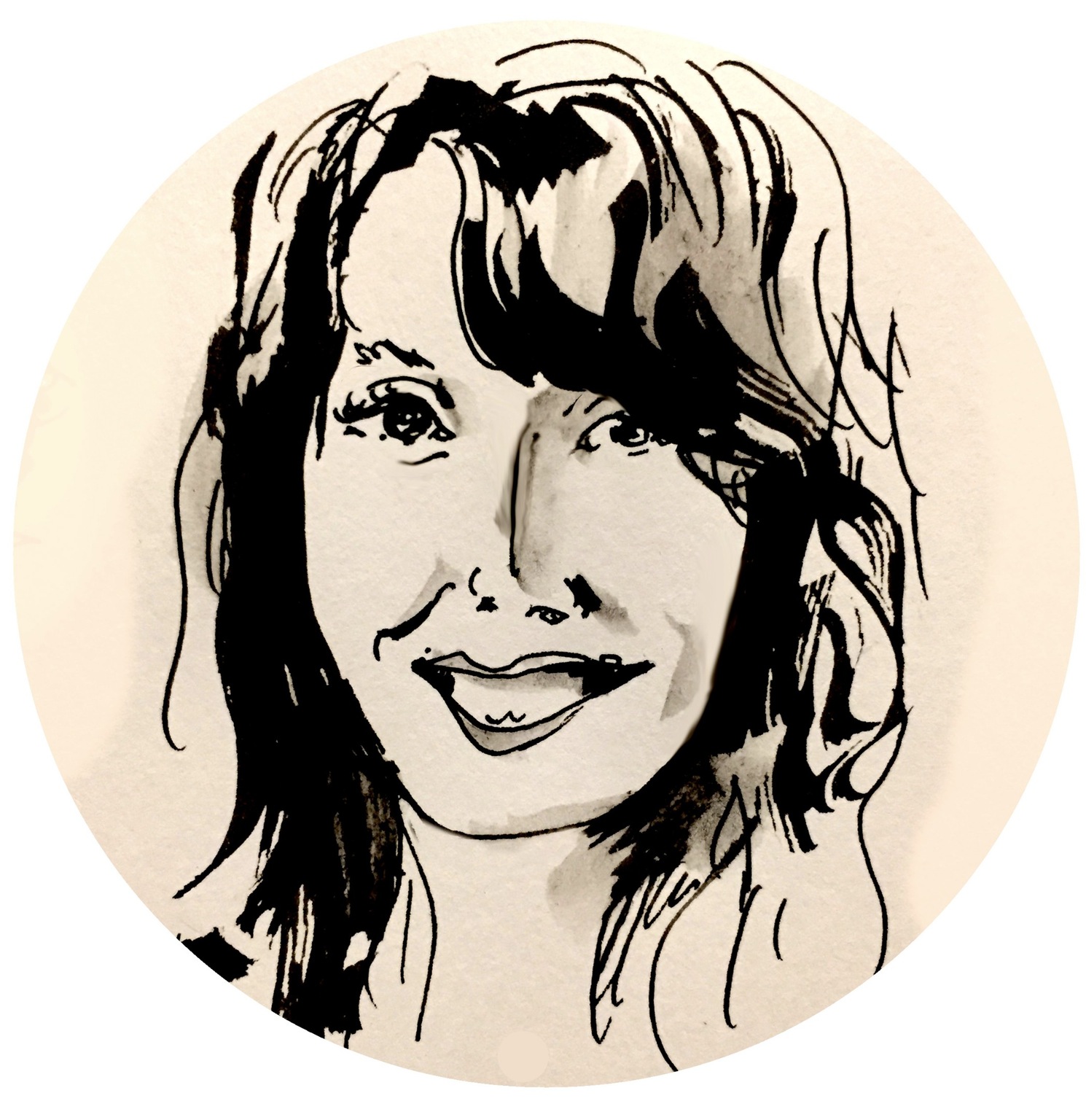 Tip from Équiterre's Andreea Iliescu:
"At home, just like at the office,
say "no" to food waste
. For corporate events, always donate unused food to local food aid organizations."
No more plastic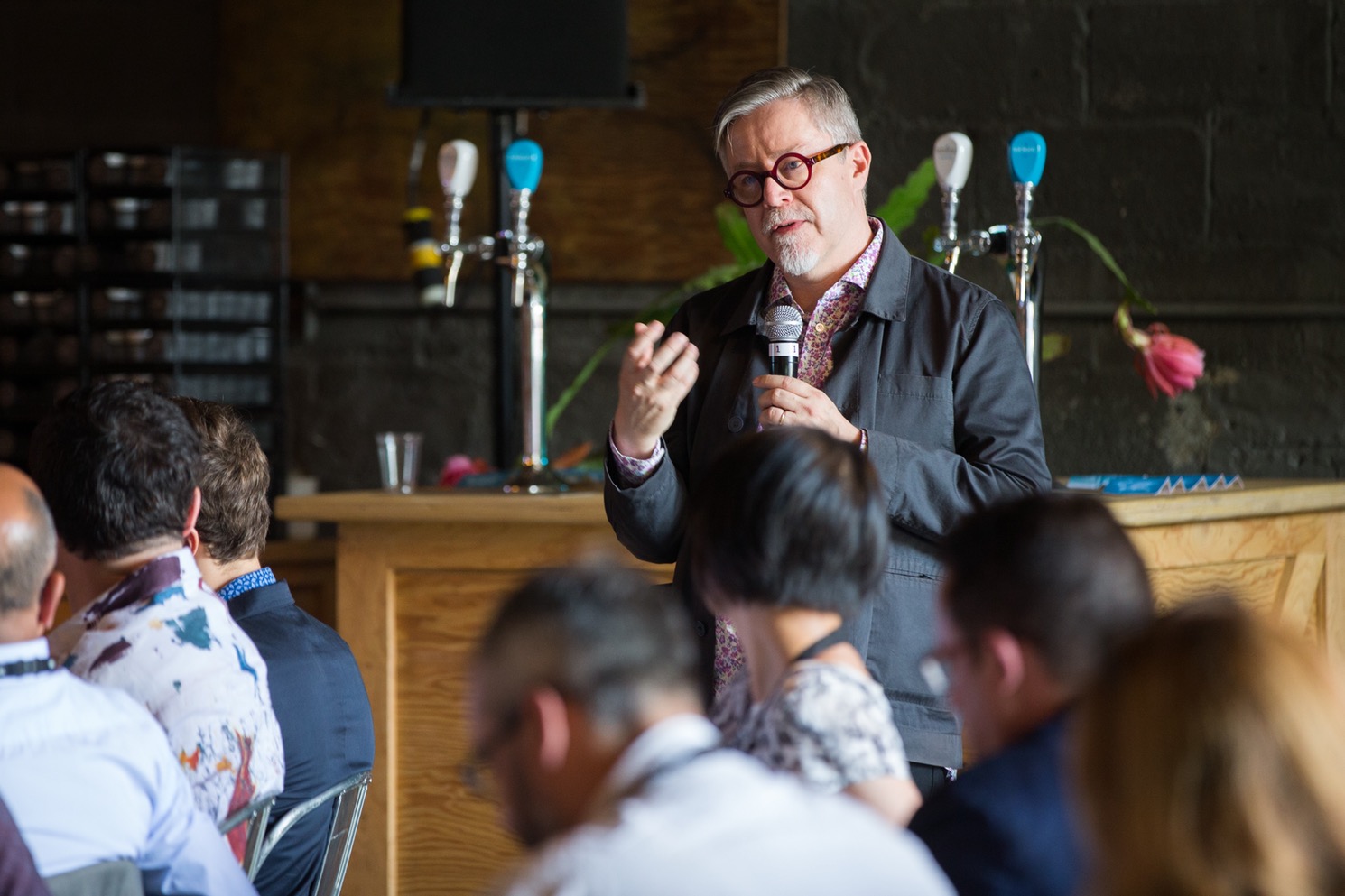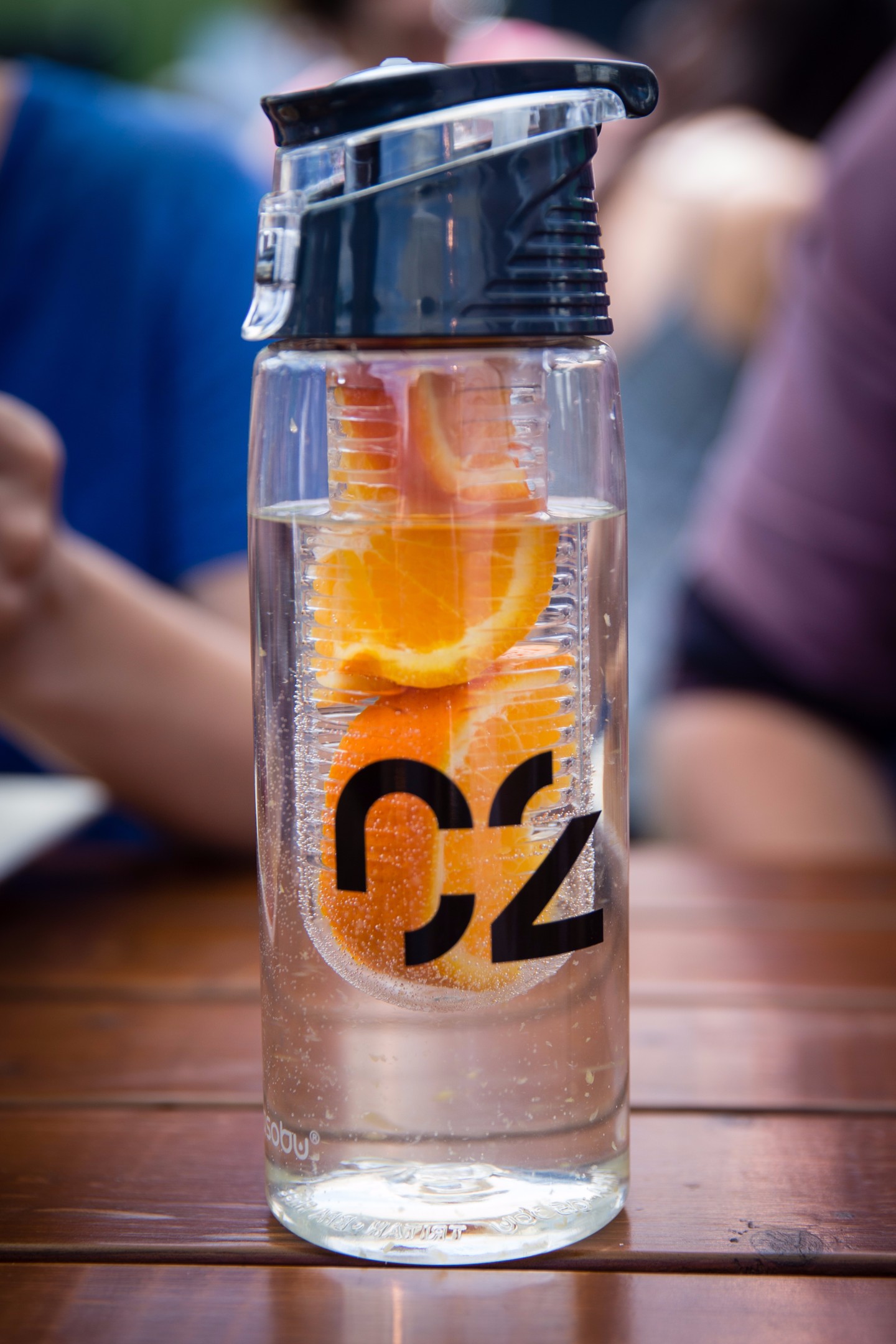 It's not new, but it's important. In recent years, we have made plastic bottles our sworn enemy and you have followed suit by bringing or buying reusable bottles onsite, filled by tabl'eau, our filtered water supplier.
How to do your part as part of C2: Get a reusable C2 bottle, or bring your own.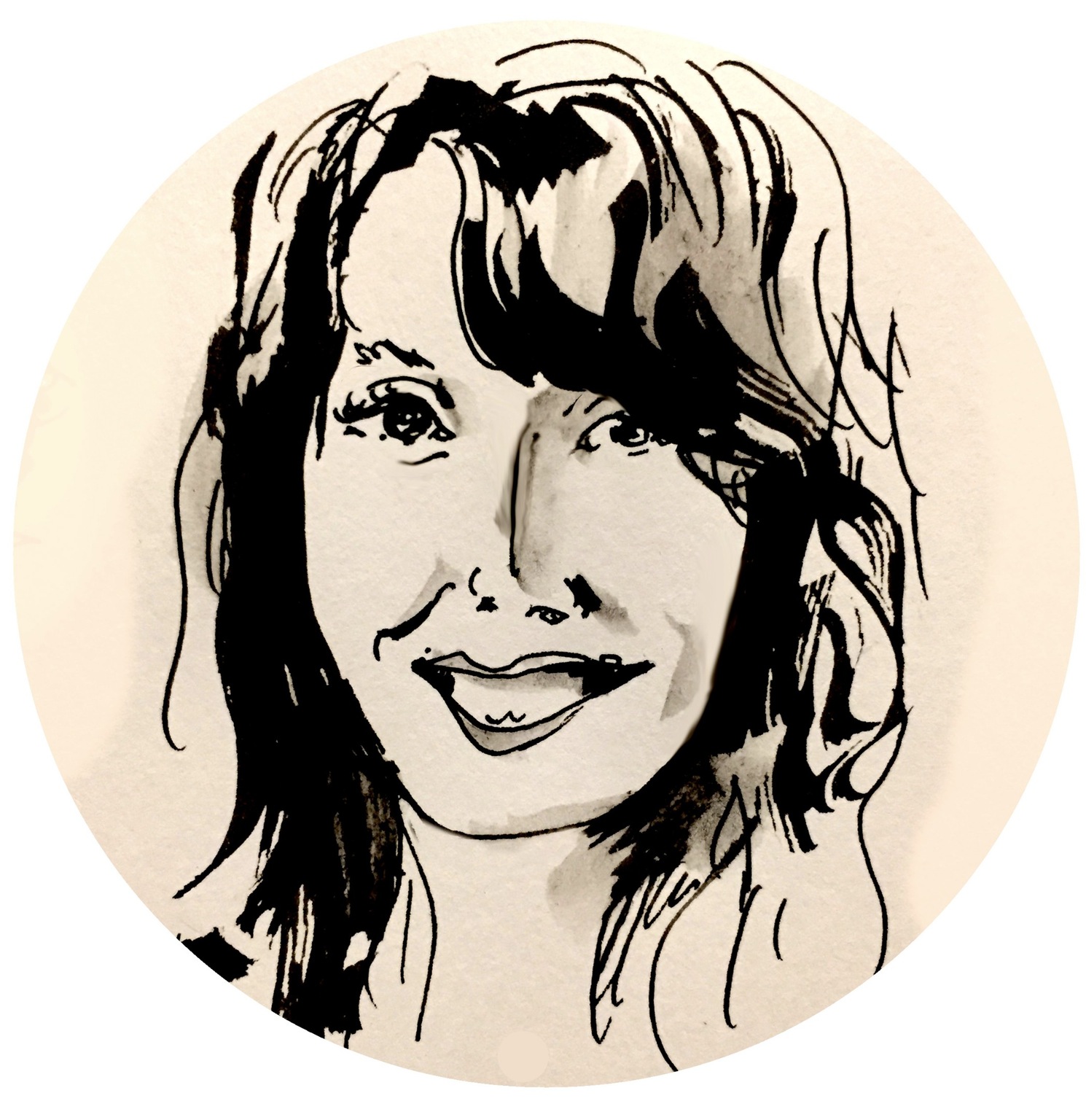 Tip from Équiterre's Andreea Iliescu:
"Do everything possible to avoid anything using plastic #6, the most difficult to recycle. Provide office employees with ceramic cups and glasses. Always have a reusable water bottle with you when you're on the move."
Clean and intelligent transit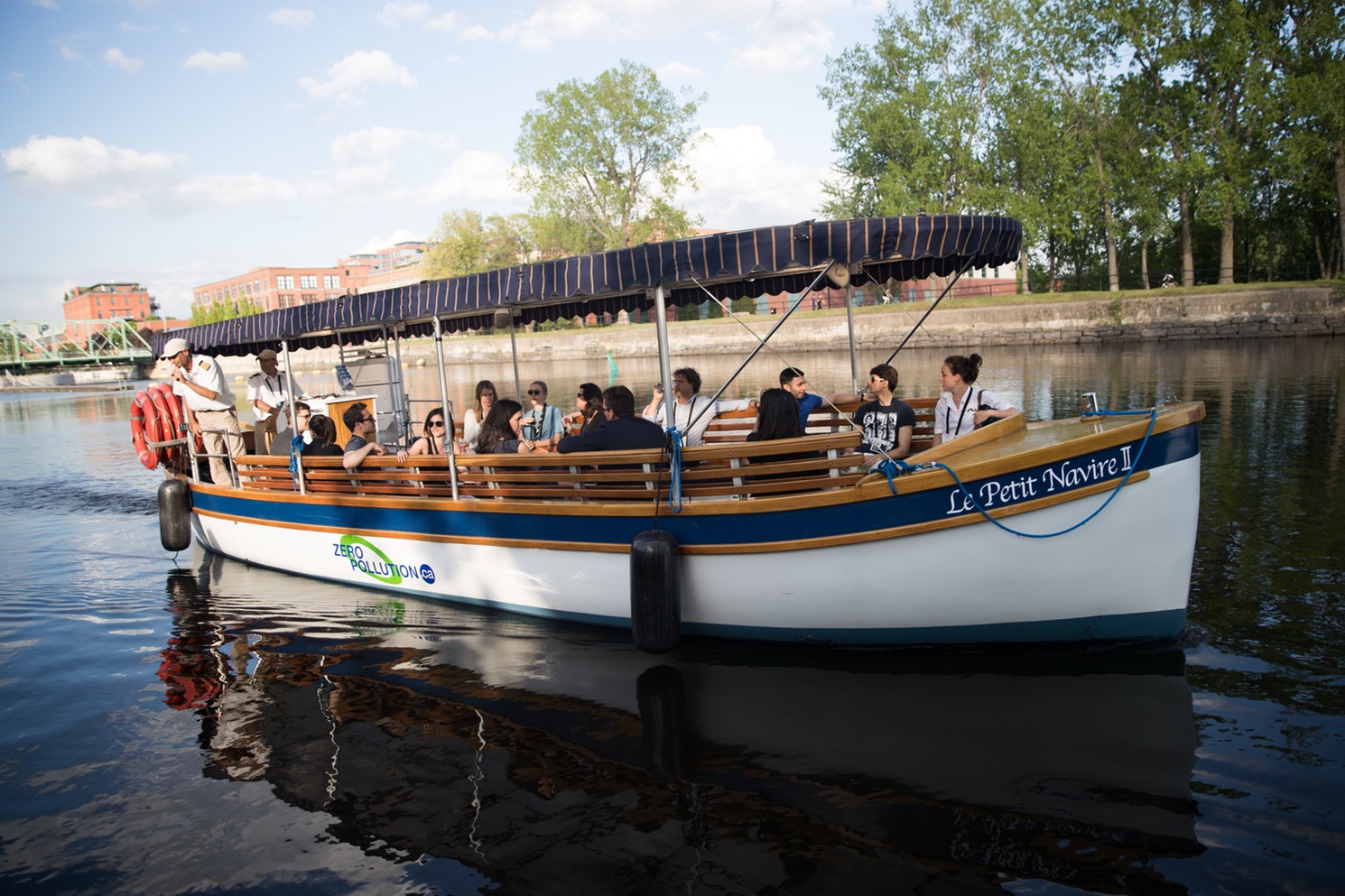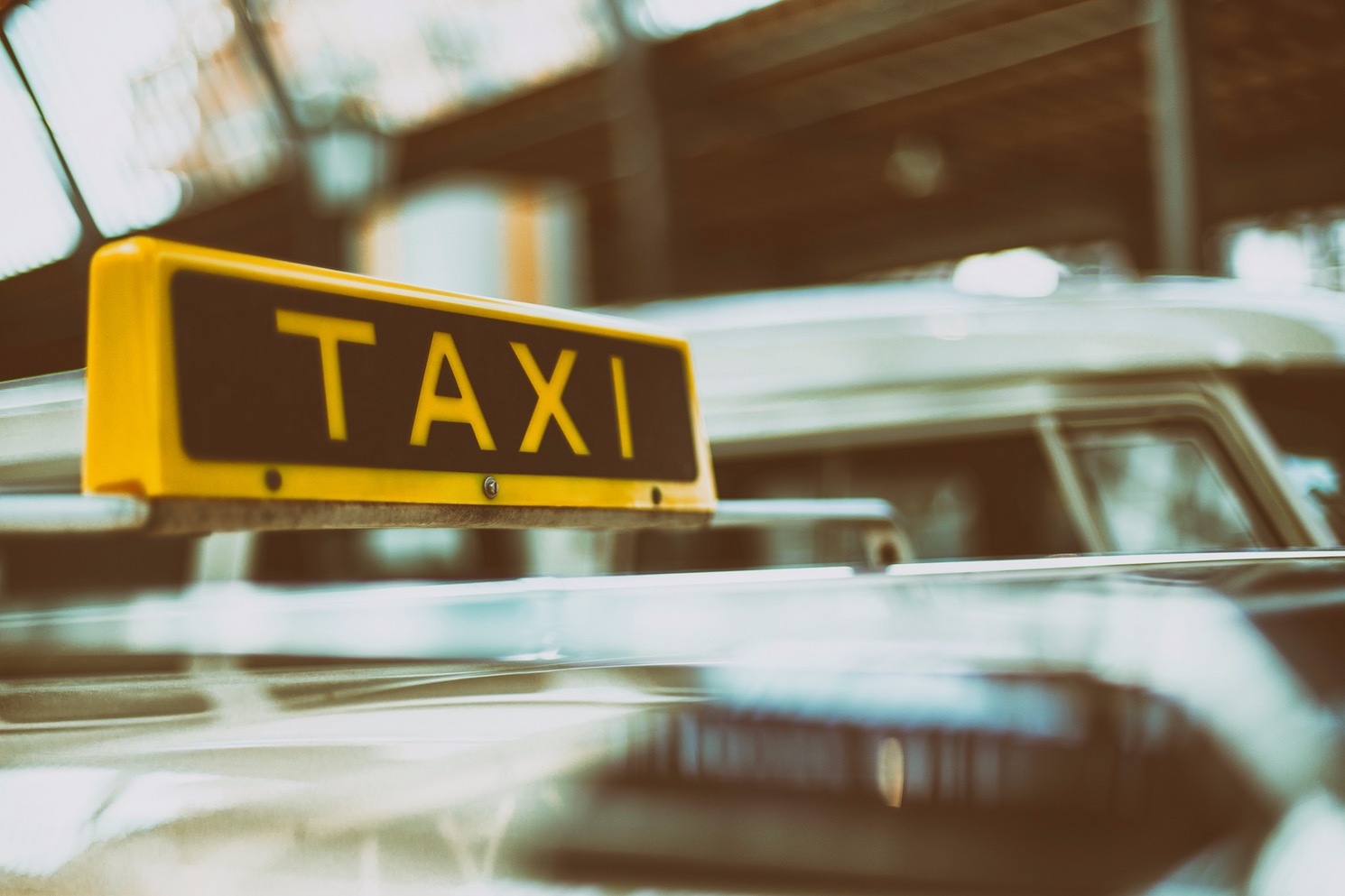 Several low-carbon options were available for participants to get to C2: metro, Bixi, shuttle, car2go and Téo Taxi. We've seen noise-free BMW i3 electric cars ensured the carbon-free transportation of all conference speakers, and even the small boats on the Lachine Canal are electric powered.
How to do your part as a C2 participant: There are many options for low- and zero-carbon transportation and, if you need to take a taxi, combine utility with pleasure by inviting another participant to accompany you – and why not take advantage of the opportunity and make a braindate?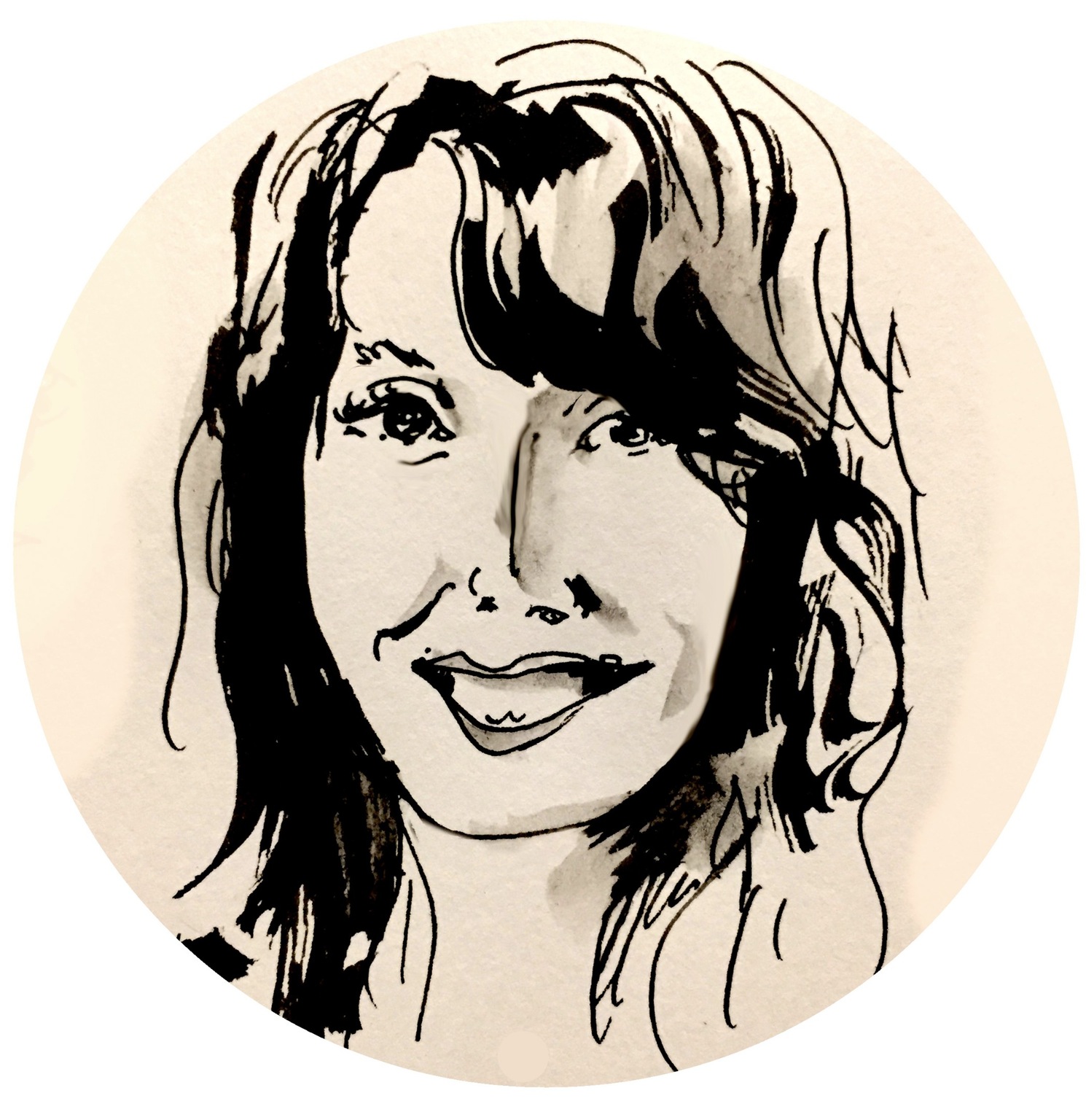 Tip from Équiterre's Andreea Iliescu:
"Choose sites for your events that are easily accessible by public transportation. Plan for car-pooling or offer reimbursements for public transit or electric taxis or car-sharing. And lastly, explore the joys of the
Transportation Cocktail
by promoting a mix of transit options that are adapted to your needs."