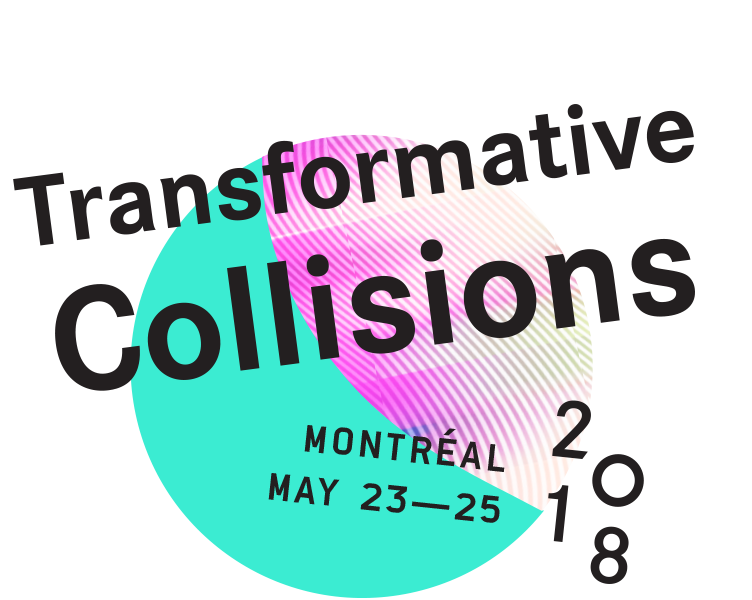 Re-energizing and
re-tooling leaders
C2 Montréal is a collaborative event that unlocks creativity in order to help leaders from all industries better face disruption and change. The theme this year is Transformative Collisions, and how these collisions break down barriers between ideas, points of view, sectors and disciplines. For 3 action-packed days, we'll help bright business minds re-energize and build the new set of tools they'll need to take on today's social and commercial challenges.
LEARN MORE ABOUT DISCUSSION TOPICS
Your 3-day journey
The conferences start at 9 am and wrap up by 7 pm, but the site is open and vibrant from 8 am until well into the evening – especially for Friday's closing "Illumination Night" celebration. A few weeks before the event, you'll be asked to select and sign up for the activities that interest you.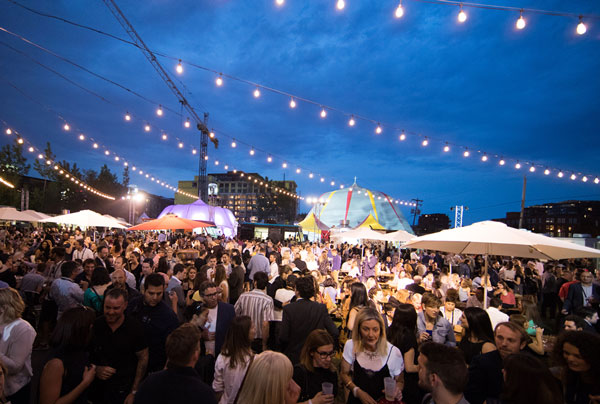 + go on Braindates + take a boat ride on the Canal + have lunch on the Plaza + scope out local designer goods + meet your next business partner + listen to a live interview in the Aquarium + check out the art exhibit + discover something you didn't know existed + have dinner with new friends
Talks and panels
Get inspired by thought-provoking speakers
Talks and panels spotlight field-leading speakers and experts who inspire us with their unique insights and experience. They take place in C2's two conference venues: the 360 Big Top – an immersive, state-of-the-art performance platform that is reimagined for each speaker and panel – and the artful and intimate Cabaret.
CHOOSE

2
THEMATIC BLOCKS
PER DAY
TYPICALLY 3 TALKS
AND/OR PANELS PER BLOCK
75 MINUTES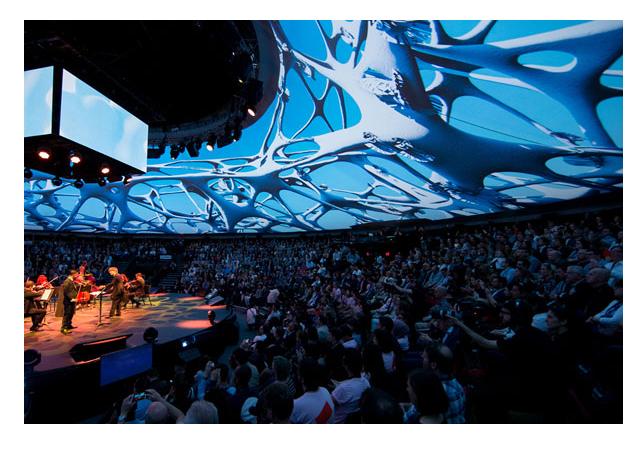 Hands-on Collaborative Sessions
Put your ideas and creativity into play
Challenging (and fun) Collaborative Sessions excite your creative instincts and provide opportunities to network with fellow attendees while putting ideas into action.
Masterclasses Interactive experiences that delve deeply into big ideas, hosted by experts
Workshops Prototyping sessions for gaining actionable knowledge you can take home with you
Conversation Markets New this year, sees teams work together to tackle a burning question
CHOOSE

1
COLLABORATIVE SESSION
PER DAY
FROM 75 TO
90 MINUTES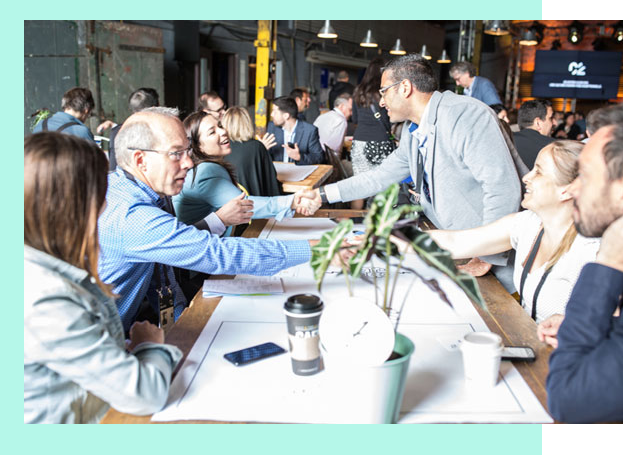 Labs
Awakening experiences
Each year, C2 devises a whole new set of challenging and playful experiential sessions called Labs. Always one of the highlights of the event, these atypical learning experiences in unique environments – ever tackled a burning question while suspended high in the air? – are designed to help you see the world, your business or perhaps even yourself through new eyes, awaken to new perspectives and discover new ways of approaching things.
APPROXIMATELY
30 MINUTES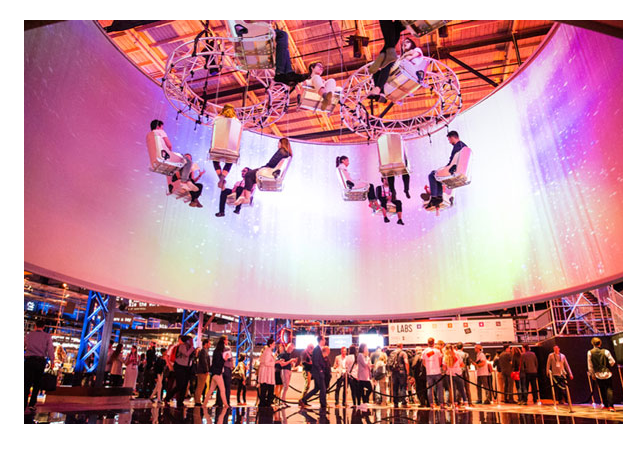 Braindates
Meet the right people
Braindates are one-on-one or group knowledge-sharing meetups that connect thousands of attendees interested in learning from one another at C2. Using the Braindate app, devised by peer-learning experts e180, matchmakers in the Braindate Lounge personally introduce those wishing to meet, thus eliminating the awkwardness of the first encounter.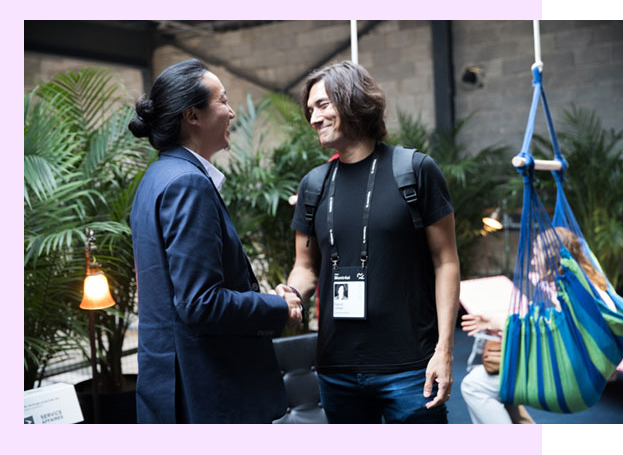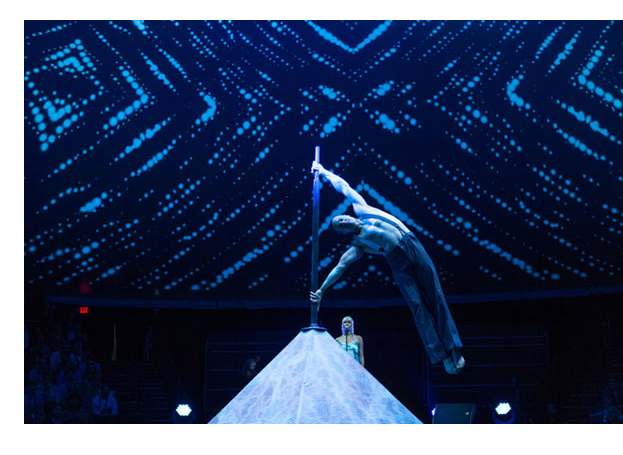 Artistic performances
Excite your creative brain
The power of performance is always on display as dozens of artists – musical, visual, acrobatic and more – not only stoke the fires of stimulation, but also serve as entertaining and thought-provoking metaphors for some of the other big C's at C2: connection, collision and collaboration.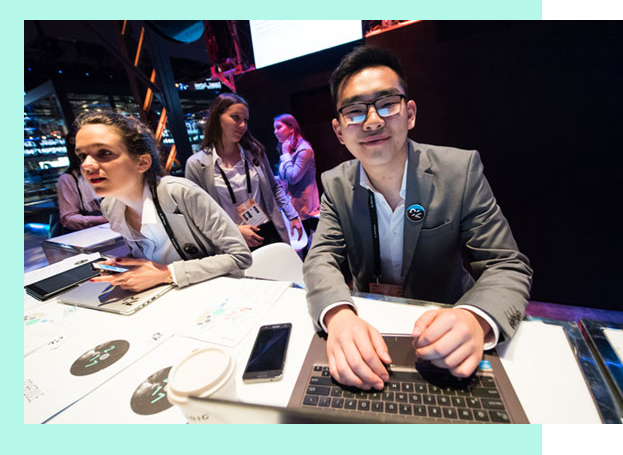 Concierges Extraordinaire
Enjoy a 5-star experience
Led by a former Ritz-Carlton Chief Concierge, C2's small army of Concierges Extraordinaire are dedicated to ensuring a memorable experience for each participant and the highest quality service along each step of their journey.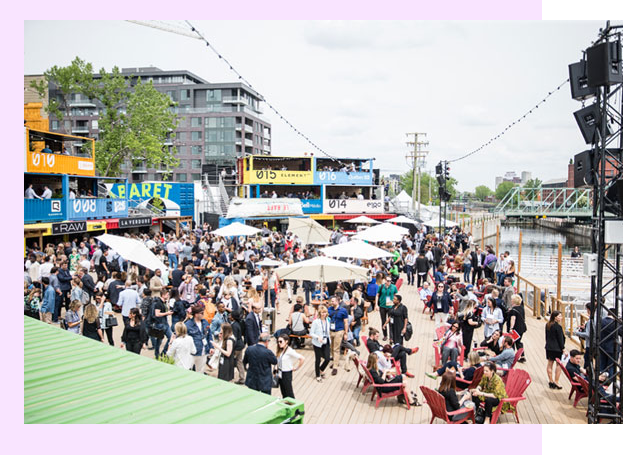 The C2 village
A one-of-a-kind conference site
The C2 village at Arsenal is designed to encourage discovery and spark conversations, and each year much effort is put into creating the perfect new playground for kicking ideas around. Take a relaxing boat ride with a future business partner (or a glass of wine), dive fork-first into Montréal's fabulous food culture courtesy of world-renowned chefs and our famous food trucks, wrap your head around intriguing interactive art installations, or chill while listening to some of the best live musicians in the city. And so much more…