Thanks to the pandemic, the economic landscape has time-warped back to an era that predates decades of gap-closing progress for women. Women's participation in the workforce is down to levels we haven't seen since the 1980s, with RBC reporting that Gen-Z women in Canada now represent 2.5% of the workforce and 17% of the job losses.
Those are stats that keep Anjum Sultana, YWCA Canada's National Director of Public Policy and Strategic Communications, up at night.
"It is a gendered issue, it's a racial issue, it's also a generational issue," she told C2. It became clear to her last spring that recovery would call for a different kind of playbook.
Sultana co-authored A Feminist Economic Recovery Plan for Canada with Carmina Ravanera, a Research Associate at the University of Toronto's Institute of Gender and Economy in the Rotman School of Management. A guide for policymakers, it is the first nationally focused recovery plan of its kind.
Filled with progressive ideas that businesses can build on as well, here's what it says we can do to contribute to a comeback…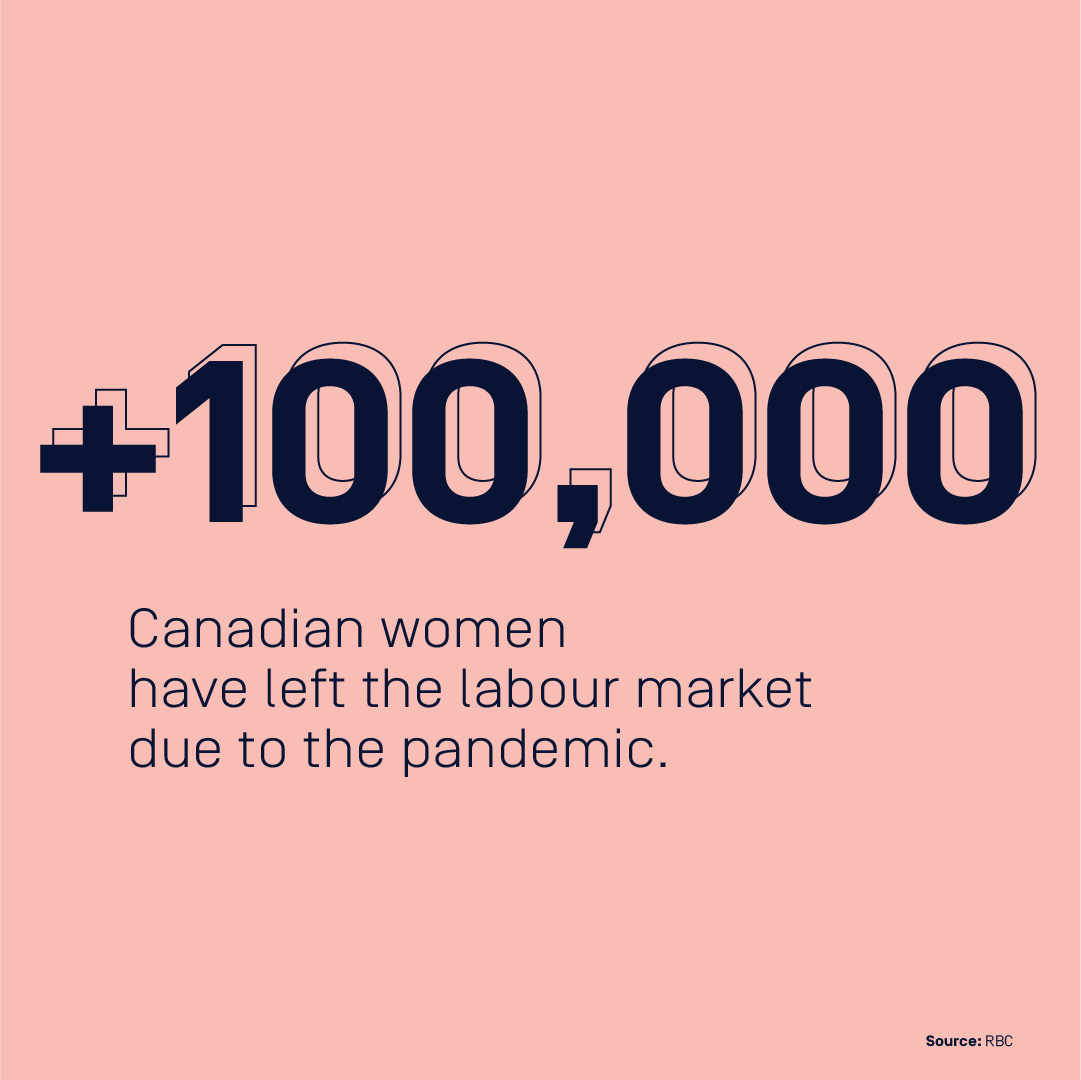 Take care of caregivers…
Since the pandemic began, 12 times as many mothers have left the workforce as fathers to take care of kids. While A Feminist Economic Recovery Plan calls on Canada to allocate 1% of its GDP to early learning and childcare, Sultana said businesses can step in to help here as well. They can look into offering onsite care services, or pool resources with other businesses to provide employees with jointly accessible care. And they should be sure that their policies recognize that parents and partners can be of any gender.
…and "the care economy"
Canadian labour economist Armine Yalnizyan also says it's no coincidence that 10 times the number of women aged 20 and up have permanently left the paid workforce compared to men.
"It seems that Plan A and Plan B for most provinces, which are in charge of schooling and child care, is just to have women figure it out – and work harder in paid and unpaid jobs," wrote Yalnizyan in The Globe and Mail.
"How's that been working for you? And by 'you' I don't just mean women. Fewer women in the paid labour force means less purchasing power and less business for everyone."
Beyond keeping us all afloat, the care sector is a gigantic generator of jobs and money, with the combined economic footprint of health and education comparable to that of real estate. As our population gets older, it's only going to grow.
According to A Care-Led Recovery report from the United Kingdom, investing 2% of the GDP in the care sector would catalyze a triple win: a 4% reduction in the gender labour gap, a 5% boost in the employment rate and the establishment of two million sustainable jobs.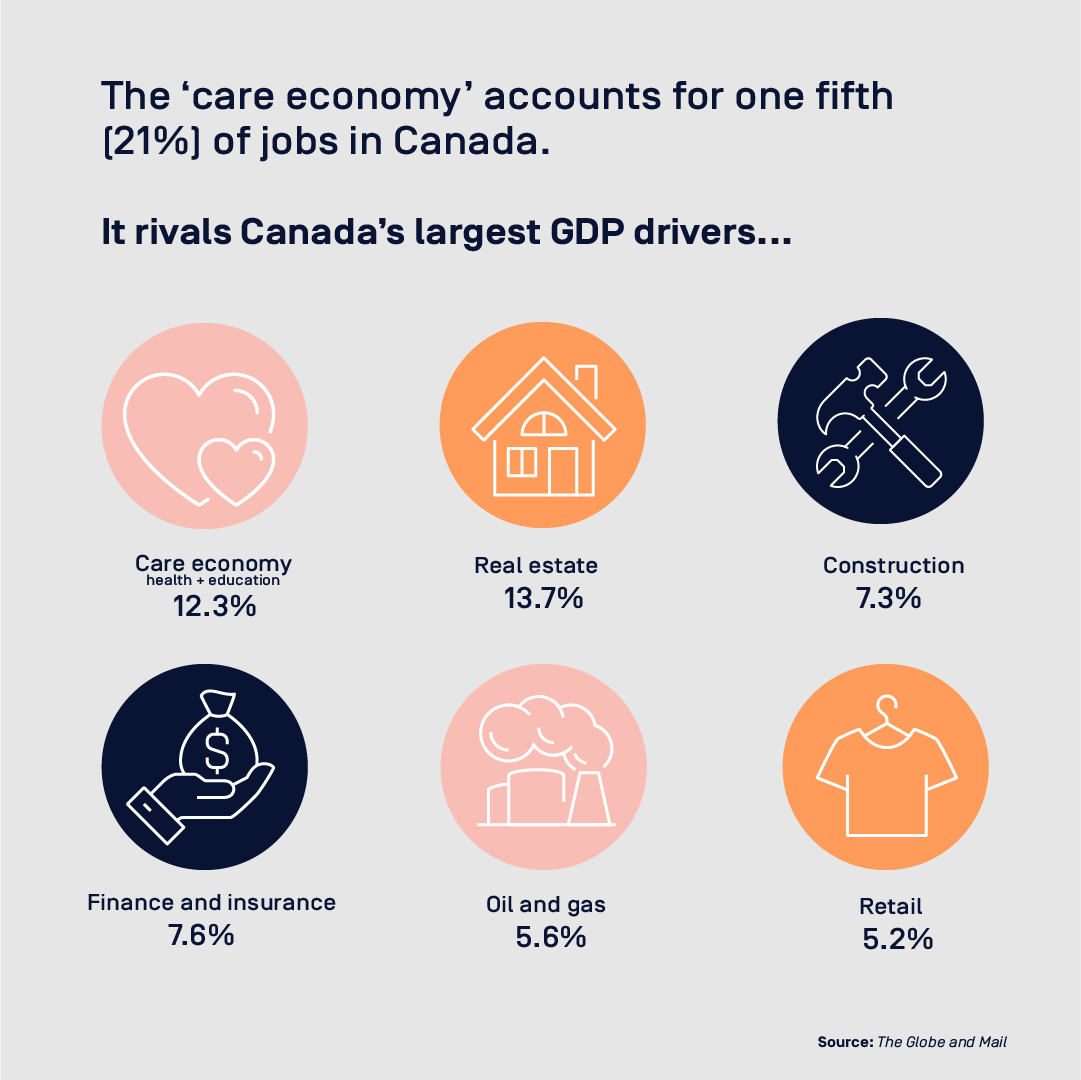 Source: The Globe and Mail
By investing in the care economy today, Yalnizyan argues that we win all around: new jobs, caregivers overwhelmed with unpaid care get to go back to paid work, and the sector could be set up to scale.
We would all benefit from better services.
But perhaps the most important argument for investing in the care economy is that cheaping out costs Canadian their lives: four out of five Canadian COVID-19 deaths were reported to be associated with seniors facilities, which are notoriously underfunded.
Reassess recruitment
Companies are in the market for talent and many nonprofits are in the business of getting women back to work. Sultana sees this mutual need as an opportunity for the private and charitable sectors to join forces in the realms of reskilling and talent acquisition programs.
And if a company provides training, it can help by ensuring the company is truly accessible to all women by offering child care.
Provide paid sick leave
As the federal government has yet to respond to the Feminist Economic Recovery Plan for Canada's calls to legislate 14 days of paid sick leave for all workers (the rules vary wildly by province and territory), companies can beat them to it.
Without paid leave, people are forced to choose between paying their bills and keeping themselves and their families healthy. It's a dangerous and avoidable choice, one that essential workers — who are predominantly women —  are stuck having to make more than anyone else.
Don't ignore the shadow pandemics
It's been a hell of a year for everyone, but the pandemic has spotlighted systemic and longstanding issues that we can no longer ignore. Hate crimes and gender-based violence have spiked across Canada and abroad. Mental health broadly is deteriorating.
And this collision of crises has hit women and marginalized groups harder than anyone else.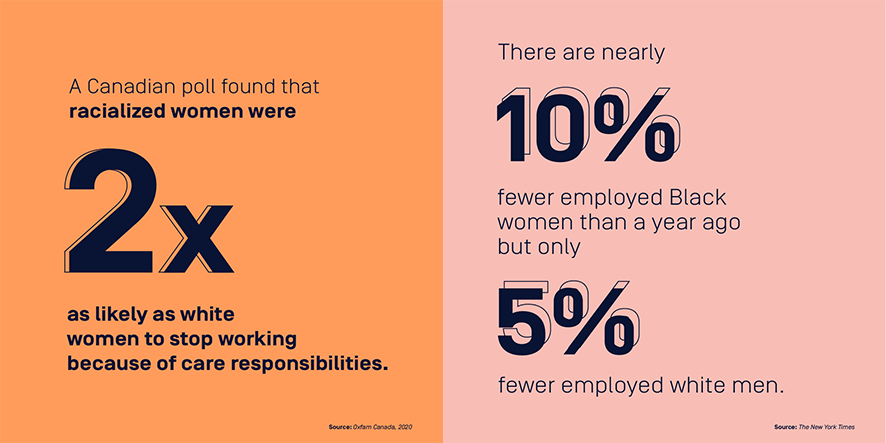 Source: Oxfam Canada, 2020
Source: The New York Times
A final word on a feminist recovery
It's not just about changing our approach. Sultana says we also need to rethink our measures of success.
"Let's actually talk about income inequality as a measure of success," she challenges us. "Let's take a look at the jobs that are coming back: Are they decent, full-time, with benefits? Has [gender-based violence] gone down? Homelessness, has that gone down?
"Those are some of the things I'd like to see."
Questions or comments? Drop us a line at editorial@c2.biz