At the close of C2 Montréal 2021, participants were treated to an eye-opening panel discussion, "Local talent: An international success," featuring Pierre Fitzgibbon, Quebec's Minister of Economy and Innovation and the Minister Responsible for Regional Economic Development, and Sakchin Bessette, Co-Founder and Creative Director at Moment Factory. The discussion was moderated by Marie Saint Pierre, President, Founder and Creative Director at Maison Marie Saint Pierre.
 C2 caught up with Bessette shortly after this year's event to pick up where the panel left off, delve deeper into the panel's insights and observations, and get a taste of the secret sauce behind Moment Factory's international recognition and success.
During your conversation with Marie Saint Pierre, you said that you learned your craft and how to do business on the job. Is there a particular lesson that has stuck with you from that time and which still guides you today?
"Seek out the extraordinary. You need to find that thing that fascinates you. Then there are the basics: work hard, stay open and don't box yourself in. With time, you'll end up finding recipes and discerning patterns, but you need to keep your mind wide open. Much of innovation comes with a lot of unknowns, so you've got to leap into the unknown and navigate the best you can without letting your mistakes get the better of you. Learn from them and keep going.
"Another important point: You have to learn about people, understand that every human being is different and reacts uniquely to different situations. You have to keep this in mind when listening to people if you want to truly understand them. For me, the human being is central to what we do. Sometimes you can forget that people are complex beings with complex lives and complex emotions."
What project in particular earned Moment Factory global recognition?
"Several projects. At first, it was with Cirque du Soleil. We worked on parties with Guy [Laliberté, Cirque du Soleil's founder], and doing that created a lot of potential and opportunities. Then there was the Nine Inch Nails concert, which opened doors in the global concert industry. Following that, there was the LAX project, which gained us visibility for infrastructure projects in the permanent installation industry. The Super Bowl helped garner even wider recognition, especially in Quebec and through media outlets that came along for the ride. There were also our Lumina night walks, which transformed outdoor sites at night, and that was quite successful abroad.
"One of Moment Factory's strengths is that we work with such a wide variety of businesses."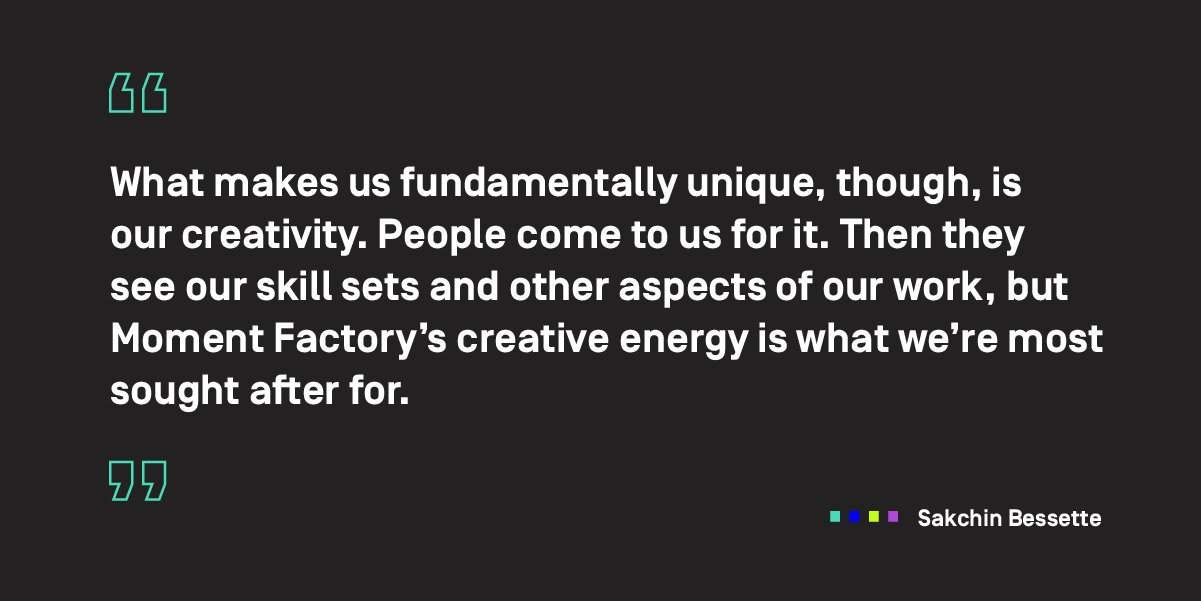 What's Moment Factory's strategy when it comes to setting itself apart from global competitors? What do you lead with?
"A few things. The first is our diverse skill sets which allow us to work in several different industries. We work with concerts, cities, museums, theme parks, the Lumina and Aura series, and permanent experiences. I don't know of many other companies that have such depth of expertise in so many different lines of business.
"With a scope as wide as ours, we can attract talent in-house. In one company, we have technical, creative, technological, management, marketing, ticketing and promotional skills. All these areas converge to create 360-degree in-house knowledge, which is rare. That reassures global clients, who say to themselves, 'For our large-scale, high-risk projects, we're going to choose a company that is rock solid, that has a good track record.'
"Another thing we lead with is our geographic diversity. We have offices in Asia, Europe and the United States. We have a presence in multiple markets, which isn't the case for most multimedia companies.
"What makes us fundamentally unique, though, is our creativity. People come to us for it. Then they see our skill sets and other aspects of our work, but Moment Factory's creative energy is what we're most sought after for."
During your panel at C2 Montréal, you talked about intuition as being underappreciated in business. In your view, how is tapping into intuition beneficial to entrepreneurs?
"It's the starting point for so many things. It's invisible, on the inside. It's hard to describe or quantify, but basically, if you take a closer look at world leaders in politics and business, they're people who follow their intuition. Intuition is foundational to leadership and decision-making.  Before making a decision, you have to believe in it, and that belief comes from your intuition.
"If you ask me, it's a strength that is greatly underestimated and I think if there were intuition classes in grade school for kids, it would change the world."

Apart from Moment Factory, what other local companies are shining on the global stage and make you proud to be Montreal-based?
"There are a few. The PHI Centre, for one, is an organization I have a lot of respect for. I really respect Phoebe [Greenberg, PHI Director and Founder] and all her initiatives, passion and bravery. I find that she has created an incredible launchpad for Montreal culture and Quebec creativity.  
"Arsenal is also a wonderful art centre that produces international-calibre projects in Quebec and plays a part in promoting Quebec in the art world."
Gen Zs are entering the labour force. What's your impression of these young adults?
"I think they're amazing. They're very smart and very different from other generations in many ways. They're idealistic and more balanced in their values. They're not just about career success, they also want to live a good life. They have strong values; they're open minded. They grew up with the internet and they learn lots of things much quicker than their predecessors.
"For this generation to succeed, we can't try to mould them into something like ourselves. We need to adapt to them, listen to them and understand their needs to integrate them into the labour force."
What is Moment Factory's biggest challenge today?
"Labour, people. With everything happening in the world right now, the challenge of attracting the right qualified humans who can contribute to Quebec creativity is a formidable one. We need to find new solutions to attract fresh talent to Quebec to train the next generation and build a strong labour force."
Get more insights from C2MTL 2021
Check out The Takeaways, a selection of the top action items and key learnings that came out of C2 Montréal, October 19-21.
Questions or comments? Drop us a line at editorial@c2.biz