Fireside chat host Anne-Marie Withinshaw said it best on the C2 Montréal 2021 stage: Mindy Kaling may be a rising entertainment mogul, but she's also everyone's imaginary best friend. This duality of being exceptional yet deeply relatable is something that carries through to her writing, and that has helped her accomplish so much.
At C2MTL, Mindy shared her experiences and the lessons she learned going from being a self-described underdog to playing Kelly Kapoor on the hit TV series The Office to building a media empire.
Be authentic
When Netlix launched her new series Never Have I Ever, Kaling was surprised that a show about an American-Indian girl whose father recently died and who just wants to have sex would do so well internationally.
"I was like, this is going to be the most niche show of all time — no one is going to watch this," she recalled. "And then it was hugely popular in Brazil. And so what I think I've learned from that is that the thing that works the most is a deep new authenticity and the truth in that."
Along with the universal appeal of sex and a diverse cast, Kaling attributes the success of her show to her emphasis in the writer's room on telling a story that feels true.
"Everything that she is saying is something that I can relate to. And I'm not a 15-year-old horny girl… We always put a lot of pressure on ourselves to be, like, `Is this really real?'"
WATCH:
Never Have I Ever
was renewed for a third season in August of this year, and you can watch it on Netflix.
Find humour in adversity
This is how Kaling approaches situations that others might find upsetting, as exemplified by an anecdote she shared about how her attractive white assistant has had car doors opened for her (and not Kaling) when they are seen together.
"It's a little bit of an injustice, but it's also very funny," said Kaling. "I worked so hard and then it's, like, you get humbled like that. And I think I choose to see the comedy in that and the irony in that rather than to let those kinds of things hurt me."
It shouldn't be surprising that finding humour in adversity has been a creatively useful approach for Kaling. After all, we are talking about the woman who entered the zeitgeist as Kelly Kapoor slapping Michael Scott (Steve Carell) in "Diversity Day," the second episode of The Office's first season.
Put yourself out there
Kaling knew that she had landed an extremely sweet deal when Greg Daniels, the showrunner for The Office, asked her to become number 11 on the call sheet. As she says it, she had the opportunity to observe and learn from Carell and Daniels on how to create and star in a show. However, she doesn't recommend waiting to be given an opportunity as a strategy for success.
"I think now when I look at young people who are feeling like they have no access, the thing I would say is look at TikTok, YouTube," Kaling said. "The most meteoric rise of young people has been from editing and starring in and writing your own things on TikTok and YouTube and letting your talent naturally rise to the top."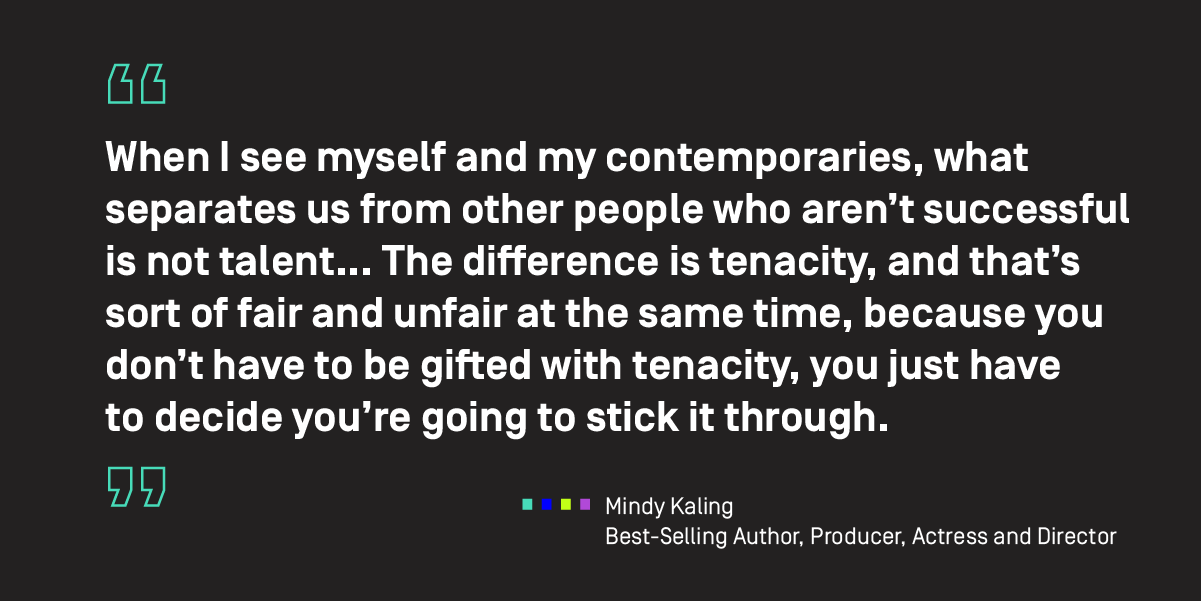 Grow a thick skin
That being said, Kaling believes that what set successful people apart from the others back when she started was tenacity and bravery, and that it's still true today. While young people have more opportunities than ever to express their creativity online, they should not give up because a couple of people have bad things to say.
"When I see myself and my contemporaries, what separates us from other people who aren't successful is not talent… The difference is tenacity, and that's sort of fair and unfair at the same time, because you don't have to be gifted with tenacity, you just have to decide you're going to stick it through."
READ:
Kaling has released two
New York Times
best-selling comedic memoirs⁠:
Is Everyone Hanging Out Without Me? (And Other Concerns)
and
Why Not Me?
.
Aim to upset
Though Kaling identifies as an outsider, that never stopped her from believing in herself. Refusing to be pushed aside and left out are recurring themes in both of her autobiographical books.
"For whatever reason, I think my greatest gift was a confidence that was not commensurate with my abilities or the way that I look," posited Kaling. "I just sort of thought, like, I want to do it. I only get to live once… I just don't want to be left out."
Get more insights from C2MTL 2021
Check out The Takeaways, a selection of the top action items and key learnings that came out of C2 Montréal, October 19-21.
Want to know more? Watch the conference
If you were a participant at C2 Montréal 2021, you can watch Mindy Kaling's fireside chat in its entirety, and all the other conferences as well, in the video on demand section of the C2Agora platform until November 25.