Credit: Arianne Bergeron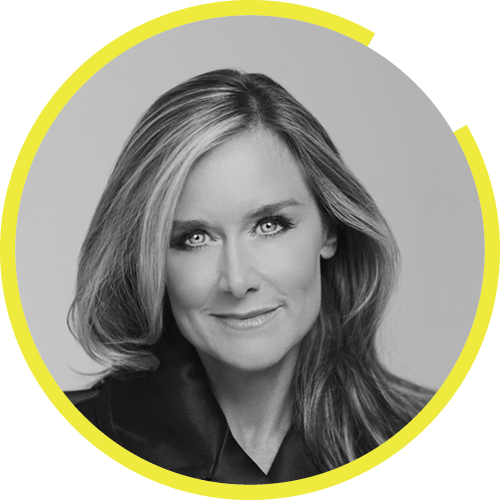 Angela Ahrendts
Former Senior Vice President, Apple Retail
"If you are a leader, you listen."
Brand transformer Angela Ahrendts knows what's next for retail.
Named one of the most powerful women in business by Fortune this year, the former SVP of Apple Retail (2014-'19) and CEO of 150-year-old British outerwear company Burberry (2006-'14) understands what it takes not only to transform a brand from the inside out, but also how to strategically position it to succeed in the future.
"You gotta look backwards first"
Angela ushered Burberry through a remarkable period of global growth, tripling corporate revenues and profits in the process. Coming into an iconic organization, she asked herself: How do you respect everything it was built on? And how do you make it relevant for your tenure and for the next generation?
"Every great company that is going to scale over $1 billion needs a foundation, a core," she says. "[Burberry] was a purpose-built company originally [to make coats for the] guys in the trenches at war… [so] we decided we were the only luxury brand born from a coat and that should be the backbone that permeated everything."
So began a process of trenchcoat merchandising across every end use and for every different kind of customer, with the help of her teams in design, marketing and analysts.
At the same time, she adds, they realized Burberry had never leveraged its "British-ness," and so made that a filter: from music to models, to the fact that customers would be greeted by a person with a British accent no matter where you walked into one of their stores worldwide.
Find a strategy, says Angela, and then stick to it. From there, "it's about consistency, communication and celebration when you do achieve things, to get that momentum going."
Then start looking around the corner…
With Amazon, immersive customer experiences, multiple entry points, a "slow-shopping" movement, the sharing economy, Instagram, thrifting and global tourism all primed to rock the retail landscape, betting on what's next is the number one challenge for retailers.
"I think there are multiple ways to win the retail race in the future," says Angela. How do you do it? Easy: "Ask the next generation… they think differently [and] they are digital natives. We're not."
When she moved to Apple, Angela says she immediately pulled "groups and groups of young teams together" and asked what they thought their community needed. More important than the iPhone, she learned, is what you do with it.
With the job market disrupted by tech, young consumers trusted Apple to teach them things like photo editing, filmmaking, music recording or app development. "Why not help make them better, if there's not a traditional education system teaching them to do this?
"We wanted not to redesign the stores, but to aggressively evolve that experience." 
One initiative, "Today at Apple," sees creatives teaching over 18,000 sessions a week globally. Another led to the recrafting and modernization of the roles and benefits for 70,000 employees.
"My ego doesn't need to say that every idea was my idea," explains Angela. "It's easier, the higher up you get, to say, 'No, it's too expensive,' or 'It's too complicated.' But we had a young council and they would dream and I would tell my direct reports, 'It's your job to execute those dreams.'"
This goes back to defining leadership, she says. "Is it a top-down dictatorship or is your job to listen, connect, enable? That's kind of how I've looked at it: I'm there to serve the vision of the team."
And remember: Talent is forever
A critical success factor in retail is figuring out how to hire, recruit and retain great sales people. Angela's advice is pretty simple: remember "you are hiring people for a career, not just to stand in a retail store."
"You want to find people who are culturally compatible," she adds. "They are coming into your company, they are your brand ambassadors and they can make or break whether a customer comes back based on the relationships they build."
So don't delegate this task to HR, and be an arm's-length away from the hiring process, she says. "Every brand has its own values and purpose, so you must find people who are aligned with that.
"You are building teams of people, you are not hiring individuals. You want that team to be so united, so empowered and so driven that they are going to make a difference. And, of course, they are going to drive revenue. That's an output. But if they genuinely care about the customer and your company, they will be honoured to represent you every day… [many retailers see talent] as a cost but, to me, your headcount is your greatest enabler."
Angela's other predictions for retail…
We will always need places to connect: "We're still humans. We still want to touch, feel, learn and connect with other humans. Retail has to evolve to create and welcome that."
"Instagram is now the largest mall in the world" and that's not going to change. "Our job as retailers is to keep pace… it's not going back. It's not going to slow down."
The next generation's attitude about owning things is different, which "will impact the consumption of everything." That's okay, says Angela, since "it forces every company to have a pure message, an even more unique product and to build an even better relationship with their customers. It forces everyone to up their game."

Questions or comments? Drop us a line at editorial@c2.biz