Who are these millennials and Gen Zs? What values drive them? What kind of consumers are they? How do they view work? And what does being a citizen mean to them?
Market research and analytics firm Leger asked these questions through its "Being a Young Person in 2022" survey, which garnered data from 3,515 Canadians and Americans between the ages of 15 and 39. Alongside Leger's Executive Vice-President Christian Bourque, we take a look at the major consumer trends that have emerged within this somewhat misunderstood — and highly coveted — demographic. 
The impetus for the survey can be traced back four years. Observing how the media tended to speak poorly of young people without addressing them directly, Leger wanted to give young folks a chance to speak for themselves and for the rest of us to hear it straight from the horse's mouth.
"The interest in young people mainly came from our clients," says Bourque. "They kept asking us what to do with millennials, how to reach them, and what their needs were. Given that Gen Ys are as numerous as boomers population-wise, we needed to find the right vocabulary to describe the many differences and particularities of this generational cohort, and then learn what we could about Gen Zs while we were at it."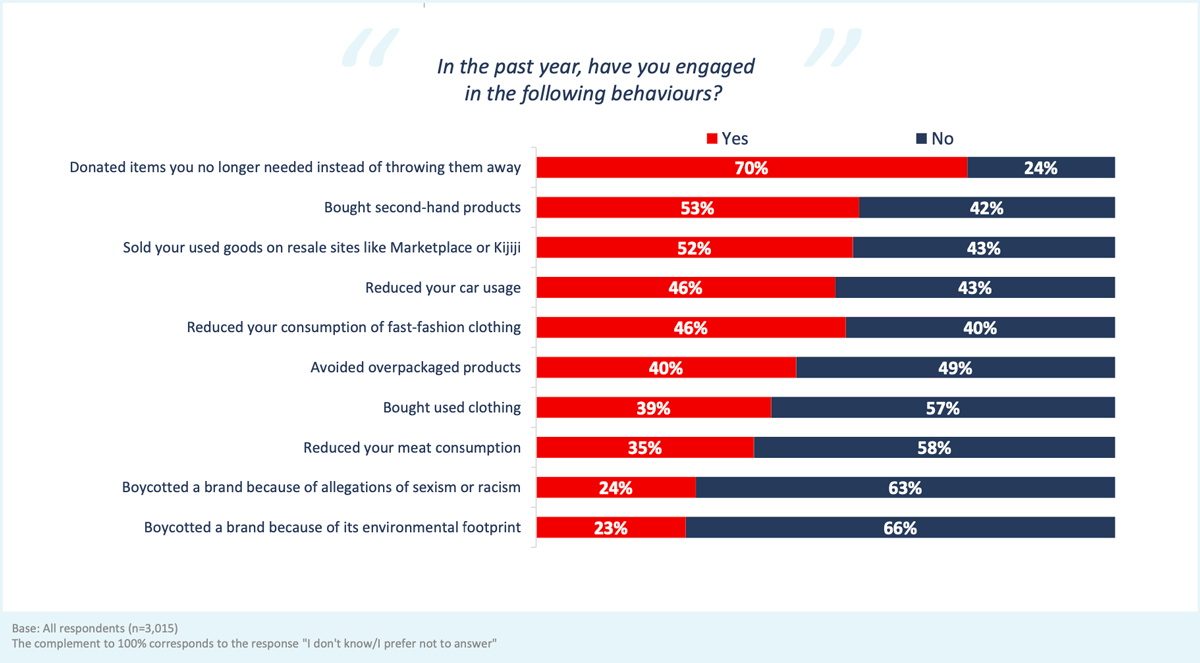 Excerpt from Leger "
Being a Young Person in 2022
" survey.
Aware and action-oriented
Topping the list of this age group's consumer concerns: the environment. The 15-to-39 demographic is acutely aware of environmental issues and their purchases are values-based. They drive fewer kilometres, purchase less fast fashion, prefer second hand to brand new, don't like over-packaged products, and won't bat an eyelash before boycotting a brand that has a reputation for sexism, etc.
"What we're seeing is a desire for words to align with actions," posits Bourque. "That's why brands will have to do more, and do it better, if they want to woo 15-to-39 year olds. 
"Young people don't just buy products, they purchase ideas, and 'doing the right thing' makes them feel better. That's why brands whose values are in sync with this demographic's moral centre — think Fermes Lufa and Vrac et Bocaux — do so well."
Financial anxiety and a sense of urgency
Pervading several areas of their lives, anxiety is also a major struggle for both generations. Milestone purchases have become inaccessible for many due to the skyrocketing cost of living. Young people feel a sense of urgency, which Bourque attributes in part to the preponderance of social media.
"Social media is how they determine whether their lives are fun or not. There's always the friend who rents a cabin or goes on ski trips to Whistler, and the FOMO is real."
Financially speaking, they tend not to have all their ducks in a row and there isn't a sense of optimism about the future: less than one third of 15-to-39 year olds budget and 25% of people in their 30s live paycheque to paycheque.
Their relationship with savings and credit departs from previous generations, as does their relationship with risk. Paradoxically, Bourque confirms that "they're big spenders and extremely cheap at the same time."
Some concrete examples? They want a shopping experience that's as quick and easy as possible. Smitten by ecommerce — because it's fast and less anxiety-inducing — these people do their research, care where products come from and put a lot of stock in reviews by peers and other shoppers. Surprisingly, they try to save in areas that they consider staples but aren't afraid to break the bank for less-essential buys.
"They're looking for discounts," Bourque tells us. "They're on the hunt for coupons and promo codes, they love loyalty programs, and they find that their cell phone, internet and grocery bills are way too high. The same standards do not apply, however, to nice restaurants, quality clothing and travel.
"They shop at Costco for the savings and crank up their non-essential, sometimes luxury spending, and there's very little middle ground. Average stores with average prices for the average consumer are not even on their radar."
Looking towards the future
When it comes to emerging industry trends, which are increasingly being driven by the young, Bourque speaks to us about HX, a.k.a., human experience.
"We used to be more focused on UX [user experience], then it became all about CX [customer experience]. Now HX is what's catching our attention."
An HX-centred approach leans into shared values, how companies are contributing to building a better world. It highlights the human factor behind the brand, improving the customer's quality of life and enhancing their shopping experience by reducing friction as well as anxiety. 
"Philosophy of life also factors into how young customers make a purchase," Bourque concludes. "They're less inclined to believe big brand promises, they come equipped with excellent bullshit detectors, and they buy with their whole hearts.
"They want to feel like we're on the same page and that we share the same values."
Dig deeper into the Leger survey
Find out more about the firm's survey of millennials and Gen Zs: download "Being a young person in 2022" for free. And receive our newsletter for more great insights into today's young professionals and leaders.
Questions or comments? Drop us a line at editorial@c2.biz