For some conference goers, there is nothing more stressful than the idea of networking. Many would rather pull out their smart phones and check their emails than taking the risk of approaching a stranger to introduce themselves or get stuck in the wrong conversation. However, when asked, many people cite networking as their number one reason for coming to conferences, so avoiding networking is not the solution.
Sometimes it just takes something or someone (or both) to facilitate a connection. This is what Christine Renaud, founder and CEO of e180, the social business that powers C2 Montréal's braindates, refers to as "engineering serendipity".
Christine Renaud (right) on one of the tens of Braindates she did at C2 Montréal 2016
"When good connections are made, there is no better feeling," Christine explained. "Braindates remove the barriers to networking and help people get to the meaningful conversations right away. We are in the business of connecting human beings for collaborative learning and meaningful conversations."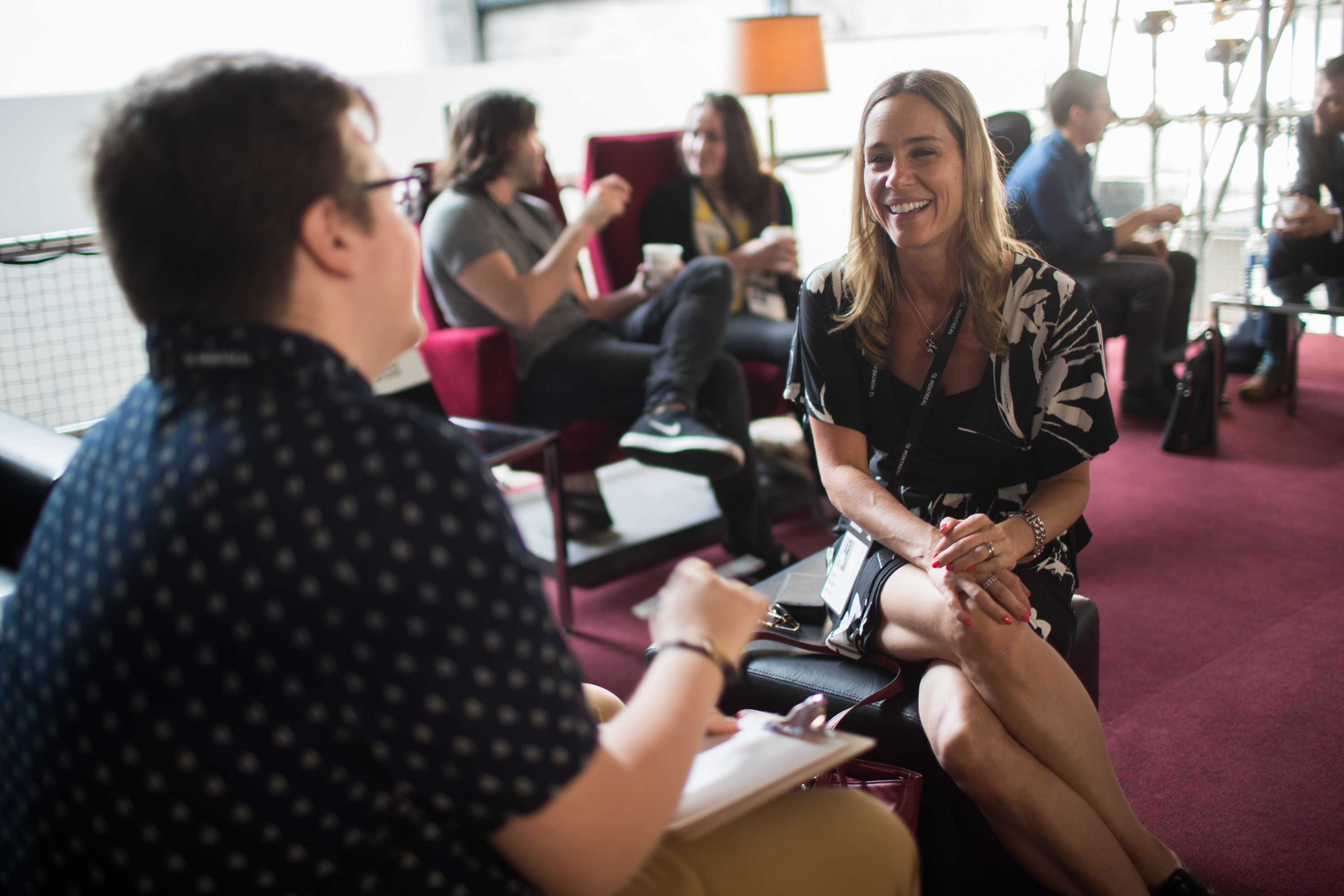 One of the biggest reasons why Harvard Business Review and BizBash both remarked on how C2 Montréal stands out as a great networking event is largely due to braindates. Yes, more and more conferences are offering social apps to their participants, but braindates go far beyond an app.
Although it is enabled by innovative technology, the magic happens in person. On site, you'll even find trained matchmakers to help connect you with the right person. This customized process takes away all of the guesswork on who you're meeting with, and why.
Here's how it works:
A few weeks before the conference, attendees get an email with a registration link. Once connected, they are encouraged to list the topics they are passionate about, and the subjects they are interested in learning more about.
"In order to get the best experience, we recommend that people start planning their braindates early," Pierre Noïnski, Director – Participant Services at C2 Montréal, explained while describing the braindating process. "There is just so much going on during C2; those who wait at the last minute may find that other's participants' schedules are already full."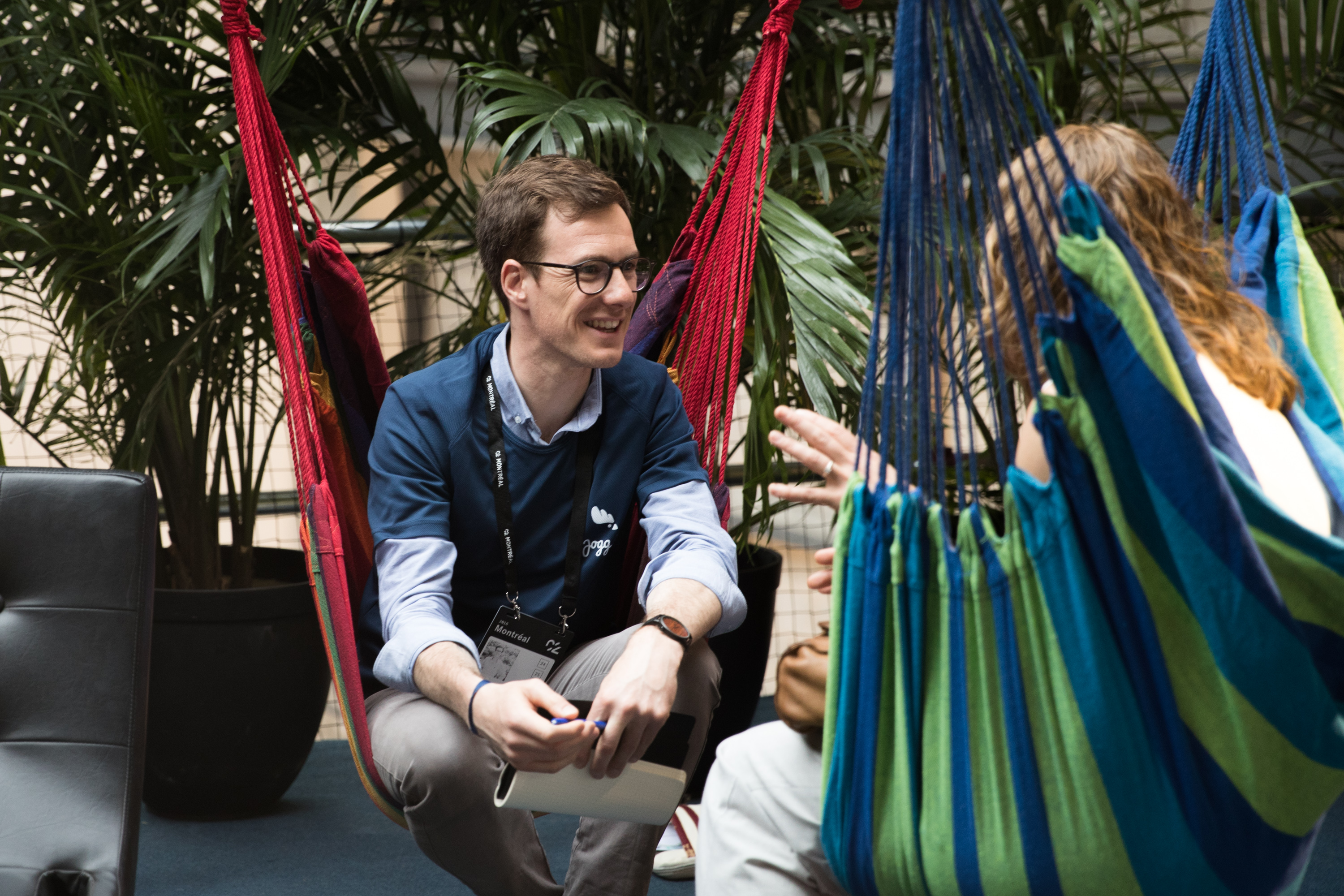 Participants are encouraged to make their offers as granular as possible in order to make the best connection. Offers have included everything from advice on how to set up an experiential marketing campaign in the Bronx for a retail brand, to how to do a handstand.
"It's not just about business, either," Christine says, "Braindating represents the whole being. Everyone has something to offer." She recalls that one of the most popular offers in previous editions was a student offering up reviews of products from a Millennial's perspective.
After you've entered the topics you're interested in sharing or learning about, you can browse through the other C2 participants to see who you should be scheduling a braindate with – either one-on-one, or (new this year) as a group.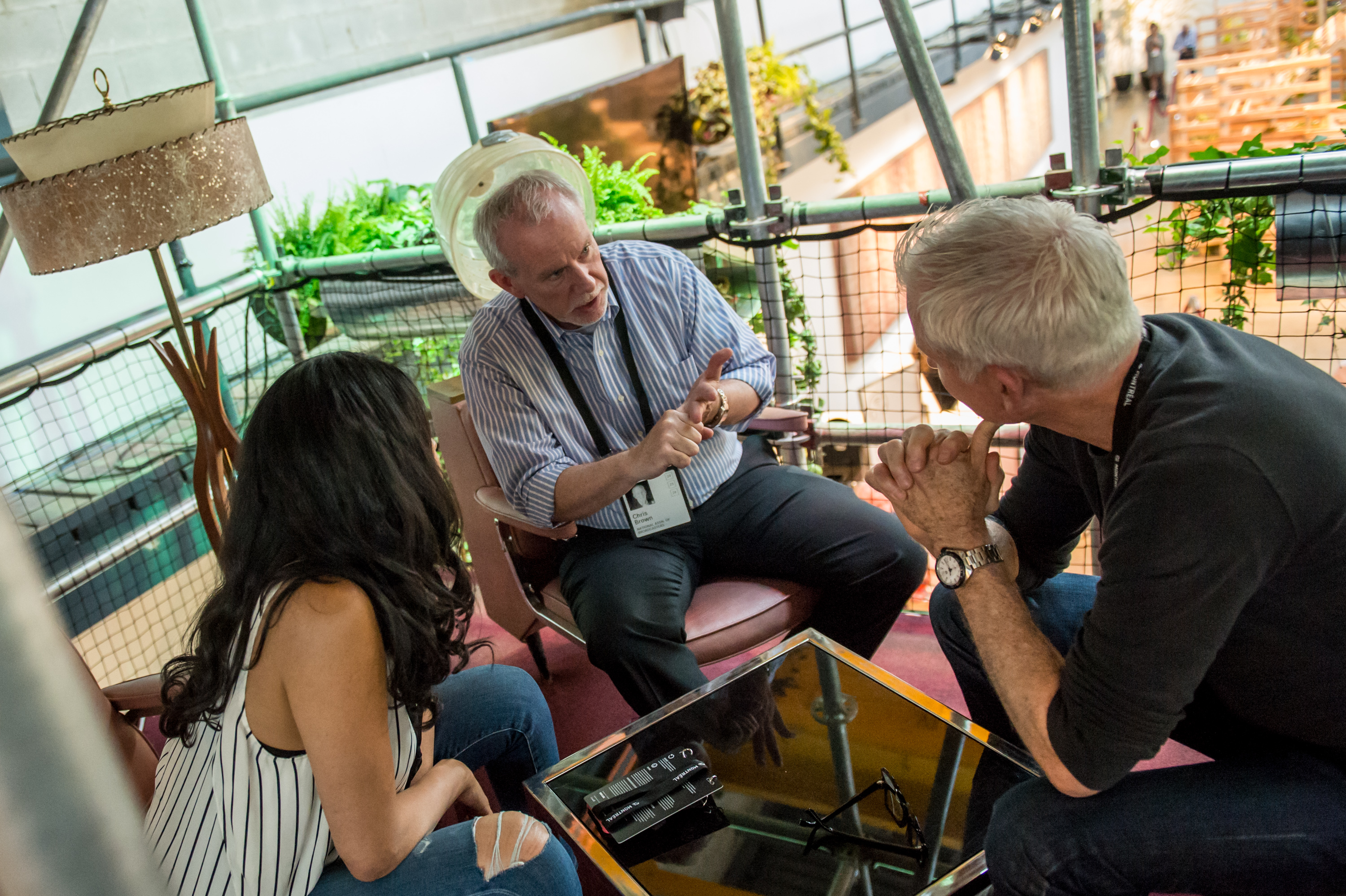 The three-day C2 Montréal schedule is designed so there are plenty of times to book these meetings, which usually run around 30 minutes, but can go as long as the participants would like.
The next steps are simple: at the specified time, show up at the Braindating Lounge, where you will be greeted by a matchmaker who will introduce you to your braindate. You can remain in the lounge, which has plenty of unique meeting spaces (stationary bikes, for example), or you can take your braindate anywhere else you'd like. In previous years, many who left the lounge to meet up chose the Ferris wheel, or the boats on the Canal for a scenic way to sit down and talk.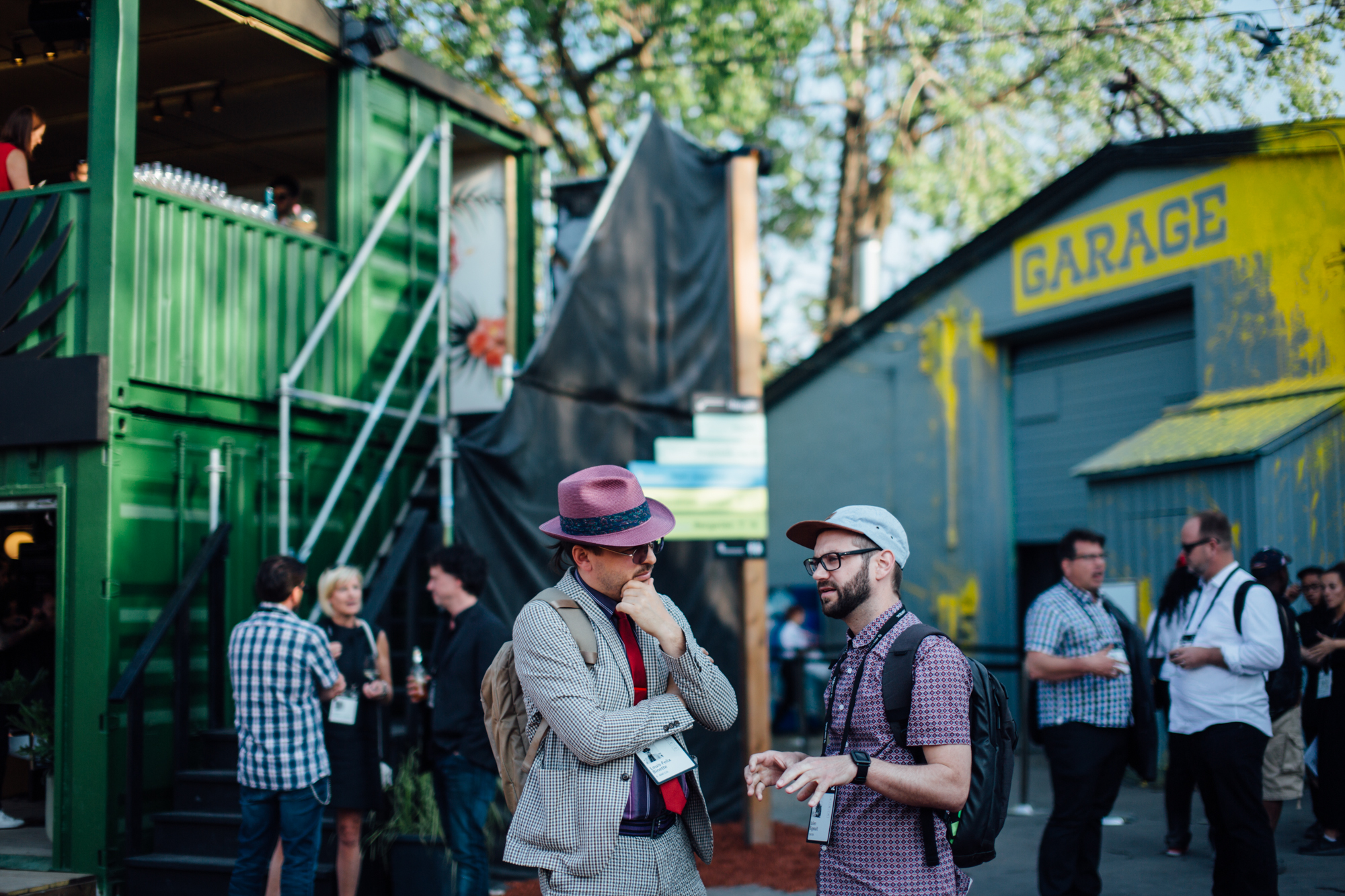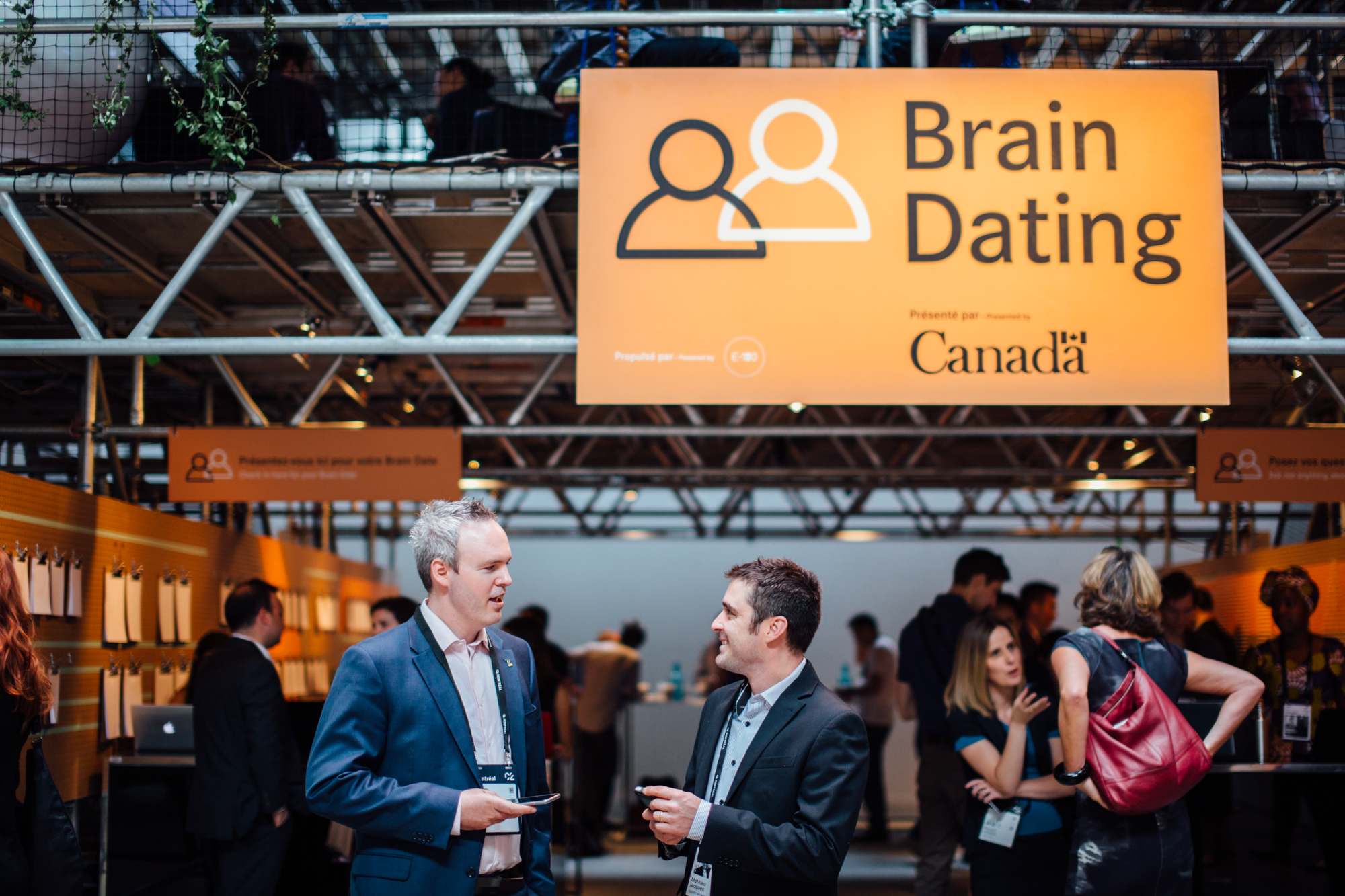 The braindating process in a nutshell
– A few weeks before the event, connect to the platform and list topics you would like to share or learn about
– Browse fellow participants' suggested topics
– Schedule one-on-ones or join group braindates
– At C2, at the scheduled time, check in at the Braindating Lounge
– Meet passionate human beings and have meaningful conversations while learning and sharing your own knowledge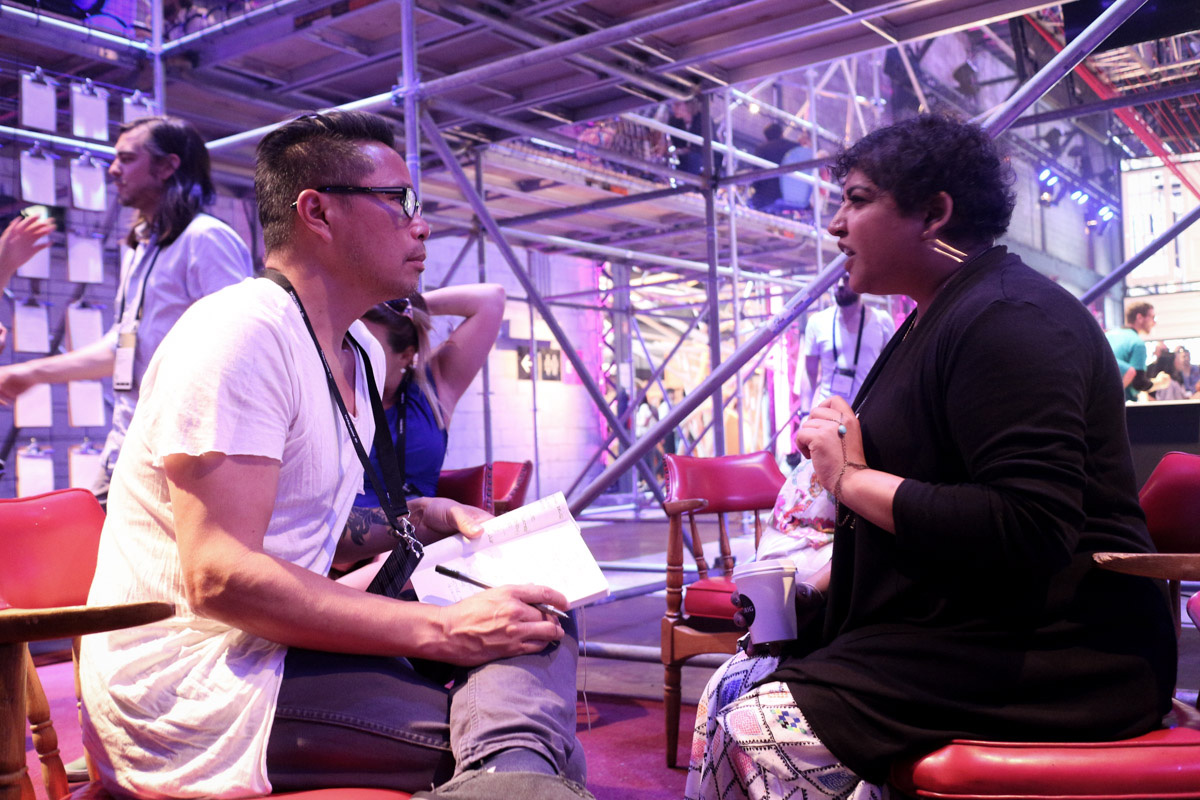 "Thirty minutes with the right person – and the right questions – can go a very, very long way." – Karim Traiaia, Co-founder of BloomChat and 2016 participant
"One of my favorite braindates triggered a really fantastic lunch on day one. That person brought several other people who were not part of the original braindate, and we ended up having a wonderful one hour meal (which at C2 is like a five-hour meal). Just that lunch created enough connections for me to build on over the week. The braindate started that chain reaction." – Welby Altidor, executive creative director and 2016 participant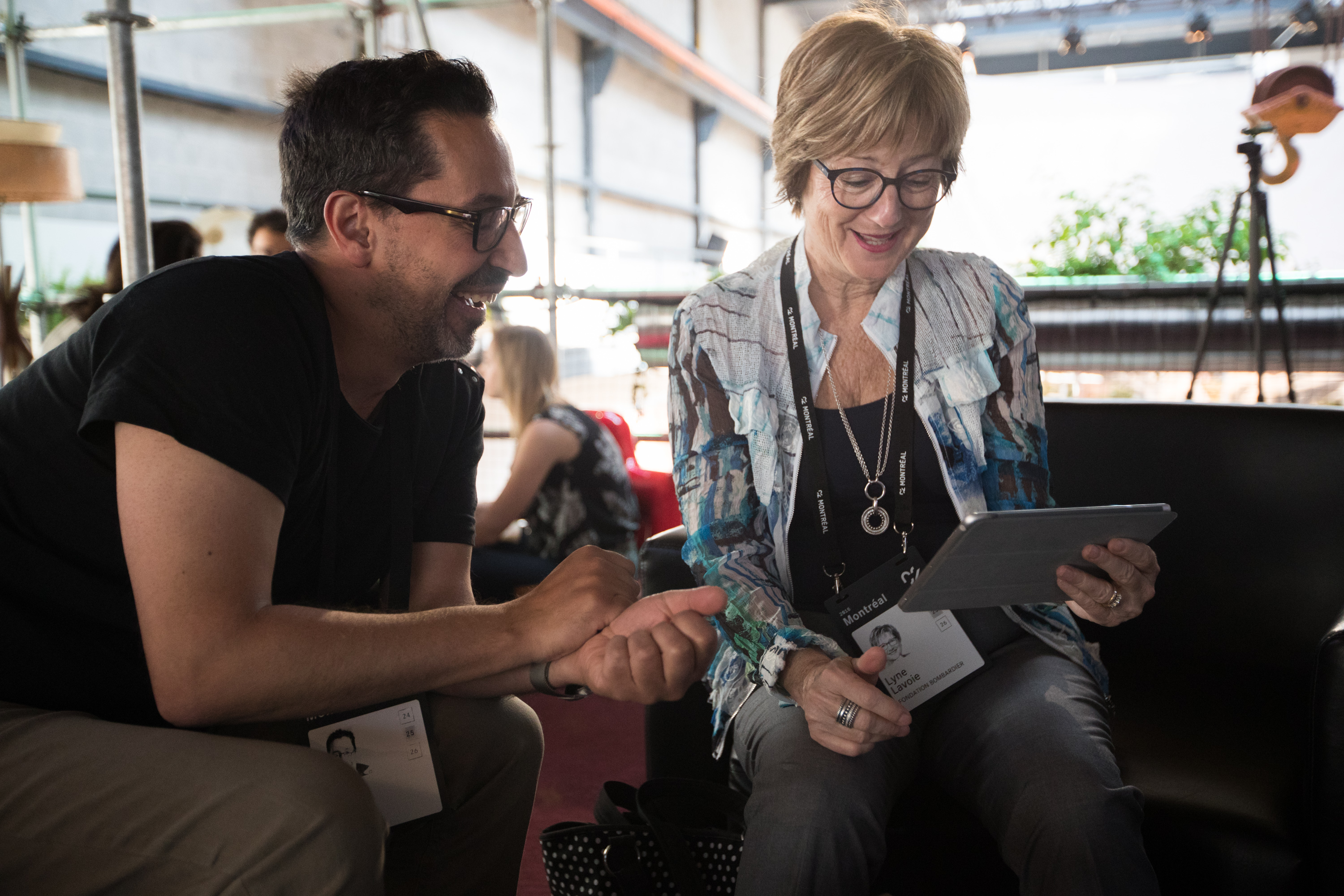 "One of my braindates is going to take my business to an entirely new level. I can't tell you who I met, but it was amazing." – Tomas Dorta, Co-founder & CEO, Hybridlab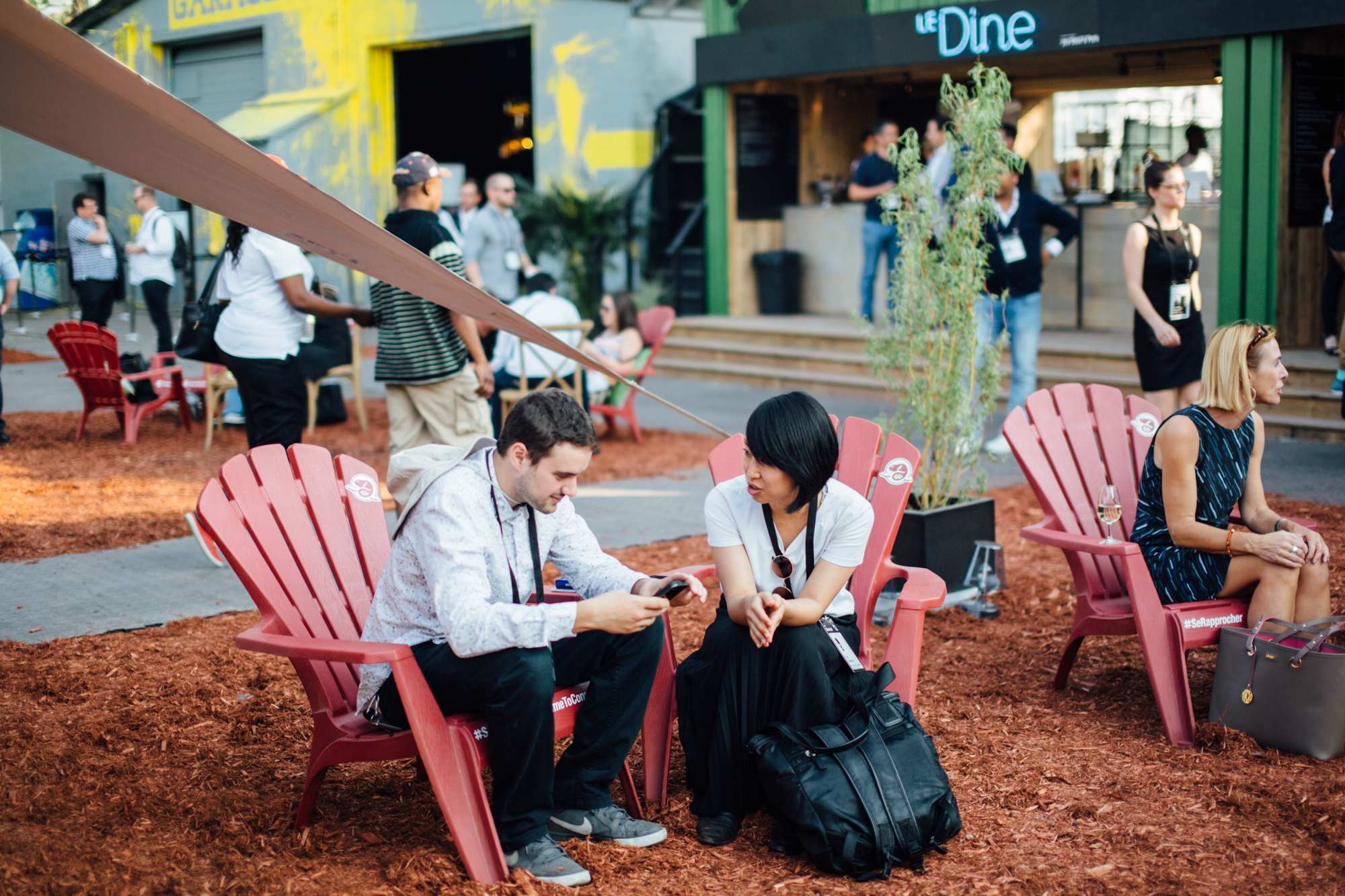 "I met people from all over the world. The guy I just was talking to, from the first moment we started to speak, it was like I've found a brother. We share the same values, same ideas. We already set a meeting for tomorrow, once the conference is over. I'm in Israel, he is working in Brazil, and we are going to be working together." – Niv Horovitz, Co-founder, WeStart and 2016 participant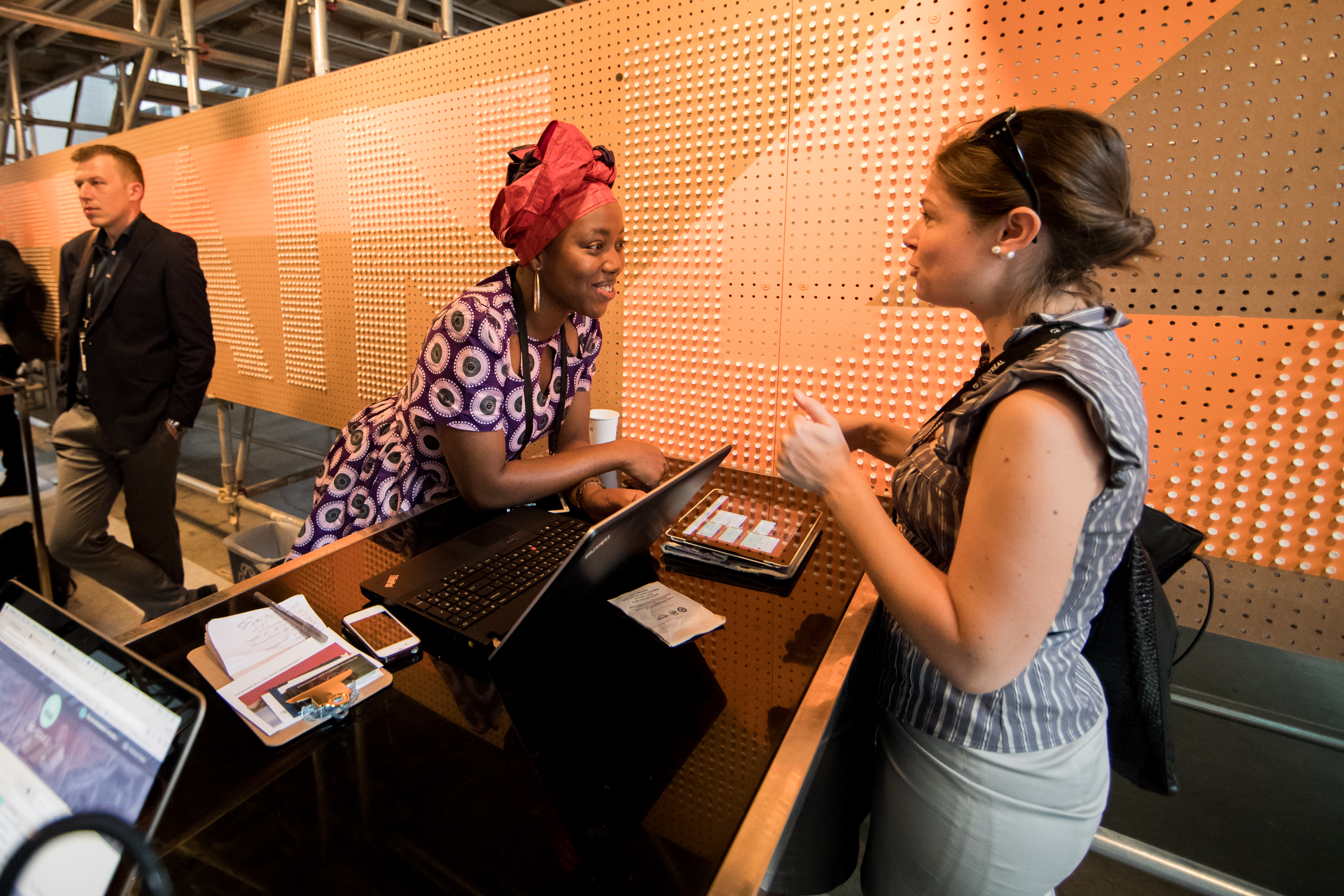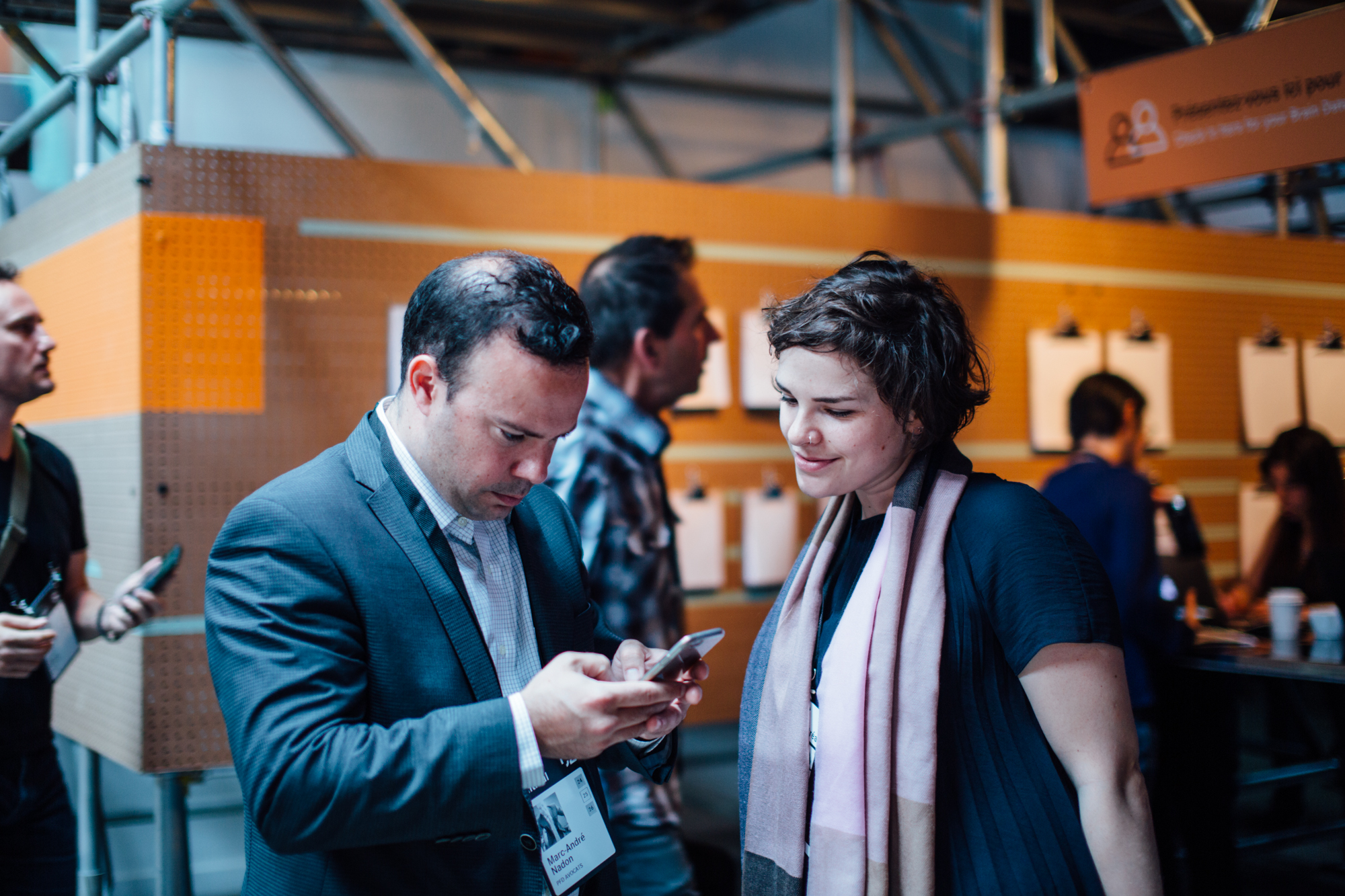 If you are more of a last minute person, you may still get the chance to make braindates. You can head over to the lounge where the matchmakers will help you set up your profiles and connect you with people who may have last minute cancellations or are last minute drop-ins, like yourself.
But does it work? Do these Braindates facilitate better connections?
Marriott International's Senior Director Experience Design, Christopher Baer, has been a huge proponent of braindates. He had registered for C2 Montréal already hoping to make great connections, but was delighted to discover that there was a platform that took the guesswork out of finding the right people to meet with.
"After I discovered braindating, I ended up booking my schedule solid because there were so many cool people there that I wanted to meet with," Baer recalls.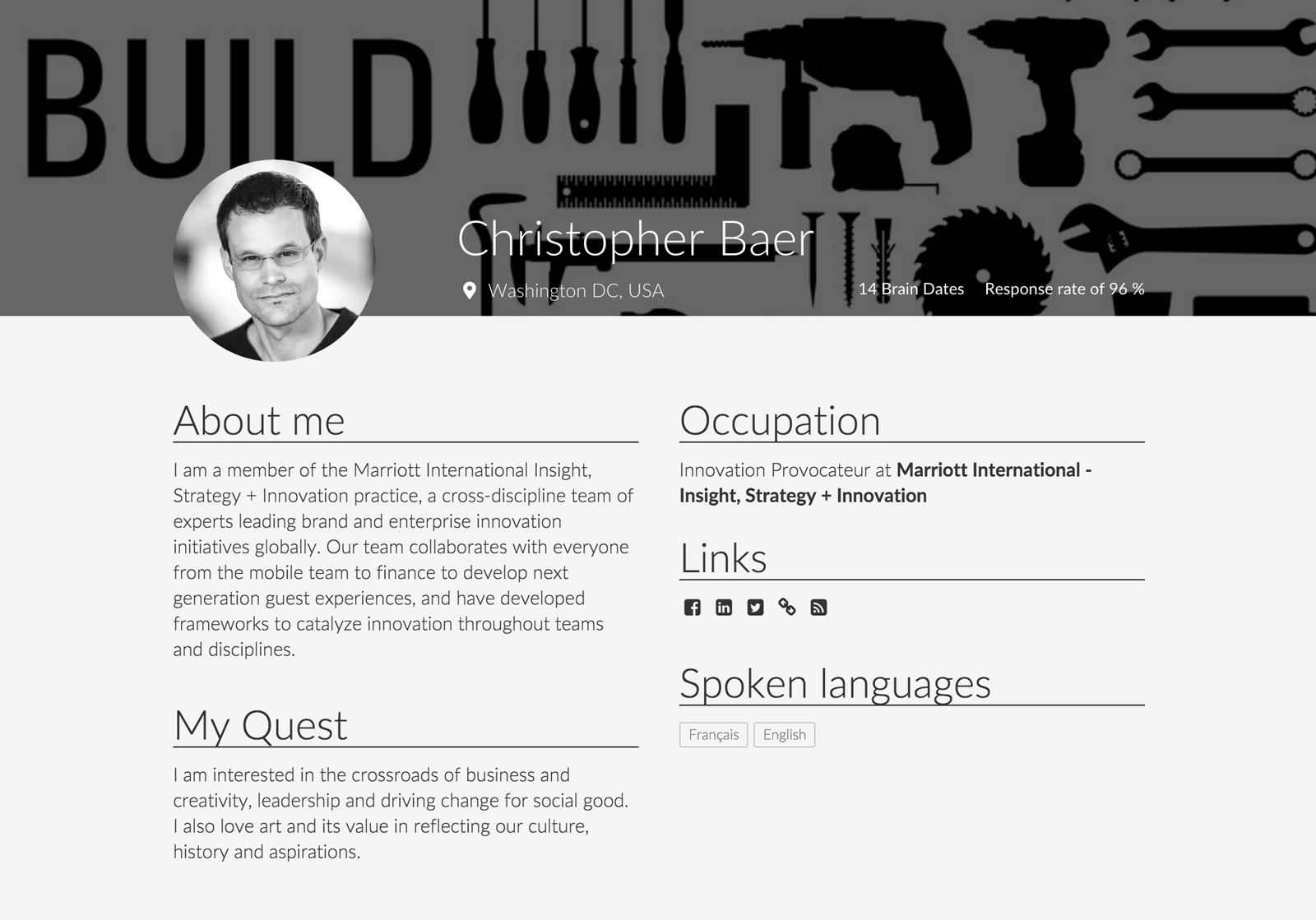 He expected to make some good connections, but he didn't expect that he would spend the majority of his time at C2 in the braindating area. He had such a positive and fulfilling experience that he invited the E-180 team to talk about testing the platform internally at Marriott.
"Platforms like this will very much become the future of how people get to interact meaningfully," Baer explains, "With the speed of technology and social sharing, a platform like this brings human interaction back into our incredibly fast-paced lives. I love that the experience involves technology AND physical presence. Technology alone is sometimes overemphasized as a solution."
In the past years, Baer has even managed to stay in touch with many of the people he had braindates with, broadening his network in a more meaningful way than just going on LinkedIn and adding a new contact, "The thing that is unique about the braindating platform is that it allows people who might not naturally meet, to come together on their own terms, in a more impactful way, forming more meaningful relationships."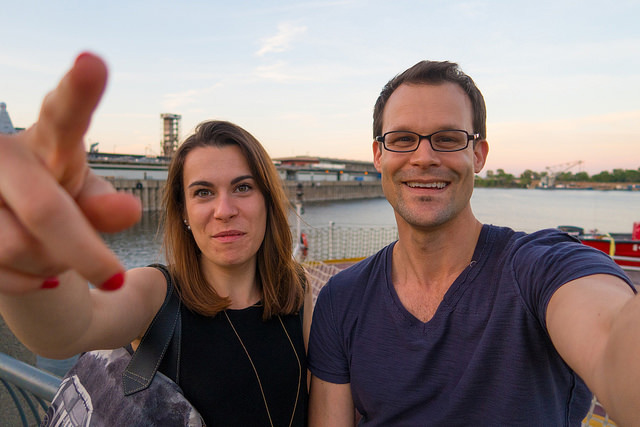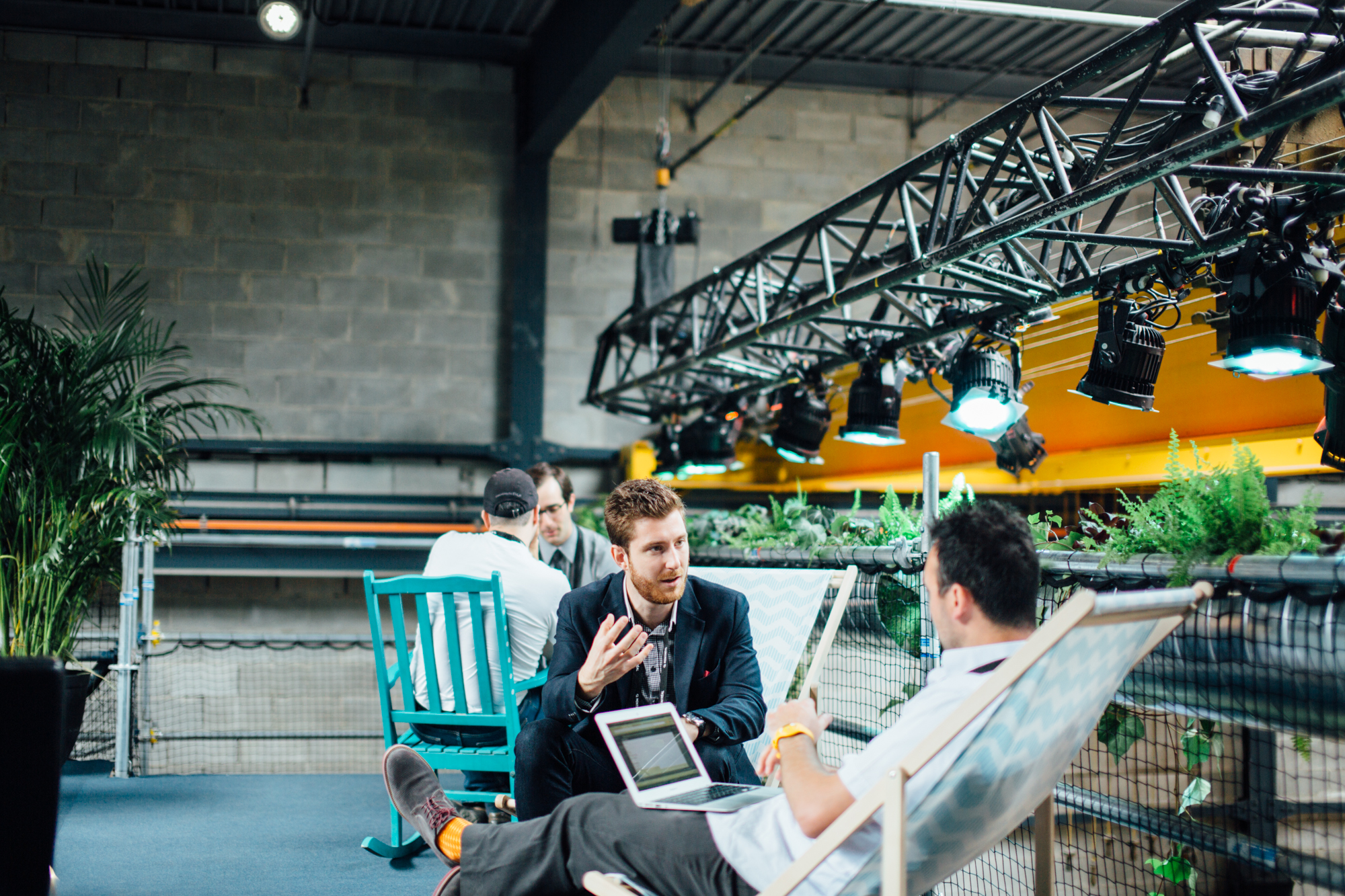 Since 2014, one-quarter of the companies who attended the C2 Montréal conference reported they made some sort of deal because of their participation. Not all of these deals were made over Braindates, but the engineered serendipity definitely drove much of it.
Over the years, the popularity of the braindates has grown and grown, more than over 2,150 meetings in 2016. The lounge capacity has steadily been expanded each year and participants are being encouraged more than ever to make their braindates early. "If you want to talk to the exact right people, you'll want to plan ahead," Pierre advises.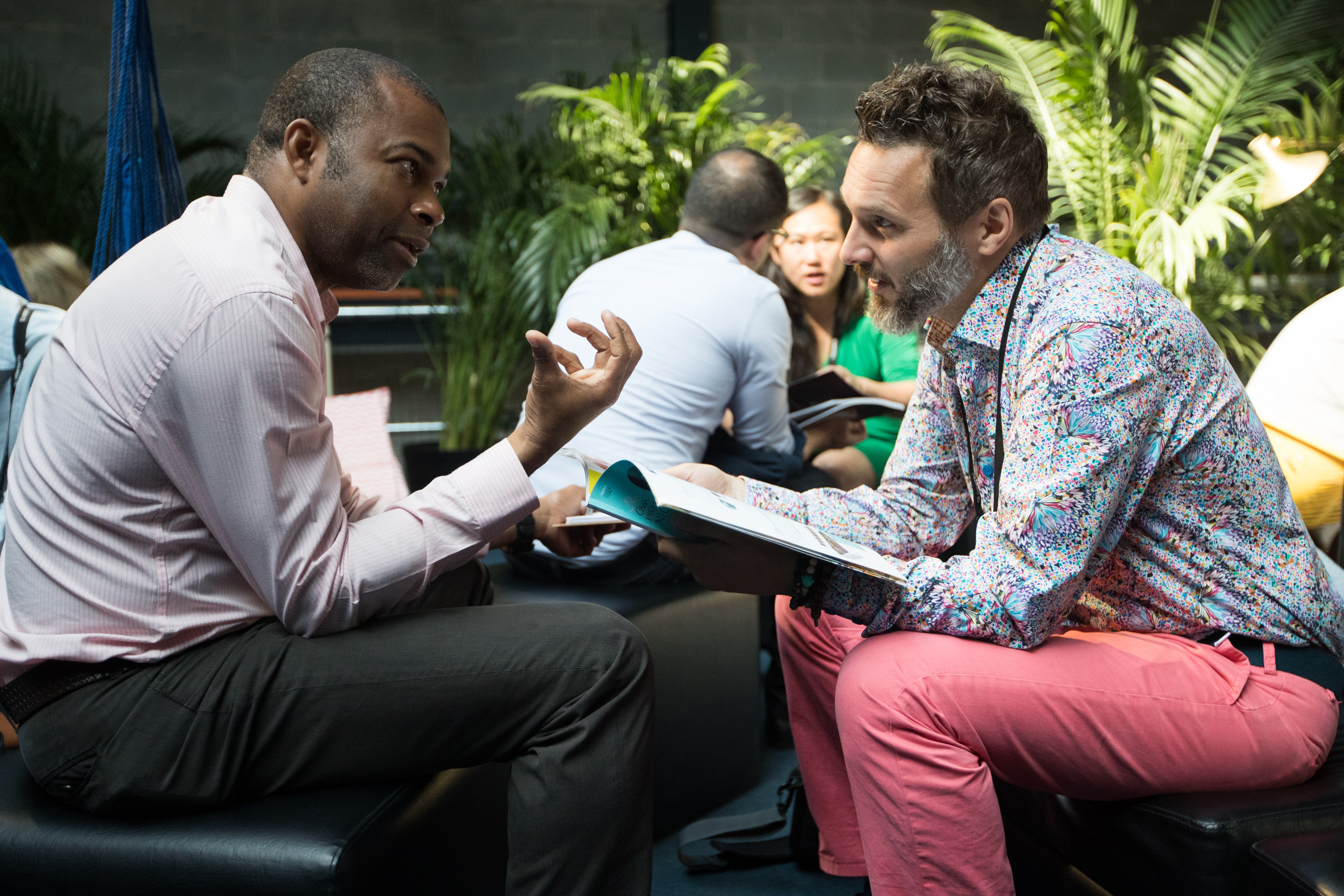 "Braindating changed the whole experience because I could make dates with people ahead of time, and have meetings that were more interesting." – Niv Horovitz, Co-founder, WeStart (2016 participant)
C2 Montréal has amazing thought leaders and programming, but it's also well known for an audience filled with impressive and knowledgeable participants. Braindates give you the chance to find the people you should connect with and break the ice by setting up a time to talk. It's just one of the many unique ways that C2 strives to create the optimal experience for the audience.
The helpful team of matchmakers