Every year, the C2 Montréal site offers a playground for the imagination, an immersive and expansive space where participants can stretch their creative muscles and take their ideas for a run. This year's site, at extraordinary circus arts performance venue TOHU, continues in that tradition. Vibrant and lively, it's the perfect place for learning, connecting, collaborating and creating at a range of activities in a variety of evocative environments, all while being inspired by C2's trademark infusion of art.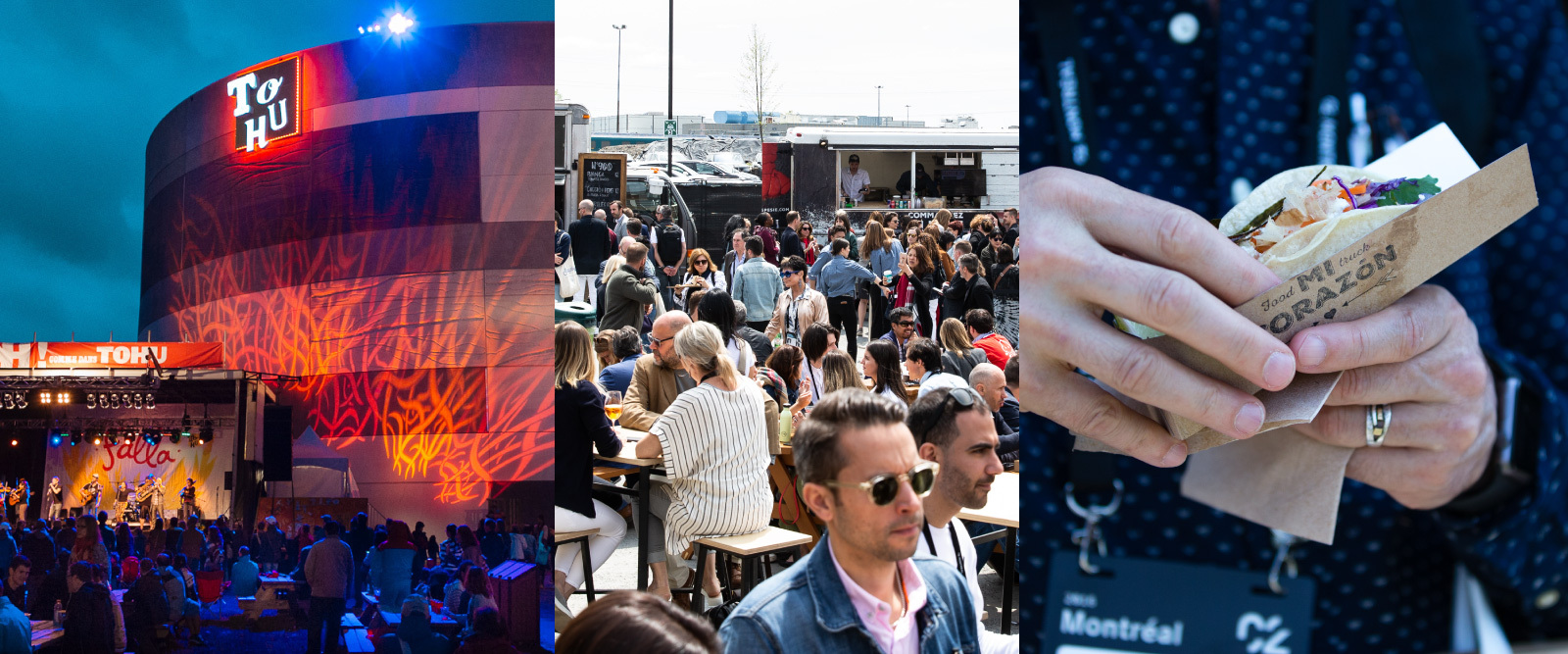 Get in the zone
The reinvented C2MTL site at TOHU is divided into four distinct and inviting zones. Outside, the Village is home to food trucks, the garden, private activities and this year's new Signature Experiences (see below). Adjacent to the Village is the Plaza, featuring more food trucks, the live streaming of conferences and TOHU's own La Bahut terrasse with its colourful decor and multicultural menu. The interior Forum Québec is where conferences take place, and the Atrium hosts Points in Common, presented by Iregular, as well as The Loft for participating in online workshops (more info on both below).
Government-mandated COVID protocols (details for which can be found in our Practical Information Guide) will be respected throughout the site.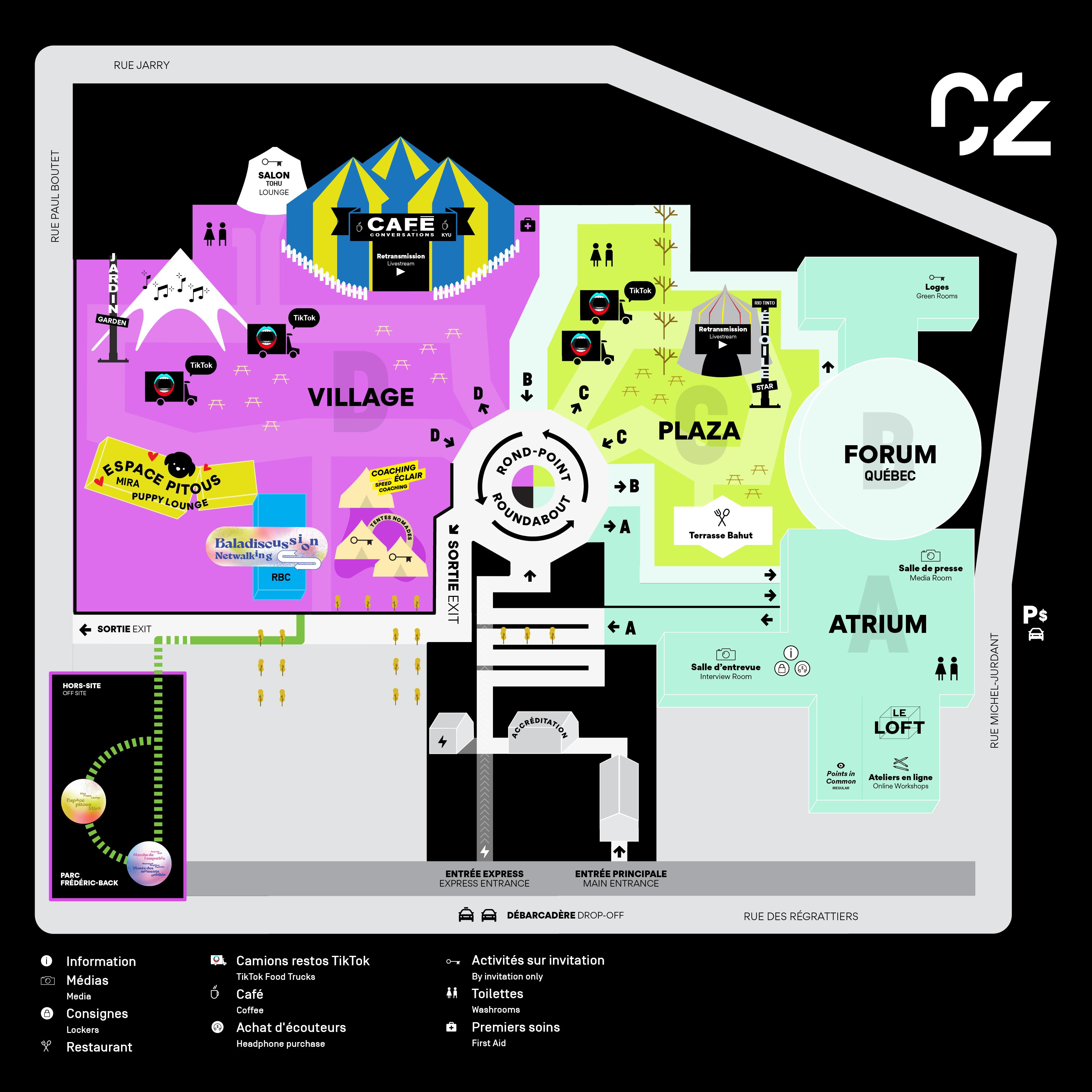 Kickstart creativity at onsite activities
C2 Montréal reimagines and reinvents its physical site each year in order to offer unique activities designed to excite participants' creative instincts and encourage interaction.. New activities this year include:
Points in Common, presented by Iregular
Points in Common is a collection of interactive experiences created to observe how large groups engage with digital public art, assess the flaws and efficiencies of such artworks, and extract meaningful connections and other conclusions. Using their smartphone's flashlight, participants can trigger real-time sonic and graphic responses on the large facade in front of them.
What's Trending on TikTok
Think of it as a super-fun selfie video booth for your food. When perusing the menus of the Mi Corazon, Tricot Principal, Déso and Sapré Charles food trucks, participants will notice a special menu item: an adaption of one of the trucks' most popular dishes, labelled "Trending on TikTok." Participants will be able to take their special meal (or any meal they choose, actually) to a cool, mouth-shaped video booth where they can create and share their own TikTok dish videos using the trending hashtags #tellme, #overpumpkin, #upcycle and #c2m21.
The Loft
The Loft is an inviting space equipped with touchscreen tablets and headphones where up to 20 participants at a time can take part in online workshops that invite participants to experiment with creative processes and put ideas into practice. Places will be allocated on a first-come, first-served basis upon presentation of proof of participation in the workshops.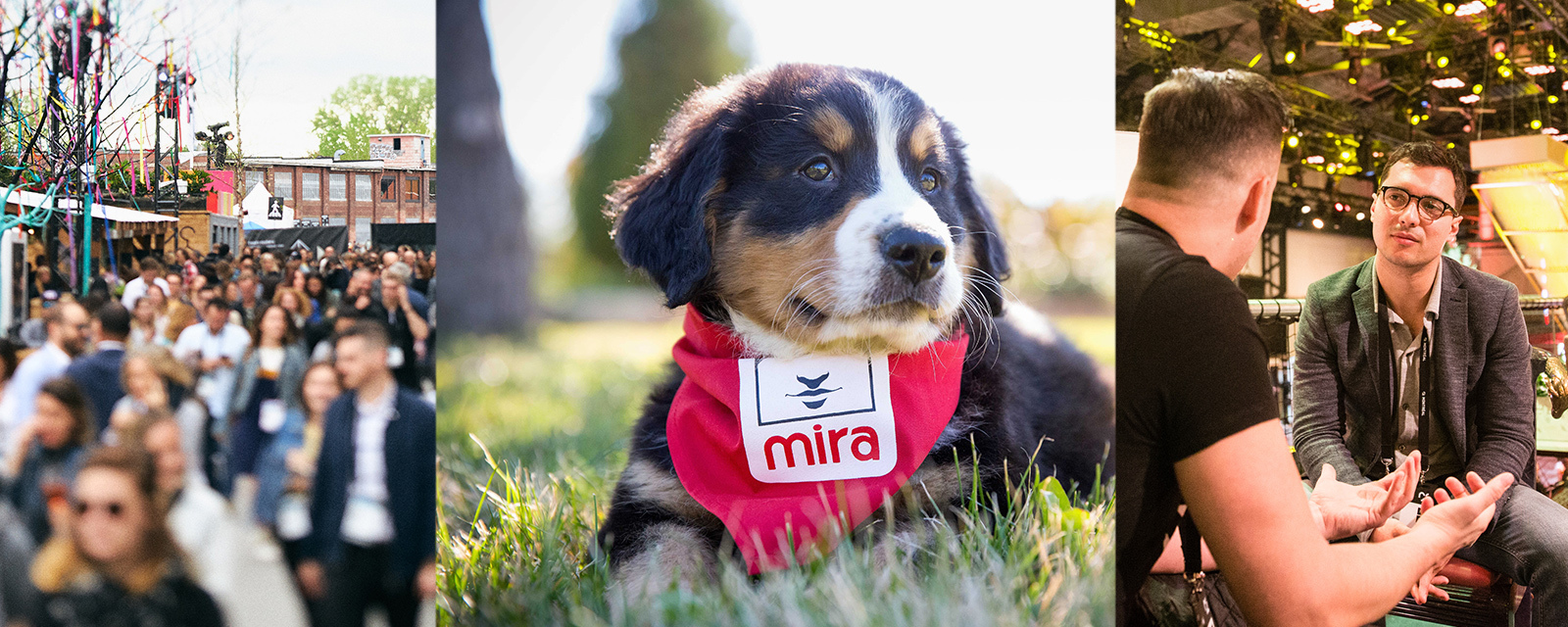 A wide variety of networking opportunities
The relationships forged between C2 Montréal participants during the event are its heart and soul. With that in mind, every year the C2 team puts extra focus and effort into creating innovative environments for connecting that lead to meaningful interactions between everyone who attends C2 Montréal.
A wide variety of networking activities are available at this year's edition. These include in-person Signature Experiences such as the kyu Conversation Café (thought-provoking discussions in a neighbourhood café-style setting), Netwalking, presented by RBC (take your ideas outside for a walk in the fresh air), Speed Coaching (30 minutes with an elite business coach) and the bound-to-be-hugely-popular Mira Puppy Lounge (meet peers and unwind in the company of puppies).

Captivating artistic performances
C2 Montréal's commitment to exceptional artistic programming is one of its foundational principles, and this year's palette of world-class performers are set to enthrall audiences on each day of this one-of-a-kind edition of C2MTL.
Kicking things off on October 19, at the Opening Ceremony starting at 8 am, is an integrated musical and aerial performance featuring singer/songwriter and spoken word artist Kathia Rock and contemporary circus artist Tuedon Ariri. Well known among First Nations, Kathia Rock has worked with several high-profile Quebec artists, and is one of the rare Innu women to have received the consent of her elders to play the teueikan, the Amerindian drum traditionally reserved for men. Tuedon Ariri is a contemporary circus artist specializing in aerial contortion straps. Using straps as a medium, Tuedon has developed a refined movement vocabulary by continually exploring strength, vulnerability and the human condition.
On October 20, at 2 pm, noted Montreal singer, multi-instrumentalist and rising indie-pop artist Eve Parker Finley will take the stage at TOHU for a performance presented by the PHI. Eve Parker Finley is a laureate of the PHI North Residency Program, an initiative dedicated to musicians and audio artists who wish to produce, explore and/or elevate their work. C2 audience members can look forward to her hypnotic layering of string arrangements, transporting vocals and keyboards, programmed beats and irresistible grooves.
The Closing Ceremony on October 21 features spoken-word performer Preach Ankobia, best known for his music on the original soundtrack for the film Sur Le Rythme, and for being an original member of Kalmunity, Canada's largest and longest-running improv music collective. He will combine with aforementioned aerialist Tuedon Ariri for what is sure to be an unforgettable closing performance.
And keep your eyes and ears peeled during all three days of C2 Montréal for artistic transitions between conferences courtesy of urban contemporary dance crew Trip The Light Fantastic and our resident DJ Téhu.
We want to CU at C2!
If you haven't already, it's not too late to purchase an in-person experience pass for C2 Montréal 2021, October 19-21.
Questions or comments? Drop us a line at editorial@c2.biz