The relationships forged between C2 Montréal participants during the event are its heart and soul. With that in mind, every year the C2 team puts extra focus and effort into creating innovative environments for connecting, both digitally and physically, that lead to meaningful interactions between everyone who attends C2 Montréal.
The following is what awaits you at C2 Montréal 2021 (October 19-21), onsite at venue TOHU and on the new C2Agora digital event platform.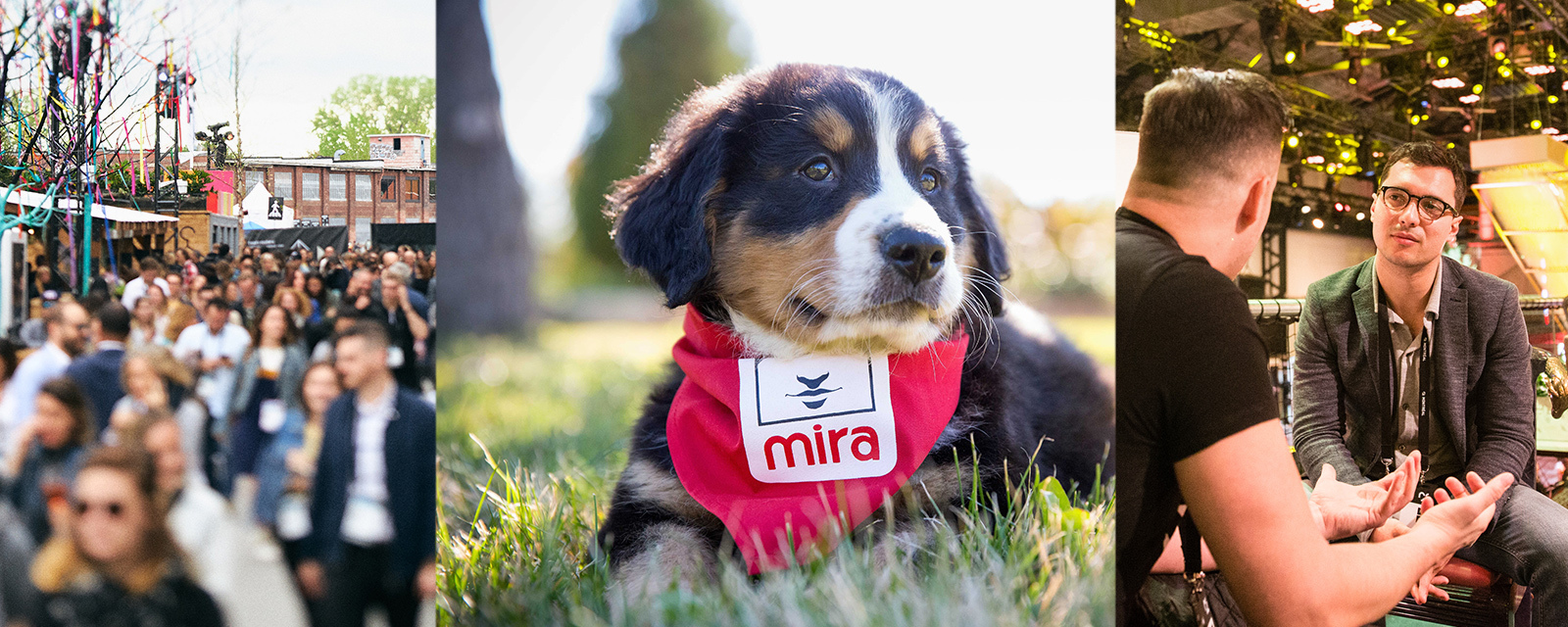 Connecting in person at TOHU

Before arriving at the TOHU site, we encourage you to download the C2Agora networking app, which will help you connect with other participants. It's available on Apple and Android and allows you to scan the QR code on participants' badges and initiate communication with them. Once their QR code is scanned, you can get in touch with them through the new C2Agora digital event platform using the My contacts tab. 
Important: Our QR code is in the application as well as on your in-person badge.
We have curated a number of in-person Signature Experiences — immersive learning or collaborative experiences designed to spark creativity — at TOHU for you to enjoy and to help you connect with other participants. You can sign up for Signature Experiences onsite, and they include the following:

Speed Coaching
A single encounter can spark career-altering change, especially when that encounter is with an elite business coach. During this 30-minute experience, expect to address powerful questions, tap into your inner wisdom, and perhaps leave with a whole new perspective. Pinpoint what you want to explore and our masterful coaches will take it from there.

kyu Conversation Café
Few things are more satisfying than a stimulating conversation. At the Conversation Café, let our conversation baristas guide you through an array of topics that will be sure to inspire. Come alone or with a group — thought-provoking discussions await in a setting inspired by a neighbourhood café.

Netwalking, presented by RBC
Come one, come all for a networking experience that will see new and meaningful connections created every few minutes! Bring your full self and all of your ideas outside for a walk in the fresh air — endless possibilities await.
Mira Puppy Lounge
The Mira Puppy Lounge is far from your traditional networking activity; yet we know that serendipity, free flowing emotions, and a laid back ambiance can spark meaningful connections. The Mira Puppy Lounge is a unique and playful space to spark creativity, foster new connections and, most importantly, unwind in the company of puppies. The puppies will be in the socialization phase of their development, in "discovery mode," and curious to meet and play with you at the Puppy Lounge.

Connecting online with C2Agora
A special effort was made this year to innovate and create new experiences online. The result was the creation of the aforementioned new event platform, C2Agora, your gateway to all the online action taking place this year at C2 Montréal. Attending C2 Montréal grants you access to the entire C2Agora platform. Its powerful networking module matches you as well as your expertise, interests and registered sessions to other attendees to help you meet new business partners, friends and collaborators.  
In-person events allow for serendipitious meetings, and C2Agora replicates those fortuitous bump-ins to deliver high-value human connections. When attending a live session, you can connect with other participants directly in the chat: simply click on a profile to send a connection request, or a direct message if you have already connected. 
Enhanced networking features of C2Agora also include Tag-Based Networking (find the right people for you at C2), Schedule a Video Meet (exactly what it sounds like!), Polling (share your thoughts on a burning question) and Speaker Q&A (the ability to interact with speakers by asking questions during talks and masterclasses).Of special note is the brand new experience C2 Esplanade, presented by RBC. Located on the C2Agora platform, it's an intuitive virtual networking space for people to come together to meet new friends and business partners, talk shop, learn and hang out with other participants. Think of it as a common, digital public square. 
C2 Esplanade employs digital technology to facilitate virtual networking. The Esplanade is a place where you can organically meet other participants, take part in conversations and make meaningful connections. Visitors to the Esplanade have the ability to move around and approach other participants. The closer you get to people, the more you can hear them. You can add the people you meet to your network simply by clicking on their photo, which opens their profile and allows you to connect. It all takes place in a welcoming, playful and visually diverse space divided into topic-themed zones with lots to discover. 
Moderators will be on hand to facilitate conversations during conference hours for all the three days of C2 Montréal, and you will need a computer and keyboard to fully enjoy the Esplanade since it's not optimized for mobile devices.

How to connect and network
Explore the

Networking

tab in the top navigation bar.
2. On the page, you will see the following items:
– your Pending invitations to connect. It's up to you to accept or decline
– a list of Suggested contacts drafted by the C2Agora matching module based on your profile, expertise and interests, as well as common sessions
– a search field that you can use to search for someone's name, title, company, interests or expertise
– the Book private meeting tool to meet and greet your new contacts directly on the platform
3. Once you have found someone, click Connect on their profile to send them a connection request. Please add a message to introduce yourself!
4. A notification will inform you that they have accepted your connection request. All notifications are listed in the section located in the top right section of your navigation bar. 
5. When connected with another attendee, you can immediately exchange direct messages in the Messages section, or book a private meeting from your Agenda
6. Interested in organizing a private meeting with one or more people? Head to the Networking tab or to your Agenda and click on Book private meeting. Enter the title, description (optional), date, start and end times, and add the participants you'd like to invite. You can host a private video conference for up to 50 participants. 
Pro tip: Optimize your networking experience by completing your profile. It's recommended that you define your expertise and interest fields. Please note that you are able to modify your information at any time.
C2 Montréal is right around the corner!
Secure your spot now with either an in-person experience pass or online experience pass in order to get your yearly dose of business inspo at C2 Montréal, October 19-21, 2021.
Questions or comments? Drop us a line at editorial@c2.biz