Illustration: Daphnée Côté-Hallé – Les Microcosmes
While there aren't any official tallies being kept, Sébastien Lauzière may well be the reigning champion when it comes to Braindating at C2 Montréal.
In an effort that might make even the most prolific Tinder user blush, Sébastien has figuratively "swiped right" on an impressive five Braindates per day on each of the three days of the event since 2016. (If you think you can top that, we'd like to hear from you.)
What the heck is a "Braindate"?
Braindating is all about sharing knowledge, and it's one of the most popular networking tools at C2 each year. Set up using a platform created by peer-to-peer learning experts e180, Braindates are one-on-one or group conversations that you book with other C2 participants in order to share your knowledge of a particular subject or topic, while they in turn share their expertise with you. Who knows? You just might meet your creative business soulmate. Find out more about Braindating.
Dating his way to millions
Sébastien is the Québec Sales Director for Brisbane-based Flight Centre Travel Group, the largest retail travel outlet in Australia. His C2 journey went from scrounging up money for a single ticket to bringing over a dozen colleagues and hosting a VIP cocktail in 2018. His C2 game plan is focused on "embracing the unexpected and forging genuine, lasting connections" that he says have opened up millions of dollars of new business.
In his own words…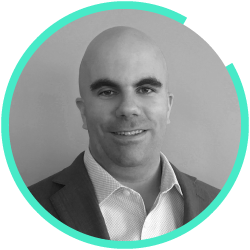 What brought you to C2?
"My company mandated me to grow the business in Quebec. After some initial success, I was asked what we should do next and said I thought that a strategic acquisition could be quite useful, as well as pinpointing key events to attend. I chose C2 because the diversity among participants is unmatched. Mining, pharmaceuticals, engineering, consulting, IT, marketing, you name it — everybody is a potential client or partner."
Can you tell us about your Braindating experience?
"In 2016, I did five Braindates each day and uncovered millions of dollars worth of potential business. I had effortless, beautiful meetings with top CEOs. Normally, it might take me six months or a year of knocking on doors just to get in front of the decision-makers at these large companies.
"One key to success here is understanding that these decision-makers are always busy but they take the time to come to C2 and enjoy three days of unhurried exploration. They're genuinely happy to sit down and we can talk about whatever we want. With Braindating, it's easy to connect and make an impression. And then after the conference, talking business happens quite naturally…
"In 2018, we kicked it up several notches. There were five of us from business development attending all three days. Before we came, I told them, "When you first enter C2, you're gonna feel like Alice in Wonderland. Just do five Braindates a day and after that, go explore!"
They're used to following a much more structured program, so the freedom is a welcome change for them. I was also excited that the group Braindate format allowed me to connect with even more people. I'm interested in how AI will change the way we travel."
So have you ever been on a bad date?
"In three years of intensive Braindating, I can only think of one bad one with a young fellow in sales who started with the classic hard-sell pitch. I stopped him right away and let him know that he needed to adapt his strategy. 'Just have fun,' I told him. 'Sales meetings are for after the conference.'"
What's been the highlight of your C2 experience so far?
"We had 15 staff members here in 2018 and hosted a special, VIP private cocktail at the closing night party. We gifted 30 of our top clients with a one-day pass, as well. It's a nice way to say thank you and give them a new experience. For our VIP event, we also invited 20 prospects that we met during C2 and on Braindates to join us, which was great!
"We would not invest so heavily if we weren't certain of the value of being here."
Want to go on a Braindate and possibly meet your next great friend or business partner? Get your C2 Montréal 2019 passes
HERE
.
Questions or comments? Drop us a line at editorial@c2.biz