Canada is the first G20 country to legalize recreational cannabis and it's a pretty big deal. Starting October 17, 2018, a Canadian adult can lawfully possess up to 30 grams of dried cannabis and share it with other adults. Where they may lawfully purchase those grams, where they can consume them and whether or not they grew them, however, depends on where they are. The history of Canada's criminal-turned-medical-turned-recreational cannabis business has culminated in this period of polite upheaval, with few certainties about how it's all going to shake out.
Just how effective this national patchwork of different provincial regulations will be remains to be seen, as is how lawmakers will enforce the rules, how they'll tax this stuff, and what the parameters will be for marketing, outdoor growing and edibles, to name but a few contentious issues.
Nonetheless, the commercial payoff could be great.
Lots of green
Estimates of the value of the Canadian cannabis retail market vary widely, with annual sales pegged somewhere between $10 billion (CIBC World Markets) and $22.6 billion (Deloitte), although Canada's Parliamentary Budget Officer conservatively estimated it at $5.8 billion (CAD).
More lucrative still, it appears that the world wants in on our stash. In 2017, over a dozen countries legalized medical marijuana, and many — like Australia, New Zealand, Czech and Germany — are looking at Canada as a safe and legal source. By the end of March 2018, Canadian producers had reportedly sent 528 kilograms of dried cannabis flower and 911 litres of oil overseas, just the very beginning of an international market estimated to be worth $200 billion.
In very real ways, the cannabis business is also a job generator. According to one leading retailer, it's crunch time for HR as the industry looks to fill as many as 150,000 positions. In Alberta, Acreage Pharms has even hired senior citizens to perform casual work (they call themselves the Old Lady Clippers). Appropriate given that, according to Statistics Canada, baby boomers are the largest cannabis consumers in Canada. Put that in your pipe and smoke it.
As Canada gets high, the world watches
A nationalized cannabis distribution effort makes us cool and different. Research and development initiatives, as well as a very careful (read: slow as Canadian molasses) rollout of regulations, could allow us to set gold standards. We are positioning ourselves to become international captains of industry and potential leaders in the medical space.
"From civil disobedience to creative compliance, Canada's cannabis industry has been described by longtime crusaders as a shotgun wedding between underground growers and Bay Street."
— Adam Greenblatt, Business Development Lead, British Columbia at Canopy Growth Corporation
An exciting time for creative, commercial and cultural interests to come together on a great Canadian adventure, it seems like the time to educate, invest and perhaps even spark up in celebration…
But this is not quite the whole story.
How Canada will deal with the casualties of its war on drugs, how the country will contend with the still-operating (and quite expert) black and grey markets, and how advertising, retail, consumption spaces and tourism will be reimagined is all still up in the smoky air. Will the federal government stifle it with over-regulation, reducing our global pot superpower potential? What will its impact be on Canada's famous medical system, the opioid crisis and big pharma? Who will win and who will lose once free market capitalism takes hold?
Nobody knows, man.
Whatever happens, this is an industry proficient at finding creative solutions to their business case because it has always had to. And there will be much to learn from the players in pot.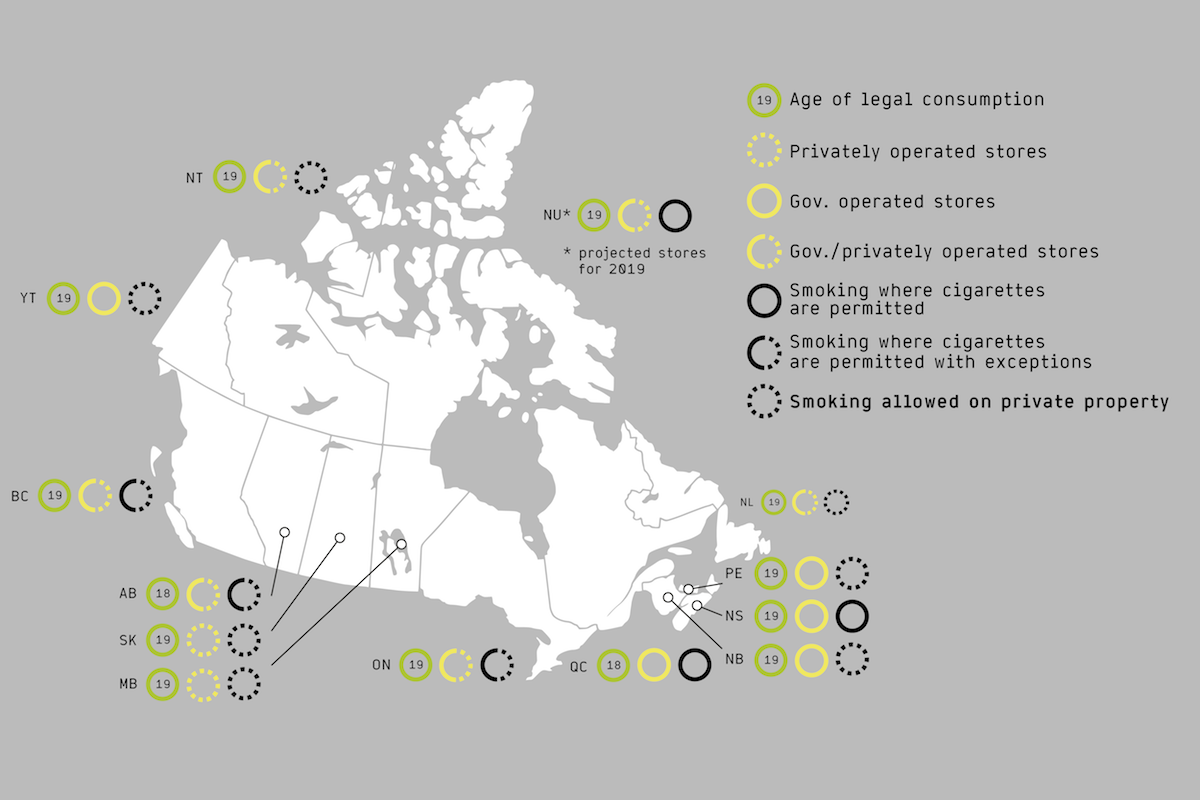 The rollout
State controlled in some territories and a mixed-retail system in others, the regulatory rigmarole of the Canadian cannabis business has made recreational legalization a living experiment in provincial policy. Moving forward, many anticipate legislators will incrementally tailor their approaches to cannabis in response to government consultation, customer preferences and revenues. While there are several critiques of the government-run model (check them out here, here and here), insiders say this is not the hill to die on. So — puff, puff — be patient.
Avoiding American potholes
A good place for aspiring Canadian entrepreneurs to look for the do's and don'ts of legal weed is the United States. In America, cannabis has been legalized in nine states (plus Washington, D.C.) and decriminalized in 13; it's legal to purchase cannabis for medical purposes in 30, and all but four have requested the plant be de-scheduled. (In America, producers are shut out of the global market since cannabis is considered a Schedule I Drug in the Controlled Substance Act, which means it's a federal felony. Notably, heroin is also Schedule I.)
This legal limbo has created built-in entrepreneurial impediments such as forcing the industry to operate on cash (the IRS actually sets up cash-counting facilities to handle the $6.7 billion market). It's also taxed up to 70%. And because of its criminal status at the federal level, many investors and lenders won't touch the cannabis business, thus inhibiting innovation.
By comparison, the Canadian federal government seems to be starting on a more friendly footing. But where America is winning, according to journalist Mona Zhang, who founded the cannabis newsletter Word on the Tree, is in the criminal justice and social programming space. At the time of publication, "no Canadian laws have been passed or anything done to reverse the criminal status of those who have been adversely affected by the war on drugs," she says. Meanwhile, in states like California and Oregon, Cannabis Equity Assistance Programs are helping to reverse the effects of the war on drugs.
The Starbucking of weed (or not)
Thinking about cannabis as a consumer product in the same class as psychoactives like coffee or alcohol also means that marijuana is in the midst of a makeover — or maybe just becoming a new normal.
"We malign the presence of Starbucks across the world, but it effectively brought us the $5 latte," says Alan Gertner, Co-Founder of Canadian lifestyle brand Tokyo Smoke and CEO of the Hiku Brands house, if you want to make a comparison. With that "elevated, very premium" latte came a new wave of passionate consumers wanting to engage in coffee culture. Cannabis, he thinks, could be the same.
The U.S. model of privatized distribution has enabled incredible retail, says Alan. Meanwhile, in Canada, restrictive advertising laws have ganjapreneurs concerned that government-controlled bud is destined to be boring and bland (the current rules stipulate cannabis cannot be shown in ads or branding).
"We probably won't get that diversity of experiences in provinces that have centrally controlled distribution," Alan predicts, "and it won't be best for consumers."
High times for Canadian culture
Pushing the narrative from criminality to wellness, lifestyle and luxury means there is potential for Canada to get ahead of the international market as cannabis becomes accessible (and less taboo), so it's no wonder why entrepreneurs are in on the action.
"Every generation wants to leave its mark as early as they can on society, and this is one of those changes of counterculture going mainstream — like rock'n'roll in the mid-20th century, or social media this century. People can unite around [cannabis] and leave a mark with a positive impact for generations," Ted Chung, a chronic entrepreneur and longtime business partner of Snoop Dogg, explained to Freedom Leaf.
But what will creative, commercially minded Canucks actually do after October 17? Some entrepreneurs are betting that commercial cannabis will unleash a whole new industrious ecosystem of opportunity that helps Canada cash in as a tourist and cultural destination. Others hope growers will eventually be recognized as world-class artisans, somewhat akin to craft brewers and spirits makers. With some exceptions, people seem cautiously positive.
"It's worthwhile for us to take a moment as Canadians and be proud of this," Alan thinks. "We don't actually lead the world in many things. Sure, we have good hockey players, our prime minister is handsome and we grow a lot of lentils, but we don't have a lot of economic stamps on the world.
"We have this chance with cannabis, so let's take it and do something special."
The C2 Montréal Minutes: Actionable insights for creative business leaders
This article is excerpted from Transformative Collisions: The C2 Montréal 2018 Minutes, a roadmap for progressive business leaders, bold entrepreneurs and those wishing to up their creative game. You can read it in its entirety here.
Further reading from the "Cannabiz" special:
Questions or comments? Drop us a line at editorial@c2.biz