Canadian charities are sounding the alarm.
They're watching a major source of funding age out of their spreadsheets and, as The 2018 Giving Report by CanadaHelps warns, the next-gen of generous Canadians aren't even coming close to picking up the slack.
"It's going to hit a wall [in the next decade]," predicts Bruce MacDonald, CEO and President of Imagine Canada (a charitable organization whose cause is the sector itself), and one of the Giving Report's authors.
"The supply of dollars for [the charitable sector] to do its work is decreasing in this environment and the demand for services is rising. And that is just bad math."
The report by CanadaHelps — a nonprofit online fundraising platform that connects donors and charitable organizations — is informed largely by data from Statistics Canada and the Canada Revenue Agency (CRA). It found that Canadians who are older than 55 gave more than $6.4 billion to charity in 2015, almost double the $3.5 billion donated by those 25 to 54 years of age.
In the last 10 years, the first group has upped its donations by more than 3% annually while those of the latter have declined by almost the same rate, the report says.
And there is reason to believe that gap will grow.
Though charities in Canada get two thirds of their revenue from the federal government, the report notes that these funds go disproportionately to large charities, and mostly towards health and education initiatives. This leaves smaller charities and those supporting other causes much more reliant on donations.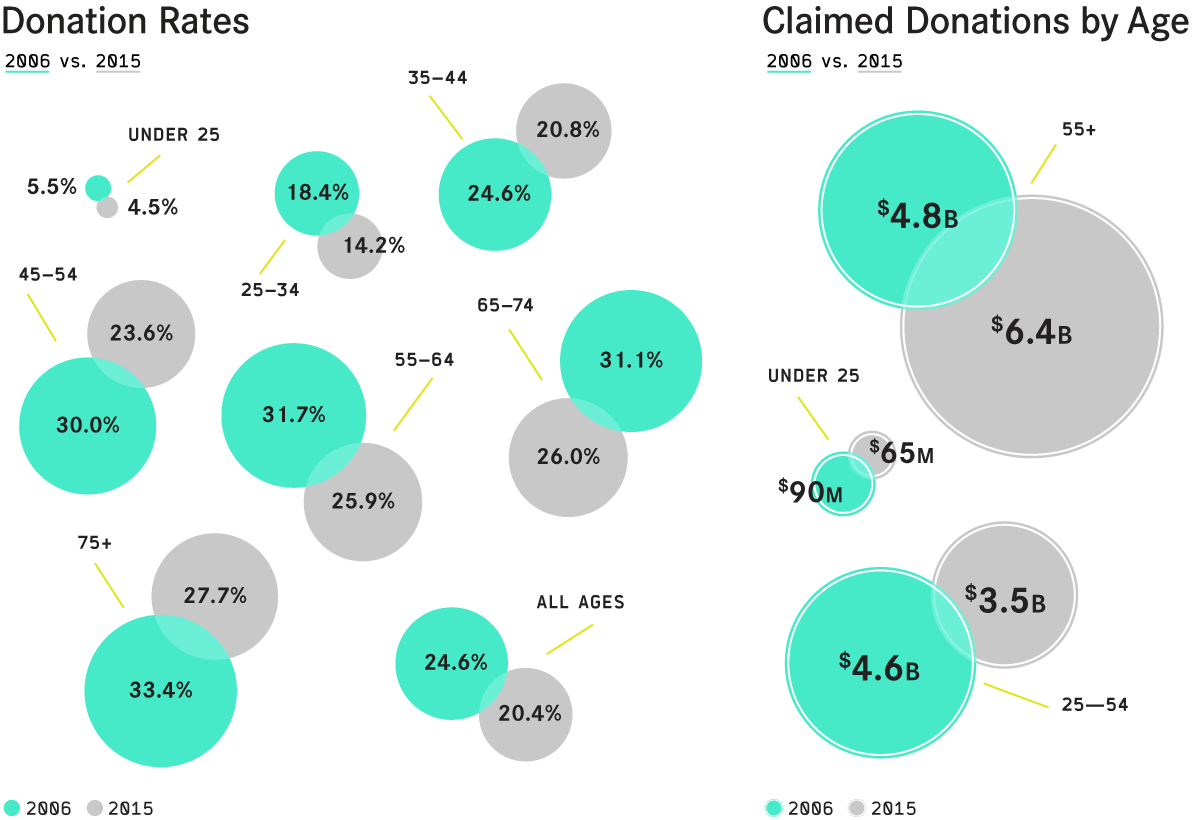 Giving is good for business
While younger Canadians are giving less money, less often than their parents and grandparents, they are nonetheless supporting the causes that matter to them — environmental impact, for example — by leveraging their influence and forcing businesses they work for or deal with to be more socially responsible.
"This is, in the business community, a change and we think there is an opportunity for this to be growing," says Bruce.
CanadaHelps President and CEO Marina Glugovac adds that she's also seeing a shift in the way businesses think about corporate social responsibility (CSR), with a move towards corporate shared value — an understanding that there are profitable opportunities in the social good space.
"There is a whole new class of investors coming into the scene," Marina says. "I think the notion of philanthropy and what it is will continue to change and the lines will continue to blur."
insert visual of two graphs highlighted in report – took the #s out of the article but can add them back here,, depending how you want to do this visually.
By the numbers
According to the CanadaHelps report, the charitable and nonprofit sector accounts for 10% of full-time jobs in Canada and contributes to roughly 8% of the country's GDP. Canadian charities make up 3% of the country's small- and medium-sized business sector.
A fear of investing in oneself
Companies in other industries are able to adapt (to new technologies, for example) and reinvent themselves with an advantage over charities: they have the opportunity — and usually a budget — to test, mess up and tweak.
"The charitable sector, unfortunately, doesn't usually have that capacity to protect dollars just for the purposes of innovation," says Bruce, which means that change is slow and charities tend to avoid taking big but potentially valuable risks.
Marina, who came into her leadership role at CanadaHelps after decades working in for-profit companies, said the fear charities have of spending too much money on themselves isn't productive.
"I think we have to get off of that obsession," she says, "and realize that we need to invest in charities much like businesses need to invest in themselves — it's like the same thing."
This predicament is made more complicated by the rise of crowdfunding campaigns, which appeal to people's immediate desire to make a direct impact.
As Marina points out, a global giving trend report released this year found that more than 40% of its 6,000-plus survey respondents had supported someone through crowdfunding. And 16% of them said doing so meant giving less to nonprofits and charities.
Bruce says this is a trend he's watching closely to see whether or not the shift to virtual giving is becoming synonymous with a movement to support individuals instead of registered charities.
The new philanthropy
But while Canadian donations are dropping, there are still a few trends that are looking up.
Digital charity is one of them. CanadaHelps data found that online donors have increased more than 20% annually over the last five years.  Quebec's Institut Mallet, which supports the advancement of philanthropy, also found that the amount of money donated by women has tripled in the last 30 years , while it doubled for men over the same period of time.
Though donations made by Canadians have fluctuated with the economy in the past, Marina believes the trends she's seeing indicate a more fundamental shift. The sector needs to embrace technology, get comfortable online and, when possible, make the most of the data accessible to them when targeting their support efforts.
"[Charities] are definitely covering such a huge gap that is left open by business on one side and the government on the other side," Marina says. She hopes this year's Giving Report helps people across the country start to wake up to that.
"This is important for us as Canadians," she says. "For you and me, and for our children."
The C2 Montréal Minutes: Actionable insights for creative business leaders
Questions or comments? Drop us a line at editorial@c2.biz