Credit: Myriam Baril-Tessier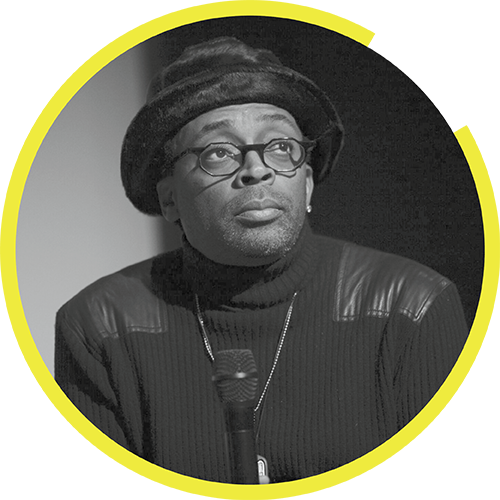 Spike Lee
Film Director, Producer, Actor and Author
"As an artist, you should be able to wet your beak."
On their first day at NYU, film professor Spike Lee always tells his students that "there is no one way to do anything, so you have to pick and choose what's best for the way you want to maneuver or navigate the industry."
For Spike, that meant focusing on stories that expanded narrative spaces for the black experience in America. Fresh off an Oscar win for his film BlacKkKlansman, and launching season two of his Netflix show She's Gotta Have It, the prolific filmmaker took the stage at C2 Montréal 2019 to share some of the wisdom he's accrued throughout his remarkable career.
Finance is an art of its own
The multitalented director first showcased his "Brooklyn hustle" selling t-shirts outside screenings of his 1986 breakout hit, She's Gotta Have It. At the time, there wasn't money to promote the film so Spike learned at an early age how to market himself.
"You know who I learned from? Madonna… She's a genius," Spike says. "Musically, but also the way she marketed herself. I learned a lot, a lot, from Madonna."
Spike was also deeply influenced by his jazz musician father, Bill Lee, once a go-to bassist for Bob Dylan, Peter, Paul and Mary, and Gordon Lightfoot. When Dylan decided he wanted to go electric, everybody he played with went electric, too. "But my father refused to play electric bass," explains Spike. "He had five kids, but he was not playing electric bass. If you saw the film Crooklyn, that was my family growing up."
After witnessing his father's dilemma firsthand, and his mother struggling to be the breadwinner, Spike decided it wasn't what he wanted for himself as a filmmaker. He knew his career would have to be a balance between principles and getting paid.
"I understand why my father didn't want to do it," says Spike. "He had standards, beliefs. At the same time, he had five kids… That's one of the things we're dealing with in season two of [She's Gotta Have It]. Nola Darling is a young artist trying to navigate herself and stay pure to her art, but as the character Opal tells her, 'There's nothing romantic about being a starving artist.'"
Fight power with power
Spike says he's understood, "from the very beginning, in film school, that directors get all the credit, but you need people around you. [Like] a GM of a sports team, you gotta put the best people into place to perform."
The American film industry was never set up for people of colour to succeed, he adds, "so I made sure that in my films there was diversity amongst gender and race… It was going to be my decision and I had the power to hire who I wanted. When you are in a position of power, utilize that… I knew I had to if I wanted to have an impact in changing the complexion of this industry."
So where does Spike get his superpowers?
"I've come to understand that we can draw power from our ancestors, who went through stuff we couldn't even imagine, and I have used that personally," he explains. "Any time I'm going through rough times, I step back… put my hands on the ropes and just pick myself up knowing that what I'm going through is nothing compared to what my ancestors were."
The name of Spike's production company, 40 Acres and a Mule, is a historical reference to the U.S. government's promised reparations for slavery — reparations that very few former slaves received. He says his company is a vehicle to give people of colour opportunity in an industry that's "not set up for us to win."
Creating 40 Acres gave him the chance to tell stories he was not taught, such as how the United States of America was built on genocide and slavery. It also allowed him to surround himself with fellow artists and "to tell different stories and give a different narrative."
"I've always felt this has to be a steady thing and not a fad," Spike says of African American cinema. And especially with the success of Black Panther and BlacKkKlansman today, "we're in a moment where a lot of different voices and films getting made are being acknowledged."
Want more Spike Lee?
Check out this frank, in-depth interview with Spike recorded in C2 Montréal 2019's onsite media studio, the Aquarium.
Questions or comments? Drop us a line at editorial@c2.biz