This year at C2 Montréal, participants will grapple with many challenging questions. But as the event approaches, one of the harder questions for some might be: What should I wear? If you've been fretting about it, don't — we've asked for some professional help.
There is, of course, no dress code at C2 Montréal. We always recommend comfortable attire suitable for a whole day of connecting, collaborating, learning, socializing and exploring — whatever you feel great in. That said, it's not always easy to choose. So in collaboration with Montreal-based, lifestyle and fashion brand Frank And Oak, the following handy style guide was created to help inspire you, whether you're a seasoned CEO or an up-and-coming entrepreneur.
1. Fortune favours the bold… colours
Spring has sprung and Montreal has embraced the life and energy of a new season. The same should go for your wardrobe.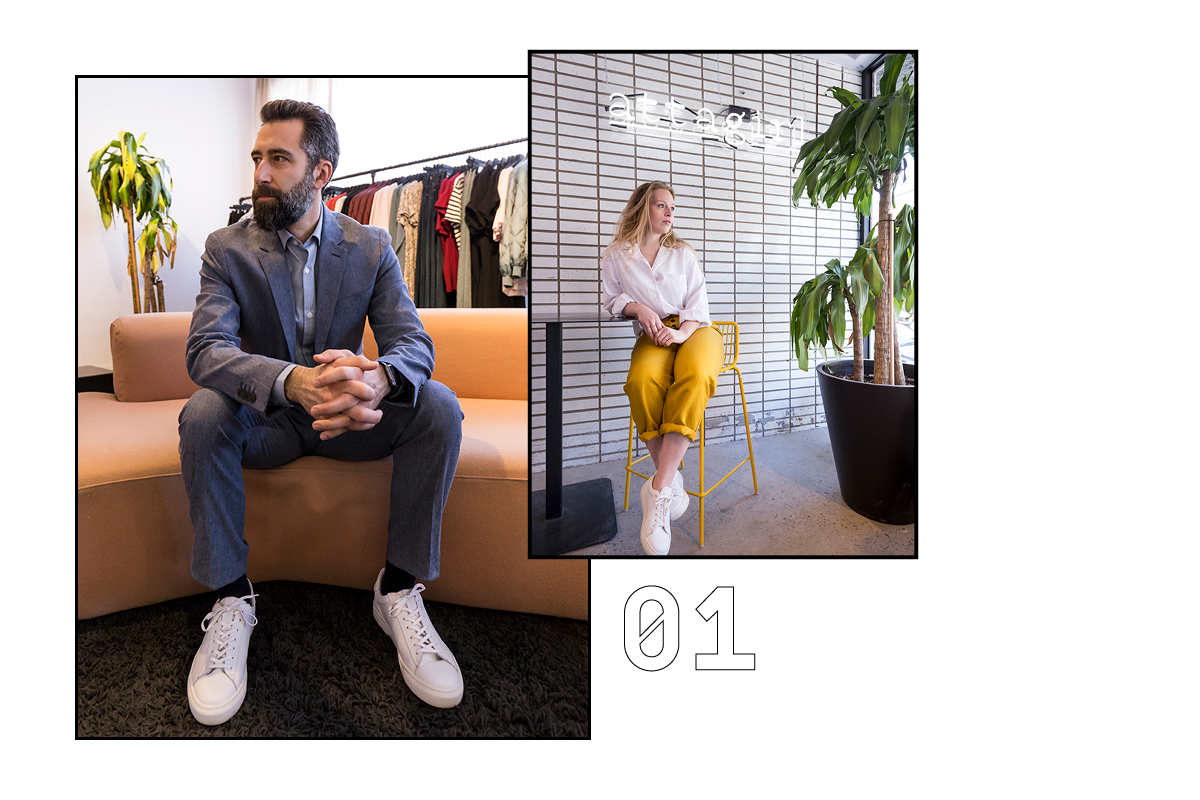 For example, C2's General Manager Martin Corbo (pictured) has combined two shades of light blue and perfectly captured the spirit of "business casual" by losing both the belt and the tie. Not only that, but the fabric of his Laurier Cotton-Linen Suit is both stretchable and breathable, perfect for a Montreal summer.
Next to him, Gabrielle Bellemare, one of our Concierges Extraordinaire, shows off a pair of yellow High-Waisted Buttoned Pants and a Boyfriend Shirt, adding just the right amount of colour and fun to a light and airy summer look.
No matter which way you go, remember that in May anything is possible and everything is permitted, so don't be afraid to be bold.
2. Build your look from the ground up
Choosing the right footwear is sometimes the key to a whole outfit, and experimentation is key. So go ahead, mix and match until you find the right combination, you won't regret it.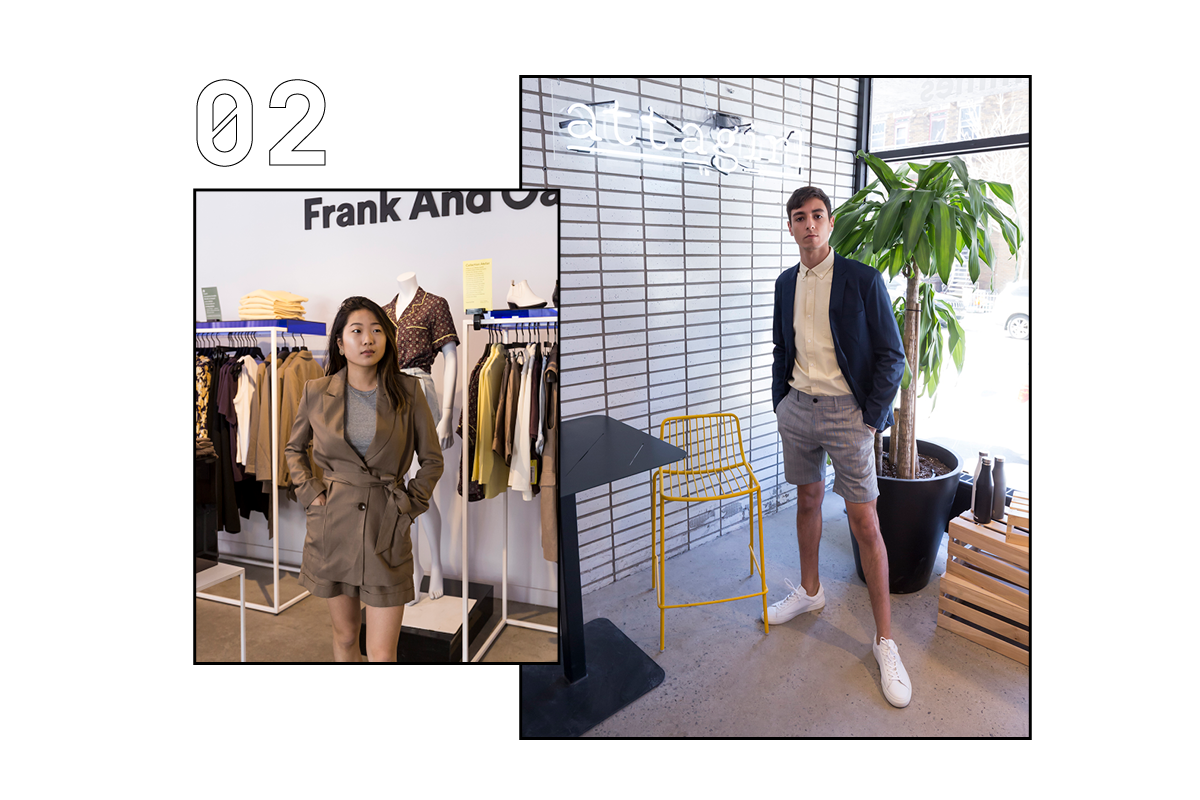 Women might choose to go with an interesting pattern like these python-print District Small-Heeled Suede Loafers, modelled by another one of our Concierges, Minji Suh. She completed her look with a well-matched, loose-fitting Belted Long Blazer, one made from light and stretchy linen-tencel fabric. The key to choosing a good pair of shoes is to balance comfort with style, particularly since you'll likely be on your feet for most of the day.
For his part, Concierge Extraordinaire Aymen Lfaki demonstrates how to elevate a look while at the same time staying comfortable. Whether you're wearing shorts or a more traditional pants-and-jacket combo, these Park Leather Low-Top Sneakers are a great addition.
And if Canadian Prime Minister Justin Trudeau has taught us anything fashion-wise, it's that we shouldn't forget that socks can always make a statement as well. Frank And Oak offers these Mid-Calf Ribbed Socks in Yellow or a colourful three-pack of Fun Cotton Socks.
The thing to remember is that even if your suit is plain, your socks don't necessarily have to be.
3. Fashion forward, from daytime to nighttime
As the sun sets on the C2 Village every evening, music starts to play and the drinks and conversation start to flow. Some participants might find it useful to add an element to transform their daytime threads into evening attire, especially if the temperature dips a little later on.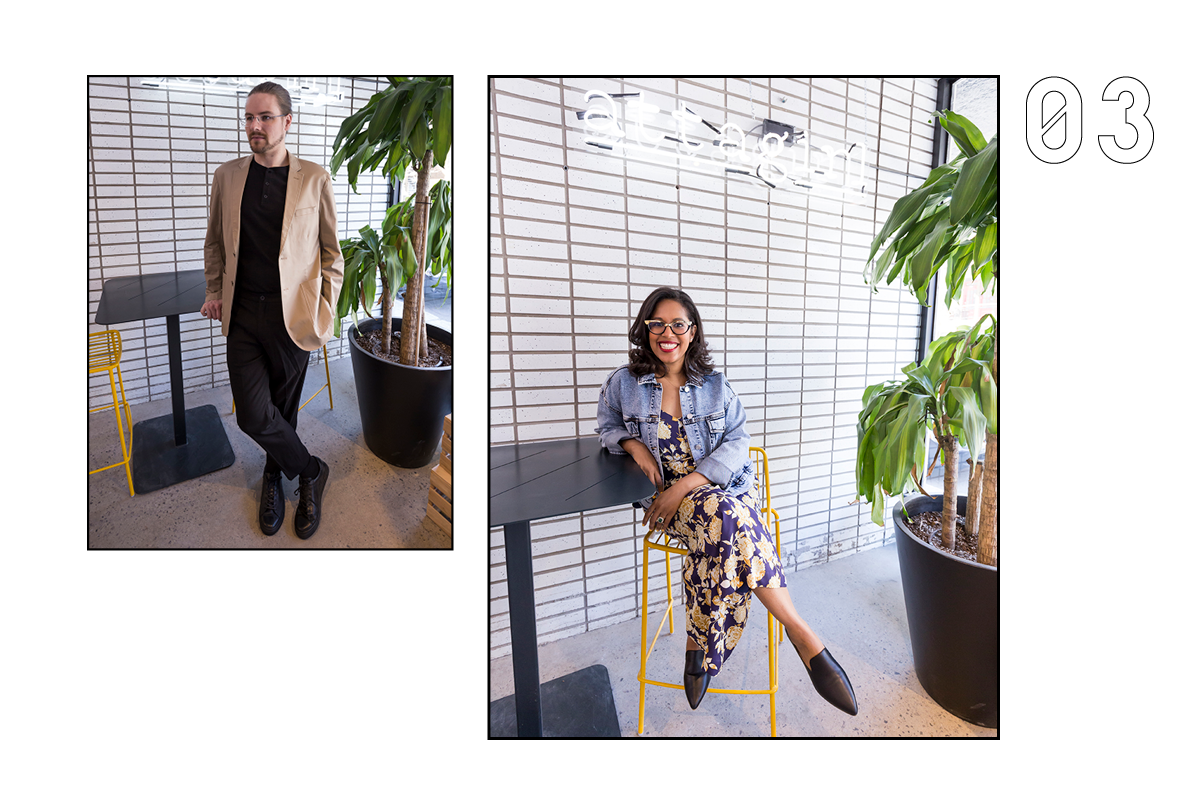 Take Concierge William César Lareau, for example, who made his black-on-black outfit pop with the simple addition of a beige Laurier Cotton Blazer. Angela Gabot, C2's Director of Operations for Business Development, took a similar route, neatly accessorizing her Printed Silk-Viscose Jumpsuit with the addition of a jean jacket.
Alternatively, this might be the perfect opportunity to equip yourself with a bomber jacket, such as the Liam Water Repellent Bomber. It's been the outerwear of choice for everyone from pilots to punks to police throughout the 20th century. It's a piece both men and women can wear on any occasion, whether you're on the street or at an upscale ceremony.
4. Dress to kill — on the dance floor
C2 2019's closing-night, Montreal-style blowout celebration, Illumination Night, presented by Stradigi AI, is once again the party that's everyone's business, and a time to loosen the tie (provided you even wore one in the first place). That might mean trading in the blazer for something a little more festive or casual, as William does here by layering a Short-Sleeved Cotton-Linen Shirt on top of his plain white t-shirt.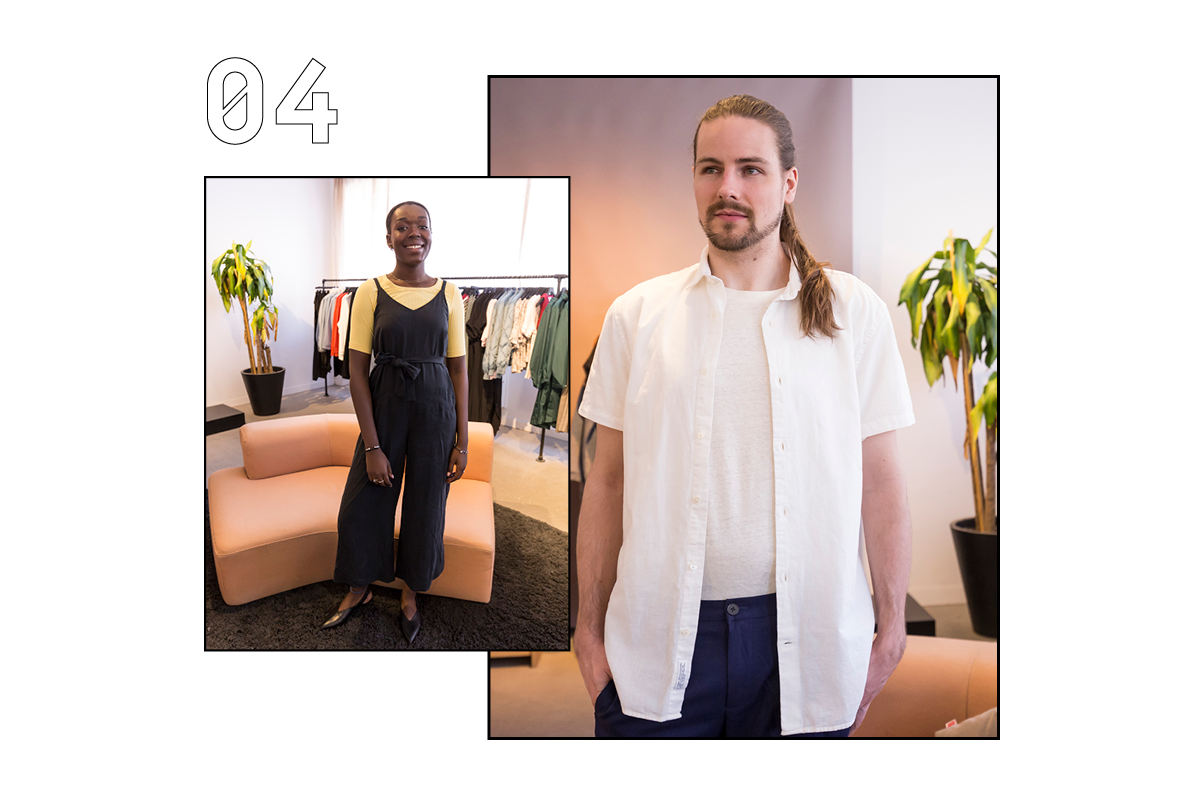 Another of our Concierges, Marie-Antoinette Diop, shows off an option for women with this belted (and 100% sustainable) Textured Jumpsuit. Either one would work well on the dance floor, and simply chillin' with all your new best friends.
5. The most important fashion advice is… be yourself!
In the end, there's no perfect fashion formula, and no rule that can't ultimately be ignored. The most stylish look is usually the one that smacks of authenticity, and the best way to be authentic is simply to be yourself.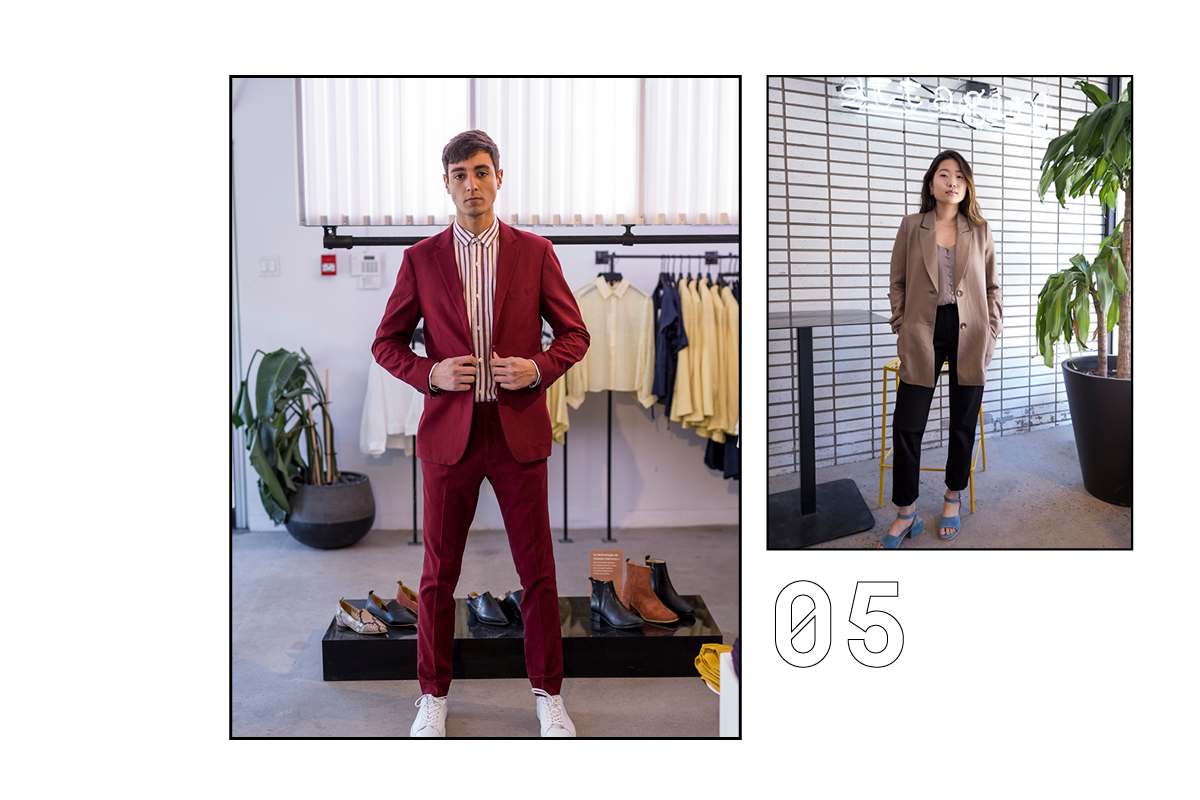 So dress in a way that makes you feel most comfortable — it's the best suggestion we can offer. As long as you throw a little creativity into the mix, you're guaranteed to look and feel great while you take care of business.
 Questions or comments? Drop us a line at editorial@c2.biz