When I visited Suroosh at VICE's new headquarters in Brooklyn, the man was affable and totally relaxed.
He had no reason to be.
His new cable TV channel, VICELAND, was being launched that week and close to 1,000 reporters, editors and managers were buzzing around us in this jam-packed beehive of content creation. I've seen my fair share of entrepreneurial and growth mayhem, but this was making my head spin. And Suroosh? Cool as a cat.
He'll be joining us this May at C2 Montréal to talk about the future of media and the early days of VICE's mythical entrepreneurial journey in Montréal.
Here's a bit of an amuse-bouche of the topics he will explore on our main stage.
If you have any question for Suroosh, send them to me (Twitter / @jfbouchard) and I'll relay them to him. Thanks!

JF:
Can you tell us about VICE in its early Montréal days?
Suroosh:
"We basically made a magazine for ourselves that reflected this little bubble we were living in, in Montréal… This decadent little bubble."
I think this company and VICE magazine couldn't have started anywhere but Montréal. The city at this time was this incredibly creative environment for us to live in. We were on welfare and we could live like kings on our welfare cheques in Montréal. And there was this huge community of artists and musicians and creative types who never had any experience writing before, but they were all so passionate about [what was happening] that I asked them to write about that, and I was able to build this huge stable of writers and give them total freedom. We basically made a magazine for ourselves that reflected this little bubble we were living in, in Montréal… This decadent little bubble.
JF:
Fast forward 20 years, you're launching VICELAND this week. Can you tell us about this project?
Suroosh:
It's the next phase of our evolution. It's something that we've thought about and talked about and wanted to do for a long time. I don't think we were ready to do it before, even two years ago. We've had to spend the last seven years making video for the internet for our websites, and then also doing our HBO show and a short stint with MTV before that. But this is the next chapter and it's a general entertainment and lifestyle network.
"We will launch in 12 more countries around the world – it'll be a global cultural phenomenon"
The news offerings are separate from it. Spike Jonze is the creative director for the VICELAND network. If it works as we think it will, we will launch in 12 more countries around the world – it'll be a global cultural phenomenon.
Again we are filling a void that exists in traditional or mainstream media; it's something that we've always done since day one. We believe that a void exists out there on cable TV and our role in the cable box is to fill that void.
JF:
Now that you have a channel, you have to churn out how many of hours of programming every week? It must be staggering.
Suroosh:
Yes, it's a staggering amount of content that we're making. We're talking hours and hours of programming, every day. We have more than 30 shows being developed.
JF:
So you went from being the kings of short format to having to produce long format… And a lot of it. How do you adapt?
Suroosh:
"The next big challenge will be narrative."
Well, again I think there are challenges and lessons that we're learning from constantly, but I believe that we're ready for this new challenge. A lot of the content is the immersive, character-driven documentaries that we've always done, and now we're doing it for a specific TV half hour or TV one hour with commercial breaks. The next big challenge will be narrative and kind of adapting our approach to fiction stories and creating that type of content. But for now, this network is going to be focused on what we do best, which is character-driven documentaries.
JF:
I'm quite curious to understand how you moved progressively from edgy lifestyle content to news? How did that evolution happen?
Suroosh:
I think it's something that we were always interested in and inspired to do, but we didn't have the resources to do it. It was also our background before we started this magazine. We had lived abroad, and we were part of what you could call the International Socialists when we were in college. I've always been interested in foreign policy and government. Just because we were a local zine didn't mean that we didn't care about what was happening in the world.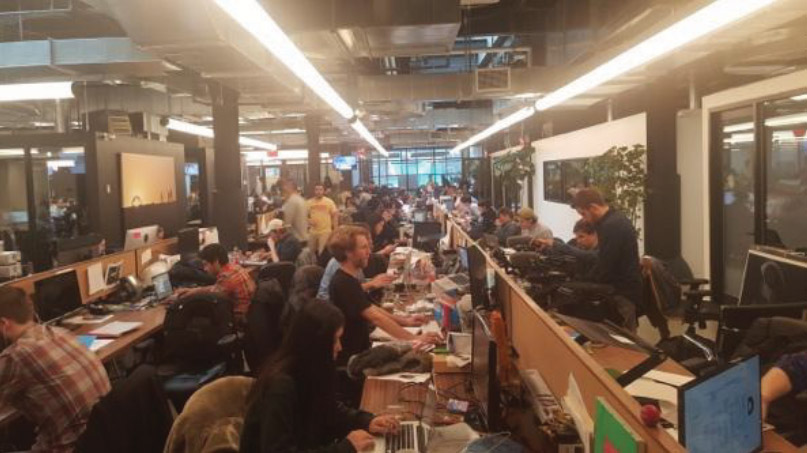 Close to 1,000 VICE team members work in the new headquarters in Brooklyn.
To say the place is buzzing with activity is an understatement.
"They were seeing it as news! That's when we realized we were onto something."
And we did a deal with MTV in 2006 to make a DVD, the VICE Guide to Travel. We previously had made an issue of a magazine called the Travel Issue, and when we made that DVD we had the opportunity to go into the world. But when we set out to do it we didn't think of it as news. We were making short little travel films that were kind of fun and light and not very good! But what happened was that they ended up on the homepage of CNN, and that was a revelation.
JF:
Oh, yes, you mean The Gun Markets of Pakistan video that went viral?
Suroosh:
Exactly. For me personally, it was like something that I wrote about in the magazine, made a little documentary about, and all of a sudden it's being seen around the world on news sites… They're seeing it as news! That's when we realized we were onto something.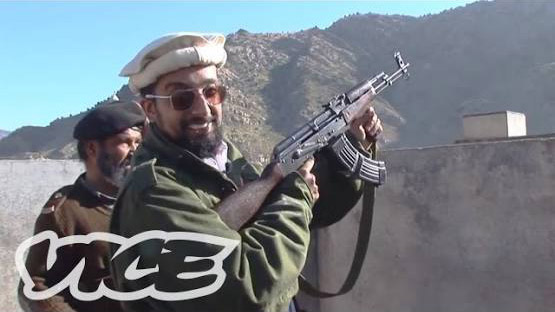 Suroosh in the field in Pakistan (2006)
JF:
It's almost like the lifestyle phase was a detour to get to the true nature…
Suroosh:
I think it's what we're really passionate about. And that's where VICELAND comes in. VICE is a lot more than just VICE News and the VICE on HBO show. VICELAND is an opportunity to create content about everything else. VICE is an omnibus. We love talking about everything and anything, and that channel will really allow us to let our hosts be themselves and give their personal perspectives on things, whether it's Ellen Page on Gaycation or any other host. The subjectivity continues. It's like what we've always been like.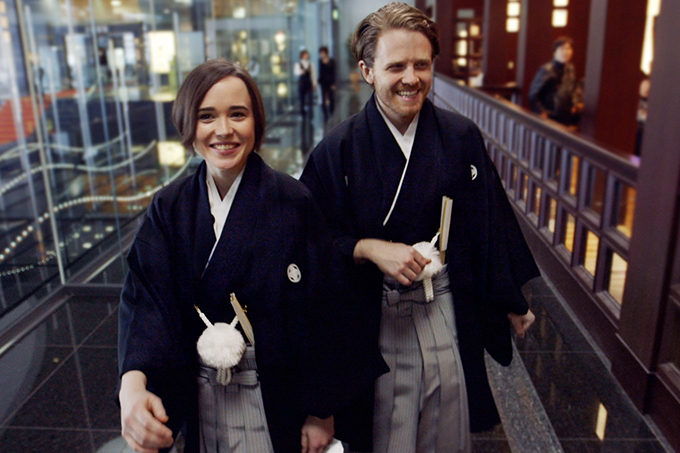 Ellen Page stars in Gaycation, a new show launched on VICELAND this winter.
JF:
When talking to you, knowing you know that you've built this thing from two, three guys to almost 2,000 employees, it's hard to tell if I'm talking to a journalist or a manager. What's your strength?
Suroosh:
I mean you're here, you can look around. This is a real team effort and we have amazing people on board who are helping us run this. Management has never been my strong suit, operations is not my strong suit… But I did quite a bit of it. And by doing it I realized that it's something that I'm not very good at and that I don't want to do. The reason why I started the magazine in the first place was to make content. It's an amazing thing, an opportunity, a blessing. I'm very grateful to be able to go back and focus on making content now, and leaving that other stuff to people who want to do it and who are better at it.
JF:
I think it's a fantastic strength of yours because I don't think a lot of media corporations have some of their senior executives in the field doing investigative journalism, for example.
Suroosh:
I think it's great for the young people who are coming up who are seeing me and Shane and the others in the field, as well as getting our hands dirty doing the other things. And we want people to do that as well. [We want] our employees, our family to do whatever they want to do, and I think this company affords that opportunity for lateral movement.
JF:
What do you get that other media outlets don't fundamentally get, in a nutshell?
Suroosh:
There's been a lot of serendipity because there wasn't a whole lot of strategy involved in the early days. We were just opportunistic and incredibly ambitious and kind of dumb about it at the same time.
"So now we're having our cake and eating it too"
We wanted to fill a void we saw. It was something that we believed in so much that even if the deck was stacked against us, we were going to do it. Because we could never – even when we were facing bankruptcy and millions of dollars in debt – accept the idea of packing it in and applying to the competition for a job. We wouldn't be able to look at ourselves in the mirror. So now we're having our cake and eating it too.
We always believed that there was this global audience out there that probably felt the same way we did, and we discovered that as we launched our magazine around the world. People were coming to us saying, "We want your magazine here, can we partner with you and launch in Australia and Japan?"
JF:
CNN is a notable exception, but very few media organizations have had an international audience early on. Until recently, most media players were national or regional. Why did you choose to go from local to international?
Suroosh:
So after we left Montréal and moved to New York City, we realized that in order to become big in America and be a big mainstream success here we would have to change our content and dilute ourselves and make compromises editorially. We wanted to stay fucking weird and talk about all these things that we thought were interesting.
JF:
So it had to be a global niche to remain pure but become big…
Suroosh:
Yes. We did a lateral expansion and found our niches all over the world. We didn't realize why we were doing it at the time, but now it makes sense with the launch of VICE News previously and now VICELAND. Now all of a sudden we have this global network of our people/correspondents while the big traditional media outlets are shutting down their foreign bureaus.
JF:
One last question. It almost seems like you guys are fearless, but you must be afraid of something. What is it?
Suroosh:
Being on boats with really big waves – I get seasick. I was recently shooting in Yemen and my producer said, "You're more afraid of returning home on the boat than you were of getting killed while reporting on ISIS and Al Qaeda!"
Suroosh Alvi will be speaking at C2 Montréal, May 24-26. Exact time to be announced shortly.
You can reach JF on Twitter: @jfbouchard