Credit: Arianne Bergeron

"This shit is hard. [Tech] isn't like making beats or writing raps — this is some hardcore shit."
As far as will.i.am's concerned, disruption is passé — the real action is in transformation.
A futurist with a passion for technology, the entrepreneur, innovator and artist has flourished in recent years, moving fluidly between the creative and tech worlds. As Founder and CEO of I.AM+, will.i.am's been active in merging voice computing, artificial intelligence and intelligent devices with the goal of creating tech that empowers and transforms not only businesses, but people and communities.
In AI, attitude is everything
will.i.am is interested in machine learning because he's still optimistic about it. 
"Jobs we can't imagine are around the corner," he says. "That's what I hope. I don't want to live in fear of what I know is coming. I gotta let my optimism lead my passion… It's gonna be turbulent and [we] are at a really, really tough crossroads, but in the 2008 financial crisis, Apple launched the iPhone and so many entrepreneurs were born… I think we'll have a similar situation."
Companies we cannot imagine, technologies we cannot fathom have always been around the corner, he reminds us. "What the fuck was a developer in 1920? New jobs are coming. I don't know what they are, but they are coming. I have to think that way or else I get depressed and I don't want to be depressed."
Take a seat at the AI table
A lot of concerns about AI are valid, he acknowledges, "but it's going to be built and deployed anyway. If we sit [out] then a lot of those bad things can come to fruition."
There aren't many people of colour thinking and working in AI, which is why will.i.am says he's hustling so hard, in order "to make sure the future is bright for us, so history doesn't repeat itself and so racism doesn't [become] 'machine-ism,' where machines are looking ill upon blacks because that is how we train the systems based on human behaviour. Why does it have to be that way?" he asks, and how can we think about mitigating bias in tech? "It starts with leadership."
He also thinks a fear of AI is due to lack of regulation.
"Governments can't move at the speed of innovation, so it takes leadership and awesome, human-first executives and developers to be self-regulated," he says. "So I try to look at companies to invest in and advise so the biases don't affect people that look like me or come from areas that I come from. They are the ones who are going to be affected by it the most."
He believes tomorrow's businesses are going to move and behave differently. "I don't say it in a kumbaya, cliché way, but these tech companies could learn a lot from the music community on how to keep things people-first."
will.i.am's advice:
"You will always make mistakes. If you are not making mistakes, you're not learning, and if you run from your mistakes then you're surrendering… You can't be stubborn — you have to have an open mind and you can't be afraid of making mistakes."
Transform to create trust
will.i.am also says a new type of entrepreneur will rule the markets tomorrow.
"People are gonna move past the disruption wave," he predicts. "Companies and new entrepreneurs are gonna come to a place where transformation is first: I want to transform communities for the better, I want to transform society. Trust is the currency tomorrow."
Disruption is detrimental, he adds. "That's old school, like invention is old school. People talk about innovation now. I have to create some shit that never existed, innovation is to improve shit that exists… Disruption is rude. If the person at the end of the day doesn't add to what they disrupted, fuck you for disrupting."
For will.i.am, trust and AI go hand in hand. "The giants today are not the giants tomorrow," he says. "There is a 15-year-old out there who is going to build tomorrow's company that is mindful of people first."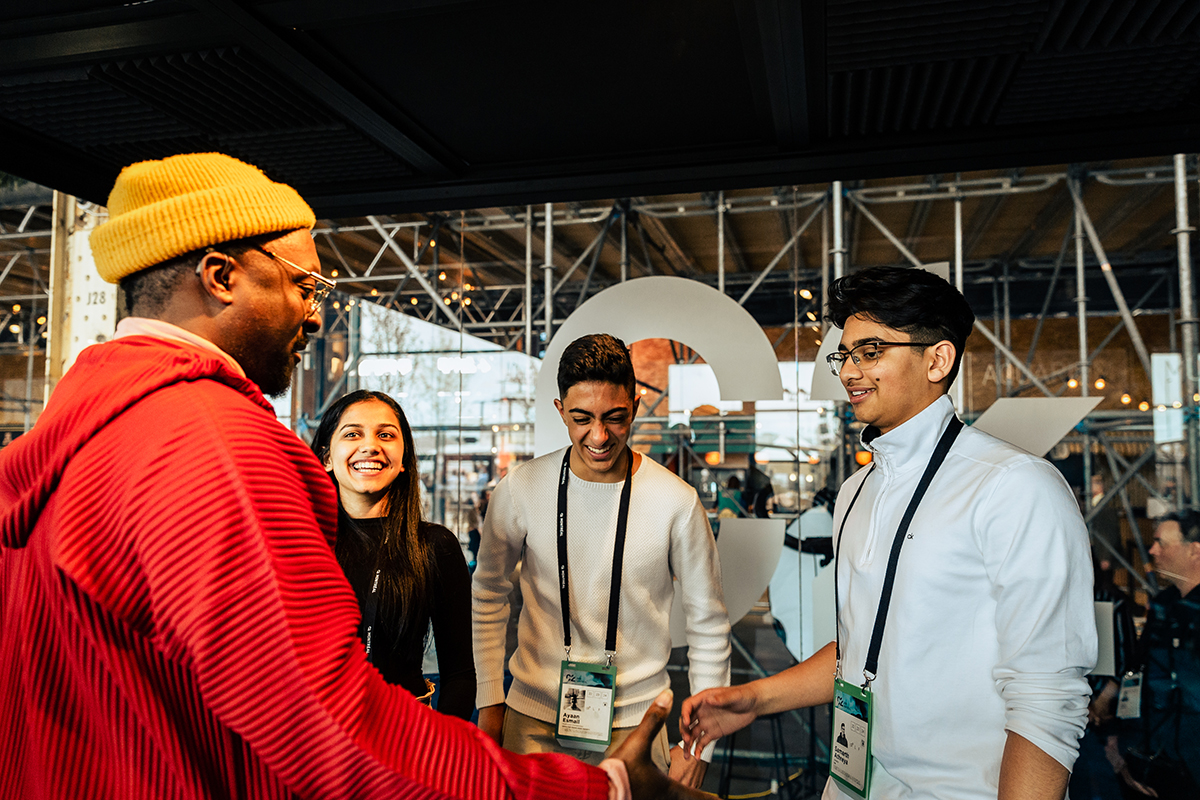 What is will.i.am going to teach his kids in the future?
"The same things my mom taught me. That is, first you are your vocabulary, so express yourself. If you have an idea, be able to share it with passion in order to inspire people to see what you see. Turn strangers into friends and friends into family so you won't have any enemies. Surround yourself with people that reflect your dream… and be flexible to collaborate with folks that aren't exactly like you."
Watch will.i.am LIVE in the C2 Aquarium

Questions or comments? Drop us a line at editorial@c2.biz