The way Tala Al Ansari sees it, "if you leave COVID the same way you were when you started, then it's such a big shame [because] there were so many amazing lessons."
Al Ansari would know. As Director of Innovation Ecosystem and Scale2Dubai, she's been working meticulously with the team she is part of to evolve the site of the Expo 2020 Dubai mega-event into a human-centric future city called District 2020.
Expo 2020 Dubai leaves behind a thriving and meaningful vision for the UAE and the region. District 2020 will become a fully integrated multi-purpose community, a city that adheres to the highest sustainability standards and certifications, carrying forward Expo 2020's state-of-the-art digital and physical infrastructure as well as best practices.
Speaking with San Rahi, EVP of Global Brands and Growth and Innovation at Sid Lee, in their session "Dubai's District 2020: Designing a global innovation ecosystem for entrepreneurship," Al Ansari revealed the key pillars of her team's mission to bring a "future city" to life. She outlined how District 2020 will create a blueprint for a community where people and businesses collaborate to create a smarter, more balanced, resilient and sustainable way of life.
She explained how the District 2020 blueprint was shaped through design-thinking that puts people at the centre, prioritizing the needs of the future workforce in a rapidly evolving global landscape, as well as anticipating the needs of residents looking for community living. 
As Al Ansari described, extensive planning went into the infrastructure and architecture, tailoring it to the end user and future workers and residents. Careful consideration was given to how people would live and work in an urban environment that meets their needs and supports their well-being, and where human-centricity is key to sustainability rather than resources.
Not coincidentally, the values Al Ansari espoused not only reflect the vision of a futuristic metropolis, they also provide a roadmap for conducting life and business in our post-pandemic world.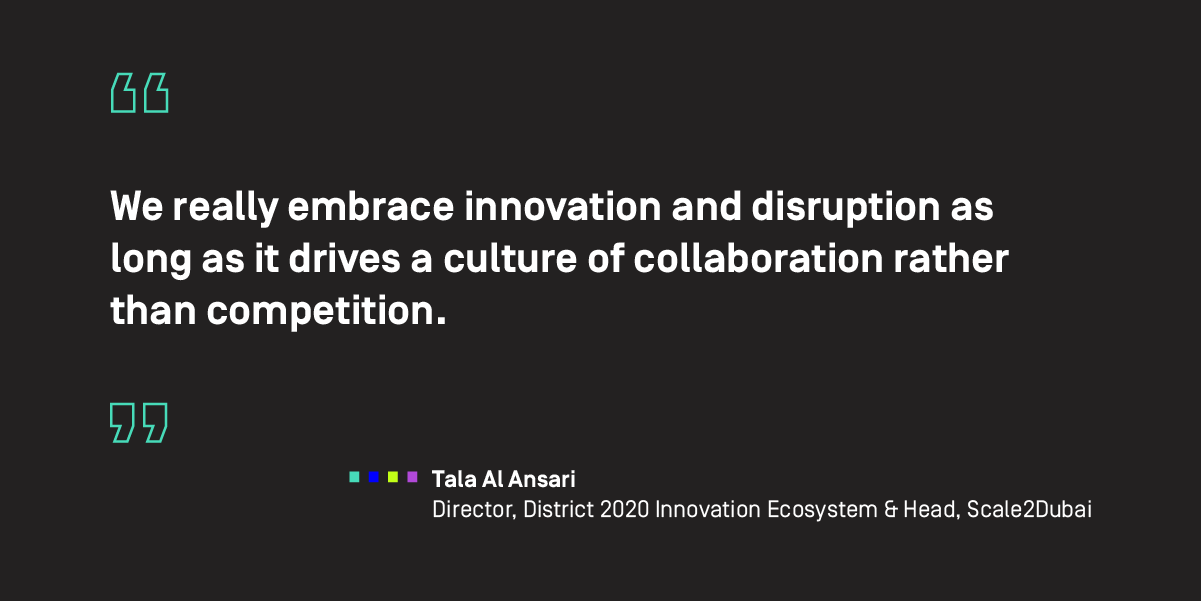 5 key pillars of District 2020
Human-centricity: When designing District 2020, Al Ansari explained how the masterplan for the site took into consideration how to "actually provide, design and build what the future  community needs." She explained that "we actually had conversations with startups and with our corporate partners," noting how "that's part of the co-creation process that [makes District 2020 so distinct]."
Wellness: She emphasized how "even before COVID, we had designed [District 2020] to promote work-life balance and focus on wellness." She said that "organizations definitely have to adapt their mode of work," which is why District 2020 is using technology to enable what is needed and enhance quality of life while supporting more sustainable and balanced lifestyles.
Fun fact: 
In 2021, Dubai was named the World's Most Resilient City by the United Nations.

Sustainability: With the buildings at Expo 2020 Dubai already meeting a high sustainability standard, Al Ansari said that District 2020 plans to repurpose 80% of its assets. "The model that we're building this innovation community on is a sustainable one, one that continues to serve humanity and put them at the heart of this process."
Diversity and collaboration: District 2020 is focused on bringing together a diverse group of stakeholders in order to create an environment that enables innovation and co-creation to thrive, "government, industry, academia and citizens to work together," and supports cross-industry collaboration.
And as part of District 2020's entrepreneurship program in residence, Scale2Dubai, she seeks to connect large and small organizations to support scaling and new growth opportunities.
"We really embrace innovation and disruption as long as it drives a culture of collaboration rather than competition."
Legacy: "Startups are… problem solvers in the world," she concluded, noting that there are "too many programs out there that help startups start, but less than one percent of the programs help startups grow and scale," and Scale2Dubai is looking to address that. 
Get more insights from C2MTL 2021
Check out The Takeaways, a selection of the top action items and key learnings that came out of C2 Montréal, October 19-21.
Questions or comments? Drop us a line at editorial@c2.biz