What did you learn at C2 Montréal 2018? Depending on who you ask, you'll get 7,000 different answers. Probably many more, should you ask this varied bunch twice.
Technically, the full answer means extracting key learnings from dozens of activities happening simultaneously over the course of three days. Impossible? Not for the Minutes team. From May 23 to 25, 12 reporters combed the village for upcoming trends, nuggets of wisdom and crunchy bits. In the coming weeks, these will be turned into the 2018 edition of the C2 Minutes by a merciless team of passionate editors, illustrators, data visualizers and graphic designers. (Sign up for our newsletter to make sure you get a nudge in your inbox when it's out this September.)
Until then, here's a look at what I learned from my own experience at C2 this year, including a few things I gleaned from the sharp minds of the ubiquitous Minutes editorial team:

"Surround yourself with people who are better than you." – Snoop 
High-rolling entrepreneur Snoop Dogg told us the secret to his success: being best buds with his partner of 20 years, Ted Chung. "He's a business school graduate and I'm an ex-drug dealer. If you put those minds together you get some magic. I had a Fortune 500 mind, I just wasn't able to exercise it."
Read: Becoming a chronic entrepreneur: Lessons from Snoop Dogg and Ted Chung at C2 Montréal
These peeps are programming actual matter!
How about printing robots with no motors, wires or chips? MIT researcher Skylar Tibbits is building behaviour into super-resistant new materials that can "self-assemble" given the right stimuli.
"Nurture a culture of confusion tolerance"
Sketching away at live models during Disney animation guru Dave Zaboski's drawing class – I mean Masterclass – this little nugget really struck home. But this controlled state of confusion only works within a culture of collaboration, where everyone looks forward to "plus" everyone else's idea: "To be in service of the trajectory of the idea, not be the eagle that lands it."

Farmers tell the best stories
"There's a personal human story in every bale of cotton." For seven generations, America's educated farmer's sons and daughters have been joining the ranks of John Deere, increasingly blurring the distinction between brand and consumer. Could this deep knowledge of its audience be the key to The Furrow's 123-year success? Publication manager David Jones would disagree. "There is no secret: We do it consistently. We do it well. We do it consistently well."
Stop talking about yourself
Since 1895, The Furrow's pages have seen mention of the words "John Deere" fewer than 20 times. "We do not talk about ourselves… we know that a reputation that has taken 175 years to build would only take a fraction of that time to burn down."
Reframe how you think about diversity
Studies consistently show that diversity is good for business, and yet many organizations aren't ready to do the hard work of actually changing culture. Humour might help, suggests Arwa Mahdawi, Chief Minority Officer at Rent-A-Minority.
Read: 10 steps from Rent-A-Minority's Arwa Mahdawi to (actually) make diversity happen

Kill the corner office
"Totally demolish your organization," recommends Sébastien Bazin, CEO of hospitality juggernaut AccorHotels. The makers of the new economy want nothing to do with the old structures of power. They expect to have an impact as soon as they walk through the door. Make sure you give them that chance, because "transformation will never, ever end."
TLDR: How to make people care
Trying to change someone's mind? Rationality expert Dan Ariely made it clear that "it's virtually impossible to get people to change their behaviour just by giving them information."
Read: Trick the brain: BEworks behavioural scientist Dan Ariely on how to change someone's mind
If you're going to do VR, think in VR
In the aftermath of the mass shooting at Orlando's Pulse nightclub in 2016, Jessica Lauretti's team at RYOT produced a 360° video to help its audience visualize that 49 people (the number of people killed) was more than an abstract number. In doing so, she also showed that when done right, 360 video can be a powerful empathy engine.

"Just because you can build a tool doesn't mean you should"
Chelsea Manning, America's most famous whistleblower, insists that malicious tools (e.g. drone technology) need to be called out. As a culture, we should all depend less on them to solve the world's problems. "It can't be a magic wand."
Read: Calls to action: Chelsea Manning speaks at C2 Montréal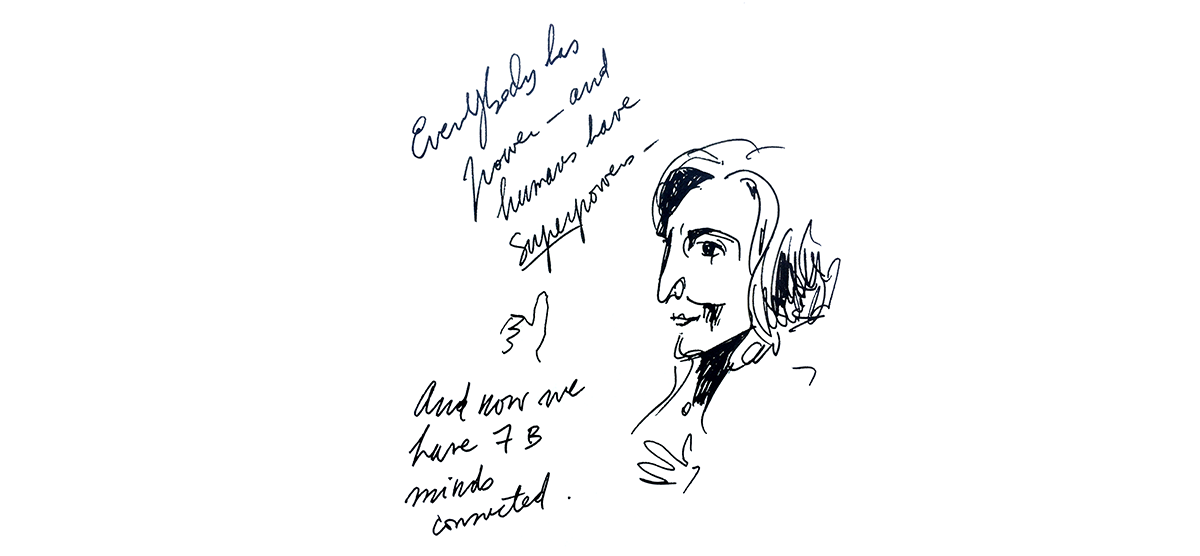 "Everybody has power. Humans have superpowers. And now we have 7 billion minds connected"
Okay, this isn't really something we learned. But when Her Deepness Dr. Sylvia Earle, legendary oceanographer, said it in the middle of that 360 Big Top, it felt very real. I hope she's right.
Write down these buzzwords, and never use them again
Innovation, creativity, blockchain, AI, authenticity… These words have officially lost their meaning. I hereby vow to make the effort to use precise words in the service of the thousands of rich topics they describe, and only to use these words in extreme circumstances. (Minutes writers beware!)
---
Illustrations: Caroline Lavergne