Summer is here and no matter how long your vacation may be, this is a time to slow down, relax and tackle the reading and the listening you've been meaning to get to all year.
Whether you're on the beach, in your backyard, on a boat or plane, a little food for thought will help you make the most of your free time. After offering some great book suggestions, it only made sense for us to highlight a few summer-perfect, idea-packed episodes from the C2 Podcast's first season.
The "bread and games" episode
The season's finale, Cooking up an empire, is all about building the best possible ecosystems out of your networks. Learn about "vigorous honesty" with video game maven Jade Raymond (Assassin's Creed, Star Wars) and hear Eataly CEO Nicola Farinetti's thoughts on how to break the traditional franchise model.
Dispatches from Mexico City
Travelling to Mexico this summer? Episode 6, Learnings from Mexico City, is a must-listen. You'll discover Gabriella Gomez-Mont's Laboratorio para la Ciudad, a creative think-tank and experimental space for civic innovation bursting at the seams with ideas to engage the collective intelligence.
Keeping it mobile
Speaking of being on the move this summer, mobility has become a hot topic as cities around the world grapple with gridlock and test new means of transportation for growing populations. Episode 8, Mobility Moonshots is an easy pick to get up-to-date on key trends in this sector.
Seeing stars
August is the best month of the year to observe the Perseids. Want to learn more about our universe in the most entertaining way possible? In episode 7, Communication strategies from outer space, NASA Deputy Director for Science Communication (and out-of-this-world storyteller) Michelle Thaller spills the beans.
How to get started with podcasts
Not familiar with podcasts? Fret not. Here's the low-down on audio content.
On your phone, open either the Apple Podcast or Google Play app (Apple's default Podcast app is shown below).
Search for "C2 Podcast" and tap on the show's thumbnail.
Once on the C2 Podcast's page, you can subscribe to it. Every time a new episode comes out, it will be added to the "Listen Now" tab (again, on iPhone).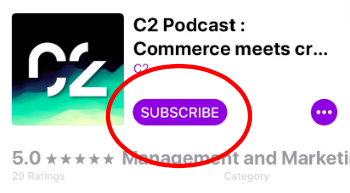 Here's a tip: To listen to the C2 Podcast on the go, it's always preferable to download the content beforehand so as to not use up too much of your data plan.

Enjoy, and don't forget to give us a rating if you love the show.