Credit: Arianne Bergeron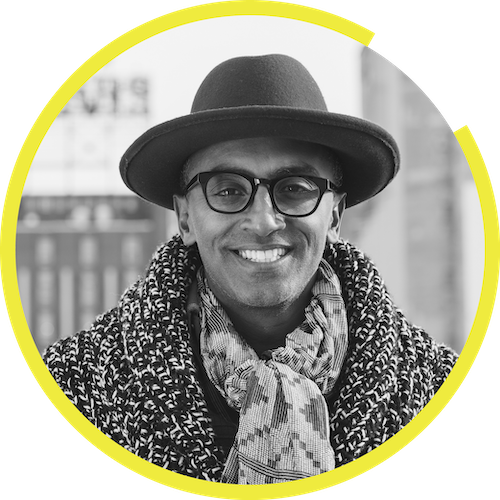 Marcus Samuelsson
Chef, restaurateur and author
"In the modern era, we think it's all about having a faster pace, but I think breaking bread is the coolest thing, even if it's a 4,000-year-old idea."
Top chef Marcus Samuelsson knows that when it comes to bridging gaps between peoples and cultures, food is one of the most potent catalysts for creating understanding and connecting communities that there is.
For the award-winning chef, restaurateur and author, food is both a way of life and a moral compass. It can be used as a lens through which to view the world, helping to form the basis of a more inclusive, equitable and sustainable society — something we can all have a hand in creating.
Marcus's recipe for success:
 1. Shift your attitude towards food
Marcus' meteoric rise in 1990s Manhattan had made him a star, but moving to Harlem,  where he eventually opened his first restaurant, Red Rooster, was a huge wakeup call. "While the distance from Midtown was only three miles, it was the biggest migration I've ever done, everything in your value proposition changes," he explained.
For example, Whole Foods was replaced by C-Town, a grocery chain of significantly lower quality, and a clear indication of how certain areas and cultures were valued differently. Marcus was forced to revisit his preconceived notions about quality, recognizing that the best food was not necessarily blogged about or found in restaurants with white tablecloths. Instead, the best ribs were cooked in the park by a Jamaican lady on the weekends, and the best cornbread was only available in the basement of an after-church program.
"We don't value food in the same way and it's a problem because there is a disconnect between people, values, culture. The way we get around that," he explains, "is by sharing food, travelling, exploring and starting conversations around food."
2. Build it (in their likeness), and they will come
Opening Red Rooster was the culmination of one of those conversations, allowing him to learn the value of including the larger community in his work. Not only did he source locally and create a menu that elevated the techniques and ingredients found nearby, he also kept 30% of his tables free for walk-ins, ensuring his new neighbours could be a part of the journey as well.
"Our work now is constantly 'How can we build something that is both in and of the community?'"
3. Hire a vibrant tribe
He also staffed with that mindset, hiring and training locals and breaking from the mostly male, mostly white traditions he had experienced while training in France. "There were never women or people of colour [in those kitchens] so I knew that the day that I had the opportunity to hire, I was going to hire a much more vibrant tribe." That commitment hasn't gone unnoticed, with The New York Times celebrating the racial and ethnic variety at Red Rooster as "virtually unrivaled," adding "it is that rarest of cultural enterprises, one that supports not just the idea or promise of diversity, but diversity itself."
Marcus' decision to truly walk the walk on issues of diversity continues to feed his success, helping him add over a dozen restaurants to his growing portfolio over the last several years, a lesson that diversity in all its forms is an opportunity, and not a cost, for growing businesses.
4. Know who makes your food
Marcus also stresses that the responsibility of a more sustainable future lies with both the chef and the client. Reducing food waste, for example, is as much about a restaurant's internal dynamics as it is about home cooks buying ingredients with seasonality in mind. "We should not be disconnected from who makes the food, who grows the food, what our responsibility is, and how we eventually connect back to food."
A bread-breaking icebreaker
Understanding the symbolic importance of breaking bread, Marcus began his C2M19 masterclass by doing just that, sharing freshly-baked cornbread flavoured with a berbere spice mix, a traditional Ethiopian mixture both sweet and hot. By doing so, he connected the crowd to the cuisine of his birthplace while introducing the idea that food can act as a bridge between cultures.
Questions or comments? Drop us a line at editorial@c2.biz