As Montreal slowly emerges from the pandemic, people are reengaging with daily life here, often in ways that have been forever changed. To restart Montreal's evening economy, the city has teamed up with MTL 24/24, a nonprofit founded back in 2017. It's mission: to bring Montreal's legendary nocturnal offerings back to life and restore the party capital to its rightful place. 
According to Mathieu Grondin — DJ, producer and General Director at MTL 24/24 — health restrictions have had a major impact on performance venues, bars, clubs and nightlife overall, areas which were going strong pre-pandemic.
"Currently, we're facing significant challenges related to the neighbourhoods in which we operate and noise, in addition to the new stigma associated with nightlife," he explains.
Montreal's nightlife has been a central theme in the story of the city for over a century now. From the age of prohibition to the advent of jazz clubs, nightclubs and afterhours venues, Montrealers have always loved their nocturnal culture and it's been a point of pride for many. 
"Tourists also see us as a city with a very lively night scene," says Grondin. "It's part of the city's identity."
"Nighttime is when a lot of the city's culture happens — when careers are made — and it also provides us with opportunities to socialize, which in turn contributes to our sense of belonging and mental health."
Reimagining Montreal at night
These are some of the topics that were tackled at the second installment of Montréal au sommet de la nuit, a series of talks on the many challenges facing Montreal's nightspots. Held at legendary afterhours club Stereo on October 21-22, 2021, the summit was a collaboration between the Ville de Montréal and MTL 24/24. For the city, partnering with MTL 24/24 happened organically.
"The sectors making up the evening economy are still misunderstood, and they're scattered across the city," says Véronique Doucet, Director of the Service du développement économique, which guides and supports Montreal businesses as they grow. "There's no framework or model of governance that enables Montreal to mobilize the totality of actors. What we found really compelling about MTL 24/24's project was their ability — notably through the Conseil de nuit — to unify and mobilize a wide variety of actors."
Among many issues raised at the summit, one in particular garnered special attention: urban planning. "Urban planning is a very useful way to respond to neighbourhood-related challenges such as noise and the dynamization of nightspots," says Doucet.
"The conference was focused on the public health crisis, of course," adds Grondin, "but also the crucial role nightlife plays in LGBTQ+ communities, people for whom it can create chosen family as well as a safe space. Attendees included big festival organizers, who gave us an overview of their experiences over the summer: the ups, the downs and what we can expect from future festivals."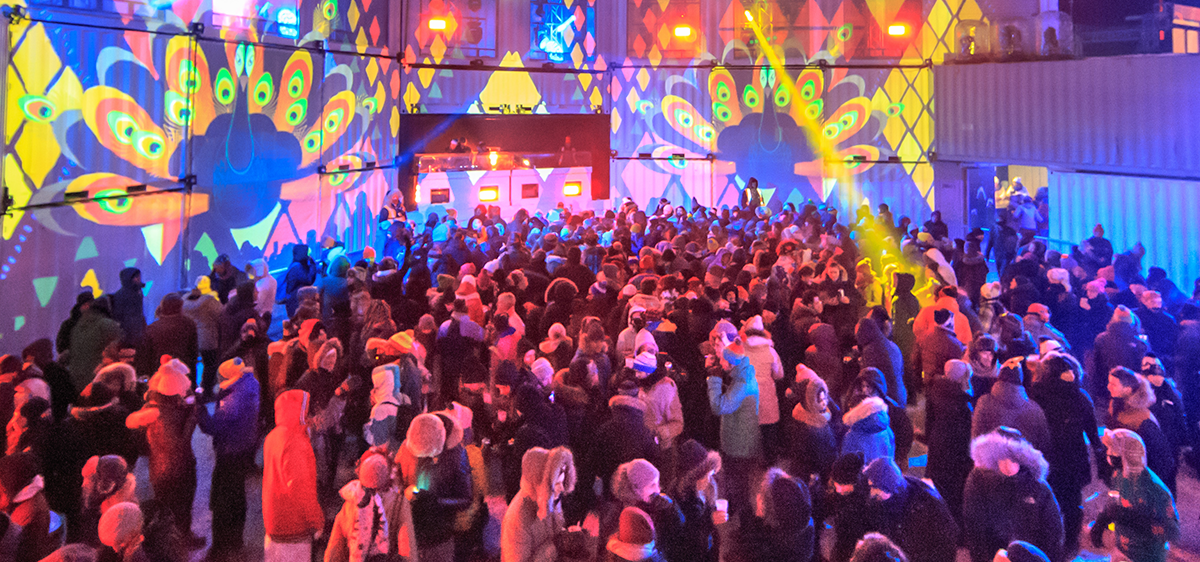 © Igloofest, Miguel Legault
Commercial corridors catering to nightlife
Along with other possible avenues for stimulating the nightlife economy, speakers at Montréal au sommet de la nuit highlighted the potential of the city's main commercial corridors to foster mini-districts around the city that cater to nightlife industries. This would have the added benefit of contributing to the quintessential vibes of a night out on the town, Montreal-style: festive, eclectic, welcoming and safe.     
"I dream of a city where there's always something open," says Grondin, "where you know that, at a certain intersection or on a certain street, 24 hours a day, you can find people. A public place, a park, stairs where people can get together and talk… Well-lit streets where everyone feels safe because the police won't crash it at any moment due to it being too late, where we can all enjoy public spaces that are full of life around the clock."
On top of attracting residents and tourists back to major downtown commercial corridors such as Sainte-Catherine Street, Saint-Laurent Boulevard, Saint-Denis Street and Crescent Street — as well as areas like the Quartier des Spectacles — this vision of a city that never sleeps could also involve little pockets of nightlife taking root in neighbourhoods that are less central. For example, it could complement the northern Montreal, Chabanel business district's industrious diurnal activities with nighttime activities.
 This is a strategy focused on bolstering interest in the city, but no action has been taken as of yet. "We're still in the documentation and organization phase when it comes to assessing commercial corridors for the nightlife economy, and it's interesting to see actors like commercial development corporations reinvigorating certain corridors," says Doucet. "So mobilizing these bodies around the nightlife economy is highly relevant."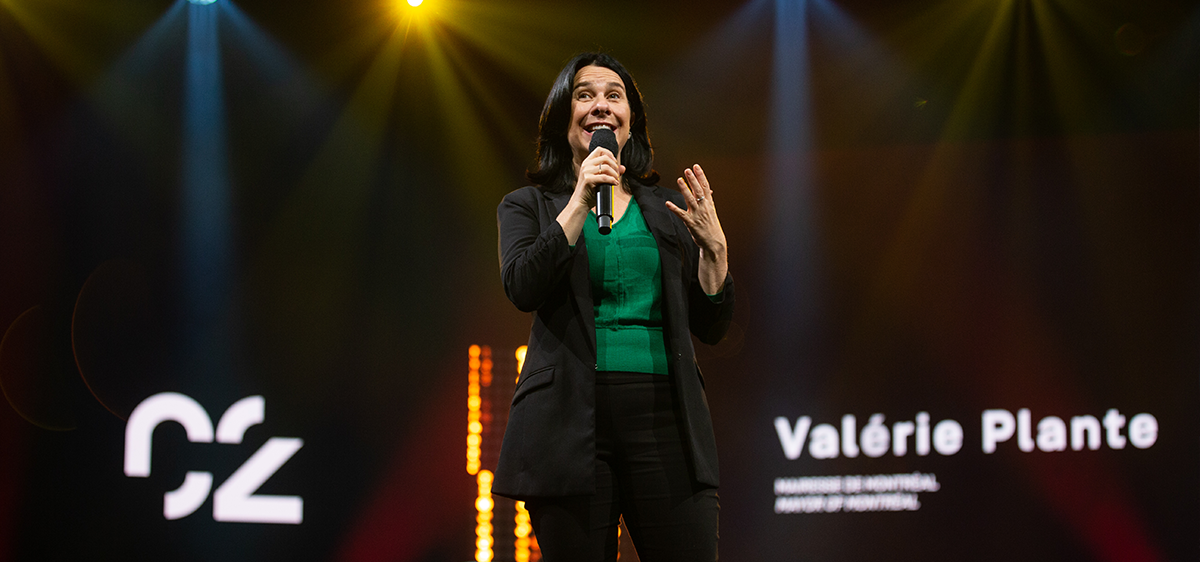 © C2 Montréal, Arianne Bergeron
A promising partnership
In August 2021, Montreal mayor Valérie Plante announced a $600,000 investment over three years to fund a strategic partnership between the city and MTL 24/24. This partnership will be based on a triennial plan to restart and reinvigorate Montreal nightlife. The action plan is three-pronged: a nightlife council to gather and mobilize the whole spectrum of actors in the ecosystem; a research effort to get a grasp on the pandemic's effects on the sector; training and support workshops to help these companies relaunch.  
Doucet reminds us, however, that Montreal's evening economy is complex in areas beyond economics as well. 
"There are a plethora of health, security, inclusion and diversity concerns… It's a sector that's just beginning to restart, a process that will definitely take time and require rallying a wide array of partners and actors to make an observable impact."
 Although the road to recovery may be a long one, Grondin has full faith that the Montreal he yearns for already has all the tools it needs for a total renaissance. But truly supporting and developing local nightlife means revisiting laws around noise and opening hours to protect smaller establishments, which are vital to neighbourhood and cultural life all around the city. 
"Simply being able to operate past 3 am would make a major difference, and I think that's an attainable goal," Grondin says. "Pre-pandemic, we already had a long way to go, but this crisis has put the brakes on our progress. Good news is that, with metropolis status, Montreal has the power to implement these changes without going through Quebec City first."
Despite the many challenges that lie ahead, Montreal nightlife is without a doubt in good hands. Our best bet is that this is a phoenix-from-the-ashes situation, and the city's nocturnal offerings will rise again more vibrant than ever, with laughter, music and new memories echoing in our streets until the break of dawn.
Montreal nightlife: Breaking new ground
Click here to learn more about MTL 24/24's projects and initiatives.
Questions or comments? Drop us a line at editorial@c2.biz