On May 26, C2 revealed two important pieces of news: first, the official theme for C2 Montréal 2022 (September 26-28) is MONTRÉAL IGNITED. At the same time, it was also announced that C2 Montréal, going forward, will now take place in downtown Montreal.
"Indeed, C2 reaffirms its commitment to Montreal as well as our desire to make it shine both here and internationally."
declared Jacques-André Dupont, President and CEO of C2, at the MONTRÉAL IGNITED launch event held at Espace C2 atop the iconic Fairmont The Queen Elizabeth hotel.
"By setting up shop in the heart of Montreal, C2 is reaffirming its commitment to the city, and will bring together leaders, innovators and the next generation of bold business visionaries from Montreal and around the world," added Claudine Blondin Bronfman, Chair of the C2 Montréal Board of Directors and Co-Chair of the Claudine and Stephen Bronfman Family Foundation.
But that's not all: for this special launch event, C2 prepared a series of activities around the theme MONTRÉAL IGNITED. Here are but a few of the highlights.
Compelling conversations
One C2 Montréal's primary goals this year being is to help propel the city's economic recovery, so it was important to first paint a current picture of downtown. Michel Leblanc (President and CEO, Chamber of Commerce of Metropolitan Montreal) and Yves Lalumière (President and CEO, Tourisme Montréal) engaged in a discussion moderated by Habi Gerba (President and Spokesperson, Junior Chamber of Commerce of Montreal & President, Gazelles) about the importance of downtowns and their economic impact.
While the pandemic has turned many things upside down, Leblanc sees a prosperous future for downtown. "I'm quite optimistic for downtown," he said. "The challenge is to maintain the momentum after the summer. We want to keep the downtown alive."
Lalumière, for his part, notes that Montreal has managed to remain dynamic and inspiring despite recent pandemic-related challenges. "Montreal's energy is overflowing, you can see it, it's palpable," he said. "Many people are keen to invest in Montreal."
A second conference — on the theme of entrepreneurship as a lever for economic recovery and innovation, again moderated by Habi Gerba — welcomed Ghislain Picard (Chief, Assembly of First Nations Quebec-Labrador) and Christine Renaud (President and Founder of e180). The latter highlighted the importance of human connections as a creative engine for economic recovery. "We want to put people back at the centre of business and relationships," said Renaud. "How can we revive [city centres] differently as a function of the people who use them?"
For Picard, the economic recovery represents a new beginning and a unique opportunity to participate in economic reconciliation and to discover the talent and vitality of Indigenous entrepreneurs. "We have reached a new starting line. [This is] a great opportunity for a necessary upgrade in values, and our communities are ready to look at the challenges as opportunities," he said.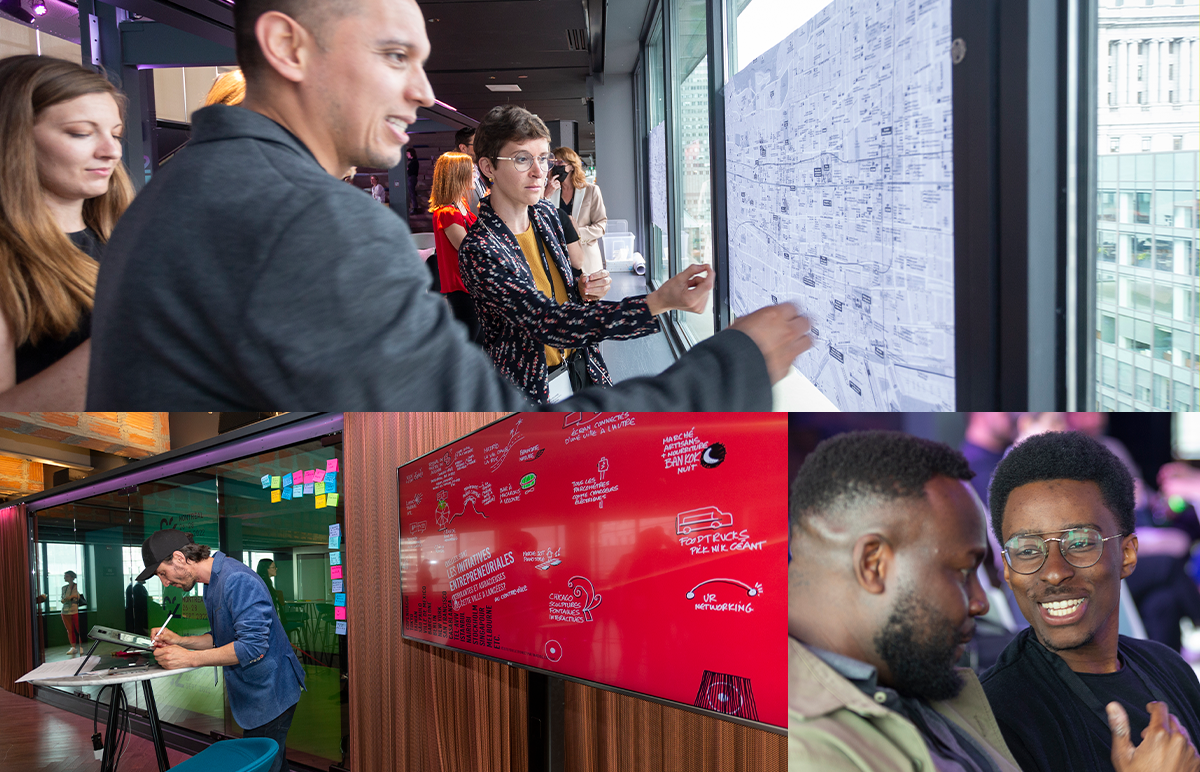 Thought-provoking workshops
It was then the turn of the guests to put their neurons to the test by participating in four different workshops aimed at initiating reflection on the future of work and cities.
The first workshop consisted of a guided meditation skiing participants to envision what work might look like in 20 years. They were then asked to draw their vision of the future on the windows of the room, which resulted in an eye-catching, semi-transparent and colourful mural on the windows.
Another workshop invited participants to look at a map of downtown Montreal and put blue stickers on the places they liked and red stickers on the places they thought could benefit from revitalization. The results? Places with culture and entertainment were declared favourites, while the least welcoming places were those with the least greenery and a lack of pedestrian-friendly street furniture.
In another workshop, participants were asked to delve into their memories of trips to foreign cities and recall interesting municipal initiatives. The main ideas ranged from interactive art installations to shared bike services (like Bixi in Montreal). An illustrator then drew these different initiatives so that participants could visualize the result of their reflections.
A final workshop aimed to identify aspects that are essential to the vitality of Montreal's arts and culture scene. In discussion amongst themselves, participants identified three main areas: the wide array of artistic disciplines present in the city, the large number of activities offered to the public, and the richness that comes from having such a diverse range of audience members at events. In the end, it was determined that it really is diversity (of disciplines, events and people) that makes Montreal's cultural life shine.
Based on the depth of the connections and conversations generated at the MONTRÉAL IGNITED launch event for C2 Montréal 2022, there's a lot to look forward to September 26-28. We are currently putting the finishing touches on an exciting and inspiring program, and we can't wait to bring it to you. Watch your inbox for more news and announcements in the coming weeks.
Secure your spot!
Purchase your Total Experience 3-Day pass for C2 Montréal 2022 today.
Questions or comments? Drop us a line at editorial@c2.biz