Having recently hit 1 billion users, TikTok's viral power is undeniable. Behind the real-life meme "TikTok made me buy it," ubiquitous among Gen Z-ers (and increasingly millennials, their parents and even their grandparents), it's no wonder brands are anxious to incorporate this entertainment giant into their marketing strategy. 
That said, like any craze that begins with the young'uns and spreads — well, at the speed of TikTok — this funny, creative, authentic and above all fast-moving community can feel intimidating to break into.
Luckily, Connie Chan, Creative Strategist at TikTok's Creative Lab, was at C2 Montréal 2021 leading the workshop "How to TikTok." 
"When brands show up on TikTok, it's not advertising," said Chan. "It delivers like an ad, it's loved like native content [and] it looks and feels and sounds like a TikTok."
Geared towards companies looking to get started on the platform, Chan's workshop provided simple tips for finding your brand's TikTok-approved voice. It's by inhabiting one of the following four personas, she explained, alone or combined with the others, that's key to getting a head start on your next viral campaign.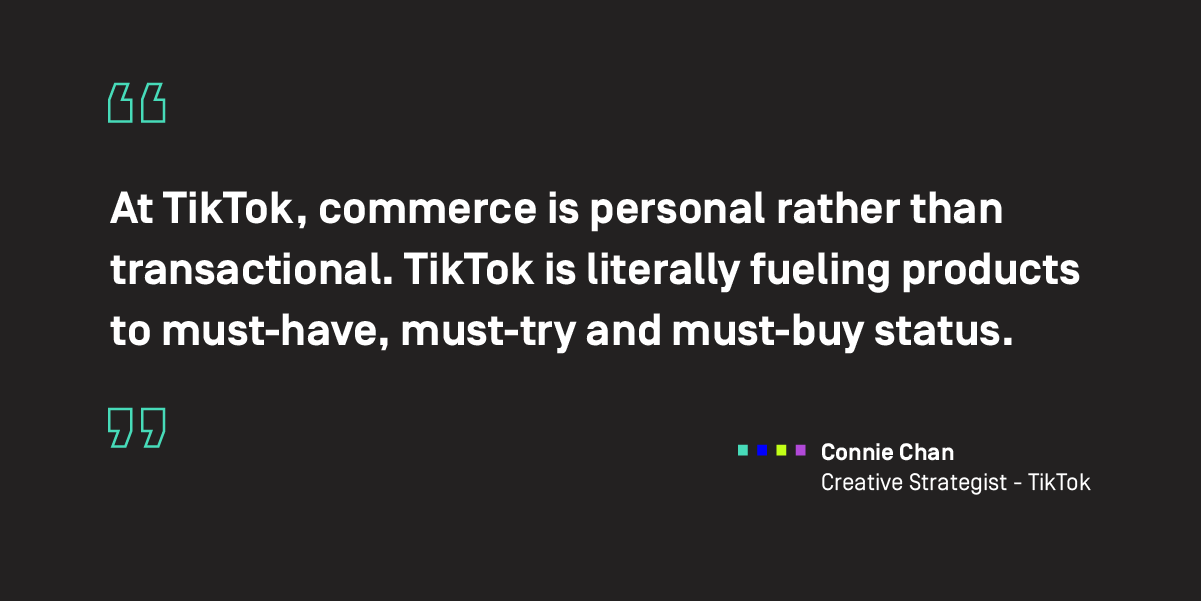 Persona #1: Be relatable
"Characterized by comedic content that anyone can really relate to," this kind of TikTok can be summed up in one word: fun. Capturing everyday life, pranks and ridiculousness, it's "really about being authentic, imperfect, trustworthy and approachable," said Chan. "So think about the [brand] persona as… being a misfit, the friend next door, the next-door neighbor and your best friend."
"At TikTok, commerce is personal rather than transactional. TikTok is literally fueling products to must-have, must-try and must-buy status."
Persona #2: Be informative
"Helpfulness and wisdom" are the backbone of an informative TikTok, said Chan. Her favourite persona, being informative is "a really great way to get started," she said, noting that if you have a product that you want to educate the community about and show them how to use, this is the way to go.
Persona #3: Be inspirational
This category is all about "mastery and bravery," said Chan. It's "about trailblazers, who are about achievement, motivation and defiance. This [voice] is for brands that really want to inspire people to think differently and challenge the status quo." 
Fun fact:
On average, TikTok users consume a movie's worth of content per day. 
Persona #4: Be aspirational
According to Chan, the aspirational voice conveys "status and influence… think luxury, glamorous, premium, high class [and character types like] the model, the rock star, the celebrity and the one percent."
C2MTL blanketed by TikTok
Chan wasn't the only TikTok-er at C2 Montréal 2021. In addition to Chan's workshop, Daniel Habashi, General Manager of TikTok Canada, Middle East, Africa and South Asia, sat down for a fireside chat, "The secret of viral success: Learnings from TikTok Canada." He shared insights into how to engage and build community, and where to do it.
"They say if you can make it in New York, you can make it anywhere… but actually, if you can make it in Regina, you can make it anywhere," said Habashi, referring to Tesher, the Canadian TikToker who did just that.
The fun continued offstage: C2MTL in-person participants learned "What's trending on TikTok" by scanning QR codes on food truck menus — #tellme, #overpumpkin and #upcycle  — and stayed warm under TikTok–branded blankets. At the end of the event, all 160 blankets were donated to Dans la rue, a Montreal-based organization serving the needs of the homeless and at-risk youth.
Get more insights from C2MTL 2021
Check out The Takeaways, a selection of the top action items and key learnings that came out of C2 Montréal, October 19-21.
Want to know more? Watch the workshop and conference
If you were a participant at C2 Montréal 2021, you can watch "How to TikTok " and "The secret of viral success" in their entirety, and all the other conferences as well, in the video on demand section of the C2Agora platform until November 25.
Questions or comments? Drop us a line at editorial@c2.biz