Driving past TOHU, on the iconic Trans-Canada Highway, it's hard to imagine that only three decades ago the two big red-and-white chimneys of the Miron Quarry dominated the neighbourhood skyline. After the quarry's closing, the area served as a landfill. Today, it's on a path to become Montreal's biggest park, bearing the name of Quebec artist and film director Frédéric Back.
Yet, Frédéric Back Park isn't the only green space here — there's also the renowned, completely unique performance complex TOHU. Heated using biogas and passive geothermal energy, and making good use of recycled materials (e.g., beams from the historic Angus Shops railcar factory keep the structure supported), TOHU is a pioneer when it comes to sustainable construction and management.  
Planning a global circus arts takeover
It was in the early aughts that world-renowned circus arts hub Cité des arts du cirque took form in the beating heart of Montreal's Saint-Michel neighbourhood. The nonprofit organization was invested with a mission to build the infrastructure that would make Montreal the global capital of the circus arts. The quarry was no longer in operation and the city had taken over the site with plans to create a waste treatment and disposal centre. It seemed that a green shift was already in the cards for this corner of Saint-Michel.
After two years of talks with the provincial and city governments, TOHU opened in 2004 to become the nation's premier presentation centre for the circus arts, and now also serves as the welcome centre for Frédéric Back Park.
TOHU's mission can be distilled in three short words: Circus, Earth and Human.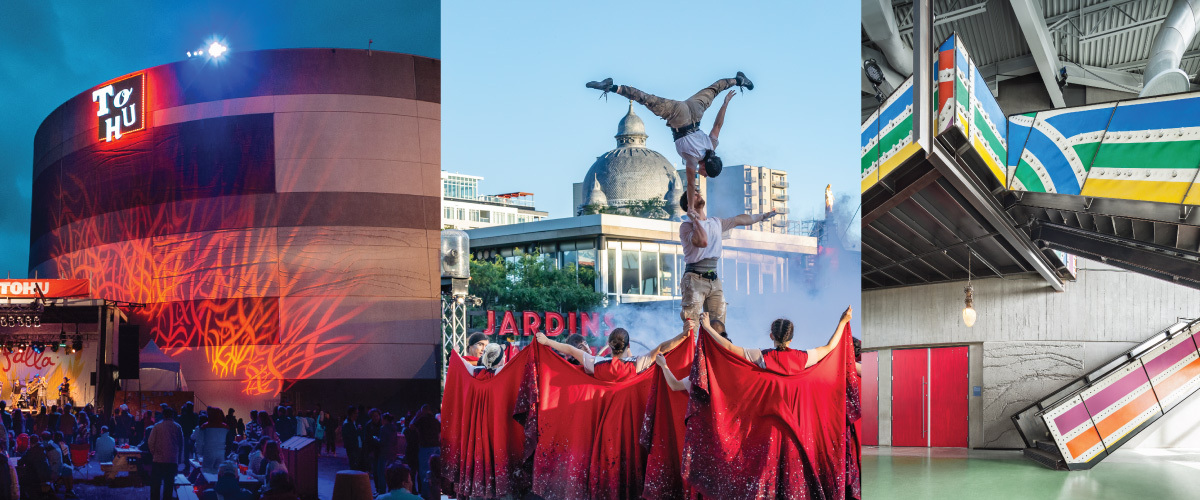 Circus: Movers, shakers and magic makers
In addition to TOHU, the Cité des arts du cirque is also home to the acclaimed National Circus School, and is the international headquarters of C2 Montréal founding partner Cirque du Soleil. Much like Montreal's Cité du multimédia, the concept for TOHU was to bring all the movers and shakers in the realm of circus arts together in one physical setting, knowing full well that proximity would translate into synergy. 
According to TOHU's Executive and Programming Director Stéphane Lavoie, "If we only wanted to sell tickets, we would be downtown like everyone else. We want to grow the discipline. Grow the audience. Build a district. If we want Montreal to become a circus arts hub, well that takes a circus quarter."
Earth: This venue has deep, green roots
After nailing down the location, TOHU took to aligning with its environs. Since the building would be located near the enormous old quarry in the middle of the borough of Villeray-Saint-Michel-Parc-Extension, the social and environmental stakes were high. A run-of-the-mill visitor centre was out of the question, explains Lavoie.
"If you double as the welcome centre for a park, you have to be part of revitalizing said park as well," he says. "Opting for a green building was the logical thing to do."
TOHU is home to the only 360-degree circular hall in North America, which is also a big nod to those iconic big tops of yesteryear. To see sustainable development in action here, you need only scratch below the surface to find features such as biogas heating, a conventional and passive geothermal energy system, hybrid ventilation, and recycled architectural components. There are also green roofs, a naturalized stormwater basin, and gardens with beehives.
TOHU was the first LEED Gold Certified building in Quebec. Although such certification is rare locally, "It had already become well entrenched in the west," says Lavoie. "The ancient Egyptians harnessed geothermal energy too, so this technology goes way back."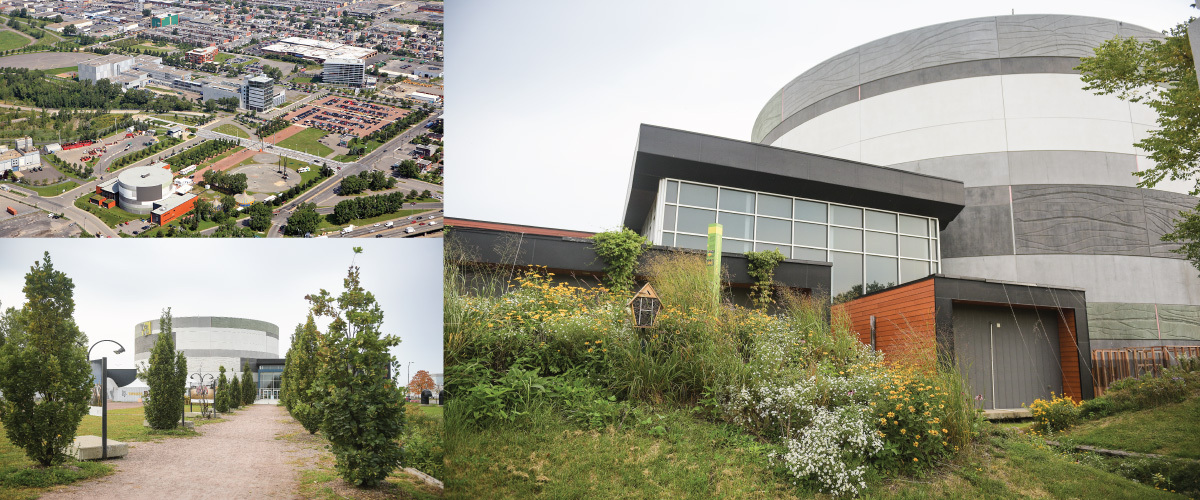 Human: Striving for social equity
Sustainable development isn't just about the environment — it's also about securing social equity. By choosing to become a part of Saint-Michel — one of the most disadvantaged and diverse neighbourhoods in the city — TOHU also decided to participate in the neighbourhood's revitalization.
One prong of TOHU's mission is to demonstrate how culture can be an engine of economic and social development when it's done in alignment with the environment and communities. That's why TOHU offers residents free programming. It has also implemented a local employability policy to offer local youth a range of employment opportunities.
Studied by many other organizations, TOHU's model speaks volumes about how it is indeed possible for an organization to have international reach as well as a positive impact on the environment and social development of the local community it calls home.
Reinventing the big top
The performing arts are always in a constant state of reinvention. However, the pandemic hit the circus arts where it hurts, at its very core — the artists. From one day to the next, the world stopped and artists were forced to return home.
TOHU was able to navigate the storm. It opened a training centre so that circus artists could stay in good physical and mental shape. There were a few shows on Zoom, and some physically distanced performances outdoors, but Stéphane Lavoie says that was short lived. 
"It wasn't sustainable at all — it was a survival tactic," he says. "You need to be able to perform and push yourself to the limit. That will come back. The most important thing now is to stay in the game. Stay in shape, stay creative, stay alive and stay ready to perform when the time is right." 
TOHU is now once again able to host limited-capacity performances in accordance with government-mandated health regulations, and is excited to welcome this hybrid edition of C2 Montréal, both in person and online, for the very first time. Because the show must go on.
A perfect marriage of creativity
TOHU is a truly inspirational venue for creation and experimentation, making it an ideal setting for the reimagined in-person experience at C2 Montréal this year, October 19-21, 2021. Be sure to check out the online and in-person programming.
Questions or comments? Drop us a line at editorial@c2.biz