Who wants more fishbowl?
The big glass box in the heart of the Hangar in Arsenal is set to come alive again this year at C2 Montréal 2018. We invite you to drop by the Aquarium – a live-broadcast radio space – to get up close and personal with our amazing speakers.
This exploratory audio programming brings together thought leaders from all walks of life and different industries to discuss the big ideas coming out of our creative business conference each day.
"These aren't formal interviews but conversations," explains Aquarium producer Élodie Gagnon. "It's about getting the stories behind our speakers, from people all over the business world, and going deeper into the topics they introduced onstage but didn't have time to fully explore."
Catch us on Facebook Live
May 23
9:50 to 10:10 am – Global wealth builder Bertrand Badré (CEO and Founder, Blue like an Orange Sustainable Capital) intervewed by Daniel Franklin.
11:30 to 11:50 – Gender equality activist Sophie Grégoire Trudeau interviewed by Breakfast Television host Joanne Vrakas.
1:50 to 2:20 pm – Legendary oceanographer Dr. Sylvia Earle (President and Chairman, Mission Blue / The Sylvia Earle Alliance) interviewed by Andrew Revkin.
May 24
10:40 to 11:10 am – LGBTQ+ advocate Chelsea Manning interviewed by Elizabeth Plank.
11:30 am to 12:20 pm – Digital governmentalist Siim Sikkut (Government Chief Information Officer, Estonia) interviewed by John Stackhouse and presented by RBC.
1:40 to 2:30 pm – Music is my sanctuary, a radio show hosted by DJ Lexis with special guest Pierre Kwenders, streamed on our Facebook page.
4:30 to 4:50 pm – Eagle-eye investor Jim Coulter (Co-CEO and Founding Partner, TPG).
May 25
2:50 to 3:10 pm – AI explorer Dr. Foteini Agrafioti (Chief Science Officer, RBC & Head, Borealis AI).
3:10 to 3:40 pm – Postdoctoral researcher at Microsoft Research Timnit Gebru and Chief Minority Officer Arwa Mahdawi (CEO, Rent-A-Minority).
5:20 to 5:50 pm – High-rolling entrepreneur Snoop Dogg (Co-Founder of Merry Jane, and Chairman of Leafs by Snoop) and chronic entrepreneur Ted Chung (Founder, Stampede Management & Cashmere Agency; Co-Founder and CEO, Merry Jane).
Unlike a Talk or Panel in the 360 Big Top, "our guests don't know the questions in advance or who they are going to be talking to," Élodie says. "So they come with a really open mind for a great conversation with whomever is in front of them. It's magical."
This year, in keeping with our 2018 theme Transformative Collisions, some guests will be invited to interview each other in order to provoke different angles, questions and perspectives.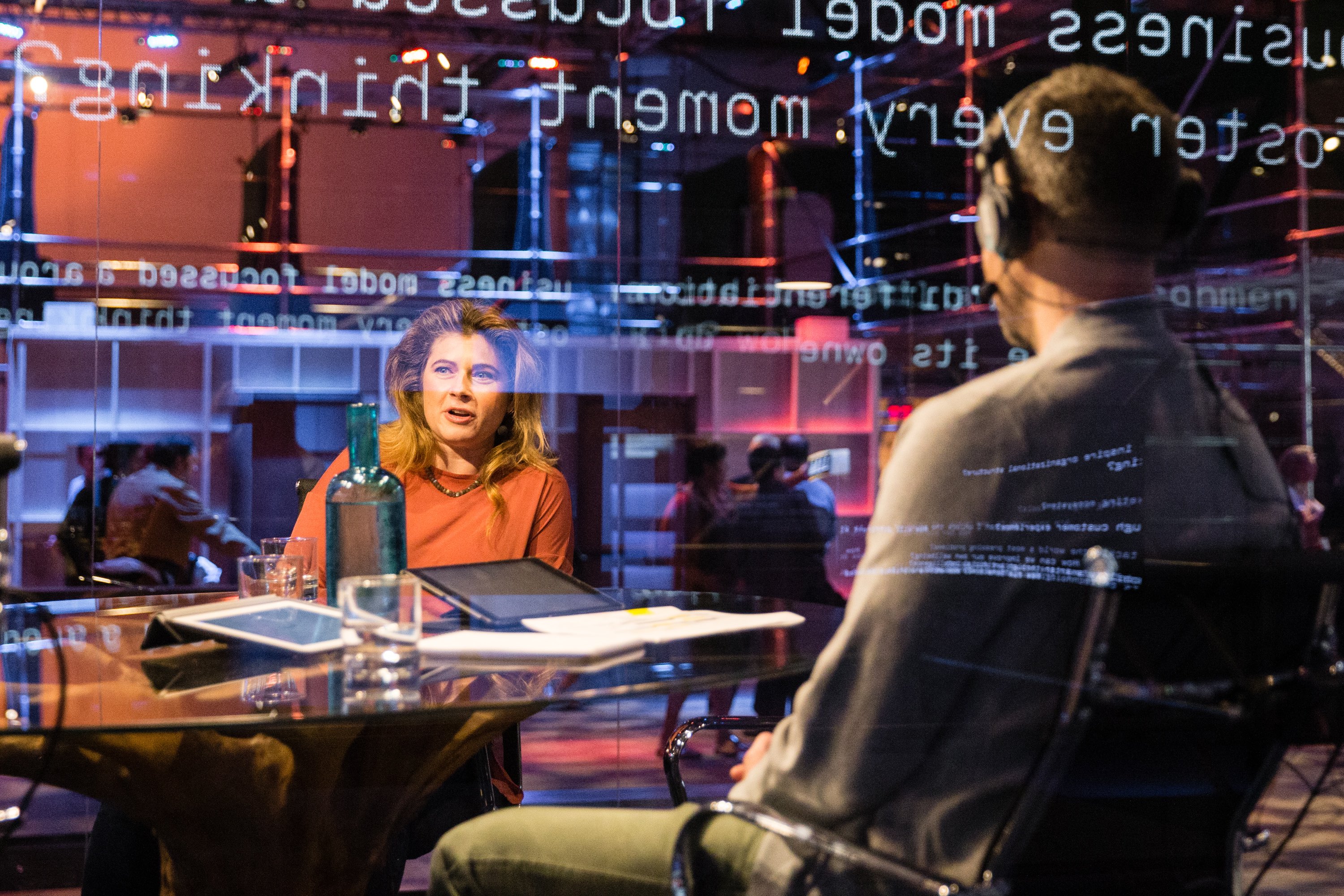 A more casual and intimate setting, the Aquarium is the ideal place to unpack industry challenges, learn the stories behind the story, and to hear how speakers got to where they are today. It's also where we generate ideas that eventually become part of the C2 Podcast, an audio project that tackles big issues with creative answers.
"This is really thought leadership from some of the most creative people in the business world," says Élodie, "so not only is it super interesting, it's also an amazing playground."
You can catch the Aquarium action online during Facebook Live sessions or listen live onsite in the Hangar.