A few gems from a conversation with Steve Wozniak
The legendary co-founder of Apple and Chief Scientist at Primary Data had a packed house laughing and cheering in the 360 Big Top at C2 Montreal 2017. In conversation with Jennifer Reingold, Global Head of Content, Egon Zehnder, he spoke of a childhood spent tinkering with electronics, his hopes and concerns for the future of tech and his ongoing quest to live a fun life.
Woz's two formulas for happiness
H = S – F
Happiness equals Smiles minus Frowns. How to minimize frowns: Don't argue your point. It's ok to think differently. The only person you should argue with is yourself.
H = F3
Happiness equals Fun x Food x Friends (and maybe a fourth "F" too…).
What Woz is excited about
Coding. He's still really excited about tinkering and figuring out how to make "all of these tiny decision-making parts turn into something."
VR. "VR is exciting to me – it takes me to a different place, I forget where I am."
3rd-party apps. "Let's look at true innovation, the things that really change lives. The App Store is the key to that: 3rd-party apps have changed my life more than any single product has."
Artificial intelligence. AI is a vague category. It's not like a human brain. It's a superfast specialist that follows a particular instruction. We're very far from Artificial Intuition, which would replicate the uniquely human ability to select a problem to be solved and choose the methodology to be used.
Woz's prediction
Tesla will win the autonomous car race. Tesla has the charging network down, and in the end, that's what's going to make the difference. Woz knows this because at first, the only six charging stations were located between Elon Musk's home and the Tesla factory in Fairmont. In this way, it's reminiscent of how Apple controls its entire ecosystem of hardware and software.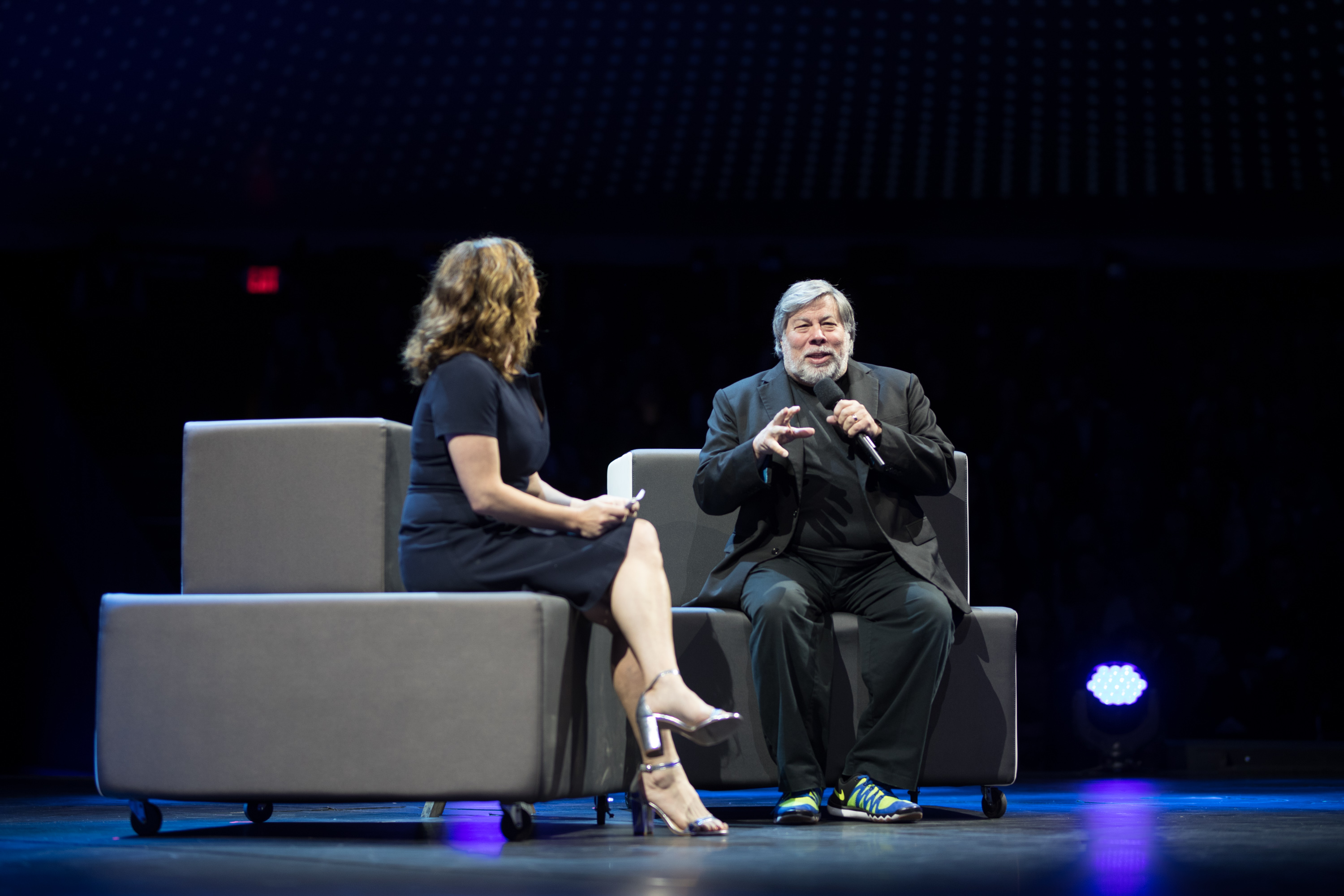 Woz's pieces of advice
Design for yourself. "You are your own best market research."
The Tesla Model S is a family car because Elon Musk himself needed a big car for his big family.
The iPhone is shaped based on what Steve Jobs "didn't find annoying."
Choose working at a startup over going to university (most of the time). But whatever you choose, surround yourself by people you actually have fun with (think about that equation).
Build a working prototype. "You'll own what you sell, and make your work more attractive to investors."
Woz's hopes for the future
Built-in cybersecurity. It's a massive and ongoing problem. Rather than trying to plug all the gaps in a porous system, we should be building a new system, based on a combination of hardware and a new operating system designed to be secure from the ground up.
Owning (or at least profiting from) our own data. "If you make money from my data, I should be seeing a piece of it."
Fun facts about Woz
He taught in a public elementary school in secret for 8 years.
He has no college degree, but has an alias who does (called Rocky Raccoon Clark).