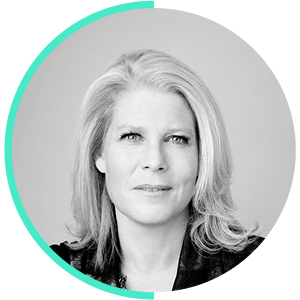 Linda Boff
Chief Marketing Officer, 
GE
2016 Matrix Award winner
CDO Club's 2016 U.S. Chief Digital Officer of the Year
Ranked #5 on Business Insider's 50 Most Innovative CMOs list (2016)
Advertising Women of New York's Changing the Game award (2014)
B2B Magazine Digital Marketer of the Year (2012)
Digital risk-taker
C2 Theme:
A self-described digital explorer, Linda Boff is leading the transformation of GE into a digital industrial company – in essence, turning it into a nearly 125-year-old startup. Linda spearheads GE's global marketing strategy, with special focus on the intensification of customer impact, first-of-their-kind media partnerships and brand acceleration through innovative content. (Live-streaming drone tours of factories? Check. A hilariously cheesed-up Jeff Goldblum hawking light bulbs? Double check.) Her focus is on "marrying the art and science of marketing" while instigating wide-scale change. Linda is passionate about all things digital – specifically new digital media and concepts that fuse content, design and technology – and the New York Giants. Previous business lives have included Chief Marketing Officer at NBC's iVillage as well as key marketing roles at Citigroup and the American Museum of Natural History.
"Gone are the days where content is all about the creative… [you also have to figure out] how, where and when people have the opportunity to bump into that content."
---