Margaret Atwood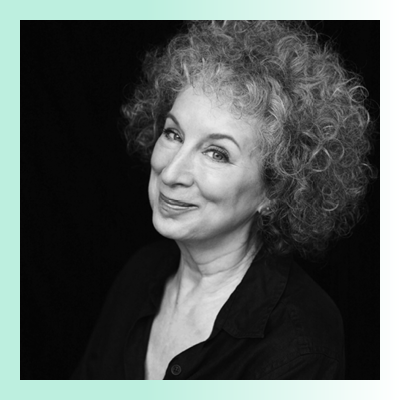 Author
Margaret Atwood onstage at C2 Montréal, May 27
Margaret Atwood has long been a literary titan, but "current events have polished the oracular sheen of her reputation" (
The New Yorker
). With her 1985 novel
The Handmaid's Tale
adapted into an 11-time Emmy Award-winning television series, and its sequel,
The Testaments
, shortlisted for the 2019 Booker Prize, her sharp eye is more crucial — and prescient — than ever. Two blockbuster TV adaptations — first
The Handmaid's Tale
, then
Alias Grace
— have meant that Margaret's vision is reaching a wider audience than ever before.
The Handmaid's Tale
first season received 13 Emmy nominations, winning eight awards, including for Best Drama.
Alias Grace
, now streaming on Netflix, is based on her Giller-winning, Booker-shortlisted murder mystery, and is notable for being written, produced and directed by women. Margaret is the winner of many international literary awards, including the prestigious Booker Prize, Arthur C. Clarke Award, Governor General's Award, the PEN Pinter Prize, the Ivan Sandrof Lifetime Achievement Award from the National Book Critics Circle, and a Guggenheim Fellowship. She is the author of more than 50 volumes of poetry, children's literature, fiction and nonfiction, and is perhaps best known for novels including
The Edible Woman
,
The Robber Bride
,
The Blind Assassin
,
Oryx and Crake
, and
The Year of the Flood
. The
Oryx and Crake
trilogy is being adapted into an HBO TV series by celebrated filmmaker Darren Aronofsky. Margaret's work has been published in more than 40 languages, including Farsi, Japanese, Turkish, Finnish, Korean, Icelandic and Estonian. She co-invented the LongPen, a remote signing device that allows someone to write in ink anywhere in the world via tablet PC. She is also a popular personality on Twitter, with 1.9 million followers.
To learn more about Margaret's many projects, visit margaretatwood.ca