Rev. Dr. Christopher Benek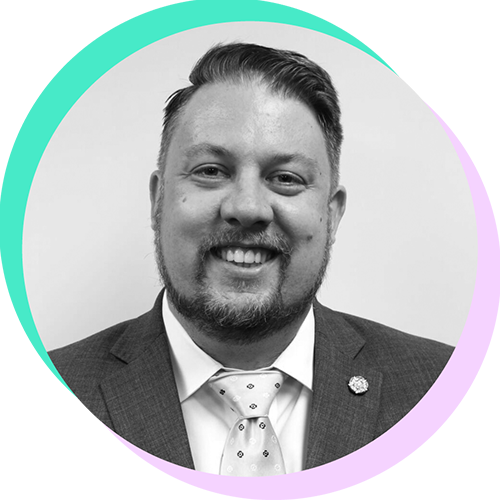 Graduate of the world's first-ever Doctor of Ministry program focusing specifically on theology and science at the Pittsburgh Theological Seminary
Is enrolled at England's Durham University where he is working on a theology Ph.D about the intersection of technological futurism and eschatology
While at college, Rev. Benek was a member of numerous student organizations and clubs, was president of The Pre-Law Club and editor of the student newspaper, but perhaps most intriguingly of all, was the founder of something called "the legendary Hiram College Disco Club."
The Christian transhumanist
Pillar:
Science & Technology
Does AI have a soul? Can tech be forgiven for its sins? Should superintelligent computers weigh in on God? While technology and theology are not often conflated in conversations on emerging computer science, Reverend Dr. Christopher Benek wants to spread the good word. The first self-identified Christian transhumanist in the world, Rev. Benek is a big believer that the human race can evolve beyond its current limitations by means of science and technology. With insights that intertwine faith and practice, the reverend doesn't see Christ's redemption as limited to human beings. "The Holy Spirit can work though AI," he told Gizmodo. "It can work through anything... AI can help spread the word of God. In fact, AI might help us understand God better."
From humble beginnings growing up in the Mobile Acres Trailer Park in Ashtabula, Ohio, Rev. Benek went on to earn master's degrees in divinity and theology from Princeton Theological Seminary. He is an ordained PCUSA Pastor who has served churches in Ft Lauderdale FL – Hilton Head Island, SC – Greenville, OH & Ridgewood, NJ. He later became a founding member and Board Chair of the Christian Transhumanist Association – an international organization focused on encouraging people to develop and utilize technology for Christian purposes. Writing on topics like virtual reality churches, internet trolls, cryogenics and futurism, he was once even invited to preach on The Daily Show with Jon Stewart.
"From a theological perspective, we are God's AI."
Graduate of the world's first-ever Doctor of Ministry program focusing specifically on theology and science at the Pittsburgh Theological Seminary
Is enrolled at England's Durham University where he is working on a theology Ph.D about the intersection of technological futurism and eschatology
While at college, Rev. Benek was a member of numerous student organizations and clubs, was president of The Pre-Law Club and editor of the student newspaper, but perhaps most intriguingly of all, was the founder of something called "the legendary Hiram College Disco Club."