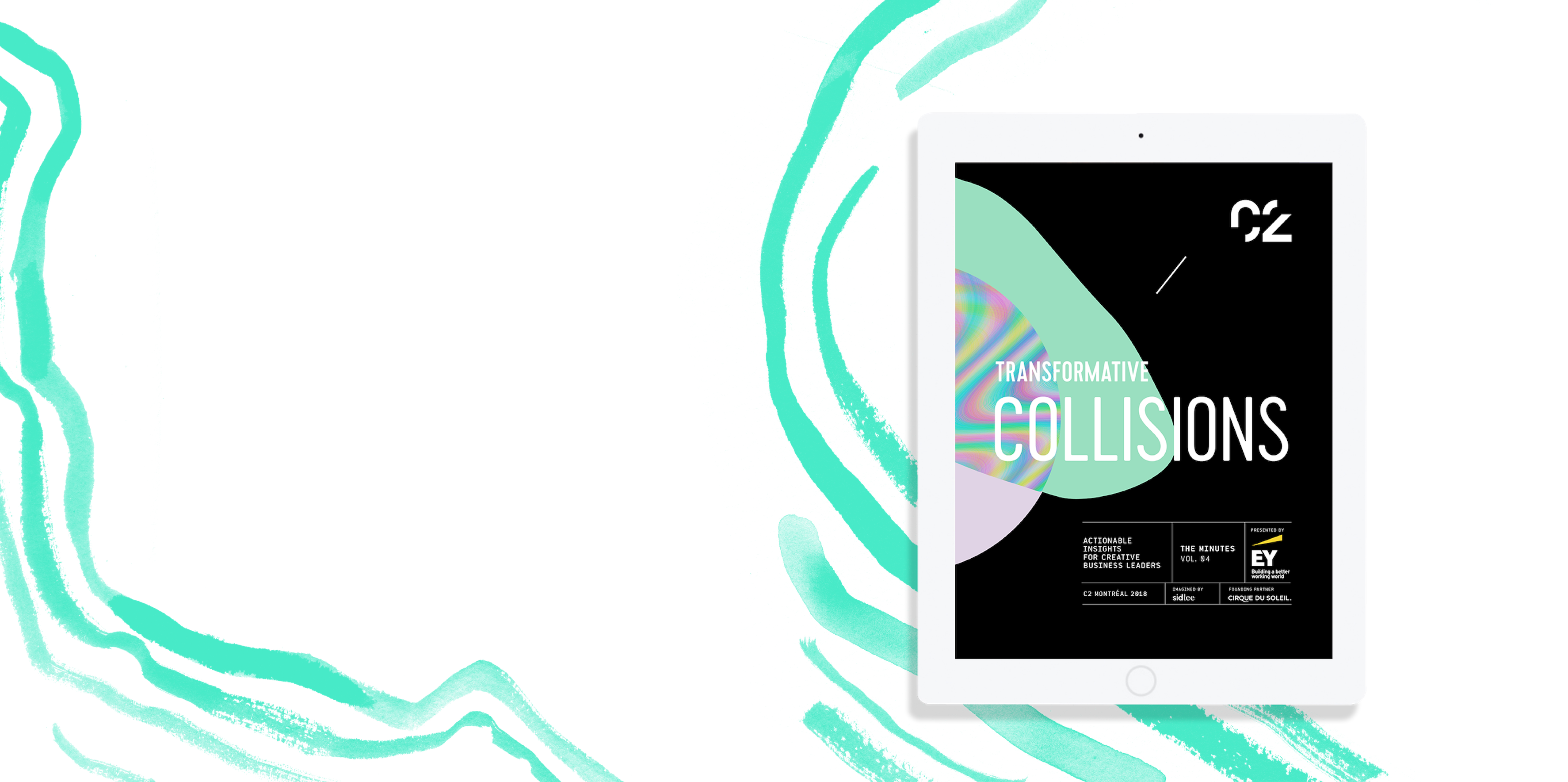 A roadmap for progressive business leaders, edgy entrepreneurs and those wishing to up their creative game
Transformative Collisions: The C2 Montréal 2018 Minutes was conceived to help you spark important conversations with your teams, customers and stakeholders, and provide insight into many of the trends and forces that are shaping the way we do business. We hope you enjoy.
The C2 Montréal 2018 Minutes at a glance
MOVING AUDIENCES
Marketing & Media
Tips from audience whisperers at MailChimp, Spotify, National Geographic Society, The Guardian, BuzzFeed, John Deere, Ryot Studio, AccorHotels and more.


SHIFTING PERSPECTIVES
Art & Design
Creativity lessons from a former Disney animator, a Brazilian experience designer, an award-winning architect, two teenage virtuosos and a flying photographer.

THE NEXT FRONTIERS
Science & Technology
Programmable matter, printed body parts, digital nations, learning machines, cute robots, blockchained chicken, and whistleblower Chelsea Manning on the ethical implications of our data obsession.
CULTIVATING INNOVATION
Leadership & Talent
Legendary investors, an African entrepreneur, an Innovation Minister and the Quebec Premier describe the workforce of the future, two astronauts reflect on the cosmic power of collaboration, and diversity champions show us how to walk the talk.

LIVING IN ECOSYSTEMS
Society & Environment
Go deep into oceans with Dr. Sylvia Earle, find out how to refinance the planet, make sustainable billions, prevent exploitation in your own supply chain and learn to read the early signs of authoritarianism.

SPECIAL REPORTS
Blazing trails: Canadian cannabis legalization — the lowdown on high hopes.
Top chefs and crop stars: A hearty look at the future of food production.