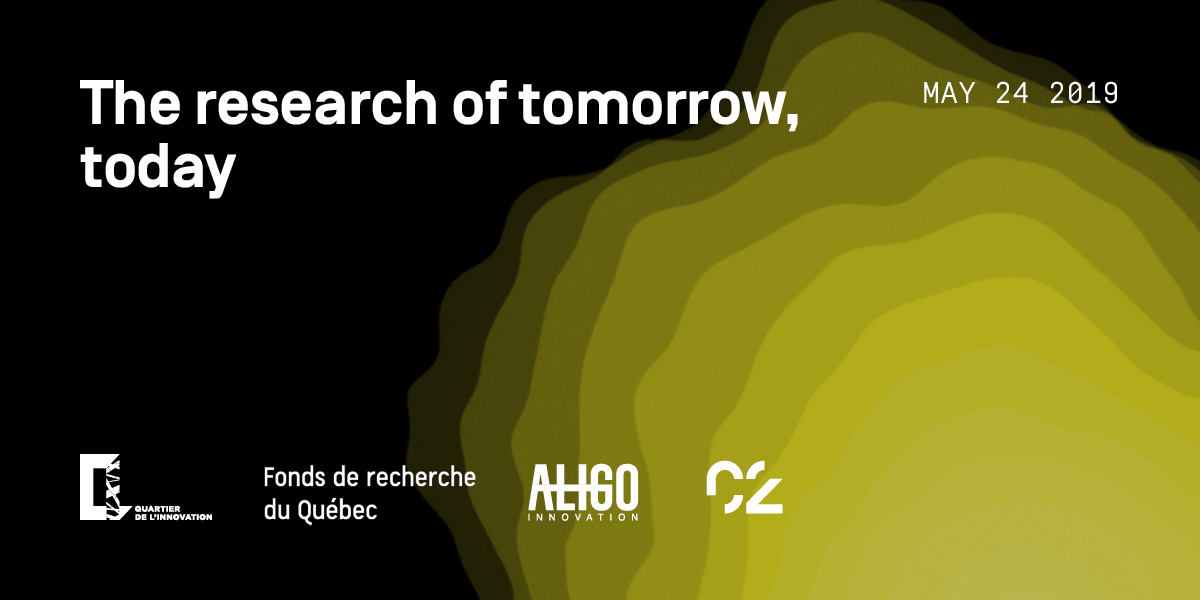 On May 24, 2019, during the 8th annual Montreal Summit on Innovation (MSI), the Quartier de l'Innovation (QI), the Fonds de Recherche du Québec and Aligo Innovation will join forces with experts, university researchers, entrepreneurs and donors to transform ideas into action. At the summit, which runs concurrently with C2 Montréal, MSI will foster discussion around key drivers of innovation and competition stemming from research and, above all, new ways of furthering science to benefit society at large. Through various panels, collaborative experiences and conferences, the MSI and its nearly 240 industry leaders will encourage invitees to rethink current research practices and reflect on the challenges to come.Will the research of tomorrow be more focused on public participation? How will co-development figure into it all? How can we catalyze interdisciplinarity in research? How will research fit into public policy and governance? What kinds of financial instruments can best facilitate its growth?



What to expect
MSI participants will have access to a full day rich in collaborative experiences, key learnings and inspiring encounters with some of the biggest names in innovation. On the agenda:
Best practices: Who's doing tomorrow's research today?
Hosted by Diane Bérard, columnist, Les Affaires
Public and Institutional Policies Affecting Change
Rémi Quirion, Chief Scientist of Quebec
Professor Madga Fusaro, Rector at UQÀM
François William Croteau, Borough Mayor of Rosemont-La Petite-Patrie and Ville de Montréal's Executive Committee Member responsible for the Smart City initiative, information technology and innovation
Noteworthy and Inspiring Practices
Open Science: Mrs. Annabel Seyller, Chief Operating Officer, Open Science, Montreal Neurological Institute and Hospital (Neuro), McGill University
Research and Living Lab: Prof. Jacques de Guise, École de technologie supérieure
University-Industry Partnerships: Nick Laperle, CEO and Founder of EERS. Industrial Research Chair of NSERC-EERS in In-Ear Technologies (CRITIAS)
Intermediation Spaces: Mr. Yves Jacquier, PhD., Executive Director – Production Studios Services Ubisoft Divertissements inc.
Knowledge[s]
Organized by Fonds de recherche du Québec
Expert : prof. Éric Montpetit, Professor of political science and Associate Dean – Academic Personel – Faculté des arts et des sciences, Université de Montréal
The knowledge produced in the scientific community follows a relatively clear approval process, one that includes publication in a peer-reviewed scientific journal. But what about knowledge produced otherwise? Think of the unique knowledge of a homeless person who has lived on the streets for more than 10 years, the specific knowledge carried by indigenous communities and transmitted orally from generation to generation or the know-how of a teacher who has accompanied generations of children to school… How do we recognize and validate them?
When researchers, practitioners, experts and citizens share a desire to generate new knowledge together, they interact with each other, respond to each other and sometimes confront each other. Based on key concepts presented by an expert, participants will determine the best conditions for these different actors to work together.
Shaping new models of financing to promote — and get the most out of — the fruits of public research
Organized by Aligo Innovation, in collaboration with District3, with an active participation from Tandem Launch
Expert : Jesse Vincent-Herscovici, Vice President, Business Development, Mitacs
Exploring new models of public research financing to maximize research promotion taking into account the following: necessity, what's at stake, opportunities, challenges and the level of government engagement in the commercial value of public research.
Limited space, RSVP before 10:30 am with the MSI team on site
Meal provided
The City of Montreal will be hosting a mid-day discussion at its suite, located in the C2 Agora, in which participants will discuss the importance of data in solving urban issues. In order to make Montreal an innovative, resilient and sustainable city, how should the city collect, manage and use this data effectively given that numerous public, private and research stakeholders are involved in different aspects of the data's production, management, analysis and use?
Moderated by Mr. Patrick Lozeau, planning consultant from the City of Montreal's Urban Innovation Lab (LIUM)
Promoting pure research to ensure long-term innovation
Braindates are targeted meetings based on knowledge sharing. Ten conversations in groups of five on the topic of "research of tomorrow."
Presented by Innovitech
In a globalized world, how do you glean the most potential from the intellectual property coming out of universities?
Hosted by Isabelle Foisy, CEO, QuébecInnove
What are the newest strategies and most innovative tools for promoting intellectual property coming out of universities? How can we find new uses for high-potential orphaned technology? What tensions exists between openness, internationalization and protectionism? How can we best feed an ecosystem that encourages entrepreneurship in academia?
Mrs. Anne-Marie Larose (PhD/MBA), CEO, Aligo Innovation
Mr. Richard Chénier, Director, Centech
Dr. Eng. Olivier Vande Vyver, Operating Director, LIEU Belgium (Liaison Entreprises-Universités)
Dr. Tuba Tamaç, Partner and Patent Agent, BCF Business Law
With the presence of Mr. Pierre Fitzgibbon, Minister of Economy and Innovation at Government of Quebec and Mrs. Véronique Doucet, Director, Service de développement économique de la Ville de Montréal.
And more still!
Bold research for an innovative Quebec
Echoing C2 Montréal 2019's theme of TOMORROW, MSI participants and panellists will collectively reflect on propelling Quebec to the vanguard of research and development. Together, they'll explore the groundbreaking initiatives and new paradigms that are already shaping the future of science and innovation. For instance:
Engaging citizens and systems users to advance science (co-developing research)
New means and models for funding research
Open science and open data
Cross-sector trends and never-before-seen collaboration
Technology and knowledge transfer
Highlighting the value of research and intellectual property

Please note that your MSI pass gives you access to the C2 Montréal site and the Braindating Lounge (to the exclusion of other C2 Montréal-related activities).