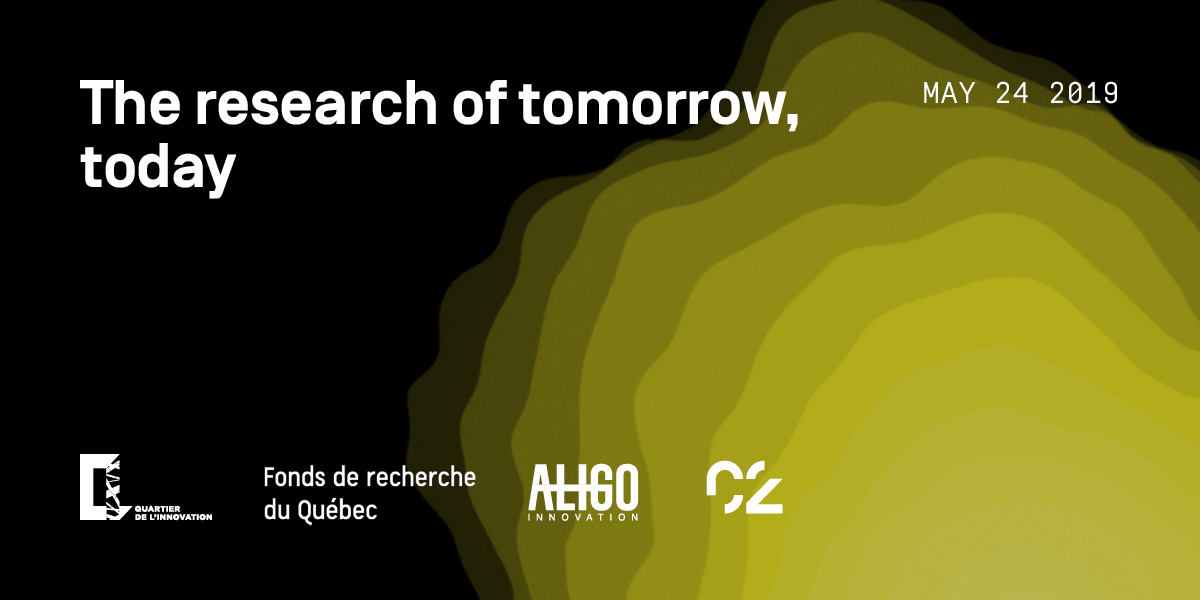 On May 24, 2019, during the 8th annual Montreal Summit on Innovation (MSI), the Quartier de l'Innovation (QI), the Fonds de Recherche du Québec and Aligo Innovation will join forces with experts, university researchers, entrepreneurs and donors to transform ideas into action. At the summit, which runs concurrently with C2 Montréal, MSI will foster discussion around key drivers of innovation and competition stemming from research and, above all, new ways of furthering science to benefit society at large. Through various panels, collaborative experiences and conferences, the MSI and its nearly 240 industry leaders will encourage invitees to rethink current research practices and reflect on the challenges to come.
What to expect
MSI participants will have access to a full day rich in collaborative experiences, key learnings and inspiring encounters with some of the biggest names in innovation. On the agenda:
Best practices: Who's doing tomorrow's research today?
Hosted by Diane Bérard, columnist, Les Affaires
Public and institutional policies affecting change
Rémi Quirion, Chief Scientist of Quebec
Professor Madga Fusaro, Rector at UQÀM
Noteworthy and inspiring practices
University-industry partnerships: Nick Laperle, CEO and Founder of EERS. Industrial Research Chair of NSERC-EERS in In-Ear Technologies (CRITIAS)
Open science: McGill University's Montreal Neurological Institute and Hospital
Public engagement in research for a new way of building knowledge
In partnership with Fonds de recherche du Québec
Society's challenges are many and they call for unprecedented action. The public can get more involved in research and contribute to building the know-how that will change our world. In this workshop, you'll discover the underlying principles of civic engagement in research and the new platforms for this engagement to be developed and articulated.
Shaping new models of financing to promote — and get the most out of — the fruits of public research
In partnership with Aligo Innovation
Exploring new models of public research financing to maximize research promotion taking into account the following: necessity, what's at stake, opportunities, challenges and the level of government engagement in the commercial value of public research.
Subject and speaker to be confirmed
Promoting pure research to ensure long-term innovation
Braindates are targeted meetings based on knowledge sharing. Ten conversations in groups of five on the topic of "research of tomorrow."
In a globalized world, how do you glean the most potential from the intellectual property coming out of universities?
What are the newest strategies and most innovative tools for promoting intellectual property coming out of universities? How can we find new uses for high-potential orphaned technology? What tensions exists between openness, internationalization and protectionism? How can we best feed an ecosystem that encourages entrepreneurship in academia?
With the presence of Mr. Pierre Fitzgibbon, Minister of Economy and Innovation at Government of Quebec
And more still!
Will the research of tomorrow be more focused on public participation? How will co-development figure into it all? How can we catalyze interdisciplinarity in research? How will research fit into public policy and governance? What kinds of financial instruments can best facilitate its growth?
Full and detailed programming will soon be revealed — stay tuned!
Bold research for an innovative Quebec
Echoing C2 Montréal 2019's theme of TOMORROW, MSI participants and panellists will collectively reflect on propelling Quebec to the vanguard of research and development. Together, they'll explore the groundbreaking initiatives and new paradigms that are already shaping the future of science and innovation. For instance:
Engaging citizens and systems users to advance science (co-developing research)
New means and models for funding research
Open science and open data
Cross-sector trends and never-before-seen collaboration
Technology and knowledge transfer
Highlighting the value of research and intellectual property

Please note that your MSI pass gives you access to the C2 Montréal site and the Braindating Lounge (to the exclusion of other C2 Montréal-related activities).