It could be said that Vimeo's Anjali Sud is exactly the right CEO at exactly the right time. Much has been made of Anjali's remarkable nonlinear pathway right to the top of one of the world's biggest and best-known video-streaming platforms, what appears to be a pinball-like career trajectory were it not for the fact that every change in direction along the way was entirely deliberate.
Anjali's nonlinear ascension — "I did everything from investment banking to being a toy buyer to marketing diapers online to coming to Vimeo to do marketing," she told Forbes — can be explained by her own innate curiosity and understanding of the value of diverse learning experiences. It taught her to look where others aren't looking, to own her own shortcomings and to lead with mission. And how to swiftly pivot.
At a time of global crisis, when both individuals and businesses are being compelled to undertake major shifts, Anjali's insight and perspective as someone who has orchestrated profound organizational change has never been more relevant. With that in mind, we are more than pleased to announce that Anjali will be joining us for the next instalment of the C2 CONVERSATIONS – LIVE series, taking place June 17, where she will discuss "Leadership lessons for nonlinear times" in conversation with C2's Vice President of Marketing and Audience, Julia Cyboran.
The Pivoter-In-Chief
At Vimeo, the 37-year-old Anjali leads a global team of over 600 individuals dedicated to empowering creators and businesses with the tools to tell their stories. Previously, she served as General Manager and Head of Marketing, where she oversaw the growth of members using the platform — it now has over 175 million registered users.
When Anjali assumed the mantle of Vimeo CEO in 2017, she took the entertainment-streaming service in a different direction, evolving it into a technology platform for content creators and businesses. With the onset of the COVID-19 pandemic this year, it has seen a huge surge in growth. "We woke up a few weeks ago to unprecedented demand," she told The New York Times in mid-April. "We're seeing increased usage across our products of two times, five times, 10 times."
As part of C2 CONVERSATIONS – LIVE, Anjali will dig into the topics that are of concern to both Vimeo and businesses around the world, including how to rapidly adapt to unforeseen challenges, what it takes to lead and manage a team remotely, and the way to sustain traffic in the wake of the crisis, among other subjects. We look forward to having you join us.
The accolades
Anjali was named in Fortune's "40 under 40," Adweek's "Power List" and The Hollywood Reporter's "Next Gen Under 35," and is a designated Young Global Leader of the World Economic Forum.
Get in on the CONVERSATION

Part of C2's ongoing REINVENTION, the new, online C2 CONVERSATIONS – LIVE series consists of curated Facebook Live discussions that are programmed regularly in the lead-up to the next edition of C2 Montréal. They feature high-profile industry leaders, world-class speakers and field-leading experts sharing unique insights and thought leadership while starting discussions around some of the most important topics of the day.
Each conversation is 40-minutes long and audiences will have the opportunity to interact with speakers through a Q&A component at the conclusion of the discussion. Previous C2 CONVERSATIONS – LIVE sessions have taken place with IBM AI expert Ritika Gunnar ("Using AI for agile innovation"), farmer and educator Jean-Martin Fortier ("Food sovereignty") and Burning Man CEO Marian Goodell ("Reimagining Burning Man").
Join C2 CONVERSATIONS – LIVE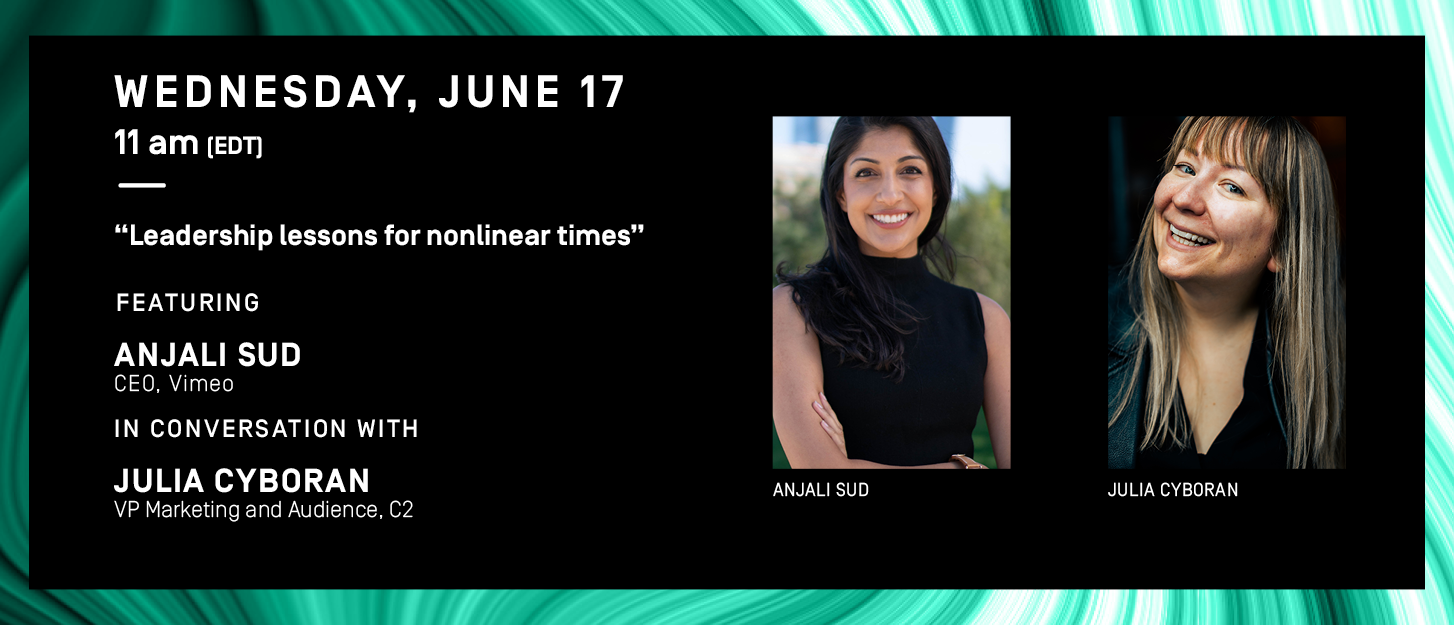 Don't miss out on this unique opportunity to hear from one of the business world's rising stars, June 17.
Questions or comments? Drop us a line at editorial@c2.biz