Like that first salty-sea breeze you catch a whiff of on the way to the beach, the scent of good things to come, of something exciting just over the horizon. There is optimism in the air and the growing sense that it's time to reset, reconnect and reengage.
It's in this spirit of renewal that we are very excited to announce the return of C2 Montréal 2021, both online and in person, October 19-21. (Please note that, because of COVID-19 restrictions and ever-evolving public health recommendations, in-person access to the event is currently limited to 2020 pass holders and partners.)
At C2 Montréal this year, we're committed to providing you with exciting ways to learn, connect and collaborate creatively.
For three days, we'll be exploring a dynamic mix of inspiring physical and digital experiences designed to help you reorient, revitalize and kick your business game up a notch. Or three.
As we reemerge after a challenging pandemic year, we're stoked and can't wait to share the many things we have planned. In the meantime, here's a first glimpse of what's to come…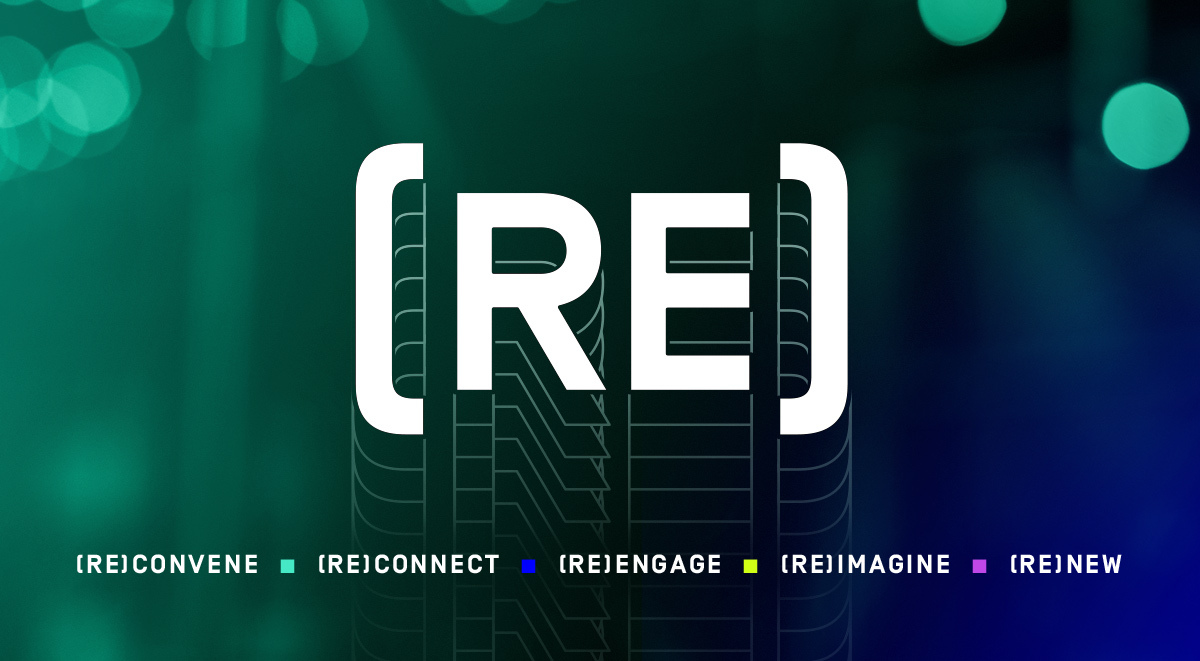 Introducing the theme for
C2 Montréal 2021
Each year, we choose a different theme to orient the conversation(s), direct our actions and inspire you. To that end, the theme for C2 Montréal 2021 is (Re), which we believe speaks powerfully to the moment we now find ourselves in.
It's time to (Re)convene, (Re)connect, (Re)engage, (Re)imagine and (Re)new.
It's also time to ask yourself some pointed questions: What do you really need right now? To be reinspired and reenergized? To reset and revitalize your vision? To rethink how you do things? Reengage with your team, networks and community? How can you reconnect with what is most relevant today, now that the world is a different place?
At C2 this year, we're going to help put you on the path to the answers that you need.
As anyone who has participated knows, celebration is deep in the DNA of C2 Montréal, and this year we'll be celebrating an extra-special milestone: our 10-year anniversary as Montreal's flagship business event.
To mark the occasion, and in keeping with C2's role advancing both business and society, we are launching a new, long-term initiative designed to celebrate, elevate and grow an impactful community of creative young business people. This year, and for years to come, we'll be opening our doors, removing barriers to entry, and welcoming the next generation of business leaders to C2 Montréal. 
By renewing our commitment to the business community with this initiative, we are repopulating our talent pools with fresh faces and visions for entrepreneurship by bringing in more women, students and members of the IBPOC and LGBTQ2S+ communities. 
With a target of welcoming thousands of new voices to C2 Montréal, more than ever we will offer an inclusive business ecosystem where diverse people from different communities can grow and thrive. Stay tuned for more details on how to help sponsor the next generation.
At C2 Montréal, there are a few constants that we've all come to rely on. One thing that hasn't changed since day one is that C2 is in a constant state of change: of evolution, innovation, self-evaluation and improvement in order to provide you with the best possible experience at each event. And never has this been more true than this year.
Something else that hasn't changed is our commitment to providing a wide range of inspirational programming. Participants will be able to take advantage of next-level networking, collaborative and learning opportunities, exclusive experiences and the signature creative C2 content you've come to expect. Here are just a few of the things on tap at C2 Montréal 2021…
Rethink what's relevant with
curated content

Join us for top-tier speakers, expert-led masterclasses, solution-driven workshops and other pertinent mainstage programming guided by our five content pillars:

Be regaled by speakers par excellence
As always, C2 will set the stage for invaluable insights and "ah-ha!" moments at talks featuring an engaging array of business innovators, social game-changers and world-class experts — the latest and greatest in many diverse fields as well as the next generation of leading-edge entrepreneurs. While we can't tip our hand just yet, we think you'll be just as excited as we are. Stay tuned.
Reengage the business community through
collaborative experiences
New, multifunctional formats will mix networking, audio and artistic content to create new ways for you to connect, learn and share your big ideas.
Return to C2's signature infusion of art
All programming and physical environments will feature a broad palette of artistic talents — musical performances, visual expositions, evocative environments, creative conversation starters, culinary art and more — from Montreal and abroad.
Rekindle your love of Montreal
We'll be shining a light on the city that is our creative inspiration and our muse as it undergoes its reawakening, celebrating once more all the things that make it a one-of-a-kind setting for a one-of-a-kind event. We hope you will join us.
Don't wait
It's never too soon to start planning your C2 Montréal experience. Online passes are now available at a special price for a limited time – buy your pass now and save $100.
Due to current COVID-19 restrictions and ever-evolving public health recommendations, in-person access to the event is at present limited to 2020 pass holders and partners. Sign up for the waiting list now!
Questions or comments? Drop us a line at editorial@c2.biz