The GSOFT offices in Montréal are big and bright, and the playroom dedicated to employees has much more to offer than the now-classic ping pong table and beer fridge: it has a skate ramp. Yet GSOFT CEO Simon De Baene doesn't think employee satisfaction can be found in those types of gimmicks. To him, the key is to find happiness.
The co-founder and de facto "Chief Happiness Officer" of burgeoning software company GSOFT, Simon is a vocal proponent of a notion that should be obvious to everyone, but far too often isn't: happy campers make happy workers. To that end, he has gone to great effort to make GSOFT the poster-workplace for employment with a smile. And it hasn't gone unnoticed.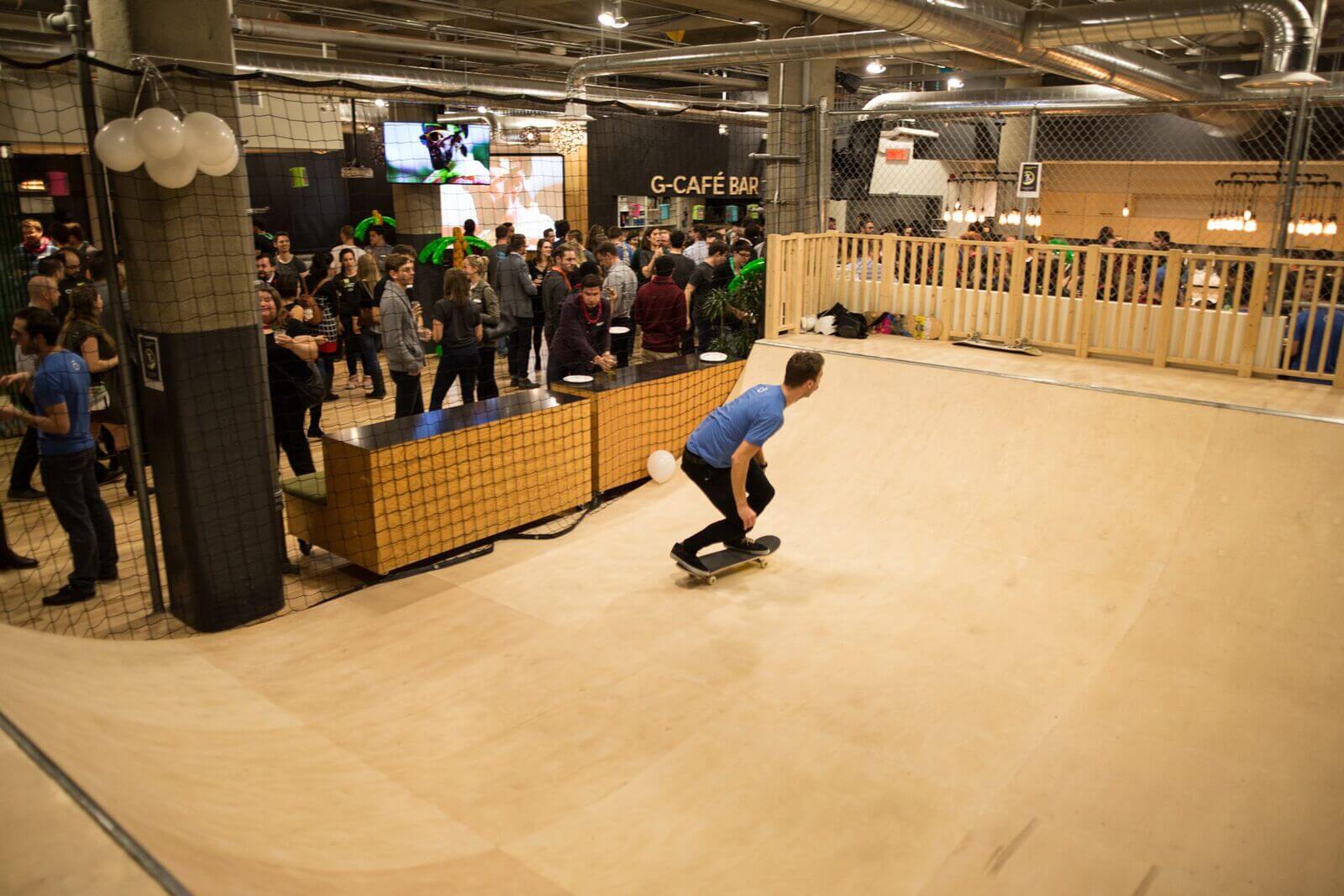 Happy times indeed
This week, Simon and another C2 Montréal alumni, AI and deep learning pioneer Prof. Yoshua Bengio of Element AI, were honoured as "people of the year" by Infopresse, Québec's go-to media for everything advertising-related. Both Simon and Yoshua were lauded for the impact they're having in their respective milieus, and for their "vision, ideas and entrepreneurial spirit."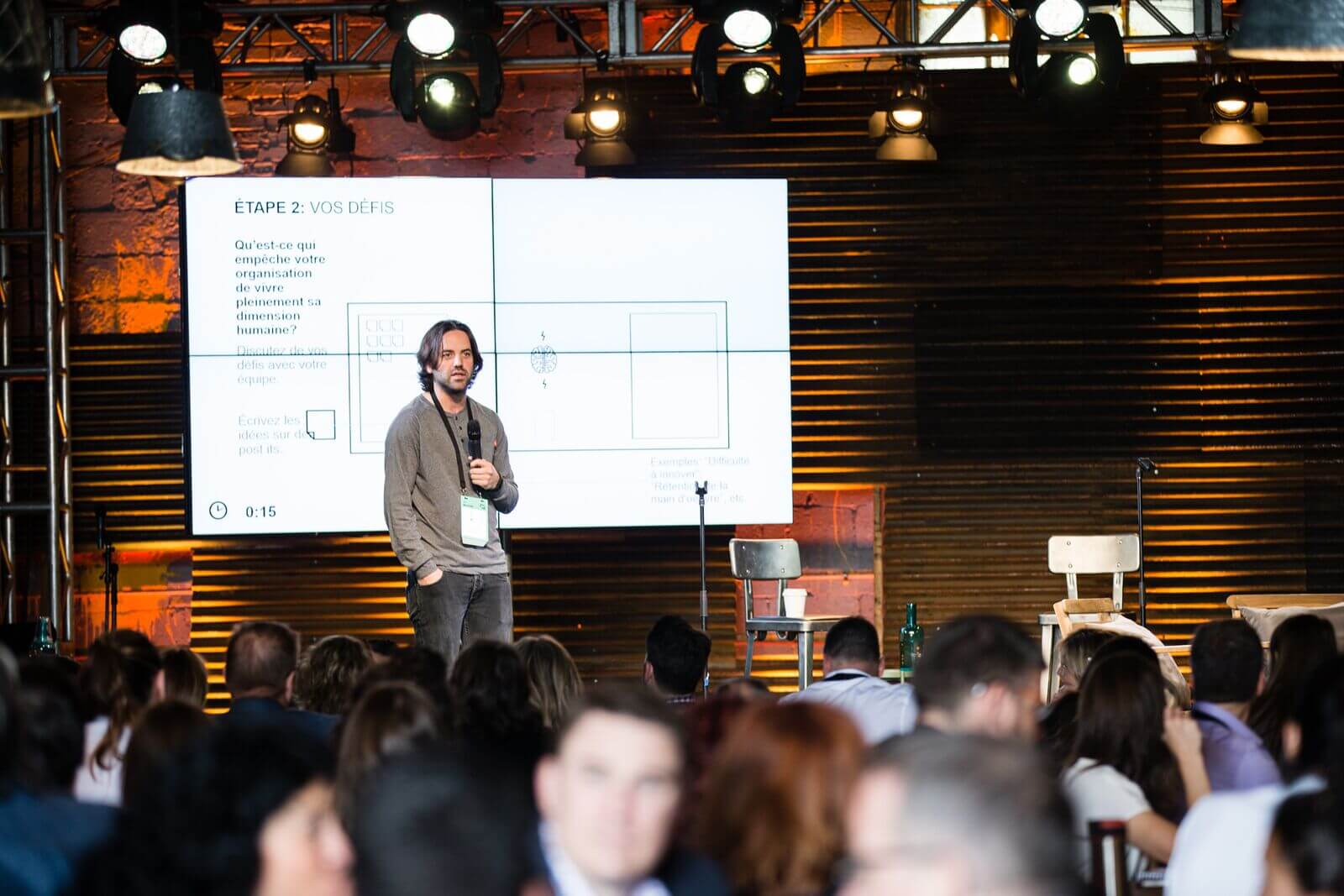 At C2 Montréal 2017, Simon hosted a masterclass where participants journeyed along his 10-fold path to happiness and proposed solutions to the key employee needs that Simon identifies. Here's what they came up with…
Employee needs
Proposed solutions
Personal growth

Autonomy, skill improvement and belief in the company's bigger purpose.

· Organize activities during which employees share their work-related passions with one another.· Make employees' career dreams come true (like going on a humanitarian mandate abroad).
Recognition

Quality and the frequency of recognition that employees receive and give each other.

· Come up with some sort of trophy or another physical sign of recognition that employees can give each other to highlight good work.
Relationship with colleagues

How well do colleagues know each other? How often do they communicate? What's the quality of their interactions?

· Organize activities outside of the office during business hours (so that everyone can participate), allowing employees to blur the lines between their work and personal lives.
Company alignment

How well do employees know the mission of the company? Do they align themselves with those values?

· Recruit people whose values are in line with the organization's in order to build a trust relationship that will support flexible work measures (like working from home).
Relationship with managers

How well do employees know the managers in the company? How often do they communicate with their managers? What's the quality of these interactions?

· Switch up the roles between manager and employee to help them better understand the day-to-day of the other.

· Plan regular chats between employee and manager to discuss topics unrelated to operations.

Wellness

Employee health, sleeping habits, eating habits, energy levels and exercise frequency should be taken into account.

· Provide employees with healthy food options by having a complete kitchen or even a chef.
Feedback

Respect and transparency are the basis of trust.

· Discuss the future with colleagues.

· Plan discussions about what makes us proud in our work and in our team. Build from there.

Ambassadorship

Pride and willingness to recommend the company.

· Create activities between colleagues and leaders in relation to the mission and the vision of the company.

· Give employees the opportunity to go out in the field with their leaders and learn from them.

Happiness

Work and home happiness can be supported through a client-first approach.

· Adopt a concierge-like approach to things such as child care and food delivery in order to take those considerations off the mind of your employees.
Satisfaction

Make sure employees are happy with compensation, benefits and their overall work environment.

· Stimulate the entrepreneurship of employees by making them create their own projects and realize their own ideas.

Learn more
GSOFT's Officevibe software has published a whole
ebook
on these 10 key metrics of engagement.
This article was excerpted from the C2 Montréal 2017 Minutes, which you can read in their entirety here.