Community is a powerful thing, and learning how to harness it is essential. Individuals can do individual things, but it takes communities to accomplish meaningful change. From a marketing and sales perspective, it's important to remember that while industries and companies create things, it's brands that people and communities interact and have experiences with every day. 
In Sid Lee's collaborative workshop at C2 Montréal 2021, "How to use the notion of community to elevate your target audience," Britt Stromberg (Vice President, Global Marketing, Sid Lee) and Joseph Matsushima (Director of Social/Digital, Sid Lee) dug deep into community, brands and what they believe brands have to do to be relevant to communities.
Said Matsushima: "You can't own a community, but if you try to belong to a community and make something the community cares about, you're going to get a lot more engagement."
The following are five critical components to harnessing the power of community in order to better understand and connect with your audience(s).
1. Understand how communities use your brand 
Ziploc bags are made to store sandwiches and other foodstuffs. Stromberg mentioned that when coming up with what they call the "Belong Effect," Sid Lee noticed that Ziploc bags played a very specific role in the lives of cyclists.
"It came up that before going on a cycling event with this community, a lot of the cyclists will take their phones and they will stick them in a Ziploc bag, and then they'll tuck them in the back of their jersey," said Stromberg. "And that moment really brought to life for me how brands show up. Like a Ziploc bag, pre-ride, inside of a tight-knit cycling community."
Knowing that Ziploc bags play this role in the lives of cyclists (and, as moderator and collaborative experiences designer Vienna Blum added, in the lives of skiers who do the same thing) helps elevate that brand — but you'll only know this if you look for it.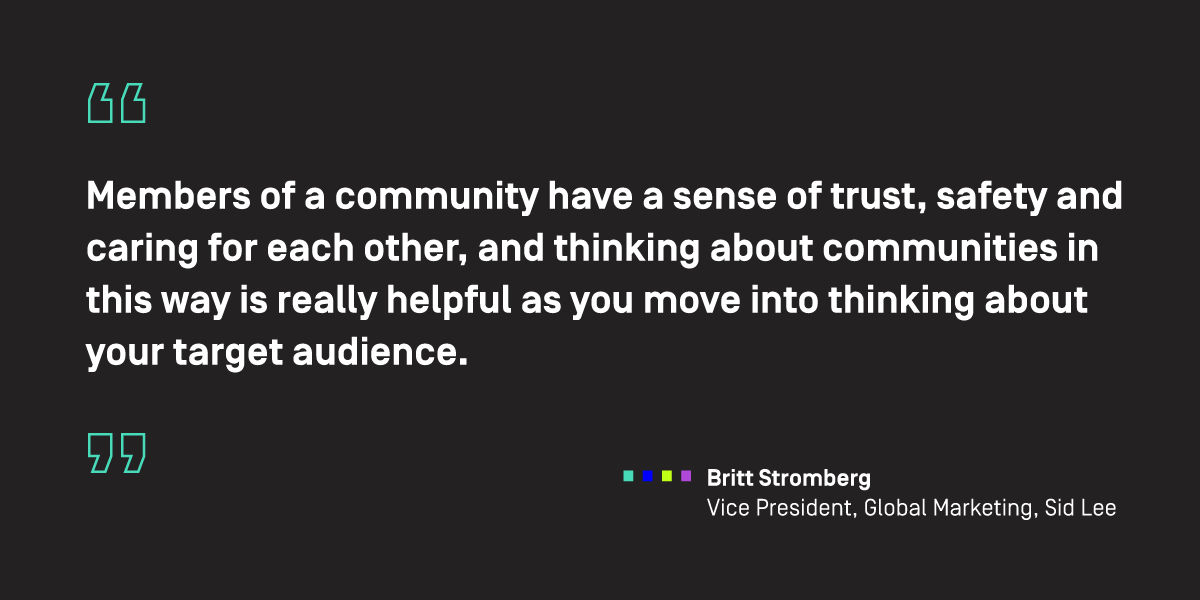 2. Think about why communities form in the first place
As per Sid Lee's recent global survey of "8,000 Gen Z and millennial community behaviours, emotional benefits and brand participation," a whopping 79% would participate in an initiative and 90% would try to get others to join a given initiative if the brand was connected to that individual's community. In other words, brand participation equals brand advocacy.
"People form and maintain communities to meet common needs. So we need that. We need people," said Stromberg.
"Members of a community have a sense of trust, safety and caring for each other, and thinking about communities in this way is really helpful as you move into thinking about your target audience."
3. Individuals define their identities based on their communities
"What we learned was that 83% of the people who took that survey [said] that their communities define who they are, that they derive their sense of identity from community, that they create social capital from it, and they are willing to act on behalf of those communities," said Stromberg. "If you're creating a profile of your customer, we feel like it would be remiss if you didn't include what communities they belong to."
4. Show people you care about what they care about, and they'll notice
Using several examples, Matsushima explained how the creative framework employed for Tesla — "define, deepen, explore, contribute" — led the brand to figure out what communities were associated with their target consumer, and then find brand opportunities in what those communities were interested in: safety, "cool" tech, pets/companionship and gaming.
"It's just about painting a smaller picture through painting a picture of the target demographic through the communities they interact with, whether it's passive or active," he said.
5. Think long term, not short term
It's not always about being direct, and when it comes to the define/deepen/explore/contribute framework, directness could be the worst thing possible. Marketing to communities is about proving value and contributing, which means it's not going to pay off immediately — which is okay.
"I would encourage everyone to start broad and just think of ways we can contribute positively," said Matsushima. "When we create positive connections as a brand to the community, a lot of benefits will come afterwards."
Get more insights from C2MTL 2021
Check out The Takeaways, a selection of the top action items and key learnings that came out of C2 Montréal, October 19-21.
Questions or comments? Drop us a line at editorial@c2.biz