Credit: Arianne Bergeron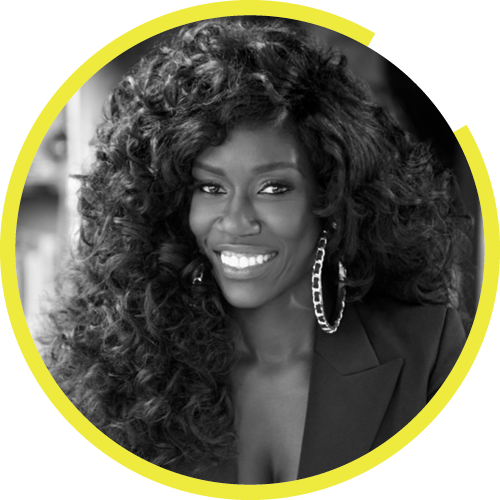 "Brands must get political because right now there is no safe space for us to sit and idly watch. If you're on the sidelines, then you're part of the problem."
Vulnerability is the new authenticity.
Or so says Endeavor CMO Bozoma Saint John, a global tastemaker in entertainment, sports and fashion marketing. Listed as one of the World's Most Influential CMOs in Forbes' 2018 list, this literal queen has redefined the industry, upended traditional celebrity culture and become a diversity champion in the process.
"At the end of the day, I am a marketer because I love people," explains Bozoma, adding that brands — the leadership, the content creators and the audience — are people.
It's this curiosity that pushes her to use storytelling, advertising and promotion as tools to seek out and amplify different kinds of voices, since "brands, companies and spaces will be that much richer for it."
Vulnerability is our superpower because it's the thing that makes us most human and therefore connected to others, she says. And perhaps most importantly, it makes us act.
Show up as yourself
Breaking through at Apple's Worldwide Developer Conference in 2016, Bozoma won her audience by being vulnerable enough to greet the world as her truest self.
"I could have chosen the safe route — jeans and a black turtleneck, wink wink," she says. "Instead, I decided to go out on a limb and to really show up [as] a whole black woman… with my hair the way it's supposed to be, with a pink dress on that hugged every curve, and I played music that was personally attached to me… It could have failed. Instead, I found a connection. People embraced it and felt it was worthy of their attention."
(If you missed it, she got the white tech bros rocking out to Rapper's Delight.)
"I believe in the science of it," she says. "When a molecule in matter changes, the entire matter changes… and those spaces are never the same again after I leave."
This is a huge personal and collective duty, she says. As the first black woman to ever grace the WWDC stage, "I felt a responsibility to make sure that I would not be the last."
Hot tip: Don't wait 90 days to do something
Bozoma has never really understood this rule for new executives. Go in and make a big bang immediately, she says — why wait?
Make diversity your responsibility
Whether or not we identify as such, Bozoma thinks each of us is a content maker, developer or creator. When you move that into broader spaces, however, its responsibility grows. Among the most powerful and influential spaces, marketing, advertising and entertainment create the images people most frequently encounter and interact with. This is why we need more diverse storytellers.
"It is actually unfair to our human race to continue to tell stories from one perspective," says Bozoma. "We must diversify."
To this point, she's currently "a little bit obsessed" with Miss Universe — a powerful part of her Endeavor portfolio. We're at a moment where we can evolve the conversation around women's empowerment and look at that platform as a way to do it, she says. "How are we judging them? What women are we looking at anyway? Who's winning?"
Bozoma thinks it's time to look at what, exactly, we're rewarding.
"I want to see women portrayed as more complex human beings. It's not just our physical appearances but what's happening in our brains and in our hearts. I find myself to be a whole woman, okay? I could show up in a bikini, or I can also negotiate the hell out of you in a boardroom."
Hot tip: Update your content policy with an inclusion rider
Even before Boz started making waves at Endeavor, she was impressed by their commitment to diversity after creating an "inclusion rider" policy on sets and scenes to ensure more women, POC, differently-abled and LGBTQIA+ folks are represented and directly working within these spaces. It works.
Find your voice
Bozoma challenges us to use our own platforms, regardless of how big it is, to say the things that need to be said.
"You don't need a million followers to have a point of view [or] a team of 600 in order to influence change," she says. Each of us has that responsibility to our companies, whether it's in your one-on-one with management or by actively listening to staff. She challenges leaders and mid-level managers that say, "Everything is fine" to ask themselves this question: Are you creating an environment in which people are open to you?
"I didn't get to a place of influence because I was quiet," she adds. "None of us will have any impact or any influence if we are quiet. So don't be quiet. Be loud as hell."
What should excite us about the present moment is how many different types of people are speaking their truth and bringing their stories to life, and she's passionate about continuing to change the way we see our full and authentic selves.
"There is no longer one superpower holding onto storytelling… no single narratives," she says, and it's important to see differences in order to be more empathetic to each other.
"It benefits us all."
Questions or comments? Drop us a line at editorial@c2.biz