Whether people were stuck at home because of a lockdown or because they were vulnerable to infection, the COVID-19 pandemic has accelerated the need for remote banking. We caught up with John Strevel, Senior Vice President of Business & Process Architecture at CIBC, to find out how CIBC worked with IBM's AI for business to accelerate a solution for clients to get help with their day-to-day banking needs remotely.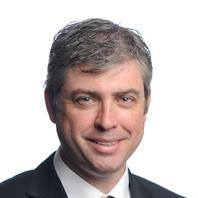 John Strevel, Senior Vice President of Business & Process Architecture at CIBC
Increased remote banking activity
Remote banking isn't new, and financial institutions have always leveraged technology to allow clients to safely and securely perform transactions remotely. However, the pandemic significantly accelerated the remote banking trend as more Canadians turned to digital options in all aspects of their day-to-day lives.
"Previously, our clients' options for remote support were primarily live chat or phone calls to the contact centre," says Strevel. "The increase in remote activity at the height of the pandemic resulted in high call volumes and record levels of clients using digital banking.
"As a result, one of the digital tools that our team accelerated was the CIBC Virtual Assistant, which enables virtual client engagement and helps clients get assistance quickly."
Leveraging digital tools to help  CIBC clients
CIBC's digital team and Contact Centre team worked closely together to identify ways where digital tools and capabilities could make banking easier and simpler for their clients.
"COVID-19 required us to think critically but also innovate and lead with urgency. It was an opportunity to work quickly together to help our clients and build a new foundational banking capability," says Strevel.
Strengthening client relationships with CIBC's Virtual Assistant
The CIBC Virtual Assistant launched in November through CIBC Online Banking and enables CIBC's clients to not only get answers to their questions but also to perform transactions directly from the conversation. Instead of asking a banking specialist for help navigating specific features and functionalities, they can simply complete tasks through the Virtual Assistant.
"This is a first for Canadian banking," says Strevel. "A client can pay and schedule a bill, lock and unlock their credit card, transfer money between accounts, or send money to a loved one, right in the conversation."
Learn more about what IBM can do for your business
Watson is AI for business. IBM's portfolio of enterprise-ready, prebuilt applications, tools and runtimes are designed to reduce the costs and hurdles of AI adoption while maximizing outcomes and the responsible use of AI.
125,000 unique monthly users, and counting
The growing number of monthly users of CIBC's Virtual Assistant tool is a testament to how well the client-facing and digital teams have worked together to integrate IBM's Watson to enhance their clients' online banking experiences.
"The Virtual Assistant has helped clients in answering their questions as well as completing banking transactions," says Strevel. "The adoption of this tool has resulted in increased capacity for our contact centres to solve more complex client issues that usually require the assistance of a financial advisor or banking specialist.
"We have seen high momentum and interest in building out these capabilities across our bank to simplify and enhance the experience of our employees and our clients. The platform used is highly scalable and allows CIBC to rapidly innovate, design, build and deploy more solutions using this technology."
A hybrid experience powered by AI
CIBC believes that clients are still looking for in-person connection and counsel when it comes to making critical financial decisions. However, AI-powered solutions can play a significant role in supporting clients remotely and strengthening relationships.
"AI and technology will continue to support us in helping clients bank remotely and simply, and also help provide valuable insights, more personalization in the client experience, and intelligent interactions or alerts. In our view, people remain at the heart of client relationships, and AI plays a significant role in helping to deepen and grow these relationships."
Looking to optimize your business with AI?
Learn about the possibilities and limitations of artificial intelligence with Grady Booch, and acquire a blueprint for implementing AI strategies at scale with analytics heavy hitters Seth Dobrin, Mara Pometti and Serena Bellesi. Join us at Journey to AI, a free one-day event presented by C2 and IBM happening on March 24, 2021.
Questions or comments? Drop us a line at editorial@c2.biz