Increasingly, conversations about business and society turn into conversations about identity. It makes sense. We can't talk about what we want to achieve without having a thorough understanding of who we are. Moreover, it is only when we know who we are that we can bring our complete selves to work and realize our full potential. 
The formidable business and social challenges we currently face need to be met by formidable leadership, and that leadership cannot assume that what worked yesterday will work tomorrow. Diversity and inclusivity are not just fads or buzzwords, then. They have to mean something. As time ticks on, they will have to mean more.
At Katie Dudtschak's C2 Montréal session, "The power of purpose-driven and inclusive leadership," the Executive Vice President, Regional Banking for RBC spoke with Walrus Lab Director Mihira Lakshman about how upending her entire life, stepping into her truth and embracing all parts of her identity throughout her gender affirming experience allowed her to be the leader she is today. 
Dudtschak knows that for organizations to thrive, they must allow people to bring their most authentic selves to the workplace. The following are some of the thoughts she shared at C2MTL 2021.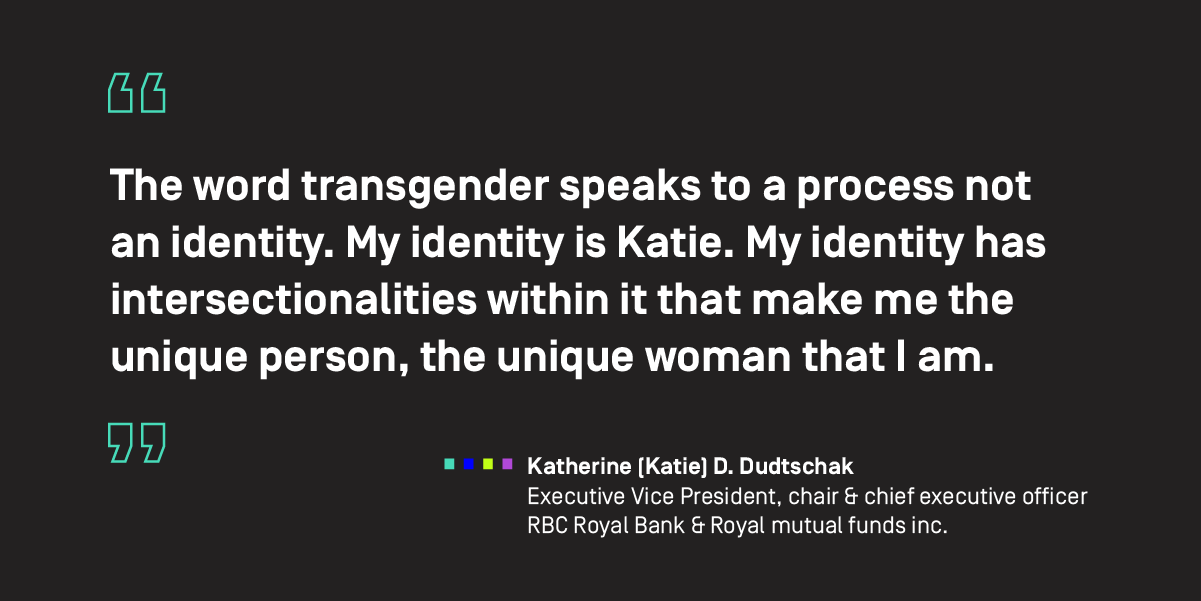 What real risk-taking looks like
"I could tell through my own experience that there was part of me I was holding back; part of my creative potential and productive capacity I was holding back because I was in fear of being rejected. I had to show my deepest fears and vulnerability to be taken seriously, in the hopes that they would give me a chance to prove I was as able and capable as ever, if not more so."
"The word transgender speaks to a process not an identity. My identity is Katie. My identity has intersectionalities within it that make me the unique person, the unique woman that I am."
Peel off the labels to see what you're missing
"I describe myself as a woman with gender affirming experience because, at the core, I am a woman, I'm female, and I feel completely at peace with myself. I happen to have gender affirming experience and have experienced the other gender in my life, but I hate labels. I am not a fan of labels. Labelling someone as gay, or labelling someone as transgender, to me misses the essence of the true person and the whole person."
One unexpected moment can change everything
"I was at a university with my daughter bringing her to school, and I saw a poster of a person assigned male at birth — you would call them a biological boy — in a silk blouse and pearls, and all I could think of was, 'Could the world become so open that I could be me?'" 
Success that isn't rooted in truth isn't sustainable
"I became fiercely determined to build a perfect family, and to build a perfect country home and build a perfect career, and never let anybody stand in the way of my career. And it's actually not uncommon in the transgender community that we use those kinds of things to suppress our gender and those gender feelings, and remain focused and determined to prove ourselves." 
It's a straight line from true inclusion to full potential
"Yes, there is hatred in the world, but what also exists is a lot of people — many of us, most of us — who don't feel true psychological safety, don't feel true inclusion, and therefore may have not had access to education, may have not had access to privileges. And as a result, these incredibly gifted human beings are not able to bring their full creative potential, emotional potential and focus to society or their workplace."
Get more insights from C2MTL 2021
Check out The Takeaways, a selection of the top action items and key learnings that came out of C2 Montréal, October 19-21.
Questions or comments? Drop us a line at editorial@c2.biz